NSFW SUNDAY EROTIC BOOK CLUB CORNER:
We're always wanting to incorporate more literary discussions on Autostraddle, because honestly, most of us would rather have our faces buried in a book (or another lady, let's be honest) than typing html code at 3 a.m. I usually prefer lit journals and Depression-era southern fiction, but you probably don't want to read about that. So! I thought it would be crazyfun to breeze through some high quality, queer-focused erotica, then share my experiences with you nerds! Yeah? Ok!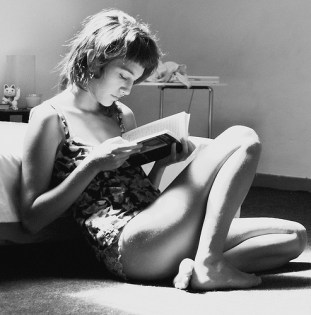 Here's what I've learned about erotica thus far: it's fucking hot. Unlike with erotic images / films, where the only thing left to the imagination is like, almost nothing, erotica forces you to imagine everything. This typically leads to a pretty satisfying outcome, since you're likely to envision everything – characters, setting, lighting – exactly the way you'd prefer it. What I'm saying is, if you're predisposed to enjoy reading things rather than having them acted out by random folks on a teevee / computer screen, probs erotica is right up your alley! Also, our editor-in-chief Riese has a secretly mysterious erotica-writing past that involved her getting published in like eight books, doing a ton of readings, and appearing on quite a few websites. See what a small world it is!
Most of the books I'll be talking about will come from Cleis Press, which is an independent publishing company in San Francisco that puts out some of the best books on feminism, gay / lesbian / gender studies, erotica, sexuality and human rights. Highly recommended, obvs.
+++
Sometimes She Let's Me: Best Butch / Femme Erotica
edited by Tristan Taormino, 2010
I don't have a lot of experience in the realm of butch / femme sexytimes, and I think it's important to tell you that upfront. Reading this collection of short stories felt, in some ways, like walking into a world that hadn't approved my entrance, yet. Maybe that made it even hotter? Probably.
According to Taormino's introduction, "Butch / femme is a perfect centerpiece for erotica since it is recognizable and meaningful to many people. It's also incredibly multilayered – creating opportunities for characters to play with gender in a sexual context, do unexpected things, challenge conventional wisdom and assumptions, and explore taboo desires."
SOLD.
There's a lot to pick from in this book: knife play, butch/butch hotness, high school-style fantasy, femme / femme hotness, teasing, anonymous hookups, lots of strap-ons, some bondage, some funny stuff, some vanilla stuff (in comparison), and a really nice late-night diner story to finish things off. And a lot more. Seriously. I could've quoted excerpts from almost every story, but below are just two of my favorite moments.
Lessons, by S. Bear Bergman
She drags my head back, my ear against her mouth, and crushes me tight against her in a hug. I wonder whether she's crying. I didn't mean to make her cry, I wanted to make her come, which is wetness at a totally different end, and I'm just about to start apologizing all over myself when she says, "You won't want to do it."
The hell I won't. I'd walk barefoot across a mile of burning sand to watch this butch dry dishes on videotape. "Trust me, I will," I say.
Anonymous, by Amie M. Evans
At the next light I said, "I want you to take me, use my body. I want to have my 'no' ignored." I ran my hand down her hip into her crotch, verifying the existence of the dildo I had thought I felt at the bar. I started to think about the implications of this woman alone in a dyke bar packing, but before I got far the bike stopped at another light.

"Do you have panties on and what's your safeword?" Again she pulled out before I could answer.
SPORTY SPICE:
BleacherReport has a list of 20 sexy sports ladies that Maxim left out of their Hot 100. Hey! Remember Autostraddle's Hot 100? That was f*cking hot FOR SERIOUS and also real, so. (@bleacherreport)
ROUGH SEX 101:
Syd Blakovich's Guide to Rough Sex. "Turned on by rough sex in porn—but worried that bringing it into the bedroom might get someone hurt for real?" Informative! (@fleshbot)
SEXY TUMBLR ALERT:
All Sexxed Up and No Place to Go likes "cities, girls, cigarettes, boys, music, stiletto heels, nice kisses, naughty kisses and clouds." Mmhmmmm. BICURIOSITY DOT TUMBLR DOT COM. Really into it.
---
+
Sign up for our once-a-month email newsletter and
get Autostraddle insider information and exclusive stuff!
+
+
---
+
+