Really I should just team pick Metafliter, I feel like that's where I find out about everything cool. Anyhow! This blog is called "The Burning House" and this is the question it asks:
If your house was burning, what would you take with you? It's a conflict between what's practical, valuable and sentimental. What you would take reflects your interests, background and priorities. Think of it as an interview condensed into one question.
Then all these people photograph and list what they'd take with them. He just started it, but is accepting submissions.
Here's one from there but you should go see all of them: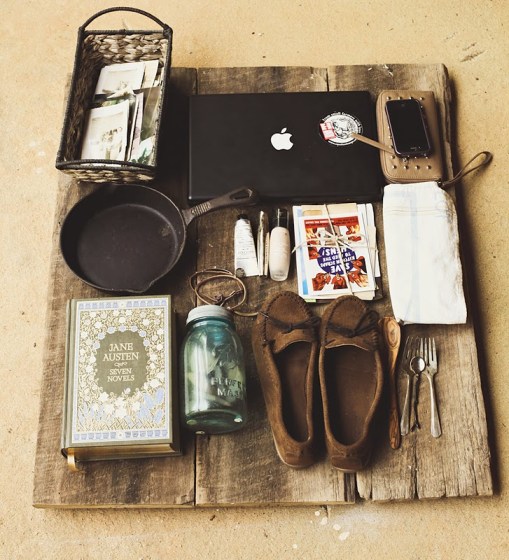 Name: Hannah Queen
Age: 20
Location: Blue Ridge, Georgia
Occupation: Photographer
Website: http://www.honeyandjam.com
List:
+ basket of family photos, old and new
+ macbook
+ iphone
+ wallet
+ cast iron skillet
+ leather bracelet with mustard seed charm, which was my grandmothers
+ leather bracelet, a gift from my mom
+ l'occitane lavender hand cream
+ l'oreal voluminous million lashes
+ lancome teint idole ultra
+ letters & postcards from friends
+ favorite tea towel, which was a gift
+ the complete works of jane austen
+ blue ball jar, filled with river rocks. souvenirs from a perfect day.
+ minnetonka moccasins
+ favorite wooden spoon
+ two forks from old family silverware
+ twig spoon, a gift from a friend
+ not pictured, canon 5d mark ii