GLAAD MEDIA AWARDS:
Our very own Santana is all grown up and played host of the San Francisco GLAAD Media Awards this weekend which honored The Kids Are All Right and Kim Cattrall. Naya Rivera peppered her intro with all sorts of inside Glee jokes, referencing "sweet lady kisses" and challenging the crowd with:
"For those of you who don't watch [Glee], A) kill yourself and B) as if."
Clearly relishing Santana's character arc and evolution, she proudly announced:
"I am here to tell you that playing gay is good in every way. And that hopefully the huge increases in gay and lesbian characters will lead to more diverse and transgender-inclusive storylines."
Naya also put a little money aside for Glee by auctioning off two kisses for $3,500 each!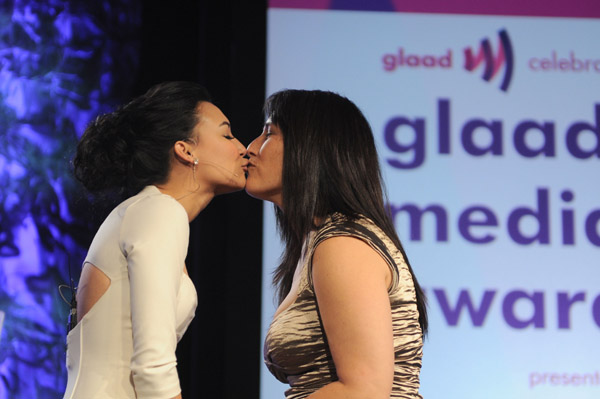 More importantly though is that she said "Brittanna" out loud. GLAAD presents a different set of awards at its three annual ceremonies — New York, Los Angeles and San Francisco. San Francisco is the last ceremony of the year and the awards presented were:
Outstanding Film – Wide Release: The Kids are All Right
Outstanding Documentary: 8: The Mormon Proposition
Outstanding Spanish-Language Music Artist: Christian Chávez
Golden Gate Award: Kim Cattral
The following pictures may be relevant to your interests: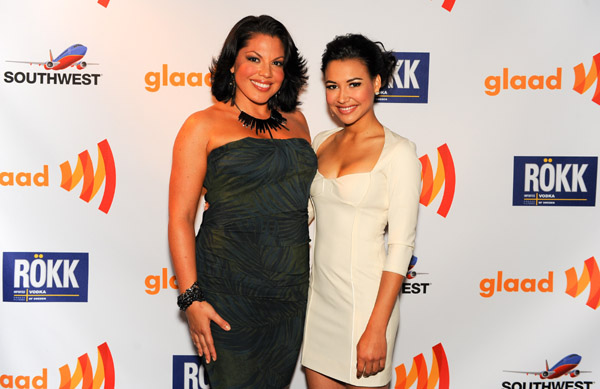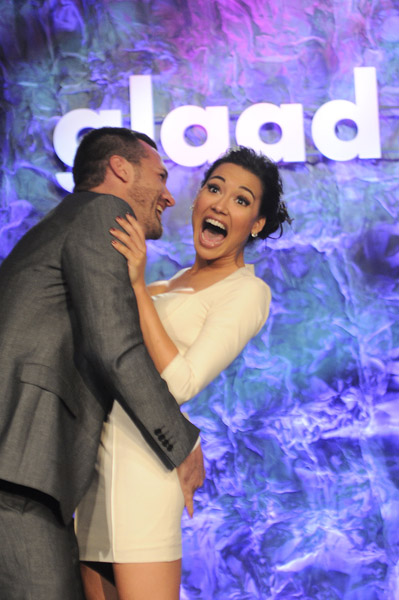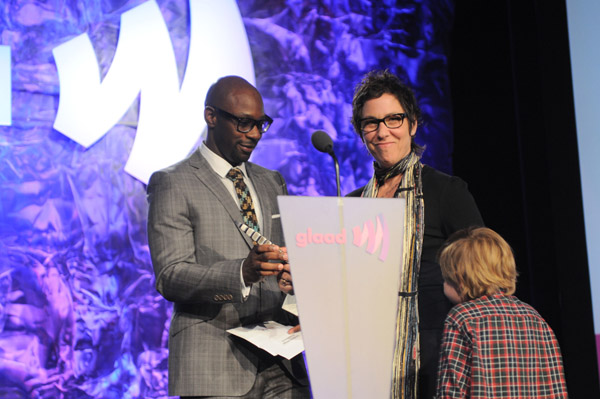 LADY GAGA:
In a brilliant PR move, Gaga is staving off (or maintaining control over) the Born This Way album leakage by essentially releasing a new track every few days. "Hair" debuted just moments ago and check out a LIVE performance of "Edge of Glory." Both songs feature Clarence Clemmons of Bruce Springsteen's E Street Band on saxophone.
"Hair"

"Edge of Glory"
Finally, if you're still trying to figure out what the hell was happening in the "Judas" video, the good people at Queerty have enlisted a religious scholar to decode that baby for you.
Thoughts on the new songs?
UNICORN PLAN-IT:
Last week we announced the Kickstarter fundraising campaign for Unicorn Plan-It, Autostraddle's first scripted web series written by and starring Sarah Croce, Haviland Stillwell and Ashley Reed. Today we're excited to announce the final casting of the fourth series regular, playing the role of Bambi, Catherine Wadkins! Catherine is known for playing Mary Bishop on General Hospital and she has also appeared on Medium, Medical Investigation, and Helter Skelter. She was seen on Broadway in Arthur Miller's The Man Who Had All The Luck opposite Chris O'Donnell. You should probably know that she also makes amazing video greeting cards for the interweb. That's right kids, donate a few quarters and that face is ready, willing and able to come to Autostraddle in a big way!
AMBIGUOUSLY GAY DUO:
Ah, nostalgia! Saturday Night Live resurrected the long-running superhero cartoon, "The Ambiguously Gay Duo" for the first time in eons this weekend. However, in a surreal twist, the animated short morphed into live-action when a "flesh ray weapon" transformed the 2D gay/not gay Ace and Gary in to human played by Jon Hamm and Jimmy Fallon with Steve Carell, Stephen Colbert, and Ed Helms appearing as villains. Hilarious or biphobic (as some have claimed?)
ADELE:
First off, if you don't already own her album "21" drop everything right now and RUN to iTunes. Some lovely quotes from her Out Magazine cover story:
"I get a lot of mail from people who tell me that I make them really happy to be themselves, and really comfortable with who they are, which I love. I would hate it if someone was, like, 'I wish I was you' because I'm as insecure about myself as the next person. In what way? Just that I'm not good enough — in my music, in my relationships, and that I'm never going to be brave enough to tell someone how I feel."
She also tells the story of a young gay fan who came out after listening to "Someone Like You":
"He fancied someone at school, but he wasn't out. And he listened to 'Someone Like You' and came out to his best friend and then to the boy he fancied, and it turned out that he was gay as well, and now they're together — he's like 15. I had to leave so I didn't burst into tears."