Welcome to the eighth recap of the second season of The L Word: Generation Q, brought to you by the same network that brought you the original L Word, a show about a very tall and very snarky writing teacher who holds classes in a room with jaundiced lighting, lifts weights during one-on-ones with students, is sleeping with her star pupil, and eventually destroys and then elevates the ego of notoriously mediocre writer and "compulsive picker of her own navel lint," Jennifer Schecter, leading her to explore both paper crafts and carnival metaphors and eventually get fired from a ghostwriting gig for a closeted Western Cinema star played by Fitz from Scandal.
Wow, Episode 208 of The L Word Generation Q really managed to excavate everything I hate about this fucking franchise! What happened in the writers room this week?!?! Everything had been going so well!!! This was like, Season Six quality bad. Here we go!
---
We open this week's lengthy journey into despair with Sophie picking Finley up from jail, where she's spent the evening and emerged with some insights — e.g., jail sucks — and new tasks for her to-do list: taking DUI classes, getting a point on her license and owing a fuck-ton of money. Sophie's glad that Finley is okay but also seems concerned that Finley is actually not okay at all. The Finley who clutched her steering wheel in fear as the cop approached has been replaced with an oblivious, casual who-cares Finley who just wants a hot shower?
Finley says she'll go halfsies on the $1k Sophie paid the impound lot to retrieve her car, a proposal that clearly shocks Sophie, who emits in a daze of disappointment: "You got in the drivers seat and I thought that you were good, so—"
I'm sorry, what?!!
Listen I have picked up a person or two from jail the next morning and I cannot figure out why Sophie starts out compassionate but then immediately shifts into bewildered frustration — we've seen how ready she is to hold people she loves when they're in trouble, but she seems profoundly disappointed that Finley hasn't emerged from jail as an entirely different person while also entirely certain that she did not even play the smallest of roles in what happened. This approach isn't a fault of Sophie's character, but of the storytelling. And I think it would've been pretty easy to tell it better!
Don't worry I'm not gonna do this for the entire recap (but we sure do do it on the podcast episode you can hear on Monday!), but for this story specifically (which features my fave character Sophie and my fave ship Sinley), I will be offering some light editorial suggestions. Feel free to skip my editorializing for you know, jokes.
Clearly the show has decided that "Misdemeanor DUI" is gonna be the turning point for Finley's addiction issues, which is its own choice but whatever. There are two places to go from here:
Option A: Tell a story about two people with unhealthy relationships to alcohol figuring out what that means for each of them, respectively, in the wake of this DUI. Who got behind the wheel is incidental. Finley is physically and mentally addicted to alcohol. Sophie isn't, but like so many of us (including me) she has some level of Alcohol Use Disorder, and she's been going through a lot of emotional turmoil that has amped up her binge drinking habit. To tell this story, the show could keep last week's driving scene, which implies a degree of shared responsibility for what happened, intact. Sophie could actually insist on going halfsies on the impound fee because Finley is struggling financially and they both made poor decisions that night. Then, from this position of shared accountability, they have to look forward at how what comes next might be different for each of them — like Sophie actually verbalizes that she's taking a break from drinking to re-assess the role it plays in her life and relationships but Finley finds herself unable to do so. More on this later in the recap when we get to the relevant parts.
Option B: Tell a story about Finley's alcoholism, with Sophie as the girlfriend who is trying to help Finley get help while also still struggling to take care of herself and not fall into codependence. Adjust last week's driving scene — options include any or some of the following alone or in combination: Before the event, Finley says she'll be DD, but gets wasted anyhow. After the event, Sophie suggests a Lyft and Finley insists, repeatedly, that she's okay to drive, she's not drunk at all, even though she clearly is. Establish at some point a dynamic in which Sophie might be scared to question a drunk Finley about her driving abilities, which's why she doesn't. (Finley's not an angry drunk, but she could get so down on herself when challenged on her drinking that Sophie still hesitates to challenge her.) Throughout the evening, show Finley drinking more than Sophie, or doing so secretly, thus making it so Sophie genuinely wouldn't be plainly aware that Finley couldn't drive. Do not have Sophie initiate sex while they're driving, or have Finley be the one to do it. Have Finley be chill about the approaching cop but Sophie is stressed because she knows it's serious and, because she is Afro-Latinx, is a lot more scared of the cops than Finley is. I could go on.
But instead we get Option C, which is… a foggy situation in which mistakes were made on both sides leading to a DUI, nobody spending even three seconds to deliver Finley's breathalyzer results (which are not inconsequential!), Finley joking around about jail and continuing to drink and Sophie reacting with vague distrust while Rosanny Zayas does her best to tell an entire story with her face, in the absence of, you know, actual lines. 
---
Cut to the legendary California Arts Center, where Dani has brought her Very Good Friend Bette Porter to show her that Nuñez Inc, a company Bette Porter openly loathes due to its investments in pharmaceutical companies that produced the opioids that killed her sister, has purchased seemingly the frontmost wing of the CAC, where Pippa's work will shortly be displayed in the context of a Black Lives Matter Art Show.
Dani: Well, first I just wanna say that you mean so much to me.
Bette: Dani—
Dani: No, you really do, I really value our friendship.
Bette: So do I.
Dani: I wanted to talk to you about Gigi —
[Bette sees the Nuñez wing sign up inside the CAC]
Bette: What the fuck?!
Dani: I-uh-uh-I thought the breakup was mutual —
Bette: I don't give a shit about Gigi. What the hell am I looking at?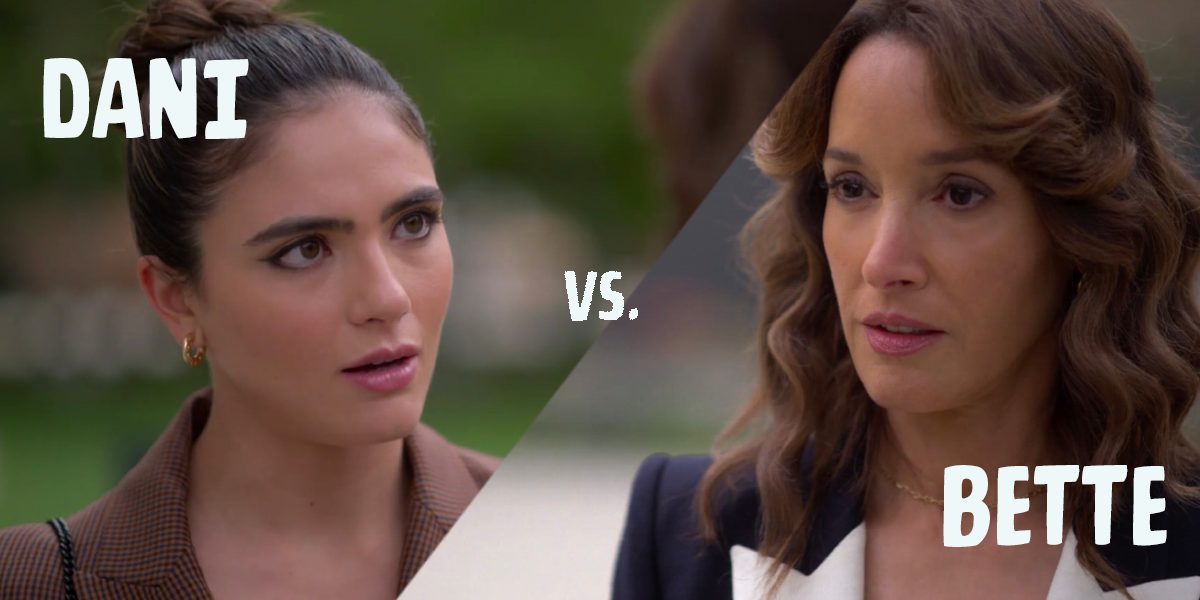 Lesbian Squabble #27: Provocation!
In the Ring: Bette vs. Dani
Content: Bette, who struggled mightily to secure funding for the CAC during her tenure, is enraged at Dani for funding the CAC, due to the specific nature of evil practiced by the companies her father invested in.
Dani's shocked and hurt by Bette's ire and insists Bette should know who she is and what she stands for, regardless of her father's business choices. Perhaps also she is a bit shocked that Bette is going straight to the top instead of trying to reason with Dani first.
"If you think I'm gonna stand by and let you cleanse your father's sins on the blood, sweat and tears of the Black community, you are sorely mistaken," says Bette Porter, leaving Dani in the dust as she marches towards the CAC to give them a piece of her mind. 
Who Wins? Leo McGarry
---
Were I to make a list of all the reasons Dani should knock on Gigi's door, take her clothes off, and stick her face between Gigi's thighs, "she's mad at Bette Porter" would not be anywhere on that list! But here we are! It's TIME FOR DINI SEX. And you better savor every moment of this scene like Gigi savors Dani's bottom lip because it is one of a handful of opportunities for joy this week!
Lesbian Sexy Moment #12: Afternoon Delight
The Pick Up?
Gigi: How'd it go with Bette?
Dani: Fuck Bette Porter.
Hot or Not? They tear each other's clothes off and crawl and bite and kiss (Gigi is a great kisser, A++ for all scenes involving Gigi's mouth and tongue) and it's hungry and there is laughing and switching and light from big expensive windows and it is indeed everything we want from an L Word sex scene.
---
Meanwhile, Bette's gotten herself into quite a pickle with Pippa, because despite being instructed to take the utmost care with Pippa's work, Bette instead used Pippa's work as a bargaining chip to get the CAC to refuse the Nuñez endowment, and Pippa is not happy!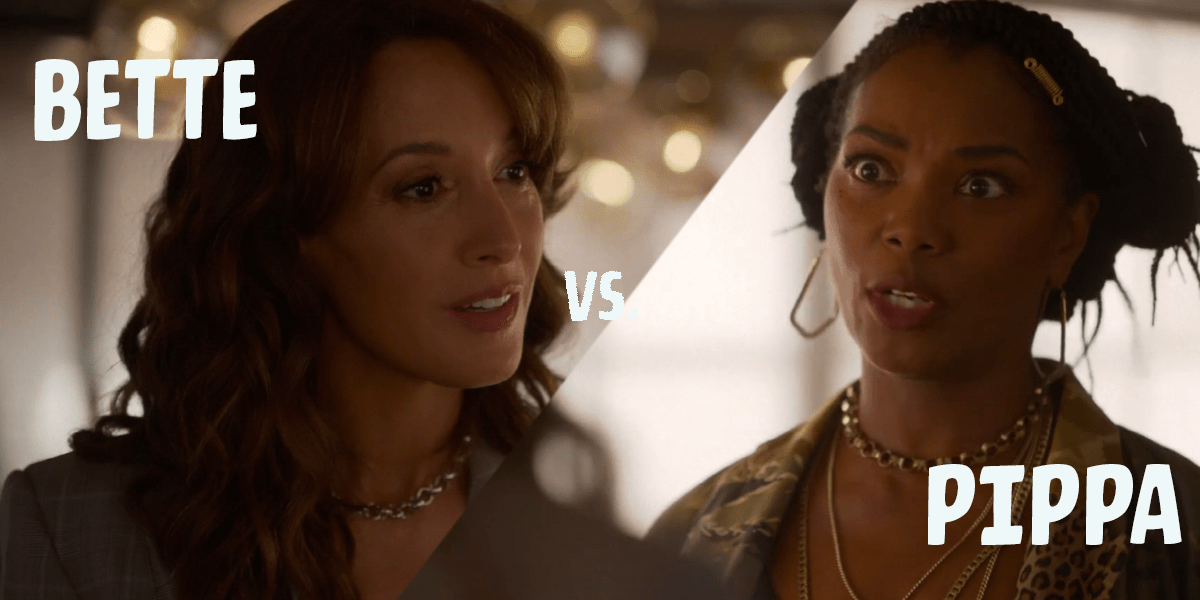 Lesbian Squabble #28: This Business of Art
In the Ring: Bette vs. Pippa
Content: Bette argues that Nan Goldin did this with the National Portrait Gallery regarding their endowment from the Sacklers (who actually manufactured the opioids, so it's not a perfect parallel to Dani's company) and Pippa argues that in fact she does not give a fuck about Nan Goldin.
Bette insists that this strategy is obviously a bluff, the CAC would simply never prefer millions of dollars over showcasing the work of an important Black Queer female artist!
Pippa reminds Bette, who recently had to convince Pippa to set her ethics aside and sign with a gallery owned by a noted racist person, that museums need large endowments to show work like hers. Bette says the CAC is still the museum that showed Provocations, although as I recall, Bette was the sole member of the CAC board who thought that was a good idea, and she no longer works there.
"They know they're supposed to take a stand, I just gave them permission," Bette says. An assistant knocks on the door to deliver the news that the CAC has taken Bette's permission to eliminate all of her artists from the show. Pippa is understandably furious. Bette says it's not over! She could still call Peggy Peabody! (Narrator: she did not call Peggy Peabody.)
Pippa, on her way out: "You gave me your word, I told you that I could not go through this again!"
Bette, alone in her office: "FUCK FUCK FUCK FUCK FUCK!!!!!!!"
Who Wins? Nan Goldin
But like…. who was right? Pippa
---
Next up in the Fight Parade is Micah and our first out trans woman character on the entire show!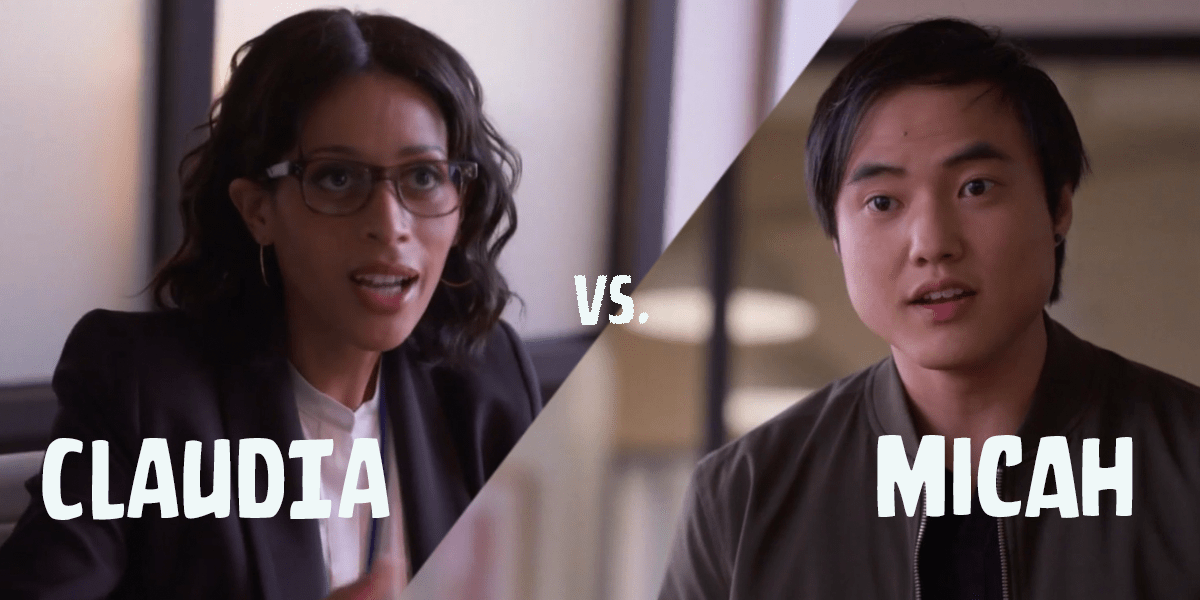 Squabble #29: Doctor's Orders
In the Ring: Micah vs. Claudia
My friends, it is not every night that we have the chance to witness what we will be witnessing here this very evening: a newcomer to the ring, starting her brief tenure on this program with a celebratory battle! She's a doctor, her name is Claudia, and she's played by Isis King (Isis was the first trans model on America's Next Top Model and she also appeared in When They See Us and Equal).
Micah storms into Claudia's office furious that his client Joaquín was told by Claudia that he should start taking hormones — apparently his parents are not 'anywhere close' to signing off on that, and therefore the doc is giving him false hope. Claudia says that she is a doctor with a medical degree and she always has her patients best interests at heart.
Micah: I don't disagree with you—
Claudia: I honestly wouldn't care if you did. [gestures towards the door]
Who Wins? Claudia! A valiant debut!
---
Elsewhere in the heart of this pulsing city in an underground lounge lit up like a Virgin Airlines express flight from JFK to LAX in 2007, we find a young blonde ingenue who has just released a book in record time and is now hosting a launch party for said book. All her pals are there!
Bette's having trouble focusing on Alice because she's compulsively re-dialing the CAC and Pippa, just like my toxic ex-boyfriend who also thought that maybe if I didn't pick up the first 1-14 times, #15 would absolutely inspire a change of heart!
Shane says that Tess isn't there 'cause she's in Vegas, and they lightly tease Shane about finally sealing the deal with her crush. Alice adds, "She's loved that girl since the moment she saw her. Unfortunately she fucked her ex-girlfriend, which sent the wrong message."
Hark! What light through yonder window breaks? It is Tom, Alice's book editor!
Somehow, his relationship with Alice is serious enough that Alice is worried he'll care that she slept with Nat while he was in New York… yet unserious enough that they seemingly have not spoken the entire time he's been in New York and they haven't established the parameters of their relationship?
Despite the setting (her book launch party) and plans for the evening (speaking on stage, her editor speaking about her on stage), Alice is considering "ASAP" as the best time to tell Tom she slept with Nat.
Tom's happy to see his lukewarm lover and presents her with a hotel key for the allegedly swanky room the publishers have granted him. Tom tells Alice that he likes his beds like he likes his candy bars: king size. I agree because I also have a king size bed, but furthermore, I disagree because I prefer to eat 100 mini-candy bars rather than one king-size candy bar, and between bars I like to say "this is the last one!" until they are all gone.
Alice is so lukewarm in response to this offer that I want to scream. Specifically I want to scream WHAT'S GOING ON?
Alice tells him that she has something to tell him but! They're interrupted by the arrival of Sophie and Sarah "Misdemeanor" Finley. Finley and Tom share a delightful and extravagantly complicated handshake.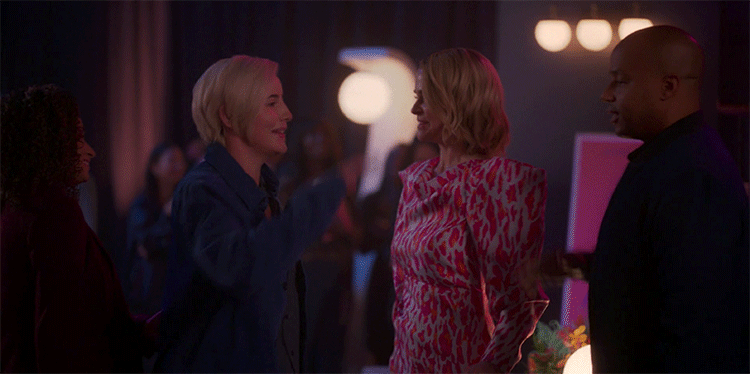 Sophie grows increasingly uncomfortable as Finley jokes about her DUI and the intensity of "jail people" to Alice and Tom, who are also vaguely uncomfortable.
---
Back in Gigi's spacious and tasteful loft, Dani and Gigi have concluded the sexual part of the afternoon and now Dani is on the "very stressful work phone call" part of the afternoon. Apparently, Bette Porter has thrust Nuñez Inc into "crisis mode." Gigi wraps her legs around Dani and attempts to canoodle, but Dani's gotta go meet with legal. Gigi continues to push for a canoodle.
Gigi coos "do you ever say no to [your Dad]?" and honestly, she needs to save that question for the couples therapy they will inevitably one day participate in. Dani insists that in fact, she simply has a job, and now must go to do that job immediately!
---
EXTERIOR: LGBTQIA+ Center, where Micah's trotting up to Claudia to apologize for their rocky introduction. Micah says he related to his client — he was once a kid with a well-meaning physician who said he could start taking blockers, and then his parents blocked him from the blockers — so the issue became overly emotional for him.
Claudia's gotta bounce but would love to talk more — Micah invites her to dinner and she asks if he could cook said dinner at his actual home and wow this escalated, de-escalated, and then re-escalated in a different direction quickly!!! Good for them.
Pages: 1 2 3See entire article on one page