In 1982, when a young archival research director told her father that she'd taken a gig as Research Director for a documentary that intended to detail pre-Stonewall LGBTQ culture, he asked her to "be vigilant about physical contact" with her co-workers on the film, especially after everything he'd heard in the news about that new gay disease. As she got deeper into the project, it became clear that he was the least of her worries. "The shroud of invisibility hanging over queer Americans before Stonewall made finding even faint visual traces of this subculture's existence a challenge," she wrote last year in The Atlantic.  She faced hostile archivists, the far-reaching impact of systematic historical erasure and stocks of newsreels that never mentioned "homosexuals" and thus had to be mined for alternate keywords like "perversion." She and the film's directors had to beg people to appear in it — a scary prospect when you could lose your job or family for being publicly out.
The final product, Before Stonewall, debuted at Sundance in 1985. It was an unprecedented work of documentary filmmaking, telling stories most were unaware existed and featuring original interviews with people like Audre Lorde, Ruth Ellis and Allen Ginsberg. The story careens through the Roaring '20s, the Harlem Renaissance, the social discontent of the Great Depression, the gay subcultures flourishing during World War II, post-was conservatism, the Kinsey Report, McCarthyism and the Black Power and Women's Rights Movements, eventually ending at Stonewall's edge.
I thought about Before Stonewall a lot while watching HBO Max's four-part LGBTQ History Month offering, Equal, which vaguely circles similar time periods and historical benchmarks. Just as I thought about The Celluloid Closet when watching Apple TV+'s five-part documentary Visible: Out on Television and Netflix's original film Disclosure: Trans Lives on Screen.
When these topics are re-tread, what changes is of course is filmmaking technology and everything that has transpired or been uncovered since, but also whose stories are included and how our present progress influences our perspective of the past.
Laced with Billy Porter's enthusiastic narration, Equal is a slick and triumphant reflection of increased production value in a very different time. The opening credits, set to a song by trans musician Shea Diamond, are truly some of the best opening credits animation I've ever seen. Several of the figures who gave interviews for Before Stonewall — José Sarria, Harry Hay, Craig Rodwell — have since passed away, and show up in Equal portrayed by prominent queer actors. Although I was never sure when the archival footage presented under any given section of the narration was actually a visual representation of the story being told, there were a handful of images and videos (including an interview with Barbara Gittings) that appeared prominently in both.
Equal's choice to intermix archival footage and actual recorded audio and video of historical figures explaining their own lives with well-known LGBTQ+ actors portraying these figures — often staged so the actors were speaking in stripped-down rooms with film footage projected over their bodies and faces, thus creating a "experimental video art room at the modern art museum" vibe — was stylistically risky and possibly unnecessary, although the star-studded cast is an undeniable marketing tool. (The technique has been described as "cringeworthy.") But, as often as their intent wasn't immediately apparent, these re-enactments was in many ways the production's strongest element, providing a meaningful bridge between the heroes of yesteryear and those who are able to live openly on account of their work. It is undeniably powerful to see Samira Wiley — an actress who came out easily while playing a lesbian character in a mainstream prestige show with a bisexual protagonist, after beginning a relationship with a writer on said show — embody playwright Lorraine Hansberry, who had no such freedom to live openly throughout her short life. Actress Sara Gilbert — who dated Ali Adler and Linda Perry, had children with both, and came out in 2010 before launching her enormously popular daytime talk show The Talk — plays an anonymous letter-writer to The Ladder who fears coming out would threaten her employment prospects.
Equal is split into four sections. The first, "The Birth of a Movement," details the formation of The Mattachine Society in Los Angeles and the Daughters of Bilitis in Los Angeles and San Francisco. Part two, "Transgender Pioneers," chronicles unsung trans heroes and describes the 1966 Compton Cafeteria Riots in San Francisco. Part three, "Black is Beautiful, Gay Is Good!" is described as "examining contributions from the Black community on the growing LGBTQ+ civil rights movement" but a solid chunk of it is actually devoted to Latino activist José Sarria, the first openly gay candidate for public office in the U.S. Part Four, "Stonewall: From Rebellion to Liberation," brings us to Stonewall, an event that we all will talk about over and over again for the rest of our little lives.
"Transgender Pioneers" is the series' most compelling section, and serves as to elevate their stories to the level of the more respectability-politics-concerned activists of the first episode. Bookended by the 1966 Compton's Cafeteria Riots as narrated by Alexis (Isis King), a character intended to be a composite of the uprising's participants, the middle chunk focuses on three individuals who largely fought alone. LGBTQ community-centric stories set in Los Angeles, San Francisco and New York tend to rise to the historical surface for reasons both narrative (greater impact) and practical (more documentation), especially for LGBTQ people unable to live openly without the safety of one. But the stories of Jack Starr, Lucy Hicks and, to some degree, Christine Jorgenson, are remarkable for their relative solitude — trans people who lived as themselves without any confirmation they weren't alone in their struggles. Jorgensen (played by Jamie Clayton) of course became "the most famous woman in the world" who became well-known for undergoing gender reassignment surgery. But before that, she was just a soldier who'd enrolled in college after serving in World War II and wanted to live a quiet life. Her surgery is what made her famous. In a rapid-fire collection of clips, we see Jorgenson answering the invasive, personal, sexualized questions that have only within the past few years stopped being the focus of every interview with a trans woman in public life. Theo Germaine is Jack Starr, a moonshiner, rum-runner and "virtuoso piano player" who sought work and love throughout the Midwest and Southwest in the 1920s. Alexandra Grey plays Lucy Hicks Anderson, a socialite and chef from Kentucky who owned a boarding house in Oxnard, California she eventually turned into a brothel and speakeasy.
The first chunk of "Black is Beautiful, Gay is Good!" was another highlight. Though extremely on the nose, staging Lorraine Hansbury's story like a play in a black-box theater paid off in spades with Samira Wiley's careful, understated performance. Similarly, Bayard Rustin's section embodies struggle and persistence, writing his work with Martin Luther King and the Black civil rights movement back in to the ones he's often written out of. No story of the queer rights movement is complete without emphasizing how much of it was inspired and guided by what the Black civl rights movement aimed for and accomplished.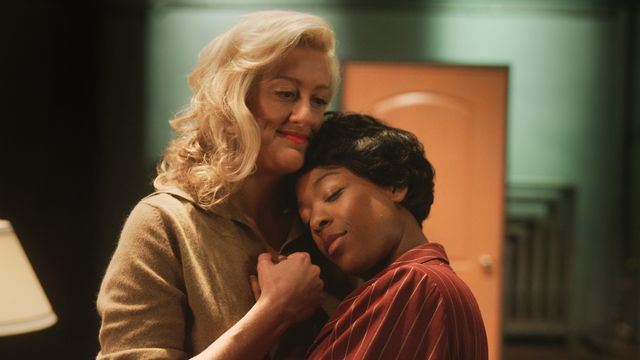 The centrality of trans people, and trans women of color specifically, to the pre-Stonewall LGBTQ movement, is given its due in "Equal," in Chapter 2 but also in Chapter 4, which re-treads Stonewall's well-tread story but with dues paid to Sylvia Rivera and Marsha P Johnson, as well as Black butch lesbian crooner Storm DeLarverie, who many credit with throwing that legendary first brick. I was eagerly anticipating more of her story, but ultimately her cameo was brief and her biography barely described.
But in general, after two episodes casting light on less-told stories, the final installment waned a bit for me, an experience I suspect might be specific to me and others with a lot of LGBTQ history knowledge, although a few things I didn't know did come up. Furthermore, in an effort to celebrate previous bar-focused riots often erased by Stonewall's historical monopoly on queer uprisings, by the time we got to Stonewall I'd had my fill of nightlife content. It's unclear, again, if the footage shown during the Stonewall section was from Stonewall (very little footage of the uprising exists at all), but it did feel like particular attention was taken to make clear that this was a riot and that it wasn't just the issue at hand but many converging sociopolitical forces that came together in that moment. Police brutality is a consistent theme of Equal, and its implications for contemporary activism around state-sanctioned violence against Black citizens may not be invoked but still felt at the very least; relevant. Before Stonewall spoke to an ongoing struggle that remained very much underway in 1985, on the cusp of the HIV/AIDS crisis. As Part 4 of Equal shuttles between narrations by white male activists and trans and gender-non-conforming queer people of color, I was jarred to think of how much has been settled and accomplished for the former and how much remains to be done for the latter. I left the series thinking not of what comes next for lesbian and gay rights movements writ large but what comes next for the entirely unfinished fight against institutionalized racism and racially motivated police brutality.
Ultimately, Equal is an addition to the important, if small, cannon of films — Before Stonewall, Last Call at Maud's — casting light on an area of history systematically obscured from education and the historical record. Each tells its own equally necessary story, informed by our past as much as our present.