Hello you pretty young things! There is good news and bad news today. Bad news: no Sunday Funday, which means Lindsay Lohan could potentially have worn a slightly gay slouchy knit hat and you could be missing out. Good news: Today is the GLAAD Media Awards in Los Angeles, and a ton of really f*cking awesome people are going! For instance, Kristin Chenoweth is going to accept her GLAAD Vanguard Award for a lot of things including her response to Ramin Setoodeh's anti-gay Newsweek article. Robert Greenblatt, the chairman of NBC Entertainment, and former head of Showtime, will also be honored with the Stephen F. Kolzak Award.
And in recognition of Riese's consulation with her now-famous letter, Riese and bcw/Marni are going to the GLAAD Awards Kristin's guests! That means Riese is technically off press duty tonight.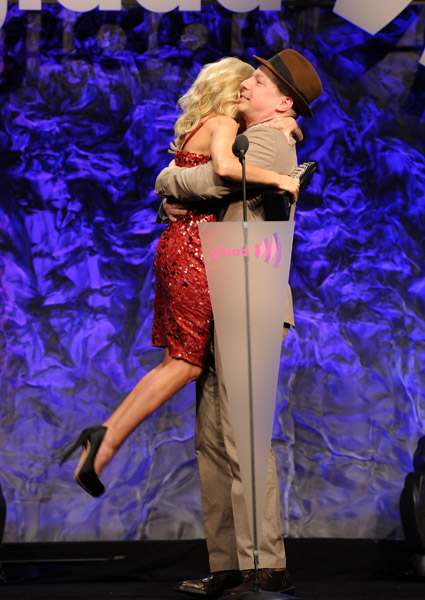 And therefore also in attendance will be Alex and sexy calendar lady Kelli to interview celebs on the red carpet along with Miss April, light of all of our lives. The whole event will be hosted by Rashida Jones and Amy Poehler, which, uh, great?! Basically there is no reason for you to do anything else but refresh this page over and over forever, or at least until later tonight. ARE YOU READY YET LET'S GO!
---
10:26 PM: I think we might be done. If I've learned anything, it's that when someone holds up a can of lube (???) and a swimsuit calendar (???) in the dressing room/supply closet (???) the night is over. Riese says via text: "We're done, everyone lost their passes and then we couldn't find the car and then we got lost in the hotel maze and now we're standing on a bridge and Marni is smoking and I'm putting on lip gloss." Well! There you have it. Good night kittens, smoking is bad for you. Dream of Kristin Chenoweth and pie.
9:55 PM: WHAAAAAAA IS THAT LUBE?!?

9:47 PM: Riese via text: You're all too young to get it, but Robert Reed (Mr. Brady) just got a shoutout from Greenblatt. Greenblatt left Showtime this year which makes me really worried about the future of the second season of The Real L Word. Also, unrelated, me and Alex had brunch with Nikki and Jill from The Real L Word yesterday and it was really great, I like them a lot. Tell the children that." YOU HEARD IT HERE FIRST. (You're the children fyi.)
9:40 PM: Alex: Robert Greenblatt, chairman of NBC entertainment honored with the Stephen F. Kolzak Award just now. The presentation that introduced him included a LOT of L Word clips, so go Robert! (Obvs Dolly Parton presented his award.) Riese concurs: "There were a lot of L Word clips in the Robert Greenblatt montage, a lot of Tasha and Alice."
9:35 PM: Riese via text: Marni is hyperventilating over Dolly Parton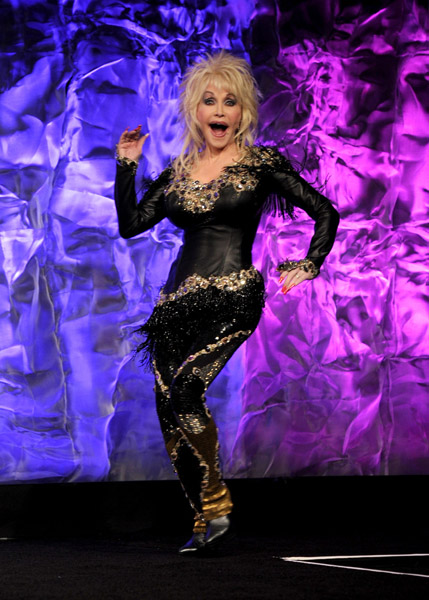 9:31 PM: You guys Dolly Parton was totally the special surprise guest
9:25 PM: Oops I accidentally forgot the part where Amber Heard happened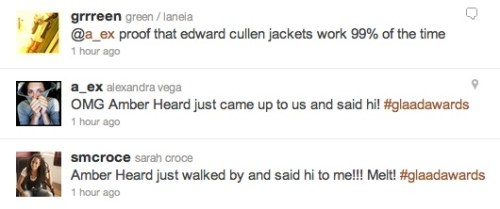 9:20 PM: There's a tie for Outstanding Comedy Series! Modern Family and Glee, obvs. Joel McHale presented the award and we're in love with him. Mike O'Malley and Chris Colfer accepted the award.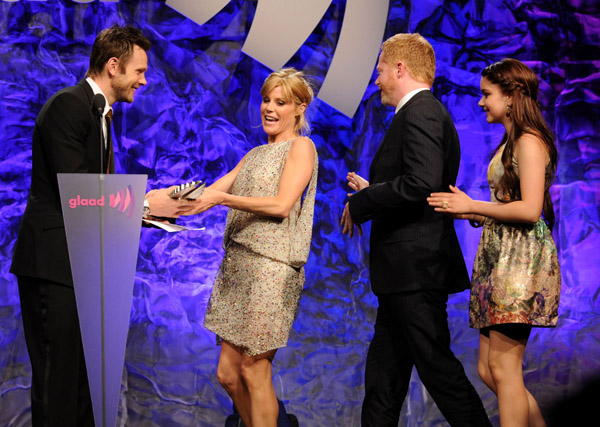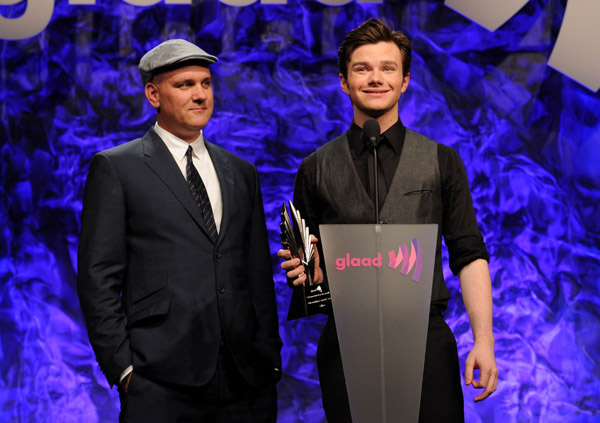 9:00 PM: Alex: Kristin just gave an amazing acceptance speech! We recorded it on film. So exciting.
8:37 PM: Riese via text: "This is super cute, she's crying and hasn't even started talking yet, Sean Hayes is still talking."
8:33 PM: My roommate has suggested that we institute a "GLAAD/glad" pun contest, and I agree with this idea. Best pun in the comments wins an award from Emily Choo. Ready set go. Also, everyone is glad about Chaz Bono's speech.
8:31 PM: They're presenting Kristin's award! Riese says that Sean Hayes just said "On Ambien, she flies higher than any rocket I know." #Iloveeverything
8:29 PM: Riese via text: "Amy and Rashida just said there's gonna be an amazing special guest everyone should wait for and I feel like it's gonna be Dolly Parton. What if Dolly Parton comes out." Riese also wants everyone to know she's sober b/c she's afraid of dying now. I hope her mom is reading this.
8:26 PM: Ok this makes more sense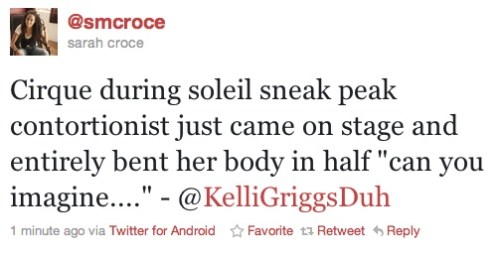 8:22 PM: Stop the presses. Riese says "Someone is doing crazy shit with their limbs." WELL THANK YOU FEARLESS LEADER.
8:18 PM: What if Kristin Chenoweth made a pie for everyone at the GLAAD Media Awards and hid it under their seats? I mean, she didn't, but what if?
h
8:07 PM: Oh wait, I think that Janice Langbehn is talking about how her family was completely violated by the Florida hospital that her wife died in and also by the general level of completely insane bone-crushing day-in-and-day-out oppression that gay people all over America live with. So everyone is just crying I guess. Carry on.
8:05 PM: What if California finally did fall into the ocean/the Big One finally came
7:56 PM: God it would be just super if there were pictures of any of the celebrities attending this event uploaded to the internet by media outlets by this point in the evening, wouldn't it?
7:41 PM: Riese, via text: "In some obtuse way, being here for this makes me feel like we are part of a really special time in American history w/r/t gay rights, there's so much happening and changing." I'm assuming she's talking about Dolly Parton
7:38 PM: Project Runway just won Outstanding Reality Show. Apparently The Real L Word wasn't nominated. I know, I'm just as shocked as you.
7:32 PM: Said photo montage, it's making Alex Vega cry which I mean is that not the cutest fucking thing

7:28 PM: Everyone knows the best montages are training montages, but this one sounds ok too

7:23 PM: Riese also says that Dolly Parton is going to be the surprise special guest, but I can't tell if she's for real or just fucking with me because she knows that I want Dolly Parton to be the surprise special guest at everything, including "Tuesday" and "breakfast." #9to5forever #jolene
7:18 PM: Oh man I wish this part were being broadcast, it sounds super awesome and cute! Amy Poehler and Rashida Jones are in menswear and Rashida is wearing cute glasses, aka is the perfect woman. Also she just said "Lady Gaga has done as much for gay people as she has for lazy people trying to think of Halloween costumes." I think she should run for President.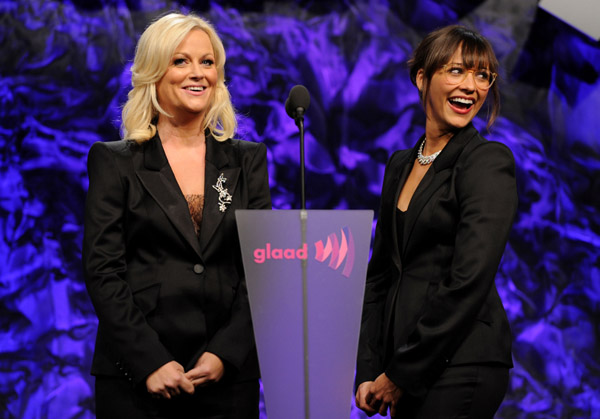 7:15 PM: Croce is calling this "three bois one mirror." There was also something about a peeing contest that I'm not going to repeat here because I'm a fucking lady. (Although I do feel it's important to note that Vega won.)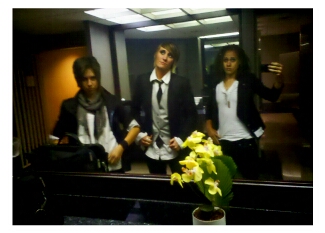 7:04 PM: If you were wondering what it feels like to be a gay or gay-friendly celeb in the greater LA area tonight, it's this:

6:41 PM: Um stop everything, Riese says that they are auctioning off a puppy for $3,000. As a vegan, I am not sure how to feel about this, but as a person who wants a puppy, I feel like I want that puppy. Is the puppy gay? Has it eaten a diamond ring or something? I have many questions.
6:36 PM: Riese via text: "There are two animals on my plate, and our ad in the program looks really hot! Also, we were in the bathroom with Kirsten Dunst and she's just like us!" I assume that means that Kirsten Dunst made faces at herself in the mirror and asked aloud why she looked so terrible and whether too much of her shoulders were showing. Kirsten Dunst, I salute you.
6:30 PM: "Alex, with legitimate fear in her voice: 'How do you interview a deaf person?!"

6:22 PM: Ok we are back with some EXECUTIVE ALEX VEGA REALNESS:

6:13 PM: Riese & Marni are at the fancy dinner thing and Kristin Chenoweth just told Marni she looks cute. I think a lot of important things are happening according to Alex but I don't have any pictures or anything of them, so stand by for just a few minutes guys!
6:02 PM: Um, Sister Wives
6:00 PM: Riese via text: "We're at dinner, there's a thing on a piece of lettuce and I'm gonna eat it"
5:51 PM: You guys, Press Team is so cute. I wish there was a kitten graphic for interviewing Tori Spelling. There isn't, but also that just means that you get to look at Sarah Croce actually doing it, which, I mean, awesome.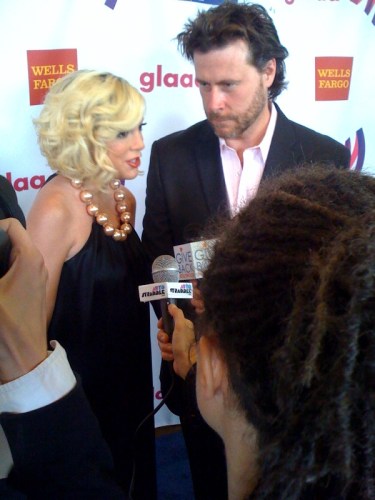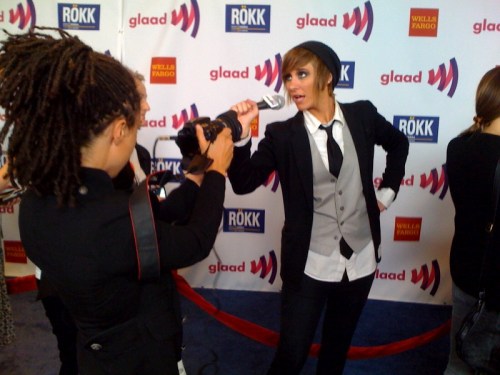 5:44 PM: I am fairly certain that this is Lisa Vanderkamp, a Real Housewife of somewhere in this cold cruel world. Apparently the GLAAD Media Awards are the place to be!
5:39 PM: Marni via text: THERE'S ANOTHER DUDE WEARING MY SHIRT HERE
GOD THIS ALWAYS HAPPENS
5:31 PM: See what I mean about Shay Mitchell?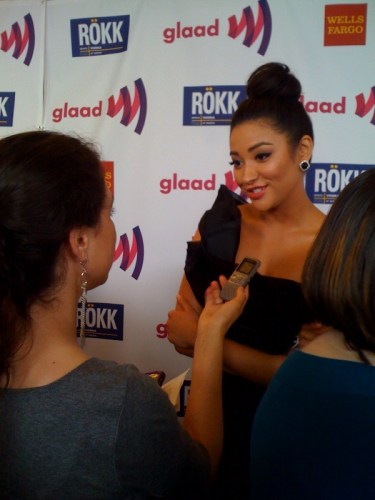 5:26 PM: Riese via text: "All the Pretty Little Liars are here, maybe we will finally find out who A is. Also there are like 10,000 dudes here, in 5 years it has to be 50/50. Autostraddle will make this happen."
5:21 PM: Tori Spelling is here! I don't know who she is.
5:15 PM: Riese, via text: "Melissa Etheridge is wearing ripped up corduroys and shades indoors and looks badass." UGH I am going to go listen to "Yes I Am" and scowl
5:05 PM: And back in the real world: HOARDERS IS ON! Sister Wives is next. I am ALL THE FUCK SET.
5:00 PM: Riese and Marni have finally made it, and have visual confirmation re: Alex Vega and The Press Team. That sounds like a band I would listen to. Someone start making the tshirts stat.
4:56 PM: WHAAAAAAAT Alex Vega says that Melissa Etheridge just walked by, but isn't doing any interviews. Doesn't she know that I would have come to her window ANY TIME between the ages of, oh, fourteen and now? Including the part when she was undergoing chemo?
4:50 PM: Team Press has made it to the red carpet! The red carpet just got kind of sexy, no? I hope they yell "FRONT OF THE DRESS" a lot. That's probably why I'm not on Team Press though, and am instead sitting home alone wearing a tea-stained wifebeater and jeans that don't fit. Life lessons.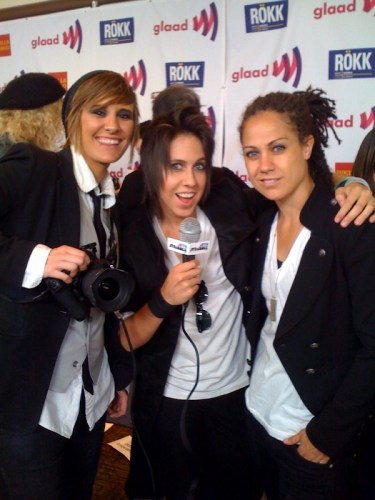 4:45 PM: Oh I think Janice Langbehn is here also, she's the one whose partner tragically fell ill and died while they were on a cruise vacation with their kids and was prevented from seeing her as she died in her hospital room by the Florida hospital staff. Sorry to be a downer, but I am glad she's here! It's pretty great that there's an awards ceremony for, like, real people who deserve to have good things happen to them? And not just famous people with shiny hair and glossy lips?
4:38 PM: There is some photographer dude whose thing is yelling "The front of the dress! The front of the dress!" every time someone walks by that he wants to take pictures of, and he kind of needs to slow his roll but other than that everything seems really fun and perfect and stuff, Kristin's looking-back-over-shoulder-sexy-baby-kitten-angel face is really incomparable
4:32 PM: KRISTIN CHENOWETH IS HERE ohmigod she is so small and cute and perfect, I love everything forever
4:30 PM: OH SHIT WAIT Shay Mitchell actually is here and is wearing this thing that is like if Lady Gaga had sex with Jackie O and their baby became a television high school lesbian with a creepy dead friend!
4:28 PM: Riese, via text: We're stuck in traffic, I wonder if Collin Farrell is stuck in traffic too
4:18 PM: Holy shit, Nikki Peet is here! She's getting a Special Recognition Award? Do you guys even remember who she is, no you don't you're just here for NSFW Sunday and PLL recaps. Nikki Peet is a high school senior who mobilized like the entire state of Texas because her school (illegally) refused to let her start a GSA, she is a fucking badass. This is awesome. ALL OF THE GLAAD MEDIA AWARDS FOR YOU, NIKKI PEET
4:15 PM: I wish RuPaul was going to this
4:08 PM: Look how cute Riese and bcw/Marni are. I think Marni may have taken those sunglasses from my ten-year-old cousin but I don't even blame her, that's how cute they look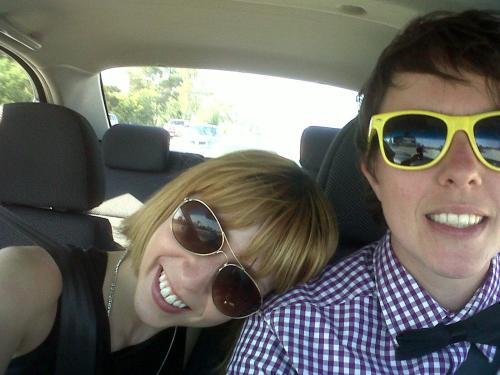 4:05 PM: Someone named Shareen Mitchell is here, which sounds deceptively like Shay Mitchell. She has a very pretty red dress on!
3:59 PM: The nominees from Nurse Jackie are here! This is really exciting for me, I had somehow forgotten that this meant all the gay or gayish characters from every TV show ever would be in the same place at the same time, it's like a fantasy television world utopia!
3:51 PM: Someone named Ariel is here instead, she has long hair and is very pretty. I wish I knew who she was. Is this also about Pretty Little Liars? Will everyone in the world now know i don't actually watch it?
3:50 PM: Twitter is very concerned about whether Darren Criss is coming. No one has any idea. The tension is killing me. What if he stays home to sing Katy Perry songs instead?
3:48 PM: Also, uh, HEY SHAY MITCHELL HEY.
3:36 PM: Alex, via email: Team Press is ready! These ladies are ready to ask the tough questions, get real. Prepare to find out Adam Lambert's stance on Libya.