As a website miscarried and eventually successfully birthed from the limber loins of an L Word recap blog on the day of Jenny Schecter's untimely death, we are uniquely qualified to answer a question we've been getting a whole lot lately (probably because of the reboot): "I'm gonna watch The L Word, should I just skip [insert bad part here]?" I'm not saying anybody has to watch The L Word, but I am saying that there's a lot of hot memes out there that might not be as funny if you don't. We have, in fact, provided you with a mini "watching The L Word for the first time" guide before, but it's buried in a different post and therefore people can't find it! This one is a little more in depth than that one. In anticipation of this year's reboot, there's never been a better time to evaluate the merits of this Lesbian Relic.  Perhaps you saw the show a long time ago, and want to undertake a careful re-watch — this guide will work for you, too, my friend.
Problems with The L Word to know before you dig in: almost everybody is white, there is nary a butch to be seen upon the land, it's wildly transphobic, Shenny never got a chance (don't @ me), it vacillates between intense biphobia and ignoring bisexuality altogether, there's some serious pet dog erasure (these are lesbians in Los Angeles!!!) and the writing is inconsistent and often completely bonkers. Also it's very difficult to sort out how they managed to spend so much time at The Planet.
But like, imagine watching The L Word pre-Discourse, and having only seen a handful of queer female characters prior to this entire show chock-full of them, and it's this very very cool show with all these hot girls who don't give a shit about men! And you're a woman in her early 20s which means you've recently experienced college, which was full of men who emotionally tortured women for sport and sexual benefits. And the men you and your friends have dated have been on the whole, low-key monsters! So you're like, wow!! Maybe life doesn't have to be like this! I could have my life ruined by a woman instead!!!!!! At least she'll be emotionally available!!! And then you realize that the reason you feel that way about a life of women is not because all women should feel that way but because YOU'RE GAY.
Anyhow, it (okay, Shane) was a big part of my lesbian awakening and even though it's kinda terrible, I will love it forever and so can you (maybe?).
If you just wanna get the basic idea without too much agony, these are the best 12 episodes of all time. If you're truly ready, let's begin.
---
The L Word Season One: January 18th, 2004 – April 11th, 2004
The beginning! Were we ever so young and ovulating! I love the feedback-free purity of a first season!
Quick-n-Dirty or Careful Re-Watch: Sorry, no shortcuts, you've gotta watch this one from start to finish.
Things to know: Ilene Chaiken based Jenny on her younger self and Bette on her older self. This show was in development for quite some time, was originally called "Earthlings," and didn't get the go-ahead until Showtime found a hit with Queer as Folk. Kit Porter was initially the main lesbian (she later became the side straight sister) who had "the chart" tattooed on her back. Scott Bairstow played Tim, but he was fired after being accused of sexual assault against a minor and replaced by Eric Mabius. Bairstow pled guilty and his career pretty much ended right there. Most actresses were just thrilled to find a script that told women's stories, front and center, regardless of the reason why, and Jennifer Beals was the show's biggest "get." At the time, Leisha Hailey was the only out lesbian in the main cast, but Kate Moennig was an open secret, and Laurel Holloman, Mia Kirshner and Karina Lombard loosely identified as bisexual, although Laurel and Karina later identified as straight. (So many former L Word actresses are now out gay ladies!) It was renewed for a Season Two after the first episode's premiere. Also, the Dinah Shore episode was shot in Vancouver.
The L Word Season Two: February 20th, 2005 – May 15th, 2005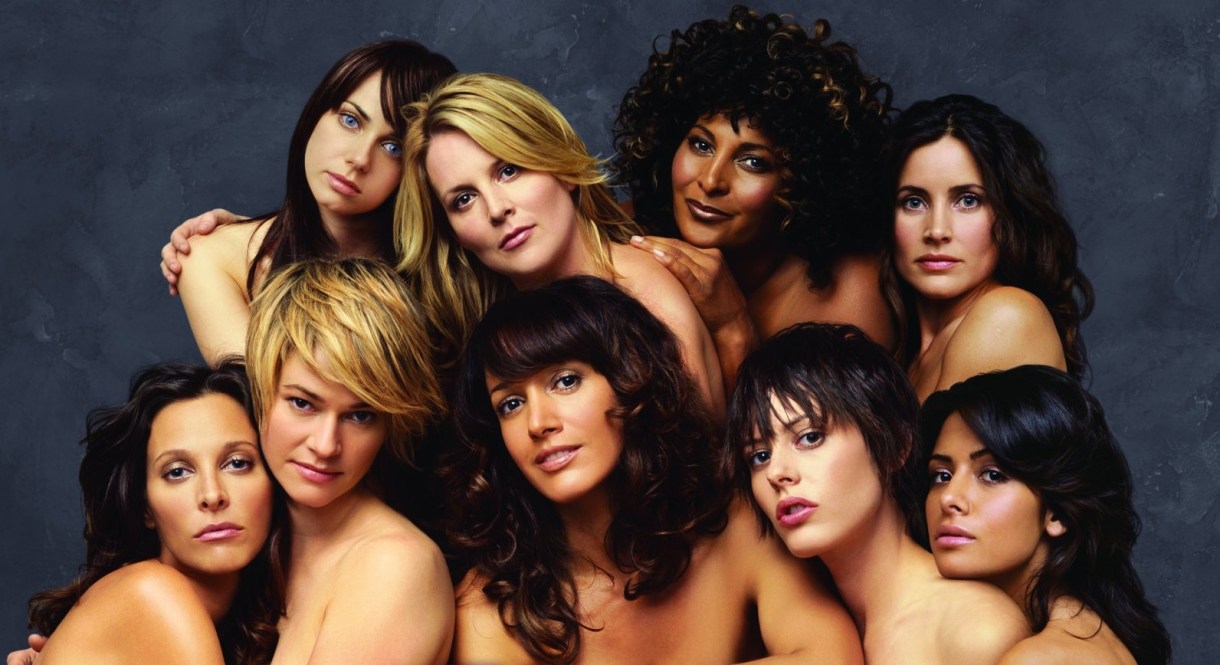 Aside from an excruciating storyline involving Jenny and Shane's new roommate Mark, Season Two is pretty okay.
Quick-n-Dirty or Careful Re-Watch: 201 (Life, Loss, Leaving) for continuity's sake and to meet Carmen. 205 (Labyrinth), 206 (Lagrimas de Oro), 210 (Land Ahoy!) and 211 (Loud & Proud) 'cause they're fun, and 213 for continuity's sake and to meet Sharmen.
Things To Know: Ilene started dating EZ Girl, who then took over a lot of the show's score and wrote the theme song we all love to sing along to but also hate. Laurel Holloman was legit pregnant at this point, which got written in. The L Word was a premium cable hit in Season One, and Season Two pulled in some significant starpower as a result, including guest spots from Sandra Bernhard, Camryn Manheim, Gloria Steinem, Ariana Huffington and Melissa Rivers.
The L Word Season Three: January 8th, 2006 – March 26th, 2006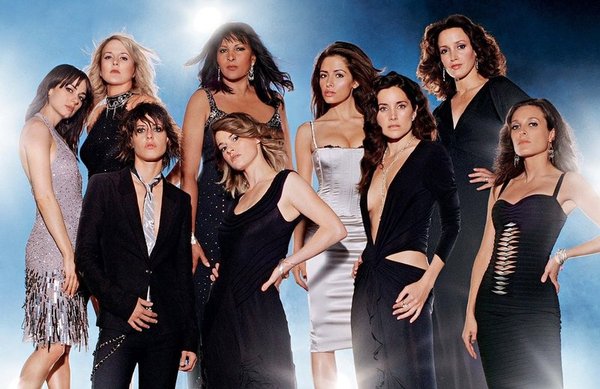 Season Three has its moments but is pretty bananas and involves deeply unpleasant storylines for basically everybody we care about. Max is introduced in order to give representation to the trans community, and it's not great!
Quick-n-Dirty or Careful Rewatch: 301 because obvs, 302 (Lost Weekend), 305 (Lifeline) because sex, 311 (Last Dance) because although it's pretty terrible, it's also chock-full of relevant and necessary flashbacks to the early days of Dana Fairbanks, which you must see. Then 312 (Left Hand of the Goddess) because it's the finale and you always have to watch the finale.
Things to Know: Season Three is basically "the long slow march towards the death of Dana Fairbanks," an eventuality which cast a dark cloud over the entire mediocre season. Ilene now regrets killing Dana, a story inspired by the breast cancer diagnosis (and eventual survival) of one of the show's fellow co-creators who'd been shoved out by this point. The choice was devastating to the cast, including Erin Daniels. Also, Jennifer Beals was pregnant so they created a whole meditation phase for her so she could get heavily into tunics and adopt multiple blankets as legit apparel.
The L Word Season Four: January 7th, 2007 – March 25th, 2007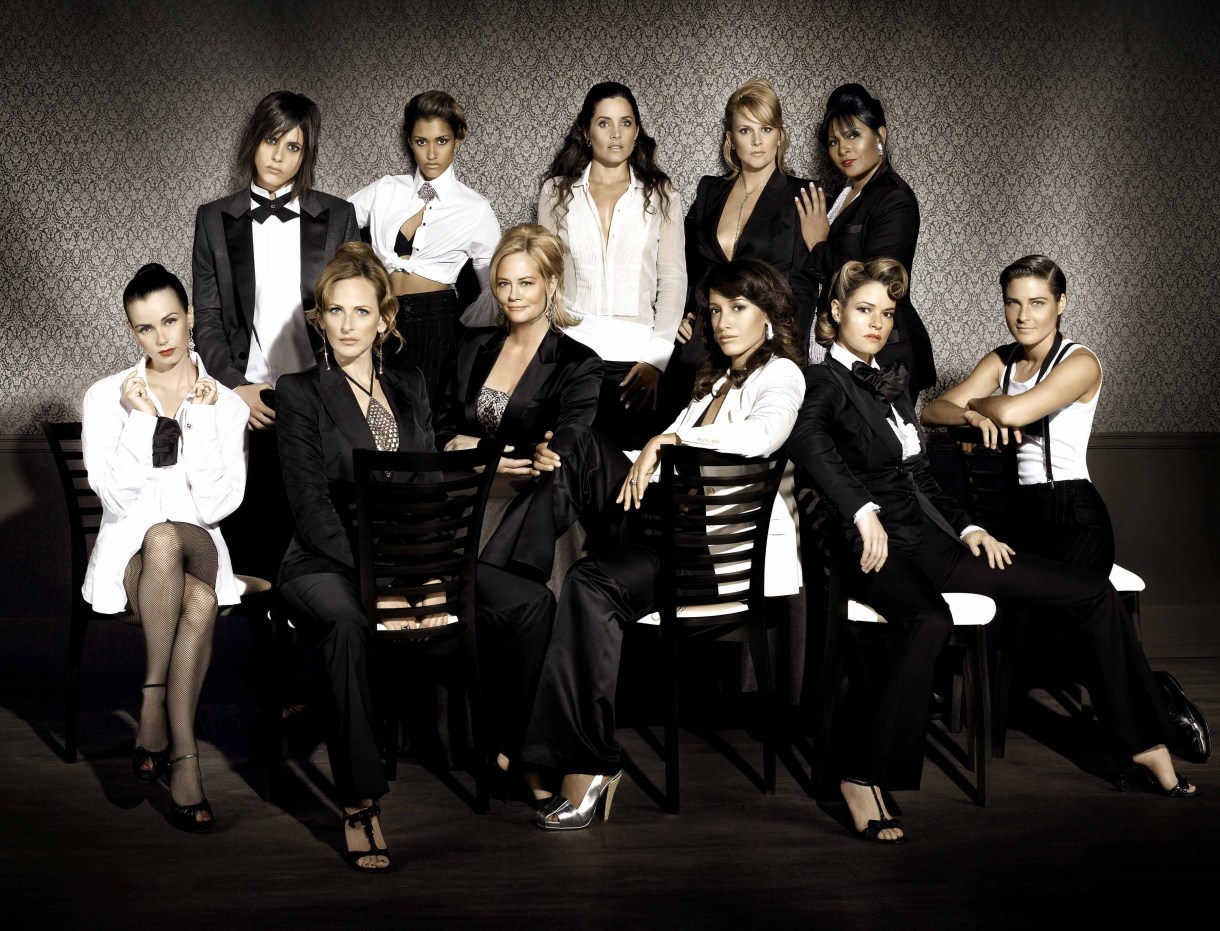 Season Four is a total shitshow, tonally uneven, riddled with jarring ret-cons and often downright bizarre. We get like ten new characters, including but not limited to: Black soldier Tasha (Rose Rollins) (who we love), late-in-life lesbian Phyllis (Cybil Shepard) who adds a little levity to the proceedings, deaf artist Jodi Lerner (Marlee Matlin) who dates Bette and loves Origami with Steel and, finally, a sort of clownish Latinx lesbian lothario, Papi, played by Indian actress Janina Gavankar. My L Word WTF videos (Here's the first one, here's the second) drew heavily from Season Four.
Quick-n-Dirty or Careful Rewatch: Maybe watch it in the background while you're doing other things? There are lots of good scenes in it, but only one good episode (406: Luck Be A Lady) and one pretty-good episode (405: Lez Girls). So if you're watching Season Four while Henry clips his toenails, start out with the premiere, 401 (Legend in the Making) (which is pretty bad but listen you gotta get the basics down), watch 404 (Layup) starting at the 39 minute mark (you only need to see the basketball scene, the rest is terrible), 405 (Lez Girls), 406 (Luck Be A Lady), 408 (Lexington & Concord) for Talice, the parts of 409 (Lacy Lilting Lyrics) where all the girls are in Alice's bed and 412 (Long Time Coming) because it's the finale.
Things to know: Ilene Chaiken / Showtime launched OurChart.com in advance of Season Four, a website tie-in that included a "chart" feature that nobody wanted and also it didn't work. In fact, a significant portion of the website failed to work and/or land, aside from a very large banner that prominently announced its existence whenever you had the bad fortune to visit. OurChart competed intensely with AfterEllen for a while, and tension at Dinah Shore that year was THICK but also OurChart added a lot of L Word tie-ins to Dinah that were very fun for participants! A few L Word actresses were involved in the site's production but quickly faded from the foreground, replaced by a bunch of women named Beth. Season Four was partially a TV show, and partially a non-stop promotional exercise for OurChart. However, I wrote for OurChart and so did Laneia and it also launched the webseries Girltrash that became a movie. There was some good stuff on there before it shut down in 2008.
There's also an unverified rumor that Showtime asked TLW to tone down the lesbian sex for Season Four — whether this is true or not, it was a dry run there for a while. This season suffered from intense cast sprawl issues and could barely keep ahold of itself.
The L Word Season Five – January 6th, 2008 – March 23rd, 2008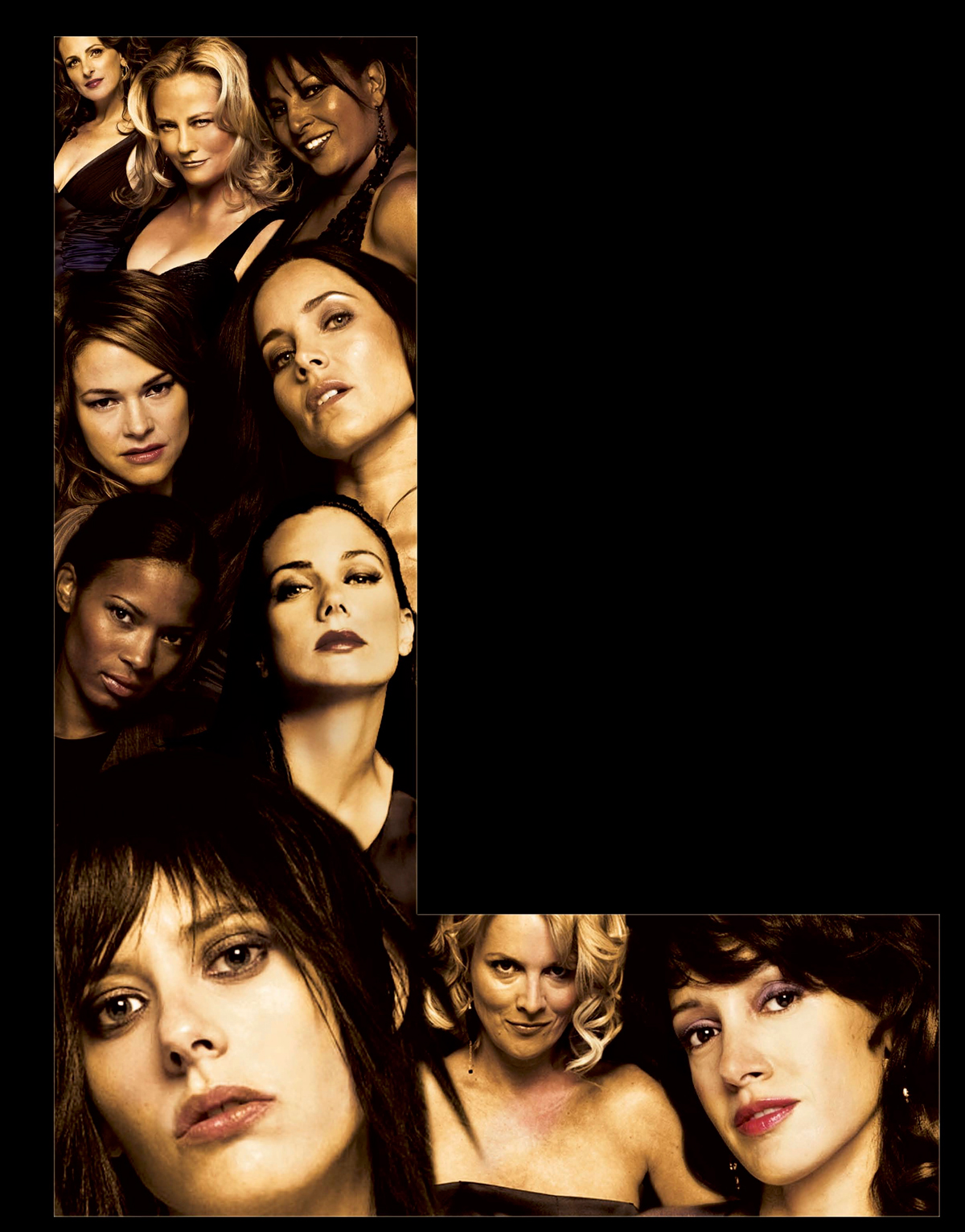 A true return to mild excellence! After Season One, Season Five is by far the show's strongest. The cast additions make sense and there is genuine fun to be had throughout — laughter, tears, all the feelings.
Quick-and-Dirty or Careful Rewatch: Watch it all! The finale is the weakest episode of the bunch (another heavy-hitter in The L Word WTF), but you can't skip the finale.
Things to Know: Most of this season was "ripped from the headlines" — including Alice's spot on "The Talk," inspired by Rosie O'Donnell's tenure on "The View." The SheBar/Planet drama was plucked from the True West Hollywood Story of GirlBar, which was run by a lesbian couple (introduced in a 1992 Los Angeles Times article as "Robin Gans and her lover Sandy Sachs") who had a reputation for dyke drama but also ran/run a wildly successful lesbian nightlife empire (GirlBar still hosts a Friday night party at The Abbey). In addition to their L.A. nightlife accomplishments, the Girlbar duo co-founded the Dinah Shore Weekend with Club Skirts owner Mariah Hanson, but in 2006, after 15 years of working together, they split up, and GirlBar and Club Skirts remain rivals for Dinah Shore turf. (Robin and Sandy eventually broke up too.) The Nikki Stevens character was reportedly inspired by Lindsay Lohan.
The L Word Season Six – January 18th, 2009 – March 8th, 2009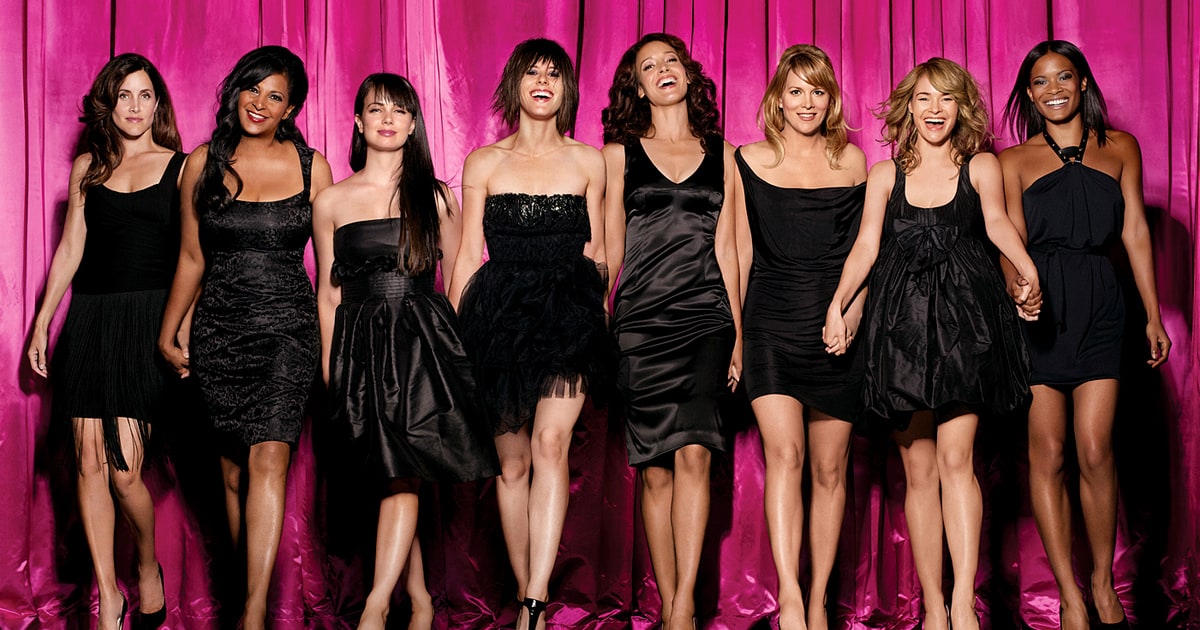 I have seen every episode of this show at least three times, often 10-15 times each. I have seen each episode of Season Six just the number of times it took me to recap it, and never looked back.
Quick-n-Dirty or Careful Rewatch: Honestly you could skip this season entirely. The reboot just might.  If you must — the first ten minutes of episode 603, and also episode 607, which involved a dance-off and was very fun. Whatever you do, do not watch episode 608.
Things to Know: Jenny's character is completely re-written in Season Six, and the entire season was focused on who murdered Jenny, which was the opening scene of the first episode. Ilene Chaiken does not know who killed Jenny. This breaks a really CRUCIAL rule of crafting good suspense fiction. The writer doesn't need to reveal the killer to the audience, but if the writer doesn't know who the killer is, they should probably just kill the show, 'cause it's gonna suck — and it did! Jennifer Beals apparently often finished the day's shoot by crying in her trailer. There were so many stories they could've told in their final season and they told a lot of empty and deeply unsatisfying stories instead. The whole season was a set-up for a possible spin-off called "The Farm," which unsurprisingly was not picked up.
---
In conclusion, this is not necessarily the way that we live and love, but it's still pretty okay.