It's been ten years since The L Word premiered, and we've got lots to talk about. Welcome to The L Word week!
---
Bisexuality, and the way it is presented in both queer and "straight" media, is always a complicated issue. The degree to which we are welcomed in the LGBTQ community, how that varies between different sections of it, how that should vary… that is a question that can be debated endlessly. What is harder to dispute is that, as far as media representation goes, bisexual "stereotypes" tend to fall into a few distinct patterns.
TV Tropes, the user-created wiki cataloguing different character, plot and other "patterns" in fiction, has a few different examples of common "bisexuality tropes." From the violent or insane "Depraved Bisexual" to "Anything That Moves," the character whose lack of preference with gender extends to a lack of preference in anything, it is obvious what is wrong with a lot of these "tropes." Suggesting that a non-heterosexual orientation leads to mental instability, or that bisexual people cannot be monogamous or choosy, is playing into well-known and harmful stereotypes. Yet the problems with others are somewhat less obvious; this is the case with "But Not Too Bi."
The site defines the "But Not Too Bi" trope as the following: "A character is nominally bisexual but is almost exclusively involved with one sex during the run of the narrative." It goes on to list some of the common ways in which this plays out:
1. Time: Alice used to date or sleep with both sexes, but there is no indication that she does so now.
2. Actions on screen: Bob sleeps with both sexes, but the only relationships he forms are with women…
3. Tone/emotion: These two usually go together. If Alice considers her experiences with women to be wacky hijinks and her experiences with men to be love stories, they are usually treated as such by the music, the other characters and the rest of the set.
The first two, of course, are not "problematic" on their own; there are real-life people who identify as bisexual while later coming to realize that they are exclusively gay or straight, or even just bi people who end up in long-term monogamous relationships with someone of a particular gender. Likewise, there are people who are sexually interested in more than one gender, but only romantically interested in one, or vice versa: "homoromantic bisexuals" and so on. Yet, the issue of a "pattern," once again, comes up. What does it say to the viewers when so many of the bi characters we see are like this – viewers who may not be open to the nuances of romantic vs. sexual attraction? The third example gives a clue: that one kind of attraction is more significant than another, and in turn, that bi people are kidding themselves when they pretend that they can have both. As it also writes:
"[The] key is to create some form of pecking order between the sexes, presumably in order to make the character more appealing to the audience depending on what gender and sexuality they are expected to have, while at the same time having the titillation, comedic material or diversity of 'deviant' sexual behavior. Of course, the prevalence of the trope brings some unfortunate implications for real life bisexuals; that in the end it's only one gender that matters to them and that their experiences with the other one are worthless."
The way the trope most often plays out in media is where a bisexual character's "real" relationships or "focus" is toward the opposite sex. This is where the "deviant" part comes in, and the issue of "diversity": it can seem like writers want to have their cake and eat it, too, gain credibility for having an LGBTQ character on their screen while not alienating certain bigoted straight viewers by showing them in an actual same-sex relationship. In this sense, the "But Not Too Bi" trope hurts both gay and bi people: it furthers stereotypes about bi people "kidding themselves" and defines non-heterosexuality in general as The Other, something that is "too much" to portray fully on-screen.
For all the credit it gets for its portrayal of lesbian couple Naomi and Emily in the third and fourth seasons, Skins engaged in this in the other two generations' casts with its bi and pansexual characters. In the first generation, Tony and Cassie had dalliances with both boys and girls, but their "real" relationships were with opposite-sex characters. How the third generation dealt with Franky was even more egregious, as after she told everyone in the fifth season that her sexual orientation was "into people" – which sounds like she's bisexual and/or pansexual – she was never shown to have a sexual or romantic encounter with anyone other than a boy. In the end, even though these characters had interest in multiple genders, the "double standard" causes fans of the show to debate their sexual orientations, finding reasons to explain any same-sex interest as "not counting." Similar to the issue with queerbaiting, it draws in queer viewers while still upholding the double standard that reminds us that we're inferior.
The L Word, of course, is a different story. While "But Not Too Bi" was firmly in effect with the main  characters who could be read that way – Alice Pieszecki, Jenny Schechter and Tina Kennard – their bias was toward the same gender, rather than the opposite one. When the "double standard" is toward a disadvantaged rather than privileged group, does the problem change? Is there even a problem?
Alice Pieszecki starts out from the very first episode, proudly identifying herself as bisexual and rebuking her friends' biphobia. When Dana asks her, "When are you going to make up your mind between dick and pussy?" Alice responds with, "Well, for your information, Dana, I am looking for the same qualities in a man as I am in a woman." She dates Lisa, a "lesbian-identified man," during the first season. However, as the seasons go on, Alice later comes to identify as a lesbian, even testifying under oath as such. In the third season, she jokes by Dana's bedside, "You're right. Bisexuality is gross. I see it now." The joke was in response to Tina's question about how she's dressed for a date with boyfriend Henry. Tina herself plays into another bisexual stereotype – the bisexual cheater, who leaves her long-term lesbian partner for a man – but it says something that Alice is now attacking other bi women with the same kind of biphobia she despised in the first season.
Whether the dramatic and troubled Jenny would count as good bisexual representation anyway is another matter, since "crazy bisexuals" are their own minefield of a media trope. Regardless, despite her starting off the show engaged to a man, and having her interest in women referred to as "bisexual" (as in the joke in the pilot about finger lengths), Jenny later in the show comes to identify as a lesbian. She is so lesbian-identified, in fact, that she comes to exclude Tina for choosing to date a man, insisting she is "enjoying all the heterosexual privileges" when she walks around with him. It makes sense that Jenny would mostly date women after coming out as bisexual (a term she does use to define herself in the first season) and leaving her fiancé Tim, since she's likely "making up for lost time;" Jenny probably only dated men before she came to terms with her sexuality over the course of the first season. However, even with that understanding in place, the show still manages to find a way to eventually twist Jenny's character into one that undermines bisexuality. Her interest in men is something of the past, and something she actively disavows in her current identity. It is "lesser."
While Tina does at least get to have ongoing, significant relationships with characters of multiple genders, she, too, continues to identify as a lesbian and eventually comes to disavow her interest in men when she gets back with Bette later in the show. Bisexuality on The L Word is a transitional state and, like the Skins examples but in reverse, bi women's interest in men is always secondary and never lasts. They always, inevitably, move toward a lesbian identity.
It's interesting to wonder if these examples would be a problem in isolation. Certainly, it is an issue when one of the most visible and influential queer shows on TV makes a pattern of showing bisexual characters as fake or duplicitous; it raises the question of if they would have represented bi people better by leaving us out entirely, as another highly visible and influential queer show – the US version of Queer as Folk – arguably did. Yet, would these characters be a problem if there were other, contrasting examples of bisexuality on the show? As mentioned before, Jenny's lack of male partners after, presumably, a lifetime of only dating men makes sense, if not her animosity toward other bi women later in the show. Alice could easily be a lesbian who slowly came to her true sexual identity after believing she was bisexual; this is also realistic. And Tina's cheating on Bette – a relationship that was on the fritz anyway – isn't necessarily a problem absent a cultural stereotype of bi people as cheaters. People of all sexual orientations cheat, after all. Certainly, none of these situations are necessarily unrealistic. So is it merely a lack of diversity in experiences, or are they problematic on their own?
When one looks closer at The L Word's failings when it comes to bisexual representation, it isn't just about a lack of variety. In fact, all The L Word's bi characters have different experiences with their attraction to people of multiple genders, but all happen to gravitate more toward women – which makes sense for a lesbian-focused show. It does have variety. The problem is that every single one is presented in a way that makes bisexuality as a whole seem like a negative thing. It undermines bisexual people and identities in general.
There are ways The L Word could have given us these storylines without making bisexuality, or bisexual women, look bad. A close friend of mine identified as bi before he later came out as gay, but still makes it clear to others that bisexuality is real, just not who he is. If Alice is truly a case of a lesbian character who was previously bi-identified – and not just a case of the writers changing their minds halfway through – they could have presented that identity crisis like my friend's, making it clear it wasn't her identity but still a valid identity in general. Or just not had her comment on it at all, beyond stating that it's no longer how she identifies. That's not great when it's the only representation we get, but it's fine when there are other bi women in the cast, and certainly very realistic.
Jenny could have continued to identify as bisexual or something else that suggests an interest in multiple genders, since she clearly is attracted to both men and women over the course of the show. If not, there could have been a conversation about why the "lesbian" label was more comfortable for her: feeling more in tune with the lesbian community as a whole? A reaction to biphobia? Or, at the very least, as with Alice, we did not need to see her attacking other women who are interested in people of multiple genders, actively excluding them from her queer communities.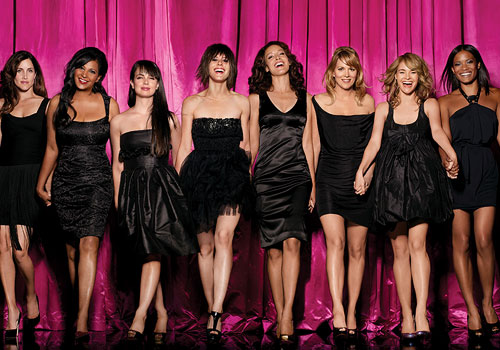 If even one of these had happened, The L Word could be counted as having some actually good bisexual representation. The biphobic attitudes of any other characters would have come off the way Dana's had earlier in the series: that character's attitude, not that of the show. But because The L Word instead made a pattern of having even its actual bi characters come to embrace biphobia, that's not what happened. It appears that the show itself wants to undermine bi women, or at least make it clear we're not welcome in queer communities. So in that sense, part of the problem is a flipped version of "But Not Too Bi" – which, while not as heterosexist as the usual straight-biased version, is still biphobic and monosexist. It still portrays bi people as Other and as duplicitous and confused. But it goes beyond that. The show outright states that these women aren't queer enough unless they shed their bisexual identities.
I've always considered Reese Holloway, the main character in Malinda Lo's sci-fi YA novel Adaptation, to be the ideal example of how to write bi characters well: she has a male and a female love interest and the narrative doesn't appear to privilege one over the other. Yet, characters whose attractions are that close to the 50/50 mark aren't necessarily "more realistic," either. Even Kinsey 3 bi people don't necessarily have their actual dating ratios down to that exact margin. Avoiding "But Not Too Bi" isn't good representation in and of itself, since plenty of real-life people's experiences can appear to uphold that trope. But at least don't actively undermine bisexuality as a legitimate identity, and as one that belongs in the LGBTQ community (what else do you think that B stands for?)
There's a good conversation to be had about what truly great and respectful bi representation looks like. But I think we can all agree that The L Word is not that.
---
In order to make sure that the comments section on this article is a healthy and welcoming place for our bisexual readers, please note that any comments that question the validity of bisexuality or sexual fluidity as a sexual orientation, question Autostraddle's decision to publish pieces discussing bisexuality, or make essentialist claims about bisexual people (ex. bisexuals are cheaters, bisexuals turn out to be gay) will be swiftly deleted.