We would not be here today if it wasn't for The L Word, because it was various online communities developed around that show that eventually evolved into this website! Every now and again, it seems important to revisit our roots, and today we will do so via my Top Twelve Favorite L Word episodes ever. My qualifications to write this list include that I was the L Word recapper for The L Word Online for Seasons 3-5 and hosted Showtime's L Word vlog Lezberado for Season Six. Also, Ilene Chaiken hates me.
This list was incredibly difficult to put together, especially because so many of my favorite scenes took place in so many terrible episodes. Worse still was the abysmal situation known as "Season Four," a sprawling mess of nonsense which managed to corrupt one of the series' best scenes ever — the basketball scene. We popped in 404 (Layup) to screencap it for this top ten, and suddenly I was met with an onslaught of terribleness — Jenny's bizarre dog adoption to get back at Stacey Merkin situation, a Mount Holyoke student telling Max he's a freak and storming out of the restaurant, the random Russian Nanny Natasha telling Angus he's "too hot to be a papa" and then giving him a beejer, Alice's pursuit of Papi's solar system, Jodi's weird art situation and just really so much terribleness I can't even. So we had to strike it from the list. Luckily we already have a Top 15 L Word Sex Scenes list, so those choices have been made.
I also wanted to include at least one episode per season, otherwise I just would've listed all of Season One and included a few photos of Shane's nipples. These are the important decisions I have to make every day in this job!
Oh, one more thing! Apparently not everybody has seen this show because sometimes people ask me "where to start" with The L Word if you're watching it for the first time.
Honestly, I'd say you should watch every episode of every season, just like your foremothers before you. If you insist upon an easier way that will require less hours because you're v. busy and important, my suggestion is below. [Also, some of the recaps from my old recap site have been moved to this site. The formatting is probs weird from the transfer and I was younger/stupider then, but they sure are funny!]
So, for L Word Virgins Who Don't Want To Watch Every Episode Seventeen Times Like I Did…
Watching The L Word For the First Time – The Fast/Easy Way: 
however you really should watch all of it!
Season One: Season One from start to finish.
Season Two: 201 (Life, Loss, Leaving) for continuity's sake and to meet Carmen. 204 (Lynch Pin), 205 (Labyrinth), 206 (Lagrimas de Oro), 210 (Land Ahoy!) and 211 (Loud & Proud) 'cause they're fun, and 213 for continuity's sake and to meet Sharmen.
Season Three: 301 because obvs, 302 (Lost Weekend), 305 (Lifeline) because sex, 311 (Last Dance) because although it's pretty terrible, it's also chock-full of relevant and necessary flashbacks to the early days of Dana Fairbanks, which you must see. Then 312 (Left Hand of the Goddess) because it's the finale and you always have to watch the finale.
Season Four: I think you could watch the entirety of Season Four while doing other things, like housecleaning, sex, raising children or planning a dinner party. The reason I suggest watching Season Four while washing your vagina or the coffee table is because there are lots of good scenes in it and it's very fun — especially after the epic downer of Season 3 — but only one good episode (406: Luck Be A Lady) and one pretty-good episode (405: Lez Girls). So if you're watching Season Four while Henry clips his toenails, start out with the premiere, 401 (Legend in the Making), watch 402 for the papi intro, 403 (lassoed) because it's fun, 404 (Layup) to meet Paige and Jodi and for the basketball scene, 405 (Lez Girls) (meet Tasha!) 406 (Luck Be A Lady), 408 (Lexington & Concord) for Talice, the parts of 409 (Lacy Lilting Lyrics) where all the girls are in Alice's bed and 412 (Long Time Coming) because it's the finale.
Season Five: Start to finish. (The finale is probs the season's weakest episode, but you need to watch it anyhow.)
Season Six: Let's just pretend like it never happened!
Now for the list!
---
My Favorite 12 "L Word" Episodes Ever
12. 607 – Last Couple Standing
[watch]
written by Ilene Chaiken, directed by Rose Troche (Go Fish)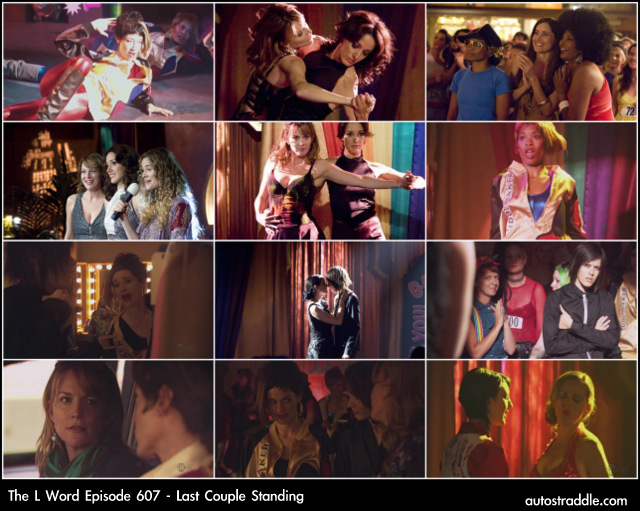 Season Six, better known as Season SUCKS, was an exercise in slow water torture from which nobody emerged unscathed. Actually I'm not sure if you heard, but Jenny actually died as well. Anyhow, before collectively dying in a metaphorical fire, everybody danced one last time and we all pretended like 607 was the end of the season because 608 was the worst 59 minutes in the history of television for real.
11. 305 – Lifeline
[watch]
written by Ilene Chaiken, directed by Kimberly Pierce (Boys Don't Cry)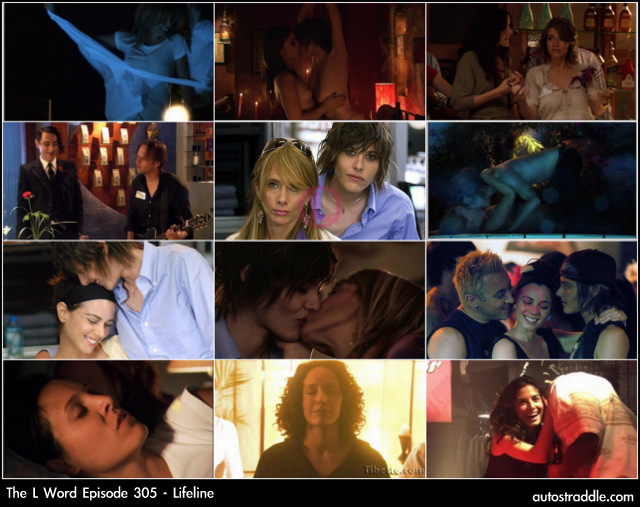 Season Three was a heedless and usually sexless march towards The Untimely Death of Dana Fairbanks, cluttered with other situations such as Bette's sudden appreciation for flowy tunic frock shirt things. But in 305, the following things happened: Alice had sex with a Vampire, Shane and Cherie Jaffe had reunion pool strap-on sex and I believe also Dylan and Helena took a train to tuna-town.
10. 502 – Look Out, Here They Come!
[watch]
written by Cherien Dabis (Amreeka), directed by Jamie Babbit (But I'm a Cheerleader, Itty Bitty Titty Committe)
After Season Four I was pretty sure The L Word was gonna suck forever, but then Season Five happened! The premiere wasn't thrilling, so 502 was like the unicorn who comes into the forest on a rainbow of lightbeams and says "there is hope for this show to be good and fun again!" It was funny, is the thing, and opened with the theoretical sex conversation that was probs like a shipper's dream come true. Also so much sex!
9. 406 – Luck Be A Lady
[watch]
written & directed by Angela Robinson (D.E.B.S, Girltrash)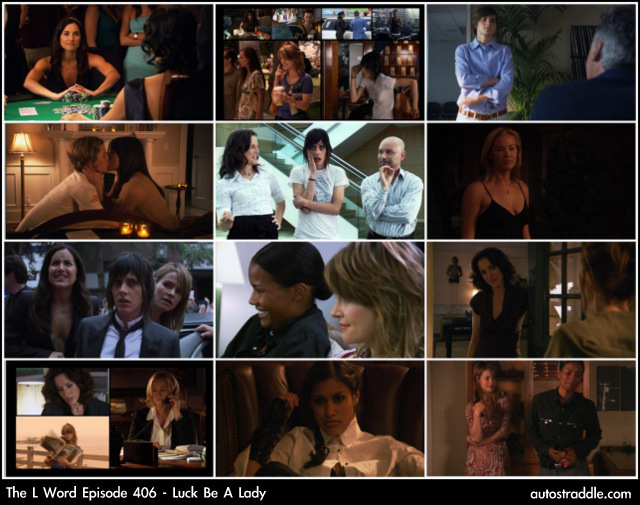 Praise goddess for Angela Robinson and her ever-loving light of mercy for shining upon our hapless cast for one brief hour in Season Four, is all I can say about this one. It was fun, Papi's rules of poker are the best rules of poker ever, Tasha and Alice meet and everybody looks very Shane today. I tend to prefer episodes that involve most of the characters convening in the same room and stories about their friendships. We found the opening phone chain so amusing that we filmed our own version of it for funsies/because we're weird.
8. 210 – Land Ahoy
[watch]
written by Ilene Chaiken, directed by Tricia Brock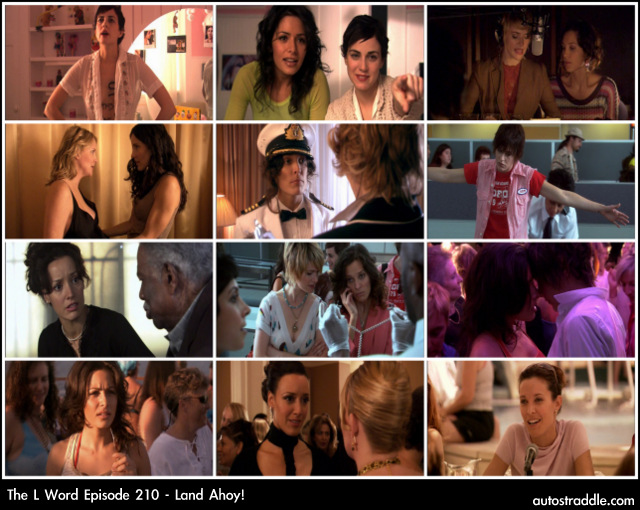 Despite fairly consistent decency and a lack of Absolute Suckage, Season Two failed to deliver a flawless episode. It's actually chock-full of great scenes stuck in lackluster episodes, which's difficult for me to handle re: this Top 12. The problem with every single Season Two episode is that it inevitably involves a creepy Jenny strangewhisperyintensefeelings carnival/holocaust/sexual assault flashback/dreamscape/short story/The Mourner's Kaddish. Also; Mark and his "rapey cameras" hang like a dark cloud all season long, but in 210 and 211, Jenny's reaction to his revelation was some really tough but well-done stuff. Anyhow I haven't even begun speaking about this episode! I picked Episode 210 for this list because of the cast commentary on the DVD. Real talk: Erin Daniels also hated those pants.
8. 205 – Labyrinth
[watch]
written by Burr Steers (Igby Goes Down, How to Lose a Guy in 10 Days) directed by Rose Troche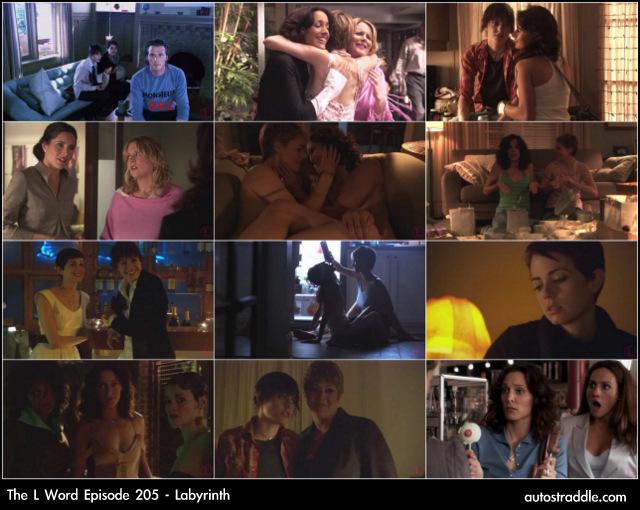 Unfortunately I couldn't actually decide whether 205, 210 or 211 should be chosen as tribute to represent their season, but it's possible 205 is slightly better than 210 (above), especially because it's much lighter on the BETTY and it's super-heavy on the Dana-Alice, and by heavy I mean "HOT AND HEAVY." The serious stuff played well here too — like when Bette's forced to get emotional comfort from Jenny of all people and it kinda works, and it's tender and both characters grow a little from it.
7. 302 – Lost Weekend
[watch]
written by A.M. Homes (author, The Safety of Objects, The End of Alice), directed by Bille Eltringham
If I ever lost a weekend, I'd go find it. Or I'd watch "Lost Weekend" and witness Helena hosting a private intervention with Alice's psychotic Dana-Shrine (she wasn't even dead yet you guys), Jenny going badass with a stun-gun on the homophobes ("we're dykes, not faggots you assholes!") and Shane's opportunity to explore her softer side via Quinceañera and a giant doily. Jenny's evolving relationship with Max was still pretty compelling and not-absurdly-problematic at this point, and Dana hadn't started dying. Also, Carmen's sexy dance. Also, Alice's cute bisexual love addict glasses.
6. 103 – Let's Do It
written by Susan Miller (Anyone But Me), directed by Rose Troche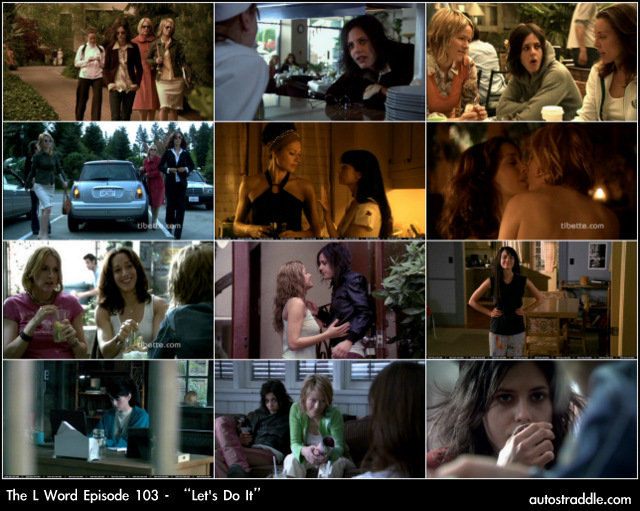 The Mission To Ascertain The Disposition and Intent of One Miss Lara Perkins. The beginning of The Chart. So everything.
5. 509 – Liquid Heat
[watch]
written by Ilene Chaiken, directed by Rose Troche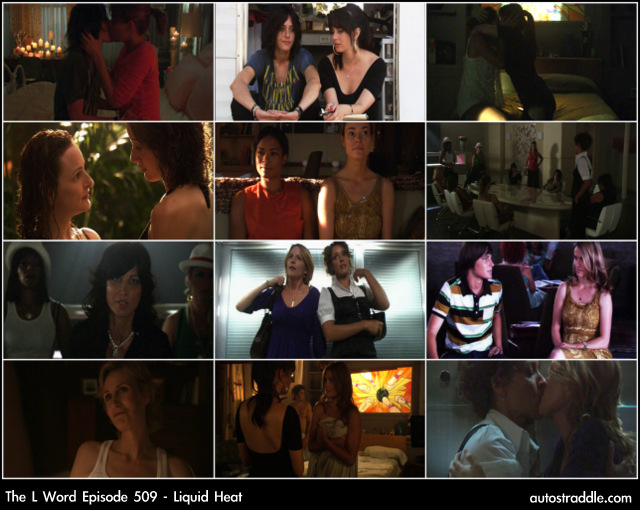 The best part of Episode 509 is the part where everybody had sex, and the second-best part is the mafia showdown meeting between SheBar and The Planet.
4. 112 – Looking Back
written by Guinevere Turner (Go Fish), directed by Rose Troche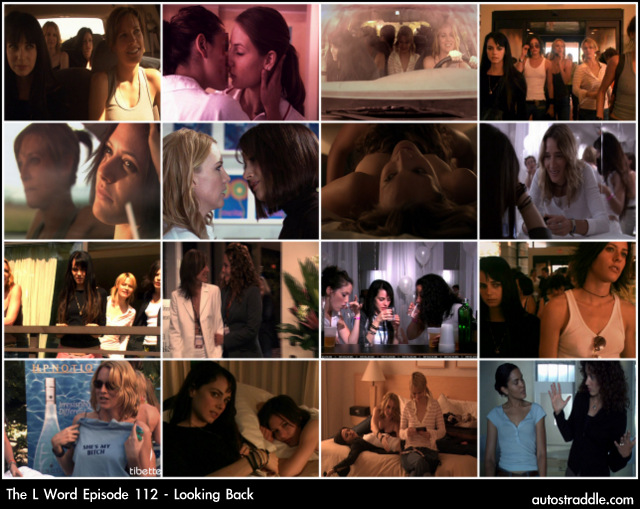 Watching the Dinah Shore episode will inspire you to think either "I love my lesbian friends so much!" or "I wish I had a fun group of lesbian friends!" Worth it for the flashbacks alone, honestly.
3. 101 – Pilot
teleplay by Ilene Chaiken, story by Ilene Chaiken & Kathy Greenberg & Michelle Abbott, directed by Rose Troche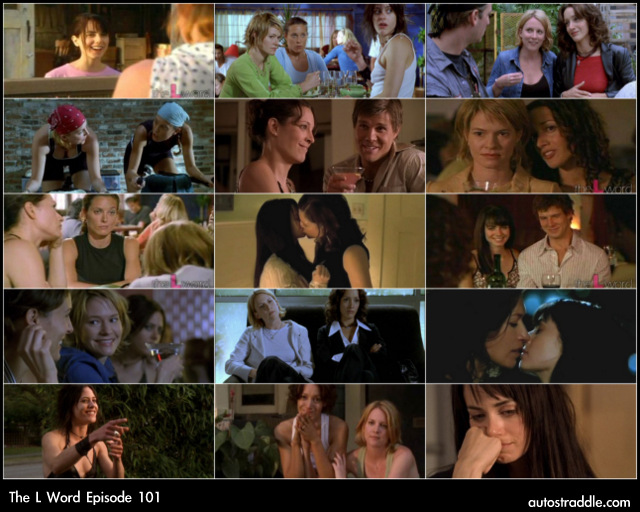 If you overlook the fact that the show's first line is, I believe, "I'm ovulating!", the pilot will always be the ultimate L Word episode. In two well-paced hours, we meet the girls for the first time, Jenny and Marina have passionate ladysex, Bette and Tina rekindle their flame and everybody falls in love with Dana. Also I met Shane and would never be the same again.
2. 510 – Lifecycle
[watch]
written & directed by Angela Robinson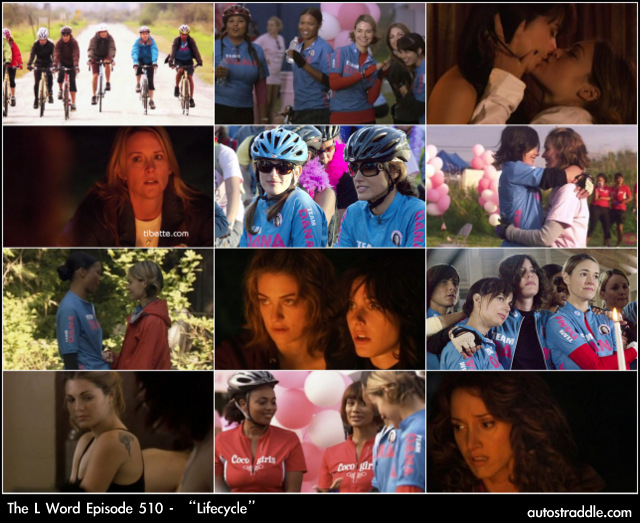 I'd argue that, outside of Season One, Episode 510 is the best overall episode of The L Word ever produced. It's mercilessly free of ridiculous sub-plots — there's some Adele nonsense brewing, but nothing too hard to handle — and the overall composition of the episode feels more deliberate and artistic than we usually see. Plus, so much happens in this episode, from Bette's big reveal to Molly and Shane's reunion to what's probably the peak of Jenny's romance with Nikki, replete with a hot strap-on sex scene. Also the music was good.
1. 114 – Limb From Limb
[buy]
written by Ilene Chaiken, directed by Tony Goldwyn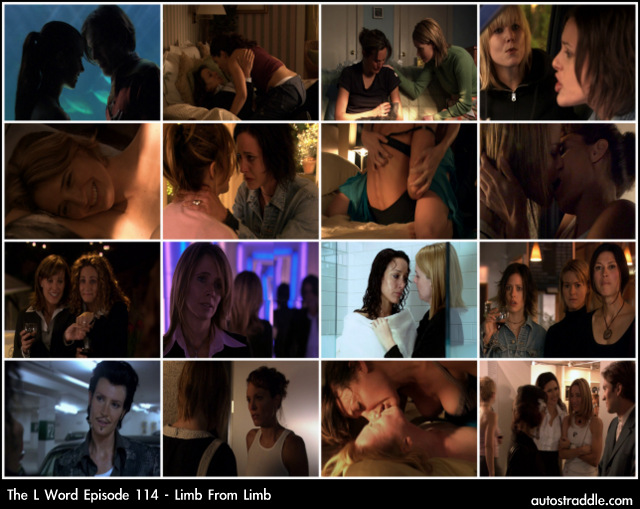 This episode actually ripped my heart out of my chest, and it did so in such an authentic, honest way. Also contains one of the best sex scenes in the history of television.
---
Related:
The L Word Vaults (links to recaps, episode guides, quotes, etc.)
Top Ten "L Word" Guest Stars: From Tegan & Sara to Alan Cumming
Autostraddle Presents "The L Word: WTF!!?" Video Part #2
Autostraddle Presents: "The L Word WTF?!" Video Part #1
The L Word Top Ten (okay, 15) Best Sex Scenes Of All Time
Live From Australia: Ten Things I Don't Understand About "The L Word"
As per ushe, if I've left out your favorite episode, be sure to comment as if I have just burned down your house and use lots of punctuation, no punctuation, and as much all-caps as possible! xoxoxo