This is the kind of dinner that is just fancy enough to feel really, really fancy, but not fancy enough to require all that much actual work in the moment. I mean, it has lobster in it, which is basically the go-to definition of culinary decadence. Or at least it seems like it is.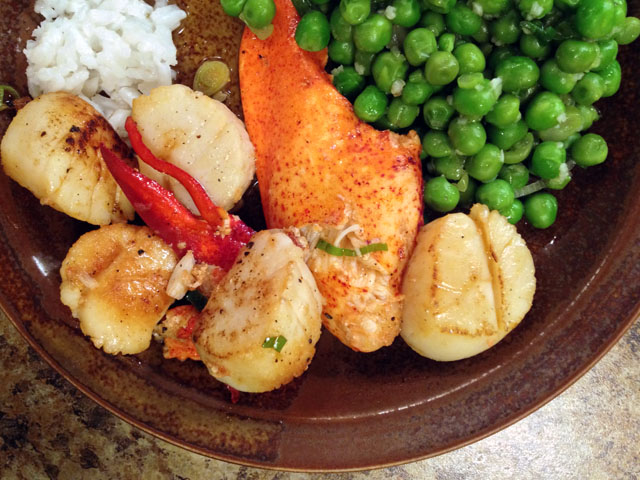 I always assumed lobster was the type of thing people eat at restaurants where the minimum required length of the pole up one's ass is six feet and jeans are not allowed. It turns out that it's really easy to turn it into a simple, quick, and still impressive-enough-to-get-you-laid-probably meal.
The key to keeping it simple is to use quick-frozen lobster meat, which comes in a vacuum pack. If you can't find it, you can also use fresh cooked lobster meat from a fishmonger. A good fishmonger might have canned lobster in chunks, which will also do and which will be far better than anything from a regular grocery store. The advantages over live lobster should be obvious: you don't have to cook/kill and dismantle anything because it's already dead and in bits.
While you're at wherever it is you're getting the lobster, pick up some quick-frozen scallops, which come in a bag (though if you decide to use fresh you will cook them exactly the same way). Look on the package or ask for dry scallops — wet scallops are treated with a chemical solution that whitens and plumps them up but makes them really hard to sear and inflates the price. Speaking of, if you are somewhere with a conveniently-located ocean around, this meal is a lot cheaper than if you aren't. With ingredients my co-chef brought back from PEI (for Americans: a small Canadian island province noted for red dirt, Anne of Green Gables, potatoes and golf), the cost of this entire meal came in under $25. For everyone else, keep it cheap by using smaller quantities — the food is rich enough that less really is more.
Make sure you thaw both the lobster and the scallops before starting to cook, and make sure you prepare all your ingredients in advance, as the actual cooking goes fast. Put the rice on first, sear the scallops, put the peas on while the sauce reduces, toss in the shellfish and finish with hopefully perfect timing.
Coconut Milk Rice
Ingredients
rice
1 can of regular coconut milk (not light, it will be too watery)
2-3 small coins of ginger, peeled and smashed
1 green onion, cut into three pieces and smashed
Directions
1. Cook the rice according to the package directions, substituting coconut milk for half the called-for water. Toss in the green onion and ginger pieces.
2. As it cooks, stir it a few times — unlike regular rice, it's really sticky and if you don't stir, bits of it will burn. Keep the lid on the rest of the time.
3. Remove from the heat when all the water is gone from the bottom of the pot. Remove the pieces of green onion and ginger and leave covered with the lid until ready to serve.
Lobster and Scallops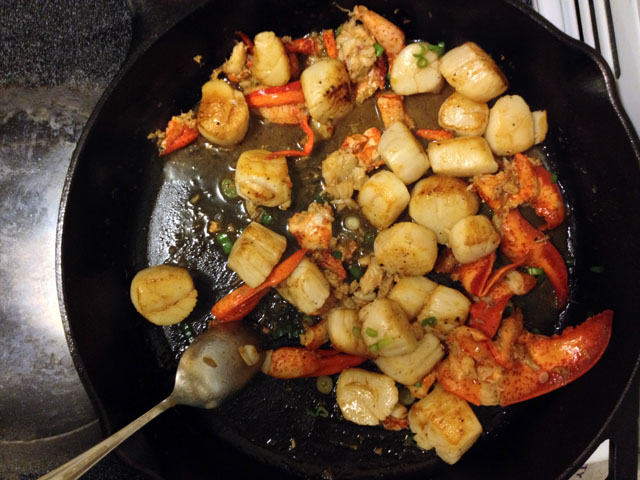 Ingredients
1 package of quick-frozen cooked lobster
1 bag of quick-frozen or fresh dry scallops
margarine or butter
2-3 green onions, finely chopped
1 tsp of fresh ginger, peeled and minced
2 splashes of cooking sherry
1/4 cup of white wine
1/2 fresh lemon (for juice)
1/4 t of honey (optional)
Directions
1. Thaw the lobster and scallops. When the scallops are thawed, look for a little muscle-y thing on the side of each and pull it off (it will come off really easily). Lay them on paper towel in a single layer and pat them dry with an additional paper towel. Sprinkle them very lightly with salt and pepper.
2. Melt the margarine in a cast iron pan over high heat. When it's foamy and the pan is really hot, put the scallops in one at a time. Let them sit for a minute or two until the bottoms start to get brown and crusty. Flip them over using tongs and brown the other side for about another minute, until seared. The middle should still be mostly raw. Remove from the pan using the tongs and set aside in a bowl.
3. Turn the heat down to medium high. Add the green onions and ginger and cook for about a minute. Splash some sherry in the pan so it sizzles and hisses, stirring and scraping the pan to work the bits left from the scallops into the sauce (this is called deglazing). Add some white wine and turn down the heat as the sauce reduces. Add a squeeze of fresh lemon juice and, if you feel the sauce is bitter, 1/4 tsp. of honey. If it's a little tangy, that's OK — the lobster itself is sweet.
4. When the sauce has reduced (when you scrape a spoon through you can see the bottom of the pan again), add another teaspoon of margarine to thicken it. Adjust the flavor with additional lemon, white wine, honey or sherry if necessary. Add the lobster and scallops, mixing well so the scallops cook the rest of the way and the lobster warms.
Minty Peas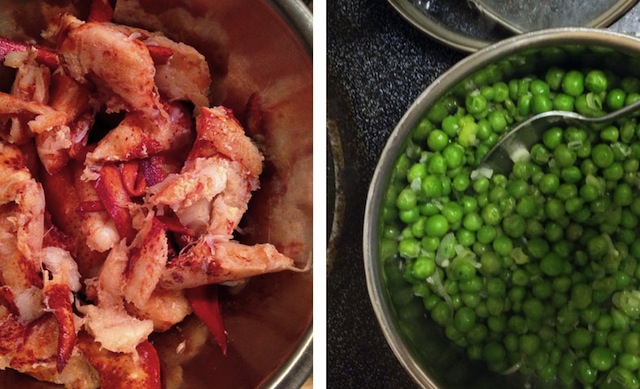 Ingredients
a few splashes of sesame oil
2 green onions or 1 shallot, finely chopped
frozen peas
several sprigs of fresh mint (or basil), chopped into ribbons
1 tbsp of water
margarine/butter/additional sesame oil, to taste
salt and pepper to taste
Directions
1. Heat the sesame oil in a small pot over medium-high heat. Add the green onions and cook for a few minutes.
2. Dump in the frozen peas, add about a tablespoon of water max and put the lid on. Stir a few times until they're cooked.
3. Remove from heat. Add the margarine/butter/oil, toss with the mint and sprinkle with salt and pepper to taste.
And, serve! Pair with white wine and follow with fresh or frozen berries.