Warning: This post is bursting with spoilers for The Girlfriend Experience Season Two: Erica and Anna.
---
The Girlfriend Experience's first season on Starz was largely critically acclaimed, even heralded by Vulture as "one of the best shows of the year." The New Yorker provided an alternate opinion, calling it "an artistic as well as an epistemological disaster," but on the whole, reviews were good. I felt lukewarm towards it — as a former sex worker who worked with a clientele similar to that featured in the series, I was drawn to the premise, but as a lesbian television monster, I only have so much life in me for a show that teases girl-on-girl action and then withdraws it mercilessly, replacing it with relentless heterosexuality and my least favorite sex worker storyline, "female sex worker falls for male client."
For Season Two of the anthology series, the Season One directorial team of Amy Seimetz and Lodge Kerrigan split up, each telling their own story, comprising half the series' episode order. Somehow it was the man, Lodge Kerrigan, who decided to take on a lesbian saga, as so many men before him have done and let's be honest, will continue to do for all of time. Men: against all odds, they persevere!
The lesbian storyline concerns two women primarily, with a third adjacent. The first woman is Anna, an escort who has a three note-personality: 1. Lord Help Me, 2. Seduction, 3. Hysterical.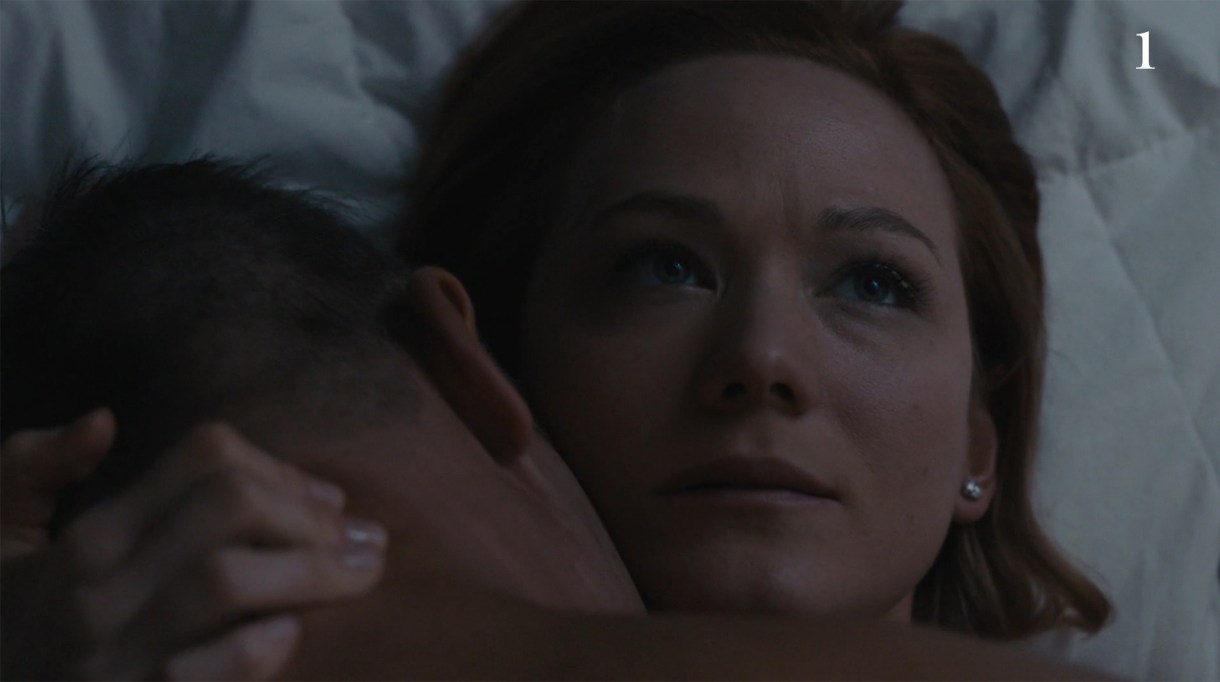 It also concerns Anna, who works for "Right to Action," a Super-PAC supporting GOP candidates who want to help rich people become richer, a political cause which she seems to support 100%.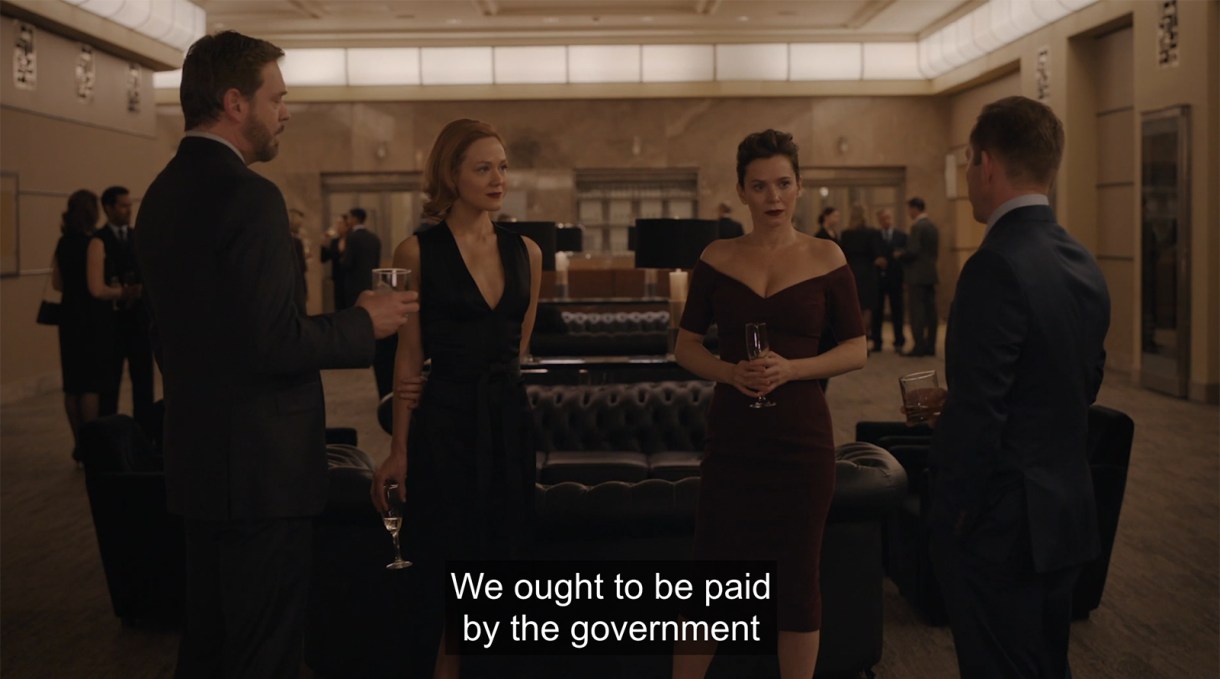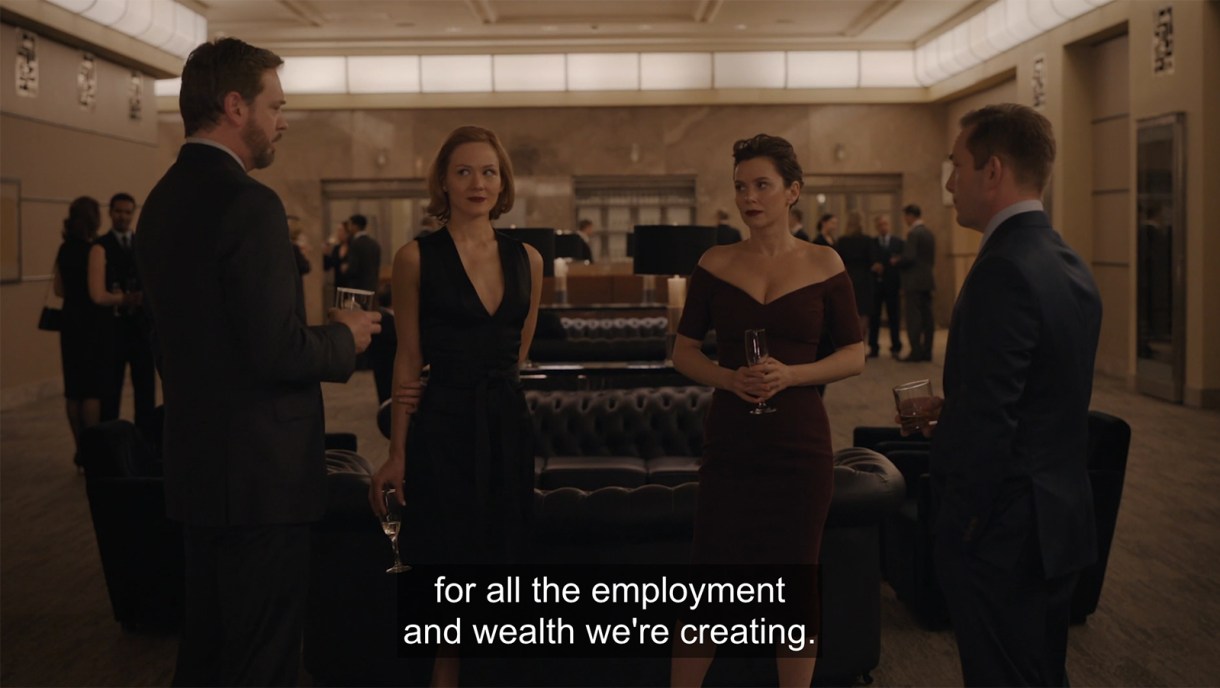 Erica is confident, but often furiously treading water beneath a calculated exterior. She generally radiates a constant sense of being "on the precipice of a total meltdown," although she's usually surrounded by men who don't notice anybody's emotions, so this doesn't necessarily sink her. (Until it does)
Erica's #1 hobby is pouring glasses of water and/or vodka, and then drinking them.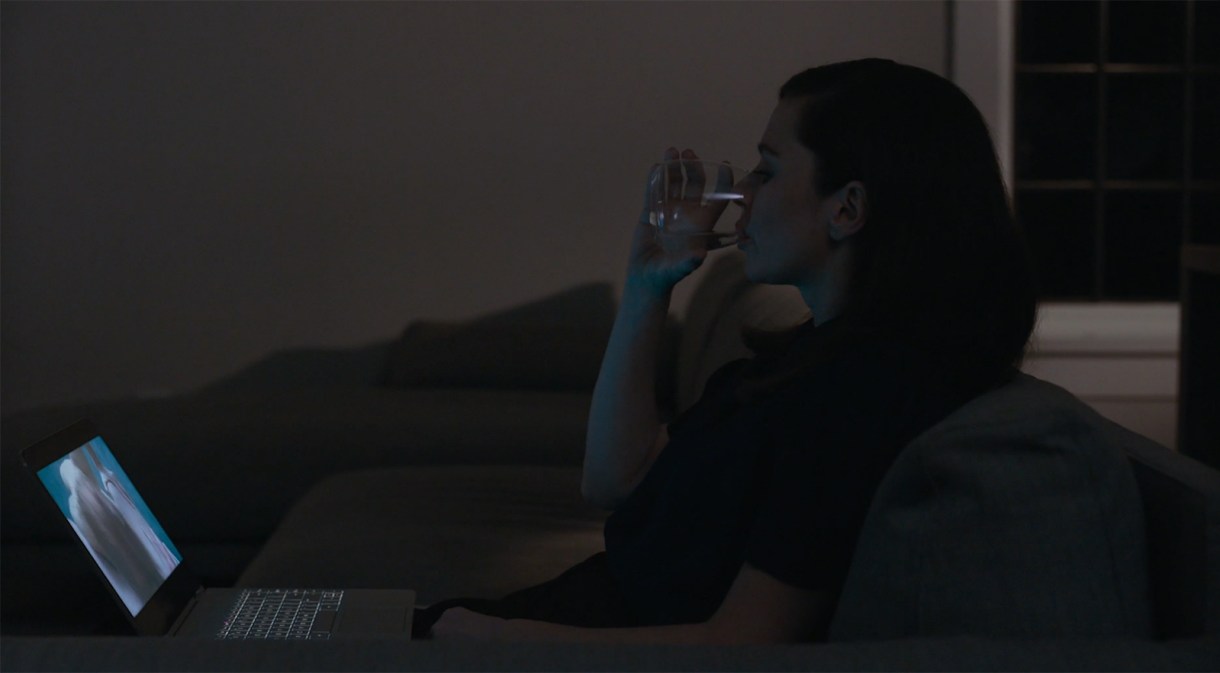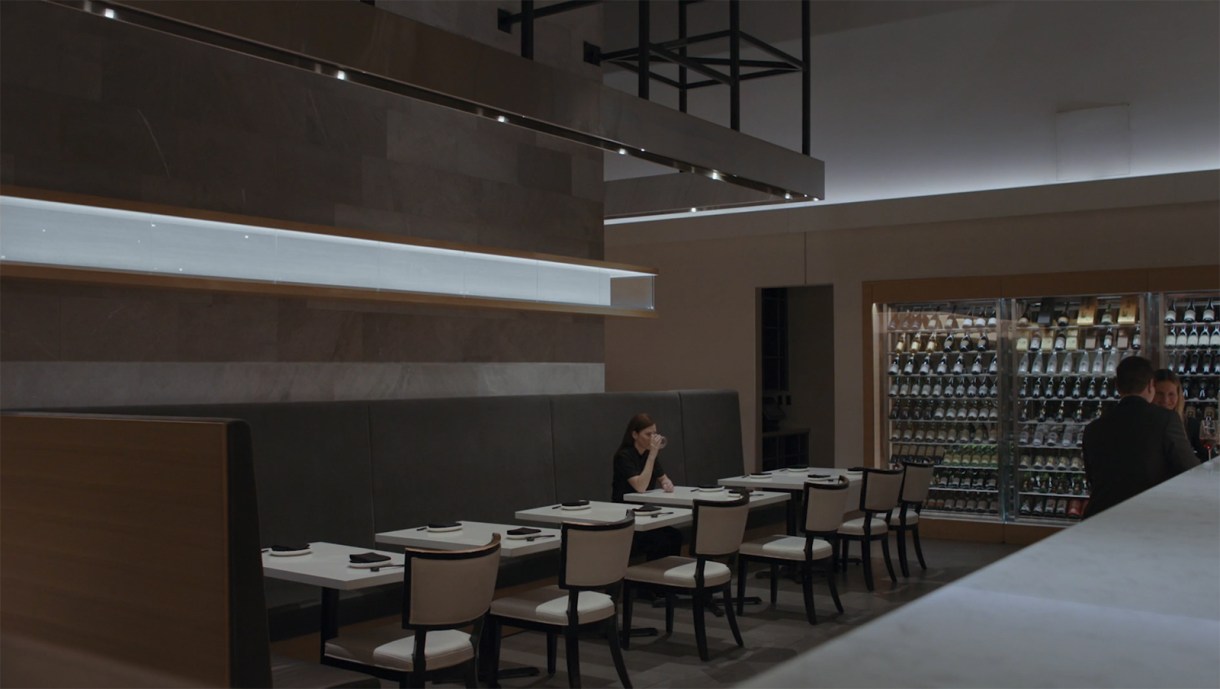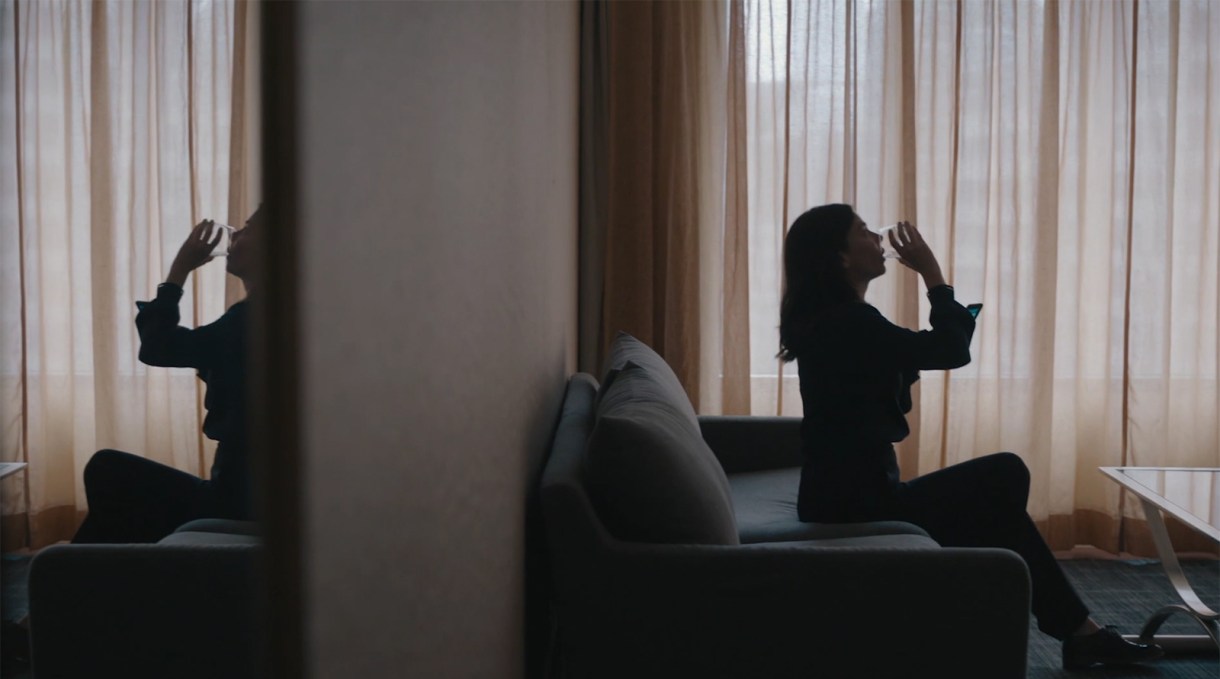 The third woman is Erica's ex-girlfriend, Darya. She meets up with Erica in the first episode to return her keys and exchange some basic vocabulary words, but does not share Erica's passion for hydration.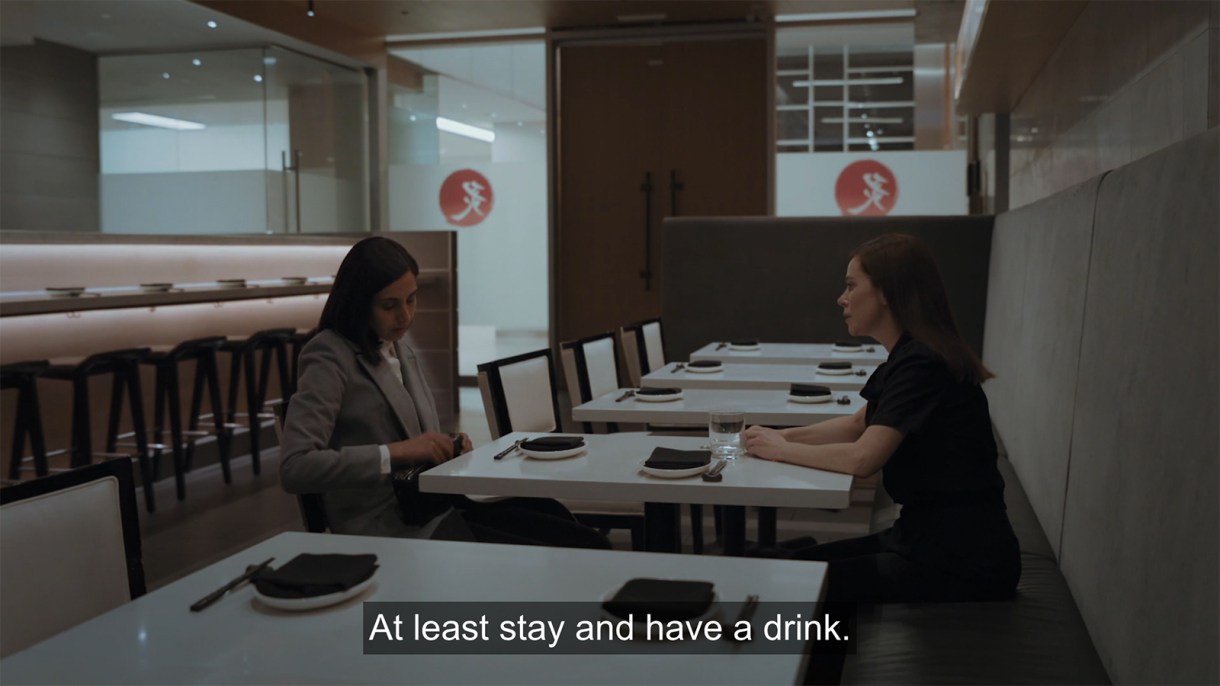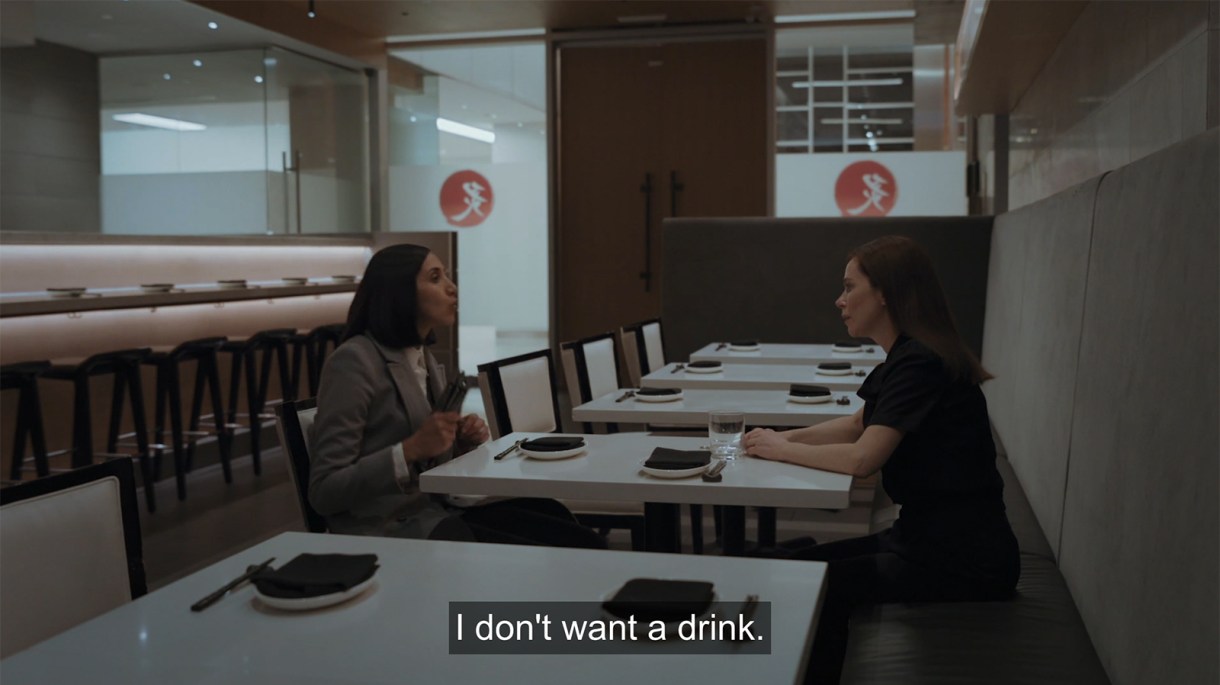 All the women in this show wear nice shoes that make proud clomping noises as they walk briskly through a variety of nearly-empty buildings or walk along nearly-empty streets.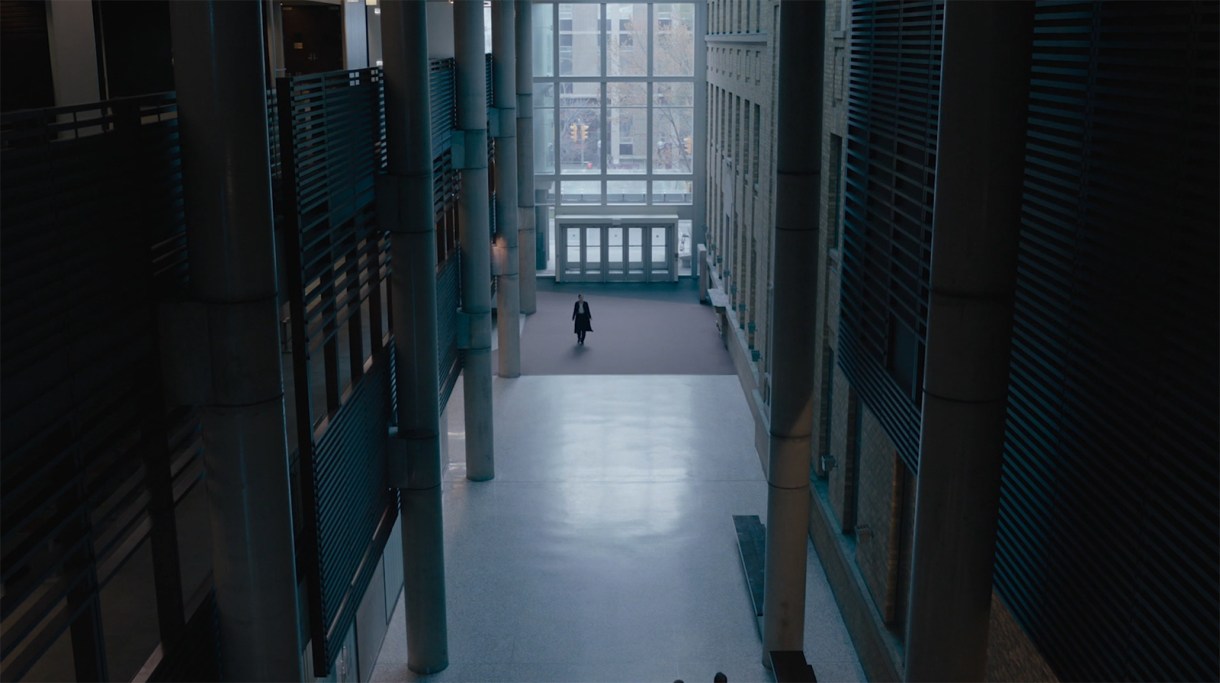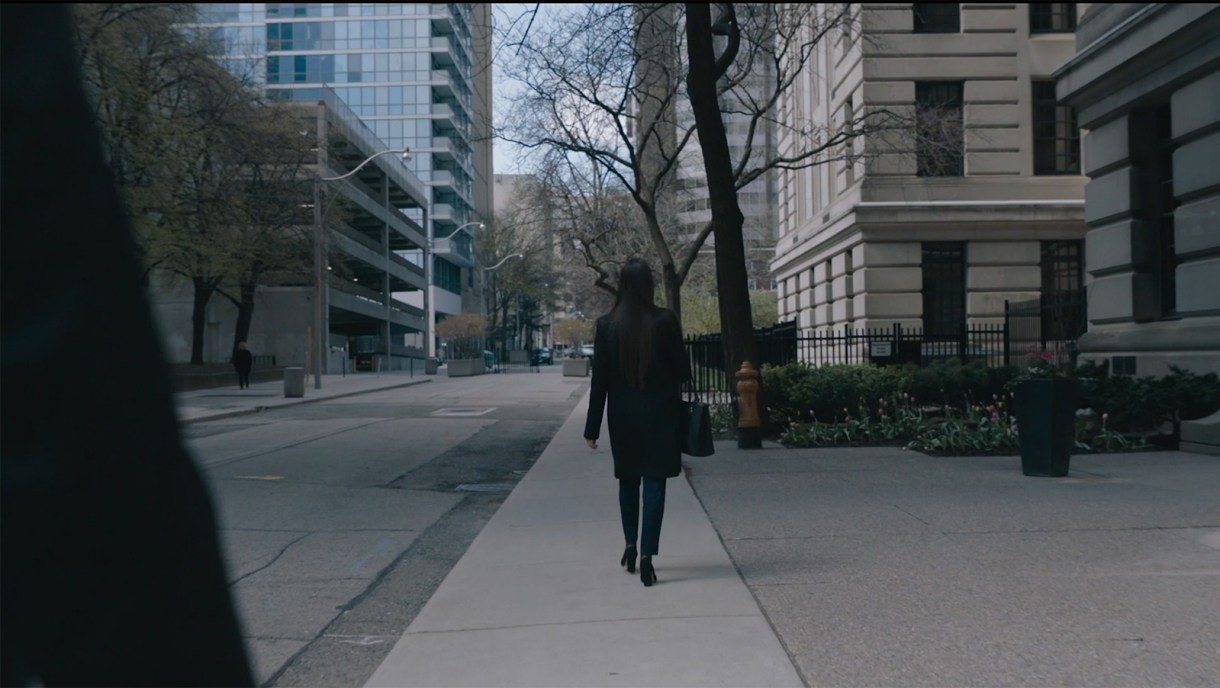 The story opens with Anna seeing a client, Mark Novak, who she later describes as a misogynist asshole. After nearly choking during an aggro blow job, she overhears a phone call wherein he discusses withdrawing support from a specific political candidate and decides to record it. Anna then passes on the recording to a person who is somehow connected to Erica's evil Super PAC. Erica meets up with Novak to see if he'll move his riches over to her candidate, but he denies the withdrawal of support discussed on the phone call that Anna recorded, so Erica meets up with Anna directly to see if Anna can get Novak on camera doing something blackmail-worthy to push him into supporting her candidate. Anna promptly enlists a former escort friend to join her and Novak for a threesome and records it.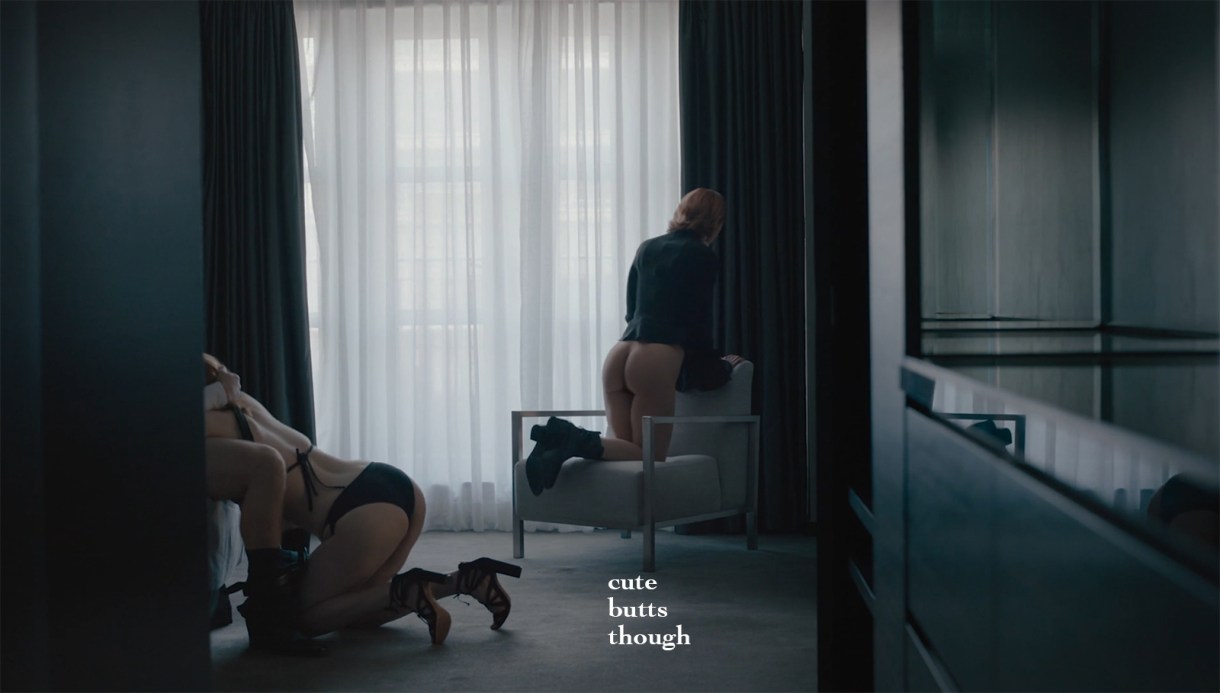 This seems like a bad idea because it is — the blackmail video sets off a chain of events that will eventually destroy Erica's life. But in the meantime, Erica and Anna are inexorably drawn to one another's icy exteriors and lust for life.
They strike up a passionate affair that involves sharing zero details about their personalities, lives, interests and disinterests. Aside from the names of other characters and politicians, I'm not sure there's a single proper noun employed in this entire show. Oh but here's the other thing: LESBIAN SEX.
There is one scene where both women smile and seem to enjoy each other, but the rest of it is mostly sex, sex/power games, talking about sex and breathing heavily. Which I am totally here for, obviously. I love breathwork!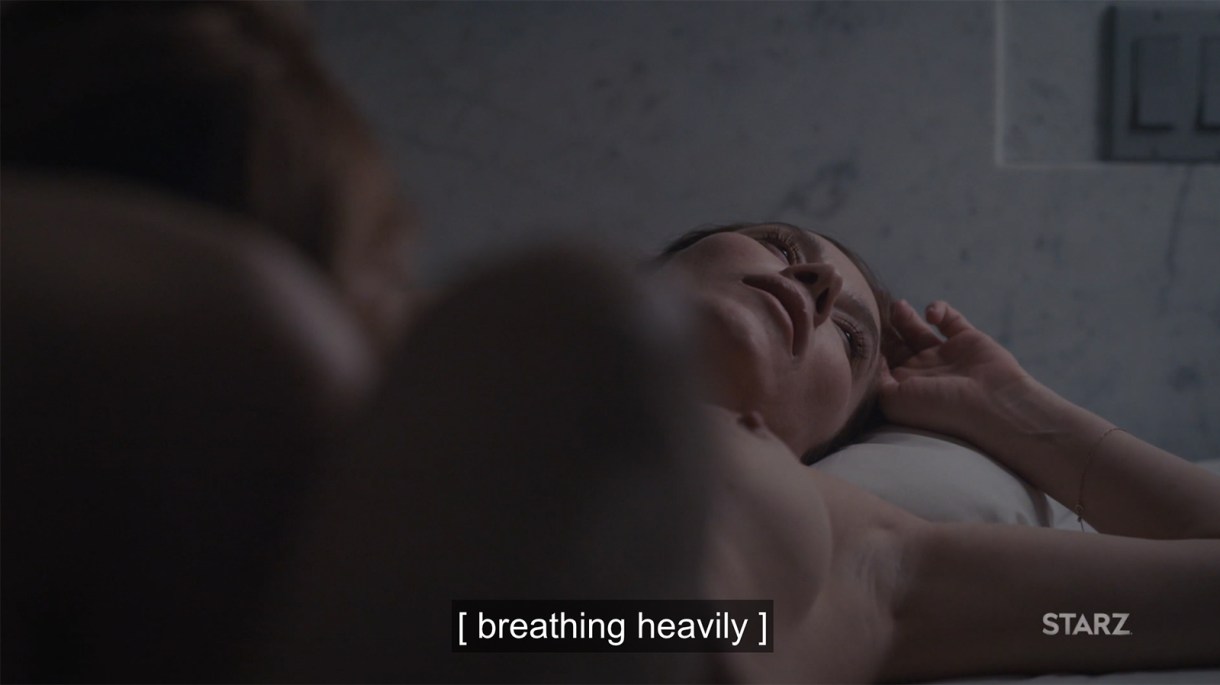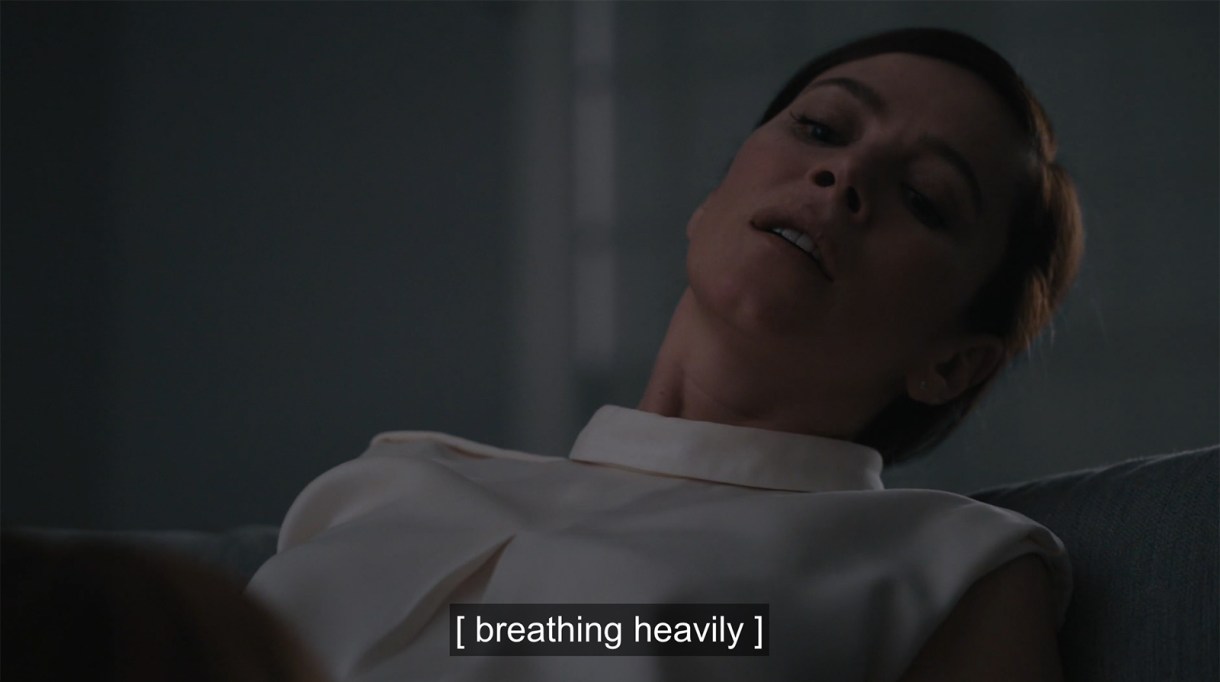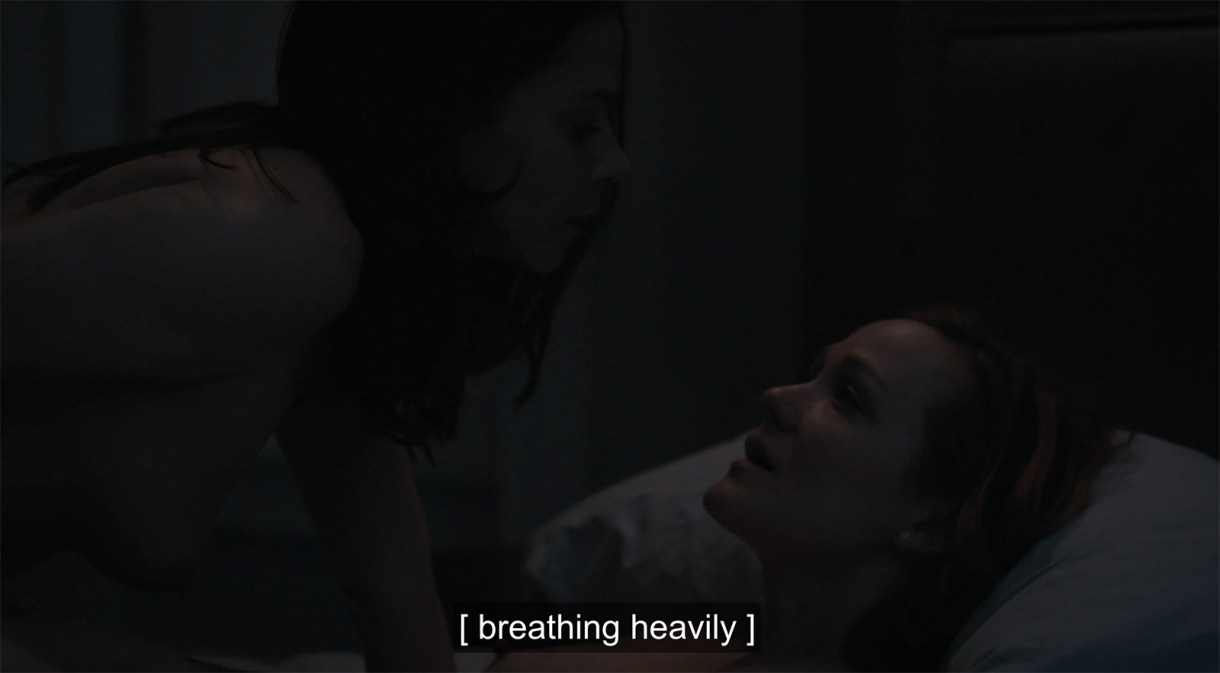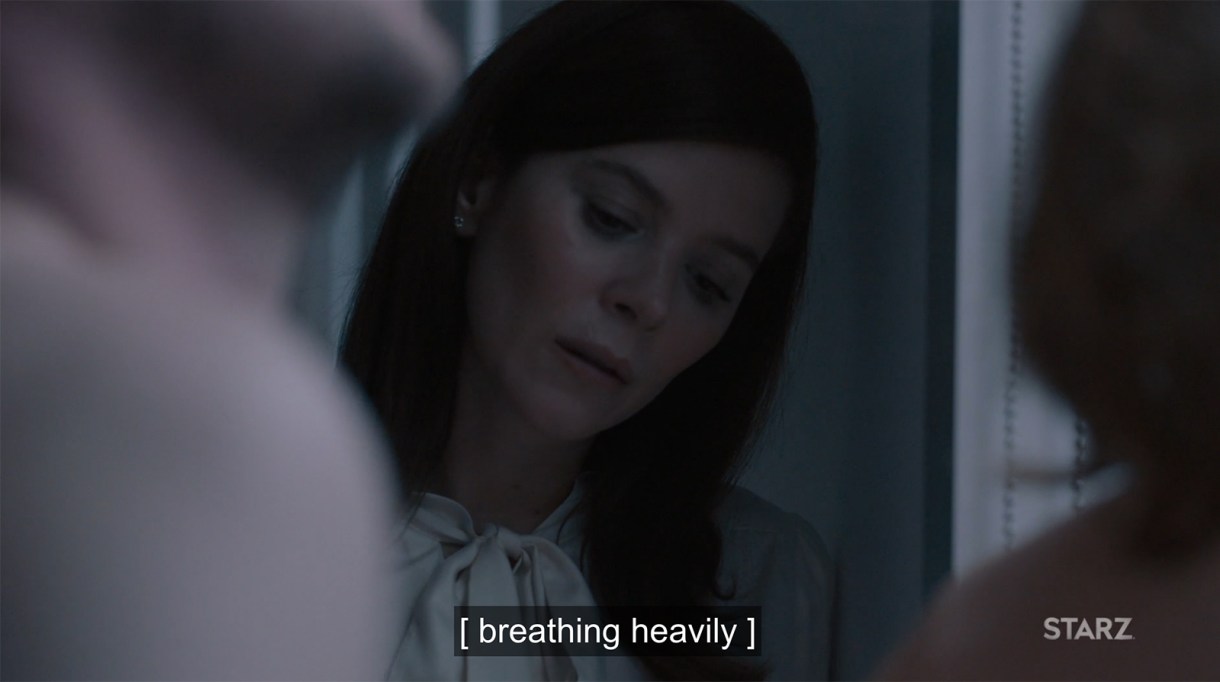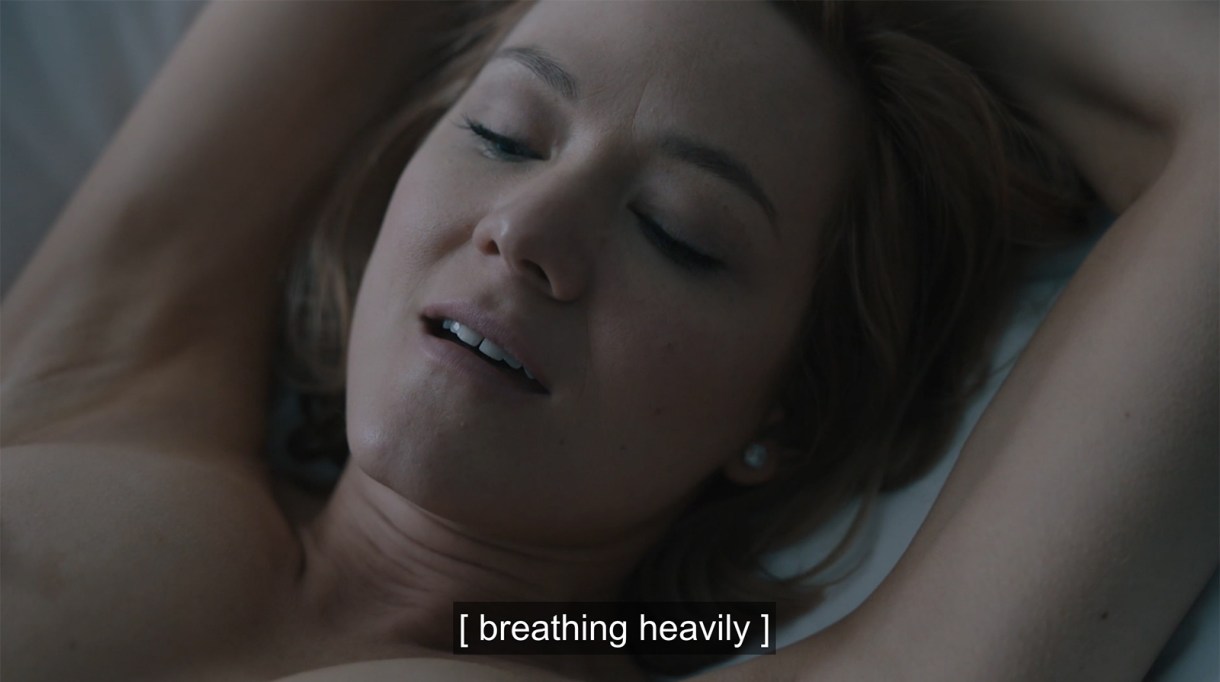 Erica is proud to have Anna on her arm. She's infatuated with a woman she barely knows and she is aroused by Anna's deference and crazed falling for her. It is an ideal rebound from Darya, another power player in D.C. who is probably a sociopath and had — has — all the power over Erica.
Erica wants Anna to be a purely erotic release from the careful political gymnastics of her worklife, but Anna wants Erica to be something else entirely.
The lesbians are pathological, like pulp fiction, but grown-up and sanitary and placed in a world that is only them, one female assistant, and a whole gallon of men. The women are aroused by power and nothing else: Darya was drawn to Erica's accomplishments and what Erica could do for her career, then disgusted when she turned fleshy and emotional, then re-interested as soon as Erica started dating Anna. Erica's interest in Anna vanishes as soon as Anna says she's in love. Also, right after saying "I love you," she says "get me pregnant," and then goes out and gets herself pregnant from a client so they can start a family together, which's a reasonable thing to want after like three fingerbangs, two conversations, one client BJ video for Erica's spank-bank, one overnight trip to a business function, paying a male prostitute to fuck her in front of Erica on Erica's orders, and several goblets of wine.
Darya takes Erica back, but loses interest as soon as Erica's job is threatened by a legal decision tied to a political donation oh you know what honestly the details don't matter. Erica's no longer on top so Darya doesn't wanna be on top anymore either. Meanwhile, Anna falls to pieces, unable to let go.
Erica's assistant, who has double-crossed her due to blackmail held over her by investigators hired by the man that Erica blackmailed, is all she has left, and then she's gone too.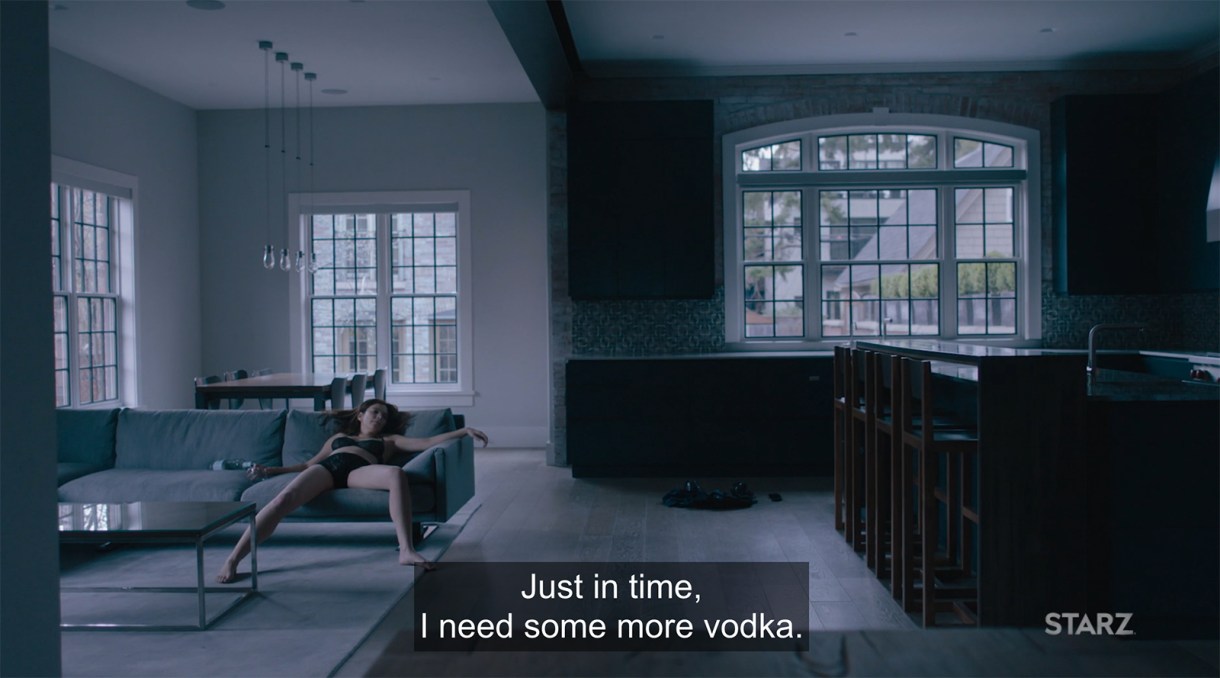 The story takes place in a cold dark Washington DC, which is also very obviously Toronto but sure who cares, and the characters solely in offices and apartments that betray no trace of human life. It's clear that life is transactional and chilly in a world where nobody eats food, reads magazines or invests in accent throw pillows. Like a contemporary Satre, this program doesn't require music or props — just human suffering in all its mundane splendor.
Here's a normal office for a successful Super PAC: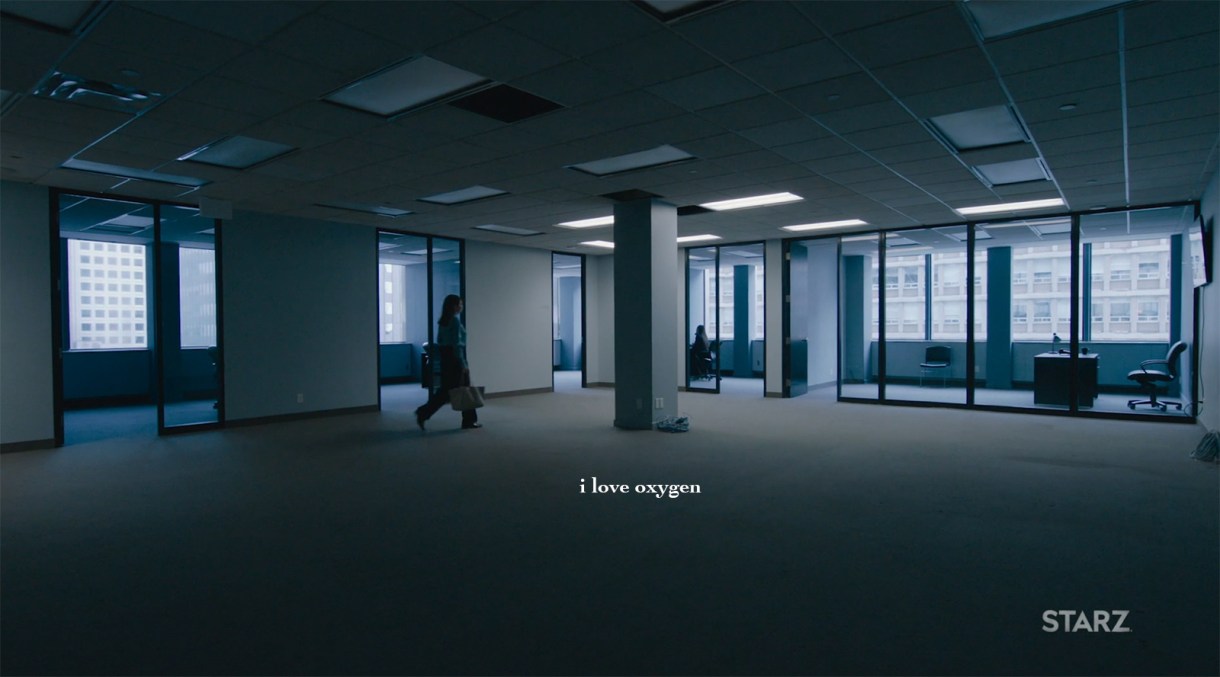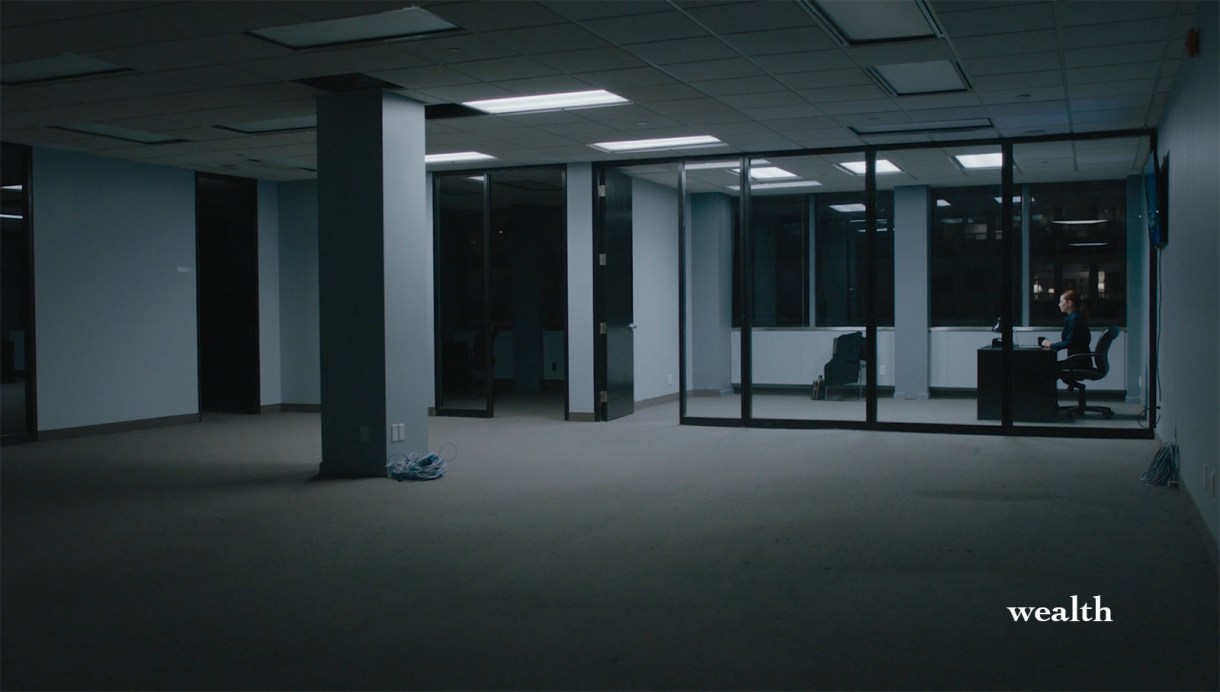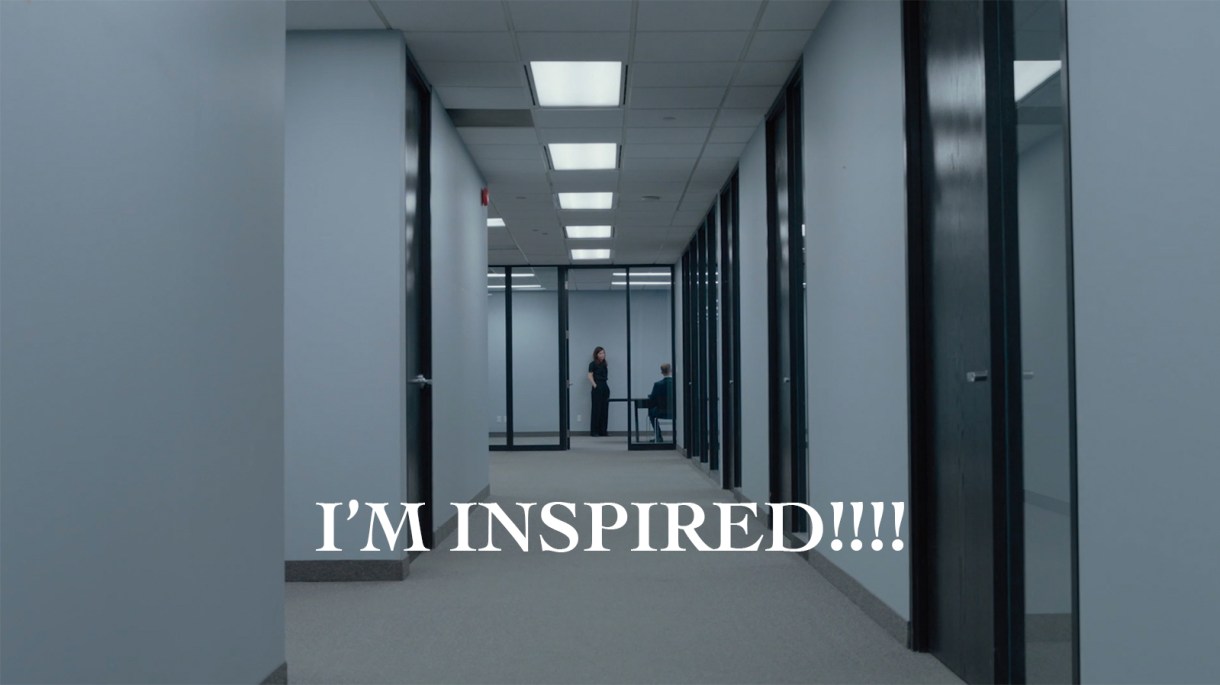 Here's another office inhabited by a powerful man who needs no accessories:
Another office free of the chains and shackles of everyday objects: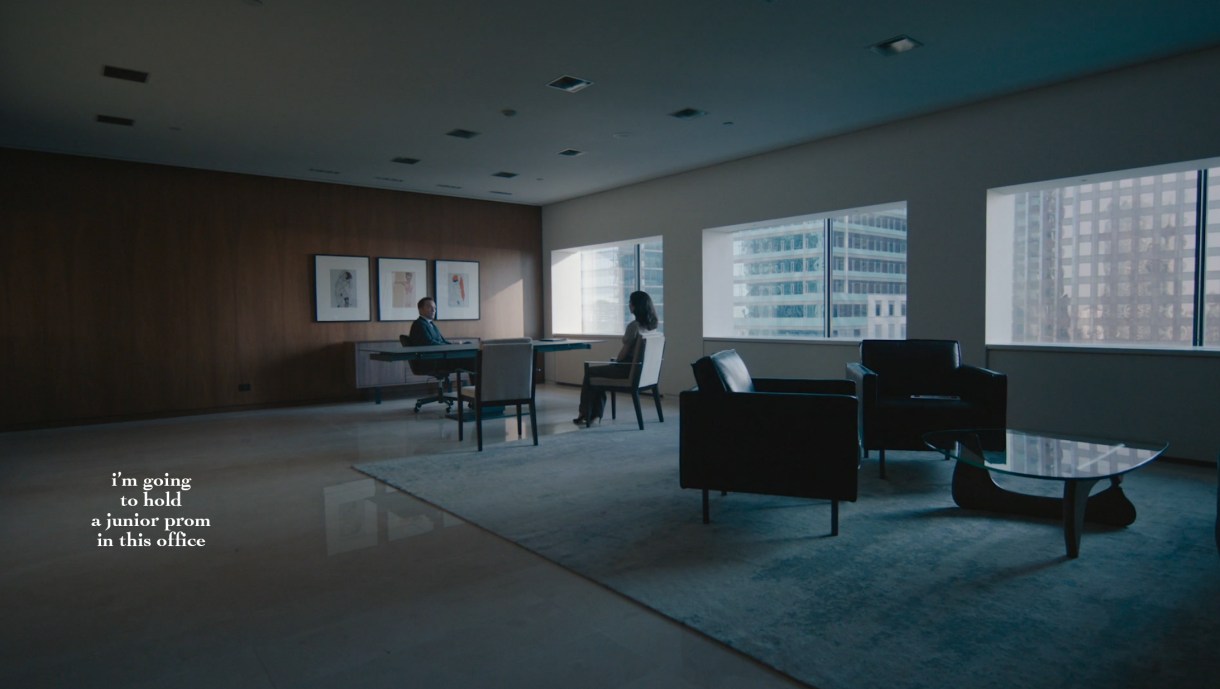 The lack of decor sets a mood, like replacing somebody's face with a paper plate.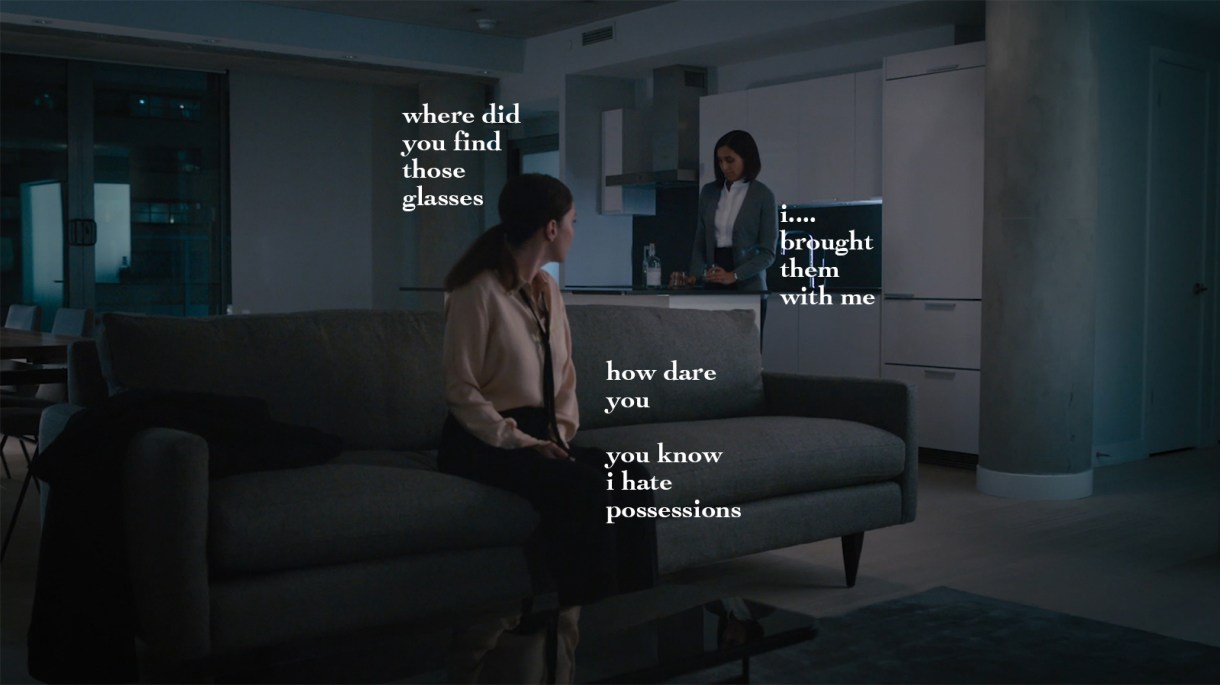 The show says to you: "I could've given you something, but here, try nothing instead."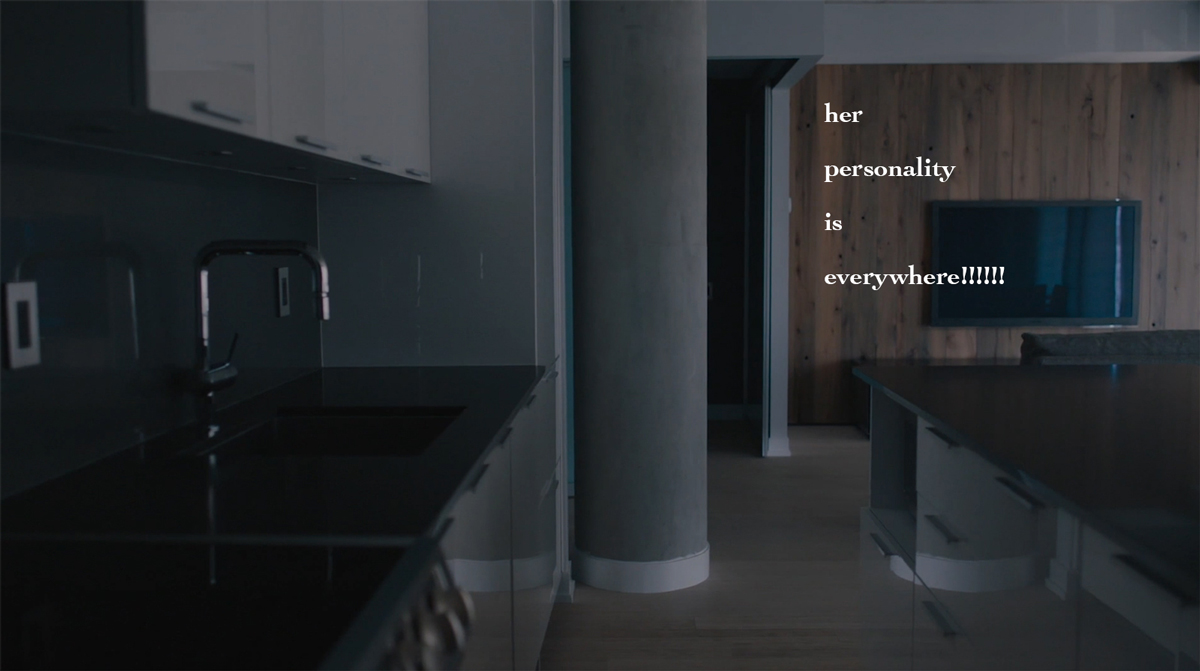 It says: "You are playing The Sims, and you are very bad at it."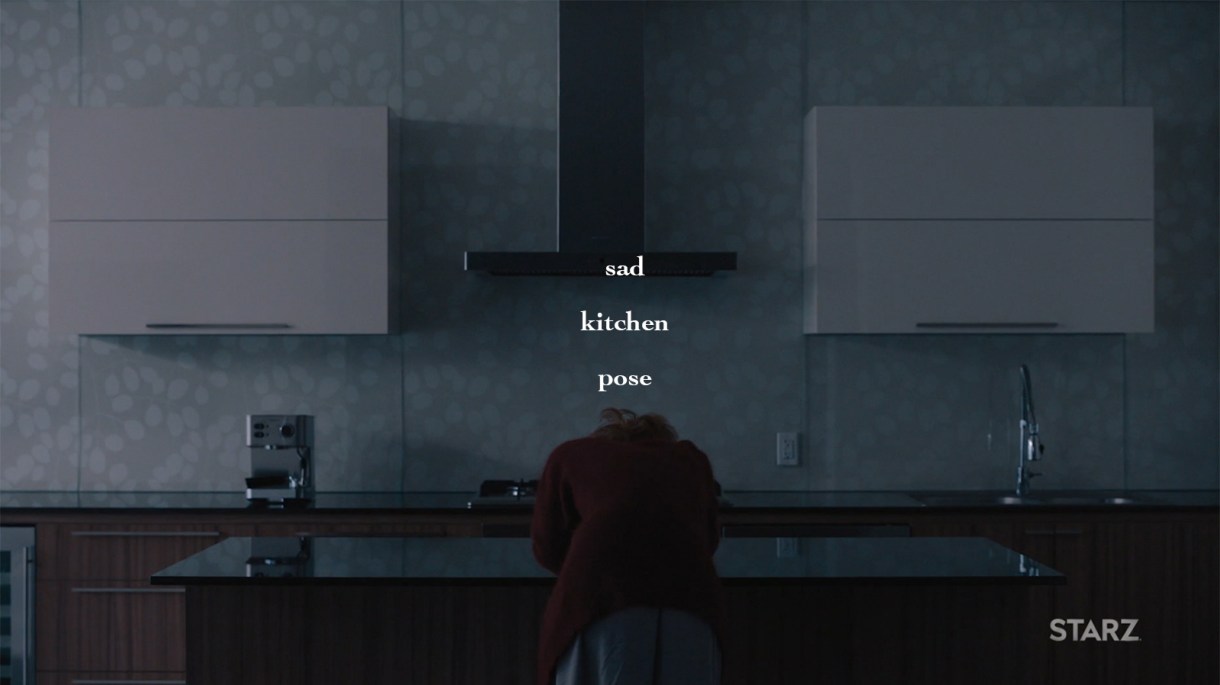 Office close-up!!!
Ah yes, another office hallway:
This is a waiting room for the Super PAC. In this scene, Anna is insisting on waiting all day in the waiting room until Erica will see her, even though Erica doesn't want to see her, which is (again, I know!) queer culture: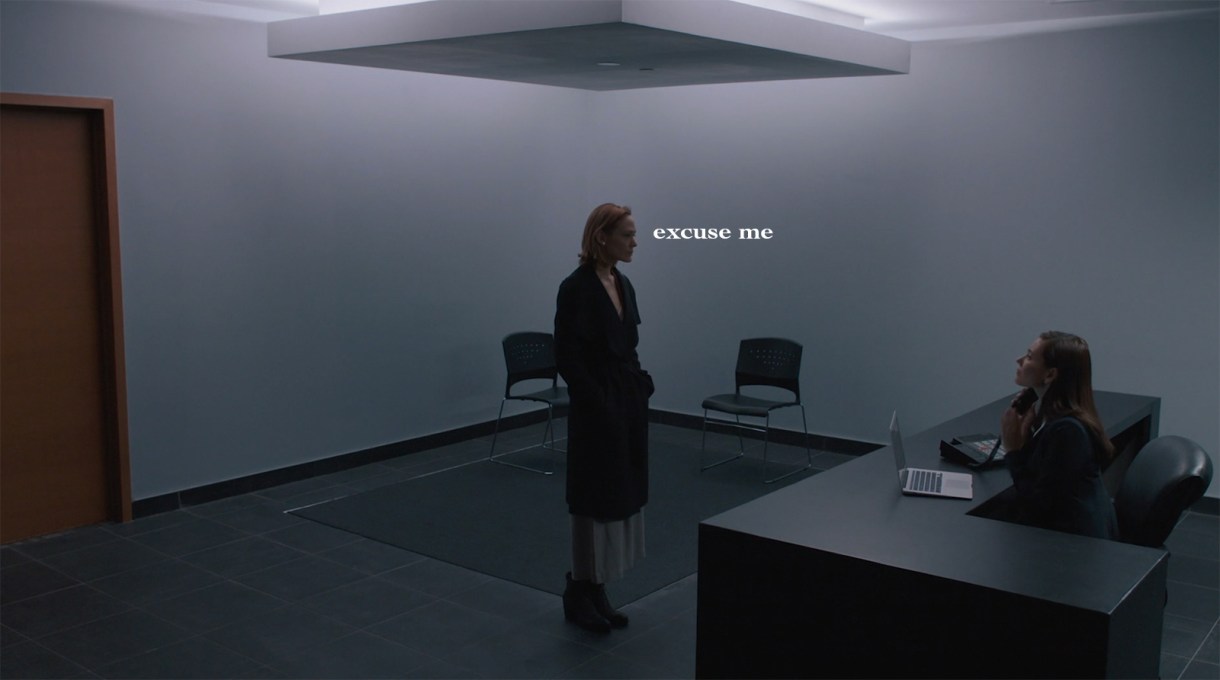 Eventually you're like… is this the end of the world?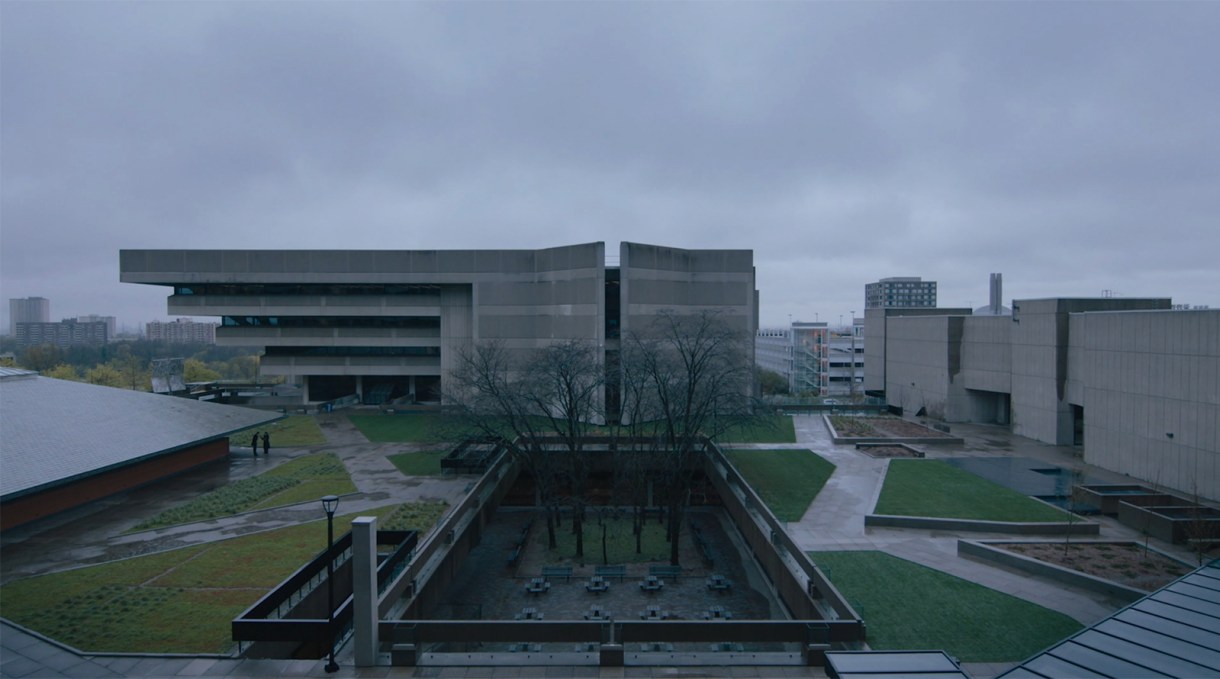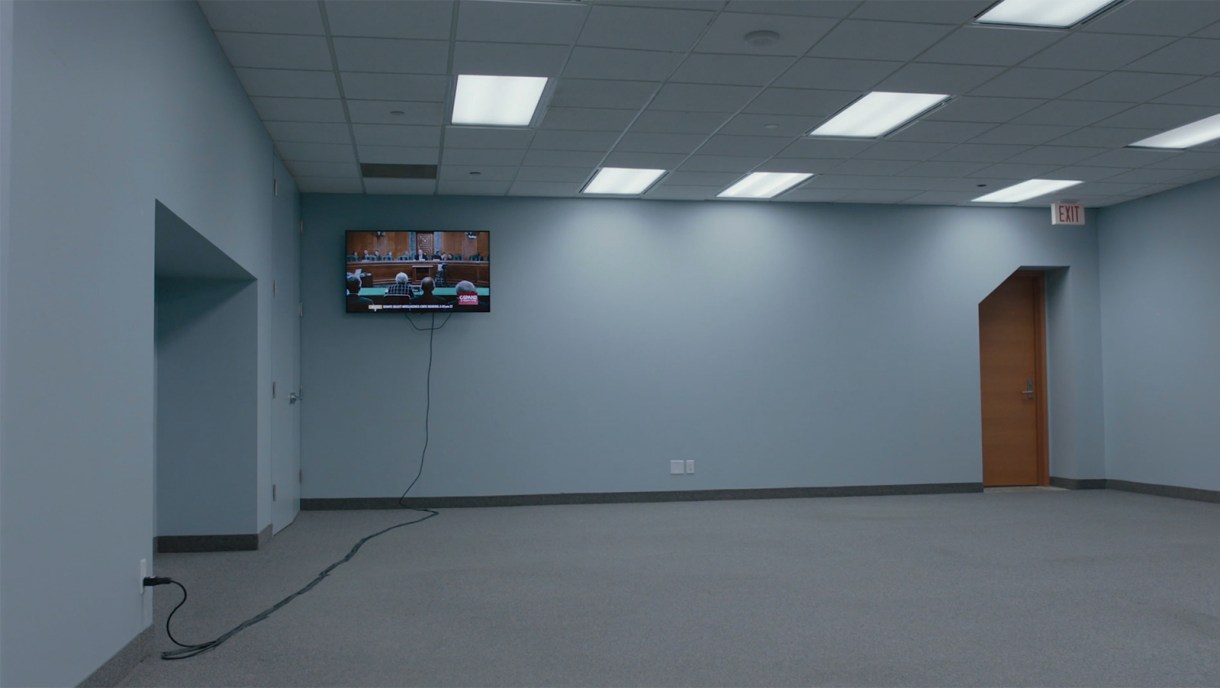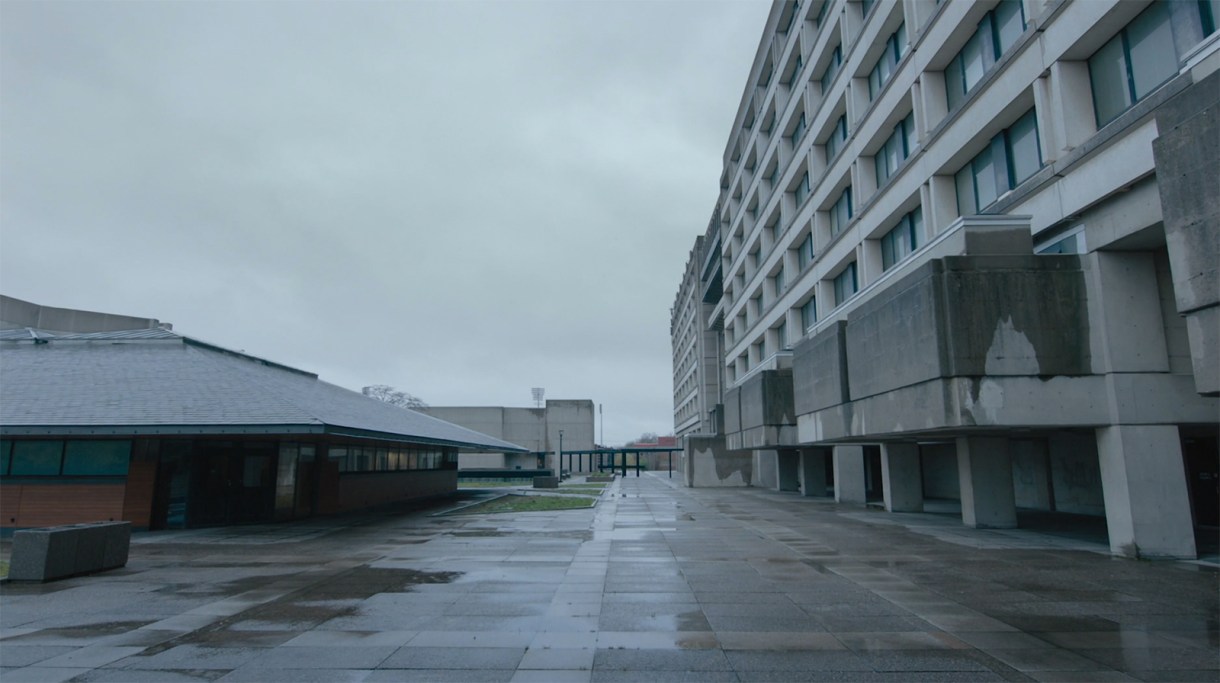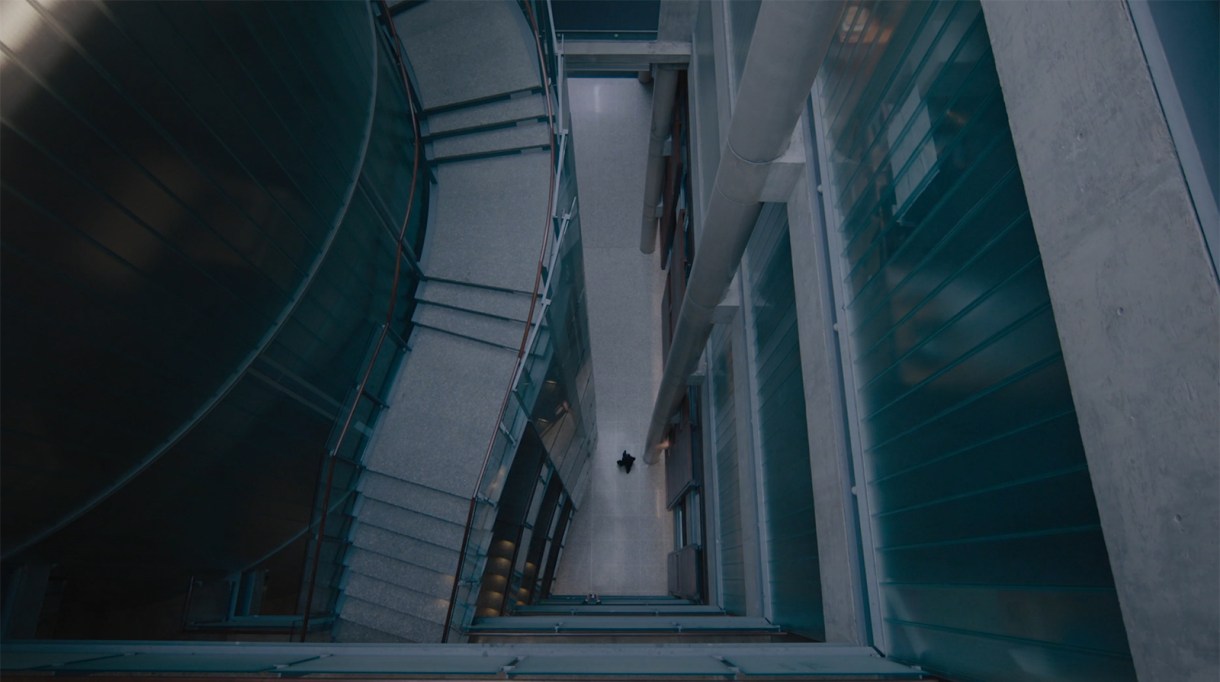 Besides each new minimalist room proving more ridiculously minimalist than the last, this scheme functions to strip already surface characters of any hints to a broader emotional or physical life, and to blur the boundaries between hotel, home, and office. It's a film about a high-class escort, so there are a lot of hotels! But it's never immediately apparent if we're in a hotel or an apartment, which maybe is the point, but also, why would that be the point. Nobody is anything and everything is a transaction! Aahahhh!
Much like the story of how paint learned to dry, the story of fiscal conservatives facilitating the transfer of large sums of money from business assholes to politics assholes is staggeringly dull, providing zero sympathetic or even interesting characters. Eventually every man in the show starts to look the same, and Erica's catastrophe is a tangled mess threatening to bring down a categorically unlikeable group of people.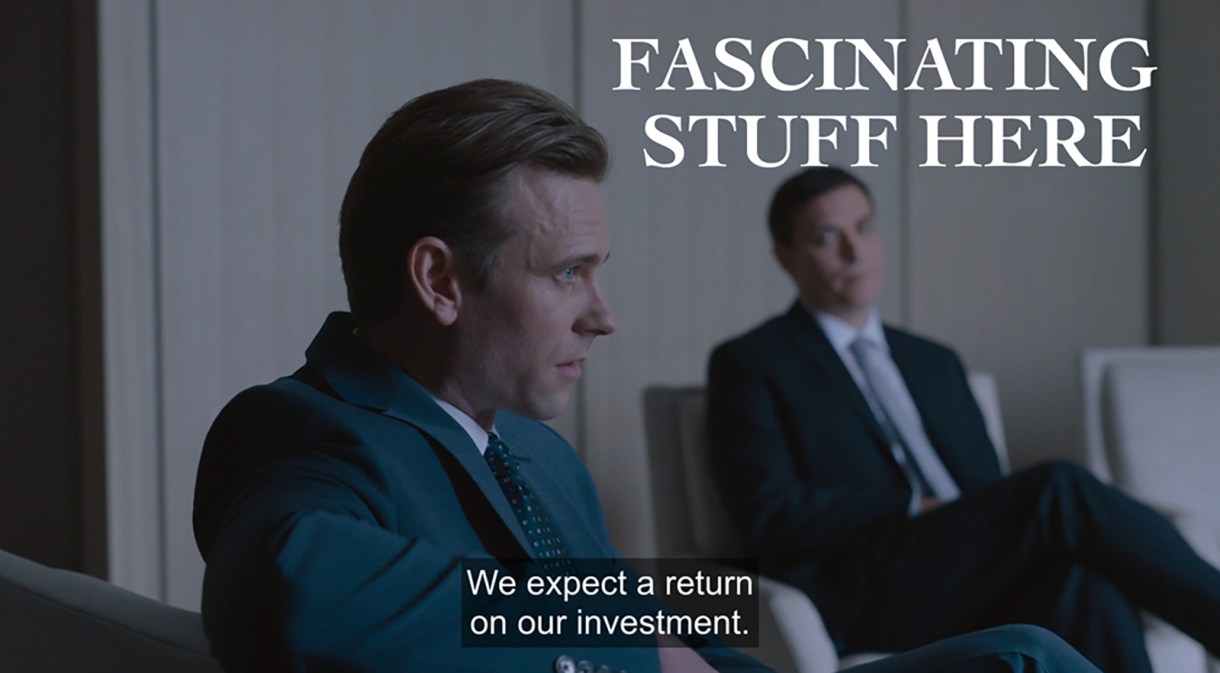 There's no music. This makes the loud shoe noises seem louder, the heavy breathing seem heavier. Sometimes, Erica will stare at the ceiling with a blank facial expression for ~30 seconds. The only colors in this show are blue, grey, and white. But the lighting so low that even the white is also almost grey.
You could watch this show, if you wanted to. It won't take long. I do wish it'd been a dark comedy, instead of a chill drama. On the upside, there are several lesbian sex scenes, often multiple scenes in one episode. I'd definitely rather watch this than Episode 608 of The L Word, if that holds any weight for you.
In conclusion: