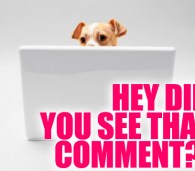 Did you melt this week? I did. I'm actually writing this from beyond the grave. Maybe you are reading this from somewhere that is not the east coast of the United States and have no idea what I'm talking about. If that's the case, lucky you! Speaking of hot, have you seen Avni aka Miss July?
What else happened this week? Well, let me tell you. Taylor let you know what she hates about her new HTC EVO(O, if you're me and automatically think of Rachel Ray every time she talks about this mystery piece of technology and then instantly want to kill yourself because RR is obnoxious but always on TV in your school's waiting rooms).
Crystal told you to go out and buy Janelle Monae's new album for Autostraddle's first ever record club, and Gabby showed us her short film Spanish Girls are Beautiful and told us how she turned straight girls into butches. For the 4th of July we had an open thread, and then Becky wrote about dressing for the future. Autonatic #5 made it's debut this week with Tracy of That Godforsaken Show along for the ride, Julie and Brandy reviewed The Kids Are All Right, and the team had a midsummer reading list.
---
On Autostraddle Calendar Girls: Avni is Miss July:
The "Sober" Award for Making Out With Yourself to RachelwasHere: "My mind was just blown by the concept of auto-autostraddling.
And by that white tank top shot."
On July 4th Open Thread for Your Homo-Holiday Feelings: Have a Very Gay "Independence" Day:
The Cholera Award to Shanz: "I'm on tumblr and taking care of my bff who has a cold. However to put more excitement into our lives today i'm telling people he has dysentery."
The Their Kid's Going to University for Free Award to brown bear: "My 4th of July is pretty rad this year.
Mainly because my uncle and his husband (an INTERRACIAL GAY couple, THAT'S WHAT'S UP) flew in from their home in AMSTERDAM. And this is the first time I've seen them in 8 years. And every time I talk to them or see them talk to each other (IN DUTCH), I just want to squeal and run around and be really happy.
Take that, America.
So I'm spending my entire day gawking at them. Pretty good way to spend it, I think."
The TRUTH Award to Jo: "Spending the day applying to every job listing I can find in desperation to gain financial independence. #AmericanDream
And watching the World Cup."
On Real L Word 103 Bonus: The S*!@ You Didn't See (or Know):
The Green Sweater Vest Award to EV: "I was wondering if Stamie had a closet like Doug Funny or if Illene or however you spell her name thought we wouldn't notice she was always wearing the same outfit!! Now, Doug, that was a good show."
The Amelia Bedelia Award for Literal Interpretations of Tree Hugging to AJ: "this show makes me just wanna date trees."
On Even in Canada! Did Toronto F*ck Up Gay Pride?:
The You Da You Da Best Award to southpaw: "i'm from Washington DC, actually. but obvs canada has black people, some of my family members visited there once and well, there's Drake, right?
but in all seriousness, i'm always skeptical of the journey towards these sort of "post-racial" environments b/c they allow people to fall back into the sort of insidious, institutionalized racism found in this Blockorama debacle.
i actually have a lot to say about this but i just started a new character on fallout 3 soooooo…i'll leave the rest to the imagination. but canada still seems like a cool place!"
On Real L Word 103: A Long Episode's Journey Into Valentine's Day or "Bromance":
This is Why They Really Invented an Eyewash Station Award to .elida.: "amazing recap. lots of laughing out loud.
but, seriously… what. the. hell.
i didn't watch this episode on purpose b/c the people behind it's creation and terrible editing (i'm looking at you, IFC and your camp of people who are trying to undo so much progress…) make me feel so uncomfortable and embarrassed. to me, watching this show feels like sobering up halfway through a poor life decision. it makes me want a shower for my body and my eyeballs and my short term memory."
On American Gays Want (And Can't Have) Rights Straight People Hate:
The Sweet Dreams Award to tien.: "Here is how Lingle sleeps at night: with the full satisfaction that she used the phrase "same-gender marriage" instead of "same-sex marriage". Way to go, Govn'r!"
On Why Lesbians & 'Queer-Radical Types' Won't Object to "The Kids Are All Right":
The Brownie Mom <3 Award to Vikki: "I am VERY excited to see this movie. As the unofficial Autostraddle den mother, I am a bit older than all you autopups and I feel like this movie is aimed at my very teeny tiny demographic…lesbians in LONG-term relationship who also have kids. Sure, Bette, Tina and Helena had kids on the L Word but they had the invisible kind. I have the real kind that are omnipresent and wake me up way too early with zealous renditions of "Oklahoma". Anyway, we will get a babysitter and we will see this movie. Also, we should all support GLBT movies and filmmakers anyway, right?"