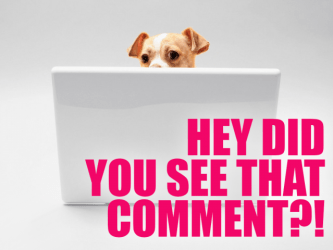 Hello New Year's babies! Welcome to 2015! There's a lot to look forward to but let's take a hot sec to review some stellar posts and comments from the past week.
There was Gothip Girl's top ten celesbian highlights of the year,  more viral vids from Brittani, a roundup of some of the most amazing women of the year and assorted movers and shakers. Plus our favorite LGBT characters, TV shows and tweets of 2014.
Carmen tackled the bullshit that is false rape hysteria and Leelah Alcorn's suicide left us heartbroken.
Also, lesbian kink according to stock photos is hilariously awkward, Liz Prince's memoir, Tomboy, is great and your New Year's resolutions are the cutest and the best.
Onward to 2015!
---
On Autostraddle Merch Sale Extravaganza 20% Off Everything Post-Holidaze!:
The Automatic Win Award to Mik:

On Merry Two Days After Christmas, Here Are Holiday Tech Things From The Week:
The Mom of the Year Award to Cat:
On A+ Video: "All I Want For Christmas Is You" Lip Sync Dance Party:
The Maybe Someday Award to jane and Carolyne: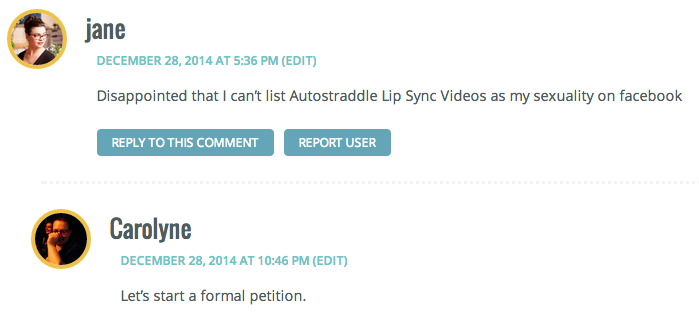 On Gothip Girl's Top 10 Most Important Celesbian Moments of 2014:
The [sic] Award to sechille:

The Søt Katt Award to Sally:
On Top Tweets of 2014 As Decided By The People Who Wrote Them:
The Twat The Night Award to Juliet:
On Rebel Girls: Out "False Rape Hysteria Is Bullsh*t:
The The Patriarchy Must Have A Bat Signal Award to Abby:

---
See a clever, hilarious or thought provoking comment around this website-ship? Email it to me at: carrie [at] autostraddle [dot] com!