NPR ran a story yesterday about how LGBT rights activists are calling 2014 a "super banner year" for marriage equality (after the banner year of 2013). It's silly, but that's exactly how I would describe 2014 in terms of LGBT TV. In 2012, we added 11 new queer female TV characters to the pop culture canon. In 2013, we added 44; an enormous leap! And this year, 53 new lady-lovin'-ladies made their way to our televisions, bringing the yearly total to 128. ONE HUNDRED AND TWENTY-EIGHT. When I started writing about gay women on television, there was one single leading lesbian character on primetime. Just one. I'm going to break this down for you, in chart form, tomorrow, but before I do that, our crack team of writers has weighed in on their favorite characters of this monumental year.
---
Riese, Editor-in-Chief
Recaps: Faking It, Glee, Orange is the New Black

Amy Raudenfeld (Rita Volk), Faking It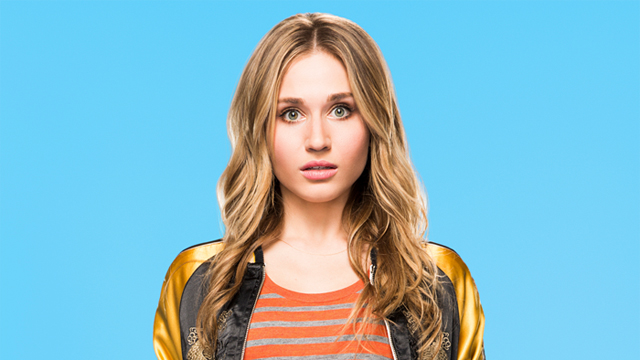 Amy has really nice hair! Even first thing in the morning, her hair looks really fantastic! She's got really cool t-shirts, too, I like her t-shirts. Oh right, and her coming out experience has resonated deeply with all of y'all. This show (and Amy's character) was a surprisingly delightful situation delivered to us by MTV this past summer, against all odds, and although the show had some profoundly disappointing moments it had some touching, honest and hilarious ones too. Now we must just close our eyes and pray that she'll get over Karma and get under Reagan, stat.
---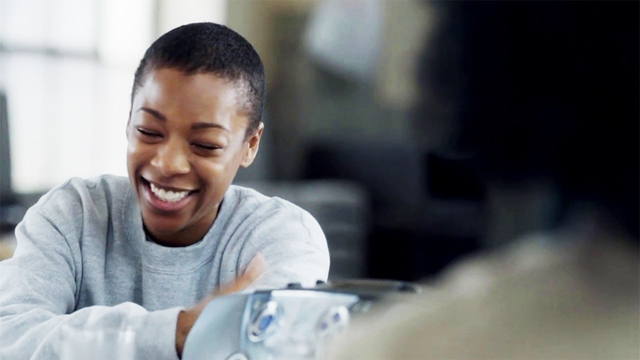 This season, we finally got the inside scoop regarding our girl on the inside, Poussey, who I consider to be the heart and the moral center of this consistently challenging, innovative and progressive series. We loved her even before she wore that sleeveless shirt, tried scissoring and dissolved into a fit of giggles, stood up for her lesbian love life against all odds and a very stern German military man and dealt with that awkward thing where you've got a crush on your best friend. But afterwards? Our heart was in her hands.
---
Syd (Carrie Brownstein), Transparent
I just really hate Josh and I felt like maybe she just slept with Josh because she was secretly in love with Gabby Hoffman, which made me feel better about life. Plus it was Carrie Brownstein! Basically I loved how queer this show was so I want to plug it, but all of the bi and gay female characters on it were such selfish assholes that I'm left with only Syd to have and to hold.
---
Kate, Contributing Editor
Recaps: Bomb Girls, Orange is the New Black, Once Upon A Time

Stella Gibson (Gillian Anderson), The Fall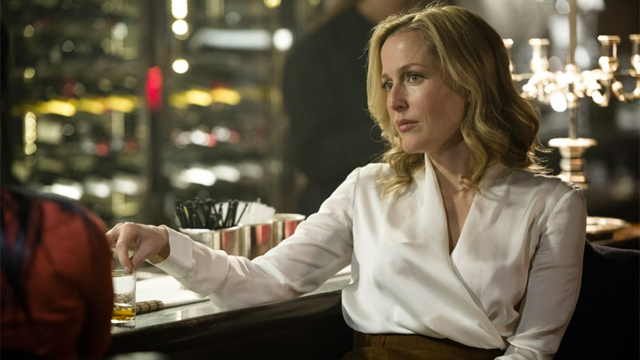 How do I begin to describe Stella Gibson? She is my favorite television character of all time. Doubt me if you will, but like hidden dive bars and the third season of Luther, if you know then you know. Played to absolute chilling perfection by Gillian Anderson, Stella Gibson is an amazingly complex individual. There's a tradition in storytelling of creating a heroine by hurting her and giving her a backstory of pain and victimhood; Stella is not that character. Stella does not need to be "haunted by her pastwp_postsfor the stakes to be high. She sees your trope and she walks right on by, honey. To show her strength, she has not been made unemotional or unfeminine. She's at the top of her field, she is respected and intimidating without there being a stereotypical compromise in the conditions of her respectfulness.
Her sexuality is brilliantly portrayed, which might seem like a weird thing to say until you have watched her in action, in which case you know exactly what I'm talking about. I have twice on Twitter referred to The Fall as a show that "exists only to demonstrate that Gillian Anderson has chemistry with literally everybody", and I stand by that. Stella does what Stella wants. There are attempts to slut-shame her, to which Stella Gibson responds with some of the most feminist things you have ever heard on television (coming from the mouth of Gillian Anderson to boot, as if you weren't already breathing heavily and fainting on your fainting couch). The amount of times she cuts some dude down to his weak-ass size is episodic. I don't want to spoil anything for those of you on the other side of the Atlantic who have yet to enjoy the second season, but let's just say that Stella Gibson is also undeniably not heterosexual. Not that we ever had any doubts. Did I mention it's Gillian Anderson, the human equivalent of a fine wine? It's like watching a beautiful ice sculpture who can move us to tears with a simple curl of her upper lip. She is, quite simply, a goddamned masterpiece.
---
Mey, Trans Editor
Sophia Burset (Laverne Cox), Orange is the New Black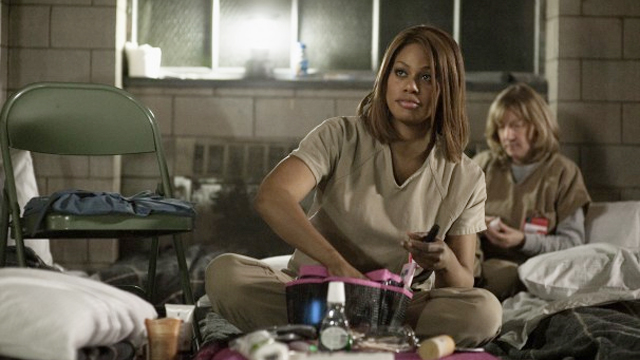 Even though the show tried to hold her back by giving her less screen time than last season, Sophia still killed it. While just about every other character was getting caught up in the drama that Vee was causing, Sophia rose above it all and was her flawless self. One of her highlights included her tour de force explanation of human anatomy in the episode "A Whole Other Hole which not only enlightens the other inmates, but shows that once and for all, she is the best. We also got to see a really touching moment when her son came and visited her in prison for the first time. The meeting starts out a little rough, but when her son warms to her over a game of cards, it really is lovely seeing her get some happiness. I really hope that next season she gets a wider role, as she's not only one of the most interesting, unique and funny, characters on the show, but Laverne Cox is one of the best actresses on the show that is overflowing with amazingly talented performances.
---
Maura Pfefferman (Jeffrey Tambor), Transparent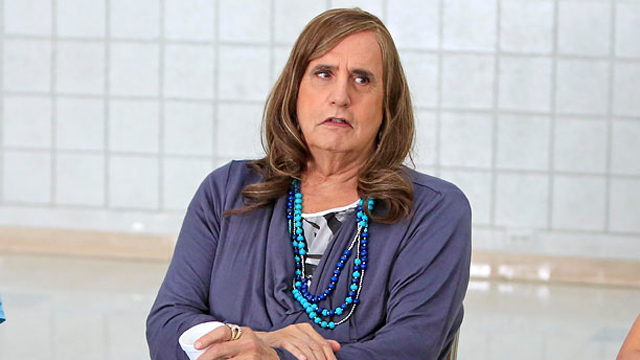 I was really worried about this before I saw the show, and even still pretty worried when the show started. However, once her oldest daughter asked if she would be "dressing up like a lady all the timewp_postsand she laughed and said "No, honey, all my life, my whole life, I've been dressing like a manwp_postsI was 110% on board. That's a perfectly written line and Jeffrey Tambor delivers it like an angel. I really love Transparent, and the whole thing hinges on Maura. Honestly, the idea of another man winning an award for playing a trans woman still really bothers me, but if Tambor did, I would totally understand it. This was definitely one of my favorite-written and favorite-acted roles that I saw all year.
---
Davina (Alexandra Billings), Transparent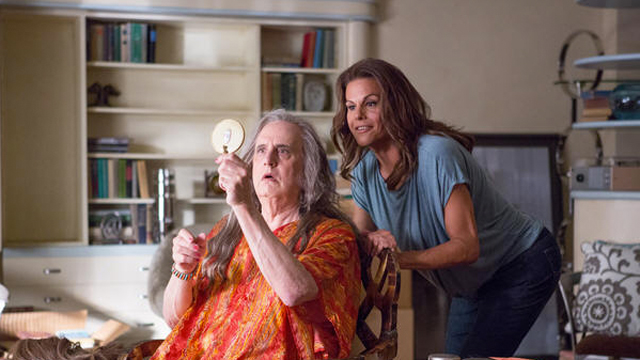 As I watched more episodes of Transparent, I was super happy to see that there were some trans women who got significant screen time who were actually played by trans actresses. Davina's more than a friend in that she acts as a sort of guide to Maura as she begins her coming out process and her transition. But Davina doesn't just help guide Maura, she also helps guide the audience. When she's teaching Maura about what it's like being trans, she's also teaching any cis people who are watching. This is a super important role and Alexandra Billings is great in it. I hope we get to see even more of her next season.
---
Shea (Trace Lysette), Transparent
Look at this! A fourth trans woman character that I loved and a third one played by an actual trans woman! That's double the number I wrote about last year! Next year let's go for eight! Now, I know she's only in a couple episodes, but Trace Lysette's Shea still plays an important part in Maura's life. Plus, seeing as the studies show that the majority of trans women are younger, it was nice seeing someone who represented that demographic on the show. We first meet Shea when she's teaching a "Namaste, Hey Girl Heywp_postsYoga class that Maura's taking, and then she quickly joins Davina in Maura's inner circle. She has no time for boring old men hitting on her, she offers jokes and support to Maura and she adds some lightness and fun to the series.
---
Haddie Braverman (Sarah Ramos), Parenthood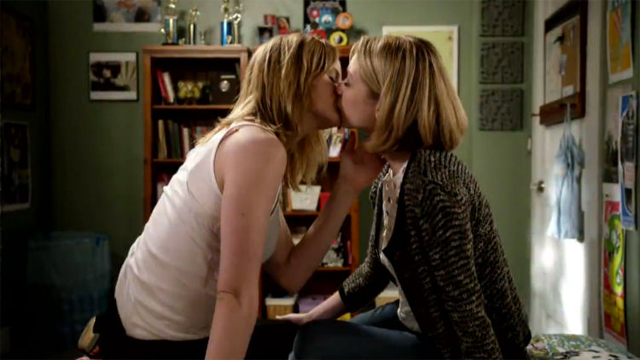 I love Parenthood. But the whole time my brother and I watched it, we would always wonder, how in a family this large was there not a single queer person? And then, in the season finale of season five back in April, our wishes were granted. Adam and Kristina Braverman's oldest daughter Haddie, played by the always wonderful Sarah Ramos, came home from college with her "friendwp_postsTavi Gevinson in tow. At first, Haddie was nervous to come out- this was her first girlfriend, and like I said, no one else in her family was queer. But eventually, her brother Max saw her and Tavi making out and asked his mom about it. You guys, I love love love the scene where Monica Potter (who plays Kristina) and Haddie talk and Monica Potter tells her that no matter what, they'll always love and support her and that they're happy for her. It's so great and it makes me cry every time. Haddie's only shown up once since then, but when she did, the show didn't shy away from frank discussions about her identity and her sexuality. I'm really sad that she's on the show as little as she is, but every time she was on the screen, I was thankful that she was.
---
Alley Hector, Contributing Editor
Recaps: Gotham, Orange is the New Black
Bo Dennis (Anna Silk), Lost Girl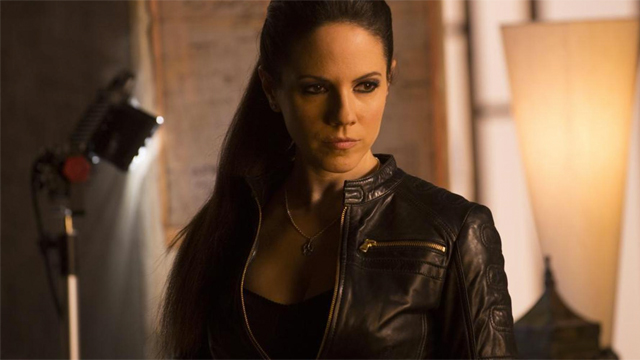 Bo is constantly pulled in two directions, human/fae, Lauren/Dyson, monogamy/magical polyamory, you know the usual. So I can relate. The beginning of this year saw even bigger family revelations, betrayals, and shenanigans in this sometimes serious yet seriously silly fantasy series. It seems to also be the end of her lesbian relationship with the human hot doc but things change quickly in the Canadian mythological play of light vs dark.
---
Cosima Niehaus (Tatiana Maslany), Orphan Black
While the trope of the sickly lesbian isn't my favorite one, I do appreciate that Cosima is a sexy scientist. I have every confidence she will continue to be brilliant and save her own life. Plus having one actress portray so many clones feels like a meta-fantasy come true for any taste. They even introduced a new transmasculine clone this season. Not sure the haircut is working for Tony but it's nice to meet him nonetheless. And the clone dance finale: epic. Yet another Canadian sci-fi show killin' it for the queers.
---
Jenny Flint (Catrin Stewart) and Madame Vastra (Neve McIntosh), Doctor Who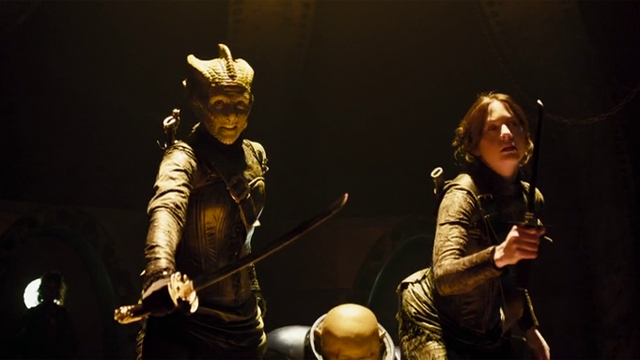 Truly groundbreaking to not just feature a lesbian household in Victorian England but a cross-species one at that. Add in their class differences and I am in absolute amazement that their relationship has survived. Although Jenny does point out in the first episode of the new season this year that she is, indeed, wearing the maid's outfit and pouring tea for Madame's guests so all may not be perfect in social equality land. Plus Jenny is just absolutely kick ass once that maid's outfit comes off to reveal and full leather suit that somehow is conducive to elaborate fight scenes.
---
Myka Bering (Joanne Kelly), Warehouse 13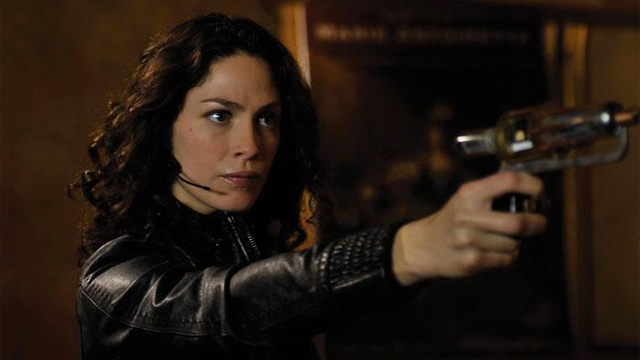 The Hermione of the Warehouse 13 world, Myka's sexuality is pretty subsumed under her adventurous but arduous work schedule saving the world. But there are ladies along the road and the most fun one for her to have tension with is the complex H.G Wells. It's always fun when a protagonist falls for a potential villain. But of course perhaps Wells is a good guy after all. So hard to tell when played perfectly on the edge by Jaime Murray.
---
Kalinda Sharma (Archie Panjabi), The Good Wife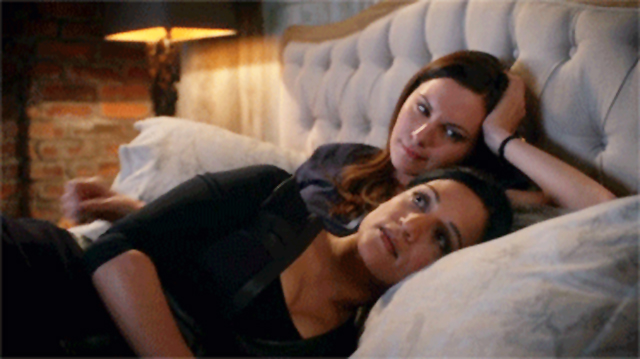 She gets shit done (as a hella tough and rule-breaking investigator for Alicia Florrick's law firm) and looks good doing it (usually in a leather jacket). But more than that she pretends to have no feelings but really they are just locked behind her perfect wall of beautiful unavailability. This season she might be letting that façade crumble just the tiniest bit for an equally hot FBI agent (just as fantasy stoking as you think this sounds). This is just the kind of woman for whom I so painfully pine. It's tragic really.
---
Rachel Kincaid, Managing Editor
Recaps: Transparent

Maura Pfefferman (Jeffrey Tambor), Transparent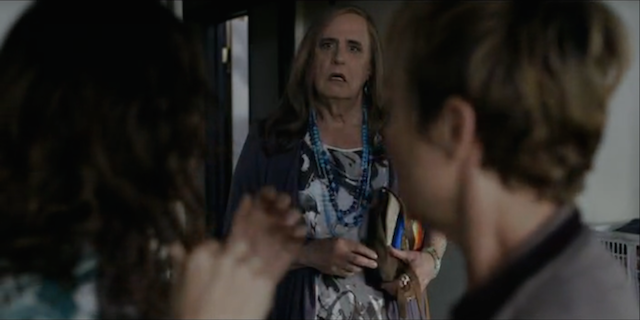 Although I wish she wasn't played by a cis dude, Maura is such a great character and deserves such great things. She's funny and brave and nuanced and I'm really looking forward to seeing what she'll do in Season 2. Basically what I want for her character arc is for there to be about 4x more of it.
---
Davina (Alexandra Billings), Transparent
Davina is another character where my greatest criticism is that I wish I saw more of her. She's wry, wise, and a crucially relatively objective viewpoint in a show largely populated by self-absorbed people whose perceptions of things around them are less than reliable. I hope that she and Maura get to have an even deeper and more layered friendship. Also, Alexandra Billings is a very accomplished singer, which means she can anchor my dreamt-of musical episode of Transparent.
---
Nicky Nichols (Natasha Lyonne), Orange Is The New Black
Aside from my crush on Natasha Lyonne and my appreciation for all that she's done for the frizzy-haired look, Nicky was a real emotional rollercoaster for me this season. Obviously the competition with Boo was gross and awful, but the way her character dealt with addiction was really powerful and affecting, and I was #deeplymoved by her support of Poussey while Taystee was being manipulated by Vee and also her willingness to assassinate Vee.
---
Heather Hogan, Senior Editor
Recaps: Pretty Little Liars, The Fosters, Gotham, Orange Is the New Black, Orphan Black, Glee, Boobs on Your Tube


First, let me second and amen and ditto everything Alley Hector said up there. And also this: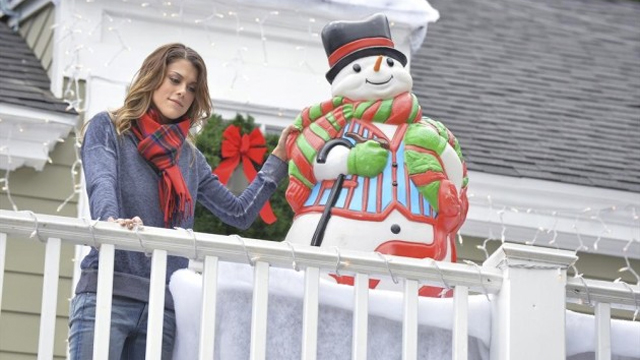 Paige McCullers makes people mad. Real mad. She's probably the most polarizing lesbian character I've written about in all my life, and my career spans all the way back to The L Word, OK? I know Jenny Schecter. Paige feels like the personification, the actual physical incarnation, of everything Judith Butler was saying when she started talking about the word "queer." And I'm convinced that's why she pisses people off so much. Because she makes them hella uncomfortable. Because they don't know what to do with her. Because they can't shake her down to this one thing or that other thing. And self-identity is as much about where you stand in relation to other people as it is about what's going on inside your brain and heart, and outside your body. Like, if you're an X, you're the same as other X's and the opposite of Y's, right? Everyone: labeled and shelved.
But Paige doesn't give a fuuuuck. She's not a Liar, but she's not a boyfriend, either. She's not hyperfeminine, but she's also not hypermasculine. She's not Chaotic Evil, but she's not Lawful Good. She's running around in the grey, ignoring the black-and-white — like the very concept of queerness itself, which has no interest in being stabilized or consolidated, but instead exists outside a system and inside the cracks of a system, to show you how broken the system really is — and most people find that shit terrifying. Queerness doesn't apologize for being mercurial, or for not fitting in; queerness exists to perpetually evolve, and to be excluded. And here's the best part: Paige didn't show up that way! She was a self-hating lesbian who had been bullied into the closet by the first love of the girl she was crushing on so hard. She was meant to be around for three episodes. But here she is, five seasons later, and she's grown more than any supporting character on the show and half the main characters too! (Here's the second best part: She's on ABC Family.)
Paige makes people mad. But also she is a beacon of authentic hope, a balm that hasn't been poisoned. The hashtag is #PailyMatters, and that's really true, but #PaigeMatters just as much, on her own, because she is the absolute true-est and the absolute best.
---
Alison DiLaurentis (Sasha Pieterse), Pretty Little Liars
Yeah, that's right: I picked Ali and Paige, and I put them right beside each other. I don't need your shipping wars!
You know what we love? Dead blonde girls. As a society, we love TV shows about dead blonde girls who are dead when we meet them, and every new discovery about their murders reveals that they knew a lot more about sex than they should have known/were letting on that they knew. Dead blonde girls who were assumed to be oh so virginal and pure, but were, in actual fact, sexually active targets of sexual predators. Twin Peaks, Veronica Mars, Top of the Lake, True Detective, Pretty Little Liars. It's quite a list!
So, you're trying to solve the mystery of who killed the dead girl, but along the way it becomes pretty obvious that you're also trying to solve the mystery of who raped the dead girl. And always, always, always there's this sinister theme of, like: Wow, did she cause her own murder because she was both a madonna and a whore. Right? We cannot look away from these narratives about girls who are sexually abused and ultimately murdered as punishment, basically, for eating the fruit in the garden and gaining an understanding about the way the world actually works. Punished for Knowing. Punished for seeking pleasure anyway.
Enter Alison DiLaurentis, who was the same as all those other dead girls. Until she wasn't dead at all. Alison DiLaurentis, who got it, just absolutely 100 percent figured out that there's a violent, bloody battle raging for control of female sexuality, and she wandered into it with her eyes open, and she survived! She refused to ignore the monster and the monster came for her, and she lived! And you know what else sets her apart from all those other dead girls? (Besides the magical witch who pulled her out of her grave?) She's queer. She used her mouth to say it this year, both with words and also by smooshing it around on Emily's face and body during their scissor-time activities.
I hate when people call Alison a bitch. Do you call Albus Dumbledore a bitch? Because he's a also a person who spent his whole life moving people around like chess pieces to destroy an evil so enormous they couldn't even grasp it. He did it better because he was an old guy with lots of resources. Ali started making plans to destroy Voldemort when she was a child. (And anyway, when you call her a bitch you're just reinforcing a world where Ezra Fitz is the good guy and the women he exploits are just silly little girls.)
---
Renee Montoya (Victoria Cartagena), Gotham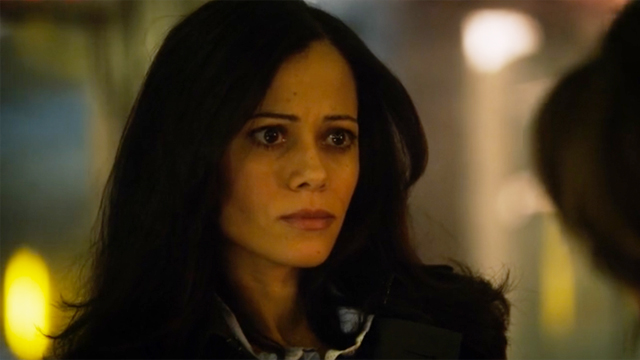 Renee Montoya is my all-time favorite comic book character, so when Fox announced that she'd be part of their live-action Batman prequel, I almost lost my mind. There's no use pretending Gotham has given Renee Montoya enough to do; they have not. But the first half of the season of Gotham has suffered from not knowing what to do with any of its characters, really. What Gotham did do, however, is boldly go where no fanboy nerdhaven has even gone before: Queerville, USA, population: (1) Kickass Latina Lesbian, (1) Bisexual Woman Engaged to Jim Gordon. When Barbara left the patriarchal safety of Detective Gordon's straight white mansplaining arms and crawled into bed with Montoya for comfort and safety and finger-bangin' good-times, fanboys unleashed a tornado of misogynistic fury onto the internet. And oh, I feasted on their tears. More Montoya in 2015, man. I'm shining her signal straight from my heart!
---
Stef and Lena Foster-Adams (Teri Polo and Sherri Saum), The Fosters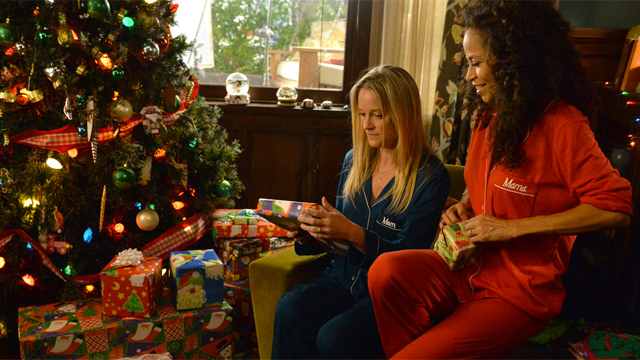 I don't care how hokey so much of The Fosters is, you guys. I cry and laugh and clap my hands together during every single episode, and so much of that is because I'm still not over the fact that I get to watch an interracial lesbian couple parent their gaggle of drama-bomb children like some kind of Coach and Tami Taylor. I think Tami and Lena would get along really well, actually, now that I'm thinking about it. And so would Coach and Stef. Oh, man. The spin-off I just created in my imagination.
---
Stahma Tarr (Jamie Murray), Defiance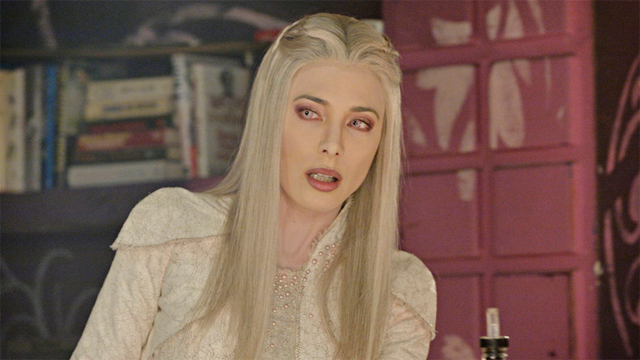 I always get in trouble for saying I love Defiance more than I ever loved Battlestar Galactica, but it's true and at least half of that comes down to Stahma Tarr. She was raised and has survived (thrived, even) in a Castithan society that is dense patriarchy, and her husband is the worst of them all. ("I come from a culture that worship dicks," she says at one point in season two.) Entitled. Abusive. Religious only when he wants to lord his power over his family. But Stahma beat him at his own game this year and became the most powerful woman — nay, person! — in all of Defiance. She also finally admitted to being in full-blown love with Kenya Rosewater, even if it was only after she was caressing Kenya's tiny human skull that she'd dug up from her grave to prove the new Kenya in town was a clone. Stahma also had one of my favorite spousal exchanges in 2014 when Datak said, "I will not have my wife running around town pretending to be smarter than me," and she spat back, "I'm not pretending!"
---
Kay (Tymberlee Hill), Marry Me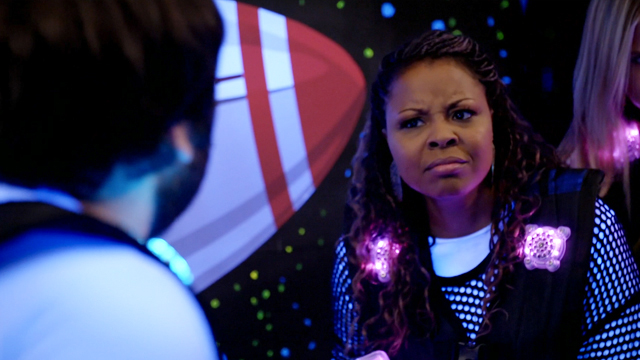 There has been a complete dearth of leading queer female characters on sitcoms since Ellen came out back in the '90s. Gay men? Everywhere. Gay ladies? Anne from the defunct Matthew Perry comedy Go On comes to mind, but that's really it. But now! Into that void! It is Kay from NBC's new comedy Marry Me, from the folks that brought you Happy Endings. The show itself is working through some growing pains w/r/t gender stuff, in the sense that it's making jokes I Love Lucy made a hundred years ago. But it's getting better, and Kay is just the best. She's sweet, she's smart, and she's funny as hell. And to Marry Me's credit, they haven't shied away from the sex part of her sexuality. She came out by simply announcing that she got a blast on Boobr and was going to "go get it, get it and forget it." She identifies as a "soft butch lipstick flannel queen," y'all. She's perfect.
---
Suzanne "Crazy Eyes" Warren (Uzo Aduba), Orange Is the New Black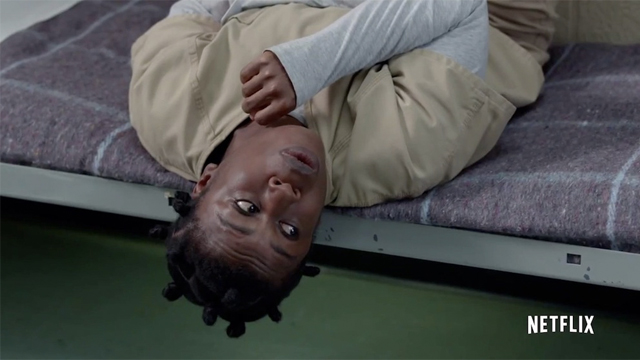 In season one, Uzo Aduba went all in on Crazy Eyes', well, craziness. There were moments of shocking vulnerability (when she asked Piper why people call her "Crazy Eyes," for example), but the character was so disconnected from reality that nearly everything was played for laughs. Not so in season two. Crazy Eyes' desperate need for validation, acceptance, and a maternal figure to cling to manifested itself in dangerous, heartbreaking ways. We saw her uncomfortable past with her white adoptive parents. We saw the ease with which Vee manipulated her. We saw her doubting her own sanity when she was falsely accused of attacking another prisoner. And we also saw sparks of that sweet wisdom she drops that always leaves me breathless, like when she told Morello: "I know something about loving people who aren't smart enough to want to be loved back. I learned a secret that I can tell you: They don't deserve it."
Uzo Aduba deserved her Emmy so much, and she deserves every other trophy that stands at the end of a red carpet. She was the best thing about the 2014 TV season, full stop.
---
Okay, your turn! Who were your favorite LGBT TV characters of 2014?