Hello queermos and Happy 2015 to us all! Now for those of you who've been reading for a bit, you know I'm not the biggest believer in New Years Resolutions. After all, why wait until some arbitrary new era marker to make a positive change you want to make or start doing something you've always wanted to do? And honestly, my fiancée and I have a tradition where we make vision boards on Saint Patrick's Day, so bizarrely enough Saint Patrick's Day is usually my day to reassess and put myself on a different course (or double down on my current course). But I recognize the rest of the world makes New Year's Resolutions, and I'm always down to point everyone in the direction of some fun apps for some fun changes. Here are a few goals I'm guessing some of us might have and a few apps, websites and gadgets to help us get there.
Read Moar Books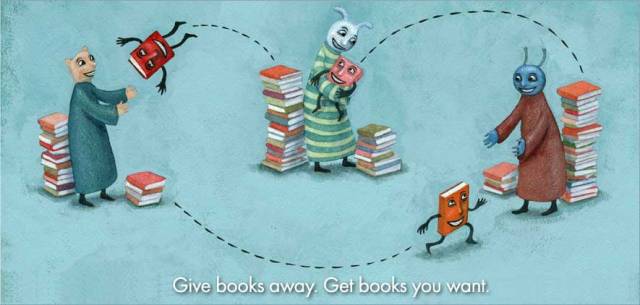 BookMooch
An online service for swapping physical books! Bookmooch operates on a points system and requires one to maintain a 2:1 ratio — for every two books received, give one away. The service is totally free, but each individual is responsible to pay the shipping on the books they send out. I thought I was going to find mostly pulp novels, mass produced romance and thrillers (all of which are totally valid and their own special kind of fun, they just might not be the kind of resolution reading you're looking for). But a quick look proved that, while all those things are findable, Stargirl was also available (classic childhood!), as was Angela's Ashes. So certainly not just for light reading. Plus if all of y'all do it, we can gay up the place a bit.
Project Gutenberg
Okay, yes, we all know Project Gutenberg. But reminding you about it right now gives me the opportunity to voice some feelings. First, about e-readers. While I much prefer physical books, I'm kind of obsessed with my Kindle right now. I firmly believe that the original Kindle is the best technology out there for reading e-books at present— it's super light, and the e-ink really is easier on the eyes than something that's backlit. It's perfect for riding the metro and I've even done books for class on it. What I don't like about it is that it hooks right into the Kindle store and no other store. Amazon really has much too large a marketshare when it comes to books, both classic and contemporary (in my opinion) and their ability to dictate what does well is kinda frightening. Enter Project Gutenberg — since everything is in the public domain, you won't be taking a stand for contemporary authors. But at least you'll be taking some of your hard-earned dollars away from Amazon with the added bonus of not spending them at all. Project Gutenberg has free e-books (.mobi included) and not just free, but exactly the kind of books that New Years Resolutions are made of (Moby Dick, for example). If you need a little inspiration, Gutenberg also has a top 100 books list, updated daily. As of me writing this, Pride and Prejudice tops the list. Pride and Prejudice, if you're unfamiliar, is a flawless masterpiece and my favorite book of all time. Highly recommend.
Pixel of Ink
If you would like to give some of your hard-earned dollars to Amazon's Kindle Store (and believe me, we all do), at least let it be a good deal. Pixel of Ink has a daily newsletter blog of free and deeply discounted Kindle books. I think this is so necessary because the Kindle store is so large and in charge that it can sometimes be difficult to navigate. Best have the experts do it for you.
---
Moar Travel Moar Places
Travel is a hard one — it's something (almost) everyone wants to do, but its so damn expensive. Right now I'm writing to you from Arizona, because my fiancée and I really wanted to place a higher value on travel this year. We're going to see the Grand Canyon and it's covered in a foot of snow, so wish us luck! And join us in our quest to see more of the world.
Skyscanner
I booked…something using Skyscanner back when it was a wee baby service and I was a wee baby smartphone owner. Can I remember what? Nope. But I remember being really jazzed that I had just bought airline tickets through my phone (ah, how easily pleased I was) and also really impressed with the very low prices I seemed to be able to grab.
OMG, IT WAS A-CAMP. I BOOKED AN A-CAMP FLIGHT WITH SKYSCANNER.
Anyhow. One of the coolest things about Skyscanner is, if you're just itching to get up and go and could use a little inspiration, you can set your destination to "everywhere" and see what looks good! Get the free app on iOS, Android and Windows phone or use their web app.
Cheap-O Air
This one is near and dear to our collective hearts because if you book with Cheap-O Air, that's an Autostraddle affiliate! Which means you're helping us out AND fulfilling your New Year's Resolution of more travel. And this web app has the added bonus of being, well, cheap. In fact, for those of you looking to book international travel, this sucker boasts a 15% off code for the remainder of January. Just FYI
Frugal Traveler
Say it with me now: I am jealous of this journalist. Frugal Traveler is a New York Times column (I know, it's just barely technology, but go with me on this one) regarding travel on a budget. Right now, the lucky winner of the best job ever is Seth Kugel, and his latest piece is entitled "8 Ways To Save On Travel in 2015," so there's that!
PackPoint
PackPoint is a free packing list app for both iOS and Android — it creates packing lists for you based on the destination, weather and activities you plan do to when you get there. While I'm not super thrilled that the packing lists are gendered and seem to be mutually exclusive and very much into the binary (GET WITH THE DAMN TIMES, PACKPOINT!), it doesn't practically effect us too much because new items can of course be added and unwanted items can of course be removed.
---
Start a Journal (and Write Every Day)
Okay, okay, okay. I'm a writer. So perhaps this goal is really just for me and not as universal as I'm hoping. But as evidenced by our Dear Queer Diary column, a lot of you are journaling too. And word, that is wonderful!
Day One
Yes. I have talked this one up approximately one bajillion times. But you can't deny that Day One is slick — a daily journaling app that allows you to set reminders and syncs across all your Apple devices? Yes please. Of course the only problem is that it's Apple only. For those of y'all with Apple devices, however, it's unbeatable — automatic backup, inclusion of weather and pictures, plus markdown support for awesome formatting. Kinda the best. You can grab it in the Mac App store for your computer ($9.99) and in the App Store for your iOS device ($4.99).
Moleskine Evernote Notebooks
If you, like me, prefer the look and feel of a physical journal but love the search-ability and relative permanence of (backed up) digital journaling (please back your ish up), then you might want to consider Evernote Smart Notebooks by Moleskine. They come in several different varieties at all sorts of price points, but all of them come with smart stickers — you stick them on pages in your notebook and, when you photograph the page with your Document Camera, the stickers automatically tag things or put them into certain notebooks. Gotta say, that's some sweet integration between meat space and cyber space. If, however, you have no issue manually tagging things and just want a digital backup of your journal pages, might I recommend Genius Scan? It's free for iOS and Android.
Livescribe Pen
If you want relatively little thinking involved in backing up your journal, a Livescribe Pen is kinda badass. Everything you write (and record, in some cases) is uploaded from the pen to the cloud, creating a digital backup of your physical papers. They come in several different series, ranging in price from $99 and up. The Sky Wifi series sends everything to Evernote, while the Echo syncs to the computers directly. The Livescribe 3 syncs to compatible iOS devices using a proprietary app. While it's certainly a price pretty piece of tech to help you keep your Resolution, we like gadgets. Gadgets are fun things. And this particular gadget certainly solves the problem of not being able to almost instantaneously back up our thoughts and feels.
What are your New Years Resolutions? What kind of helpful Resolution tech can the nerdy queermos help you find? Let us all know in the comments!
---
This has been the one-hundred-eleventh installment of  Queer Your Tech with Fun, Autostraddle's nerdy tech column. Not everything we cover is queer per se, but we talk about customizing this awesome technology you've got. Having it our way, expressing our appy selves just like we do with our identities. Here we can talk about anything from app recommendations to choosing a wireless printer to web sites you have to favorite to any other fun shit we can do with technology. Header by Rory Midhani. 
Feature image via Shutterstock.