Hello, it's me, a misandrist lesbian born to a Quaker father and a Jewish mother, here to talk to you about the shocking religion-related results of our Lesbian Stereotypes Survey.
Namely, YOUR LACK OF RELIGION. First, a confession (get it? that's a religion joke!): I wish I'd asked more questions than I did on this survey! I was trying to keep it as short as possible 'cause I was hoping to get at least 5k responses. We ended up getting so many (over 12k) that now I realize I could've asked a lot more questions about your religious beliefs and practices than I did.
This survey was conducted by soliciting participants via Autostraddle.com, so it was self-selecting and not a random sample. These are the demographics of the group that turned up:

How Religious Are We?
In order to answer this question, I compared our data to data from the exhaustive hotbed of information assembled by The Pew Forum's Religious Landscape Study, most recently conducted in 2014. As you can see, we are not quite as Christian as the rest of this fine country: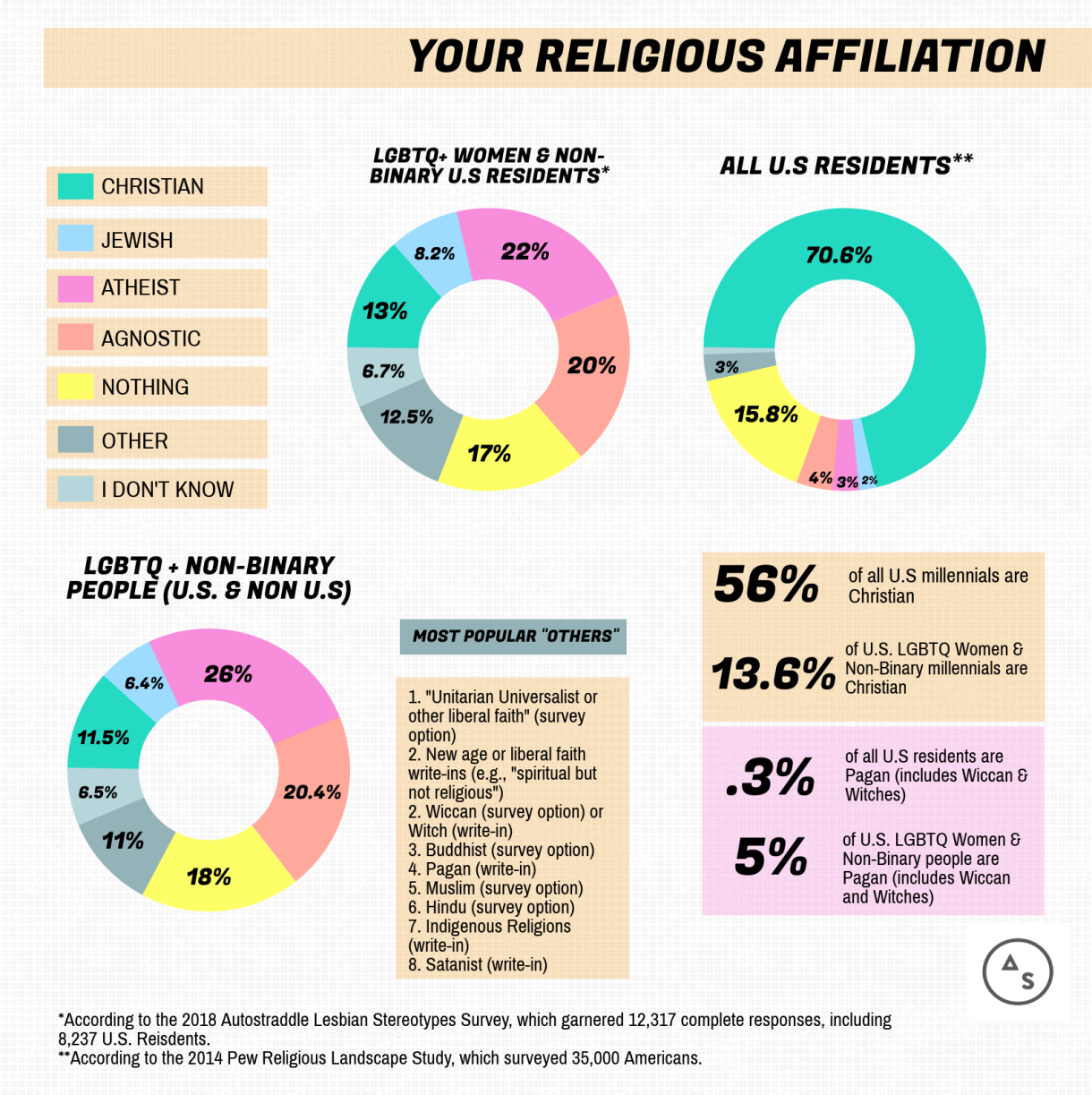 Here are the numbers for the other Commonwealth countries with significant showings on the Survey, assembled using statistics from the Australian Bureau of Statistics, the British Social Attitudes Survey and the National Canadian Household Survey: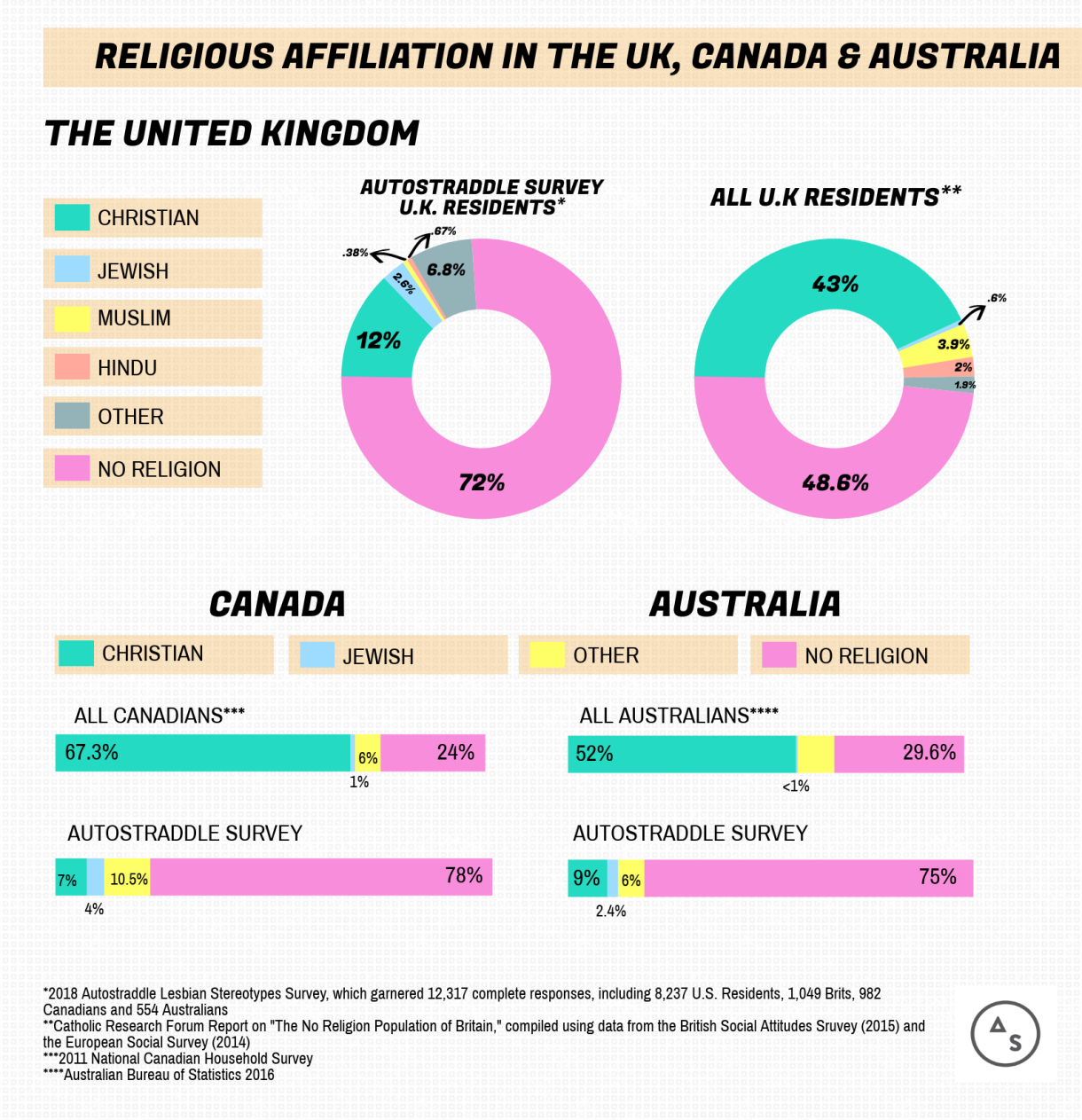 As you can see, we are falling behind when it comes to some organized religion all over the world! We are, however, maintaining a mysterious abundance of Jews. (I'm Jewish so I'm allowed to say things like "mysterious abundance of Jews.")

The Limit For This Sample Does Exist
We've written quite a bit about religion on Autostraddle, although the bulk of it, especially during the first five years of our existence, have been about conservative Christian groups trying to ruin our lives. But we've told personal stories, too. We did a roundtable that includes people raised in Jewish, Mormon, Hindu, Muslim, Catholic, Southern Baptist and Methodist households. We've done fun articles about queering Jewish holidays,  how to support your Muslim friends during Ramadan, finding a "Muslim RuPaul" and how to love your neighbor and yourself by reading the Bible for Pride. Al and Audrey, who are both practicing Christians, have written heartwarming and complicated pieces on their relationships to the church. Yvonne and Mey have written about spaces within Catholic traditions they've carved out for themselves. But we've also done a lot about leaving or struggling with religion — escaping Christofascism, divorcing Jesus to love sex, Twitter providing a "black church" feeling not found in actual black church, feeling like a "bad Muslim" for being attracted to women, feeling God's love as unrequited, a Mormon upbringing engendering internalized racism — it goes on and on and on. Queer people — and women and trans people! — have distinctly complicated and difficult relationships to organized religion generally, and, at least in the U.S., Christianity specifically.
In most cases, the sheer volume of responses garnered makes it easy to draw some conclusions from our survey about LGBTQ+ women and non-binary people on the whole, but when it comes to religion, that might not be true. It's possible that involvement in a highly conservative or orthodox religious group necessarily sidesteps the possibility a person might be on this website to begin with, let alone be divulging their cat feelings to Surveymonkey. Pew collected data on religious identification of 1,197 LGBTQ+ people in 2013 — and their results turned up similar, but not identical trends. 48% of their group said they had no religious affiliation, compared to 59% of ours.
FYI, when I mention "the Pew group" in this post, I'm talking about their entire Religious Landscape Survey unless I specify the "Pew LGBT Survey."
Another distinct and relevant thing about our group that is not intrinsic to queer people is that 84.6% of our 25+ survey-takers have at least a Bachelor's Degree, compared to 31% of Americans on the whole and 34% of LGBT people in general. Even more unusual is that 37% of our survey-takers have a master's or professional degree, compared to 11.3% of all Americans. This matters because of what Pew determined about Christianity, Atheists, Agnostics and educational attainment: "while college graduates are more likely than others to describe themselves as atheists or agnostics and less likely to identify with Christianity… they are not, on the whole, much less likely than others to identify with any religion."
Our group skews young, and Pew has determined that "religious congregations have been graying for decades, and young adults are now much less religious than their elders," so I broke out the data by age to see if that lessened the disparities. Although reducing the generational spread made Pew's numbers go down, ours actually go slightly up.
56% of millennials on the Pew Survey are some sort of Christian, compared to 14% of 18-to-34-year-olds on our survey. 77% of Baby Boomers on the Pew Survey are Christains, compared to… 13.7% of our survey-takers over 45. This could just be specific to Autostraddle readers, or it could reflect Christianity being less hospitable to LGBT people when the Baby Boomers were growing up than it is now.
Religions that became more popular in older groups were those that, in the United States, one is more likely to choose to join rather than to be raised in. 5.7% of 45+ survey-takers are Buddhist, compared to 1.6% of the entire group. (73% of American Buddhists are converts.) On Pew's survey, Buddhism gets less popular with age and never surpasses 1%. Furthermore, 23% of survey-takers over 45 are Unitarian Universalist or another liberal faith or of a "New Age" religion or practice, compared to 9% of the entire group.

They Gotta Have (Other) Faiths
Although we're dramatically less likely to be Christian than Americans on the whole, we're way more likely to be Jewish or to ascribe to a variety of religions that are extremely unpopular for the majority of Americans! This was true with Pew's analysis of LGBT populations as well.
The options on Pew's survey, which I replicated on our survey, were:
Christian (Evangelical Protestant, Mainline Protestant, Historically Black Protestant, Catholic, Mormon, Orthodox Christian, Jehovah's Witness, Other Christian)
Non-Christian Faiths (Jewish, Muslim, Buddhist, Hindu, Other World Religions)
Other Faiths (Unitarians and other liberal faiths, New Age, Native American Religions)
Unaffiliated (Atheist, Agnostic)
Nothing in Particular
Don't Know
The only change on our survey is that I added "Wiccan" to our list of options because of how many Wiccans yelled at me last time we did a religion survey. There was also an "Other" box for write-in answers, which I then categorized manually into existing categories.
So let's look at how Pew categorized some of the less popular faiths on their survey. Before we do, I just wanna say that I feel like some of what they've called a "liberal faith" might more accurately be "new age," but this is the edict that Pew has passed down to us in a dense cloud. I'm just the messenger, otherwise known as "the prophet." In this metaphor, Pew is god. Here's what Pew has deemed right and just upon us:
New Age Religions: includes Pagan or Wiccan practices. Paganism encompasses spiritualities like Druidism, Hellenism and Discordianism.
Unitarian Universalist or other liberal faiths: includes "Spiritual but not religious," Humanist, Deist, "Eclectic, a bit of everything, or I have my own beliefs."
Native American / Indigenous Religions
1.5% of Pew's sample ascribed to any of the above faiths or practices — but 9% of our entire sample did. 

Our Other Religions / Spiritualities
Y'all brought a true spiritual buffet to the table in the "other" write-in section of the survey. Within it, I found an abundance of Jewish Atheists or those identifying as culturally, but not religiously, Jewish. We had ourselves some Ex-Muslims, Ex-Mormons and Recovering Catholics, as well as people using the "other' section to say things like "Why wasn't atheist an option?" even though it was, or writing in "Quaker" which technically, according to Pew at least, falls under Mainline Protestant (Although I did separate out those who specified "Quaker but not Christian"), as does Anglican and Episcopalian, which were also popular write-ins.
Very many people noted that they were "witches, but not Wiccan." There were quite a few practitioners of indigenous religions, a lot of people who find spirituality in mother earth, and many who wanted to "fuck Religion."
Before I get into the religious laundry list, note that I'm not a religious scholar by any means, and therefore will probably get things wrong! Please correct me in a manner that could be described as kind, tenderhearted, and forgiving, as surely G-d has forgiven you for your trespasses.
Paganism — which in the modern era generally recognizes a plurality of divine beings, has a concept of the divinity of nature, and recognizes the female divine principle / sacred feminine — was a very popular write-in. Some mentioned specific sub-sects like Goddess Spirituality, Adonism, Hellenic Polytheism, Neo-Druidism, Anderson Feri and ADF Druid. (Wiccan and Witches also fall under the Pagan Umbrella.)
Taoism, "a religious or philosophical tradition of Chinese origin which emphasizes living in harmony with the Tao," was a very popular write-in. A few more religions with Indian origins, besides Hindu (which was a multiple choice option), showed up too: Sikhism (originated in the Punjab region of the Indian subcontinent), Hare Krishna (founded in New York, core beliefs based on Hindu scriptures, which originate in the Indian subcontinent) and Jainism (nontheistic religion founded in India in the 6th century BC).
Other Middle Eastern spiritualities included Bahá'í Faith (established in Iran, teaching the essential worth of all religions and the unity and equality of all people) and Sufism (Islamic mysticism).
Specific Indigenous religions mentioned included Shinto (a traditional religion of Japan), Ojibwe spirituality, Shamanism, African-based spirituality, Ancestral Animism, Mapuche (indigenous mythology and religion of the Mapuche people of south-central Chile and southwestern Argentina), Umbanda (a syncretic Afro-Brazilian religion) and the Native American Church.
Many indicated an allegiance towards "Humanism," described by the all-knowing Wikipedia as "a philosophical and ethical stance that emphasizes the value and agency of human beings, individually and collectively, and generally prefers critical thinking and evidence (rationalism and empiricism) over acceptance of dogma or superstition." Others preferred Shaivism — the religious belief that objects, places and creatures all possess a distinct spiritual essence. Animism also attributes a soul to plants, inanimate objects and natural phenomena, and can be considered an indigenous spirituality.
All you funny guys out there though with your parody religions, I'll have you know that I did indeed google Pastafarianism, Discordianism, Church of the Flying Spaghetti Monster and the very impressive Jeddism movement.
Last but not least, Satanism! A group of idealogical and philosophical beliefs based on Satan! Then there's The Church of Satan, founded in San Francisco in 1966, which is not about the Christian or Islamic notion of Satan but rather a group of "skeptical atheists" devoted to the Hebrew root of the word "Satan," which is "adversary." LeVeyan Satanism is the Church of Satan's orientation, and it is critical of Abrahamic sexual mores, has consent written into its Eleven Satanic Rules of the Earth, and is explicitly accepting of LGBT people, BDSM, polyamory and asexuality.
Also,m two people mentioned Santa Muerte, who turns out to be a female deity or folk saint in Mexican and Mexican-American folk Catholicism who is seen as a protector of LGBT people in Mexico! She sounds great.

Religious Retention
We didn't ask what religion you were raised in, but only about 9% of Americans were raised in an entirely non-religious household. Of Americans raised in a religious tradition, 34% eventually adopt a different religious identity than the one they were raised in, and 18% reject religion altogether.
So the story we're telling right now with our survey data, then, is mostly a story of adults rejecting the religion they were born into. Christianity, according to Pew, has the hardest time retaining its adherents, and our data certainly seems in line with that determination.
Pew notes that Catholicism has experienced the greatest net losses due to religious switching, which is probably not unrelated to the current sex abuse crisis. The "Other" section of our survey had an entire 125 people identifying as "lapsed Catholics" or "recovering Catholics." Some went into more detail like, "Catholic, but in that why the hell am I still Catholic??? kind of way" or "I believe in God and have cultural ties to Catholicism but like, lol fuck the church as an organization" or "I was Catholic but I'm so mad at Catholicism right now I can't put it down." Some described spending holidays with families or feeling an eternal Catholic influence on their spirituality regardless of current affiliation.
Pew found that Muslims, Hindus and Jews have the best "retention rates." We didn't get a lot of Muslims or Hindus on our survey, and neither did Pew's 2013 LGBT survey. But there sure were a lot of Jews! The majority of Jews who chose "other" instead of checking off "Jewish" didn't express the same animosity towards or disappointment with the religion that we saw amongst Catholics. Usually they were just noting that they were atheists, or that they were also Pagans or just "culturally Jewish."  Although segments of and people within Orthodox Judaism can be sexist and homophobic; Conservative, Reform and Reconstructionist Judaism have a much more liberal and accepting reputation, which might be part of why it's the most popular Judeo-Christian religion in our group. No single Christian denomination — not even the entirety of Mainline Protestants — even approached the numbers of Jews we have here.
Which brings me to this: there is a direct correlation — like, PRECISE — between how tolerant a religion is of gay people and how likely we are to be a part of it. To make the populations as comparable as possible, I narrowed the comparison with Pew's data to Millennials and Generation X-ers, and… ta-da!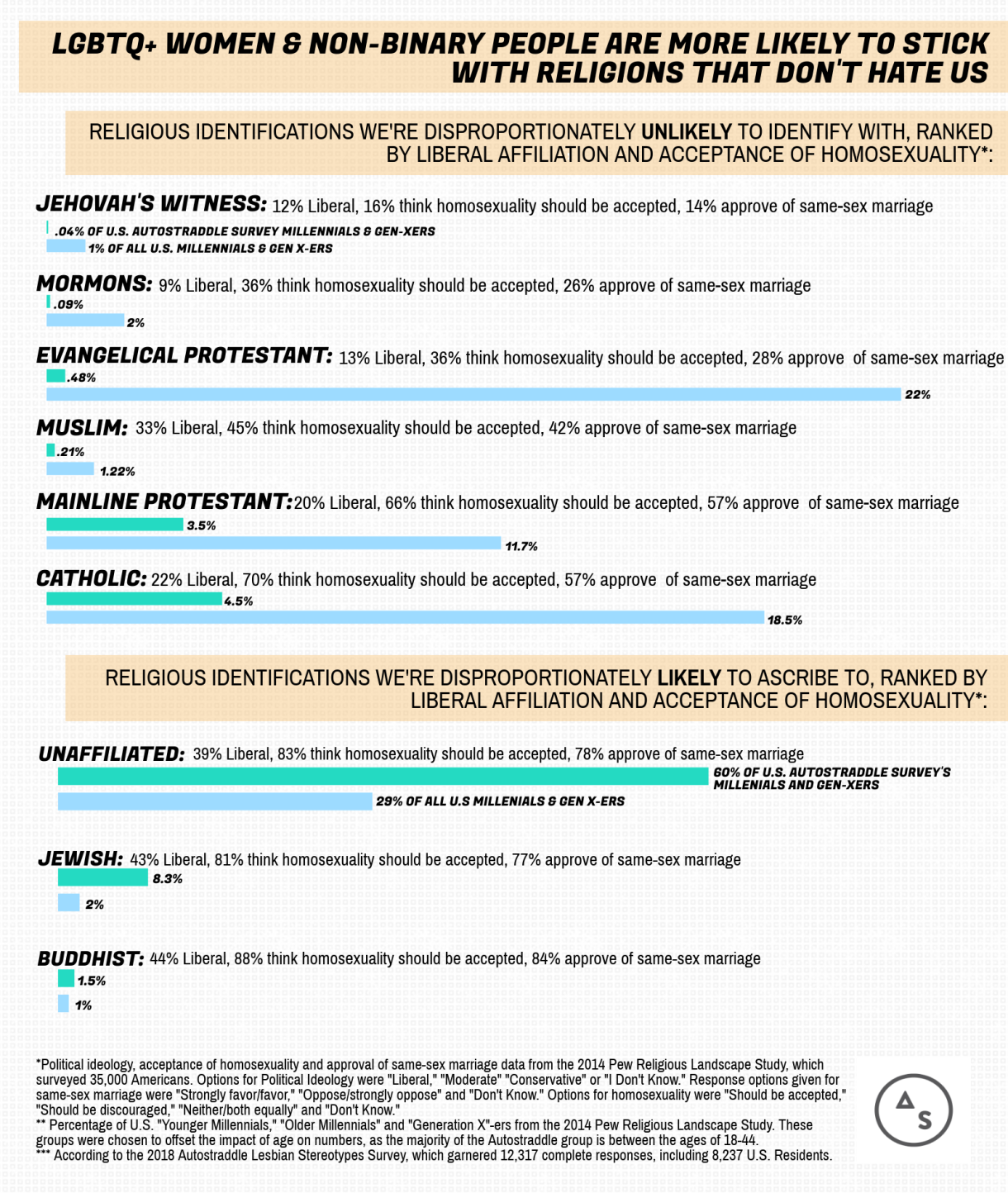 Another fascinating tidbit for you: the LGBT Pew Survey asked survey-takers for their perception of various religion's friendliness towards LGBT people. In order of perception of friendliness, from least friendly to most, the results were:
Muslim Religion (84% of LGBT people think this religion is unfriendly to LGBT people)
Mormon Church (83%)
Catholic Church (79%)
Evangelical Churches (73%)
The Jewish Religion (47%)
Non-Evangelical Protestant Churches (44%)
But if you look at Pew's Religious Landscape Study survey and the percentage of faith adherents who think homosexuality should be discouraged, that list would go like this:
Mormon Church (57% think homosexuality should be discouraged)
Evangelical Protestant (55%)
Muslim Religion (47%)
Non-Evangelical Protestant Churches (26%)
Catholic Church (23%)
Jewish Religion (16%)
There's some huge disparities here but let me say first that the Pew Religious Landscape survey was a survey of individuals sharing their personal feelings on the acceptance of homosexuality, which isn't necessarily the same as the position of the church or faith they belong to.
Still, it's truly bananas that Mormonism and Evangelical Christianity, which are quite explicitly homophobic, would not be clocked as the least friendly faiths, or that Judaism would be perceived as more homophobic than mainline Protestant faiths. I'm also curious how much Islamophobia played in to these rankings. That being said, mainline Protestant does include a lot of faiths that are LGBT-friendly, and it's quite possible those who ranked it as not unfriendly are members of those groups — Episcopalian, for example, as well as Quaker / Religious Society of Friends, Lutheran and The Metropolitan Community Church. You're not the only queer Christian.

Here's What We Do Believe In, Though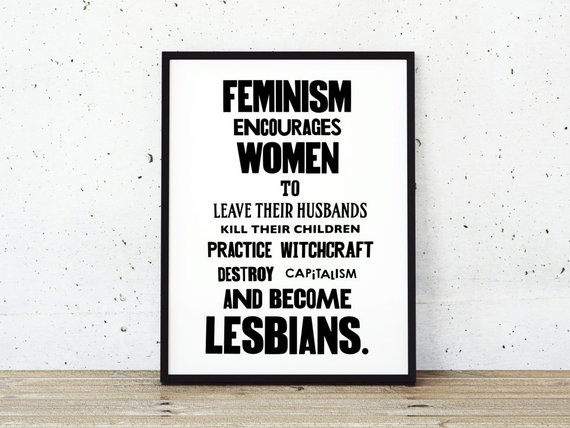 Basically everything Pat Robertson said about us was true, and I'm very proud of everybody here. Next week, we're gonna talk about other spiritual and supernatural things. Here's a fun fact: when asked, "Do you believe in astrology  — that the position of the stars/planets can affect people's lives?", 28% of y'all said yes.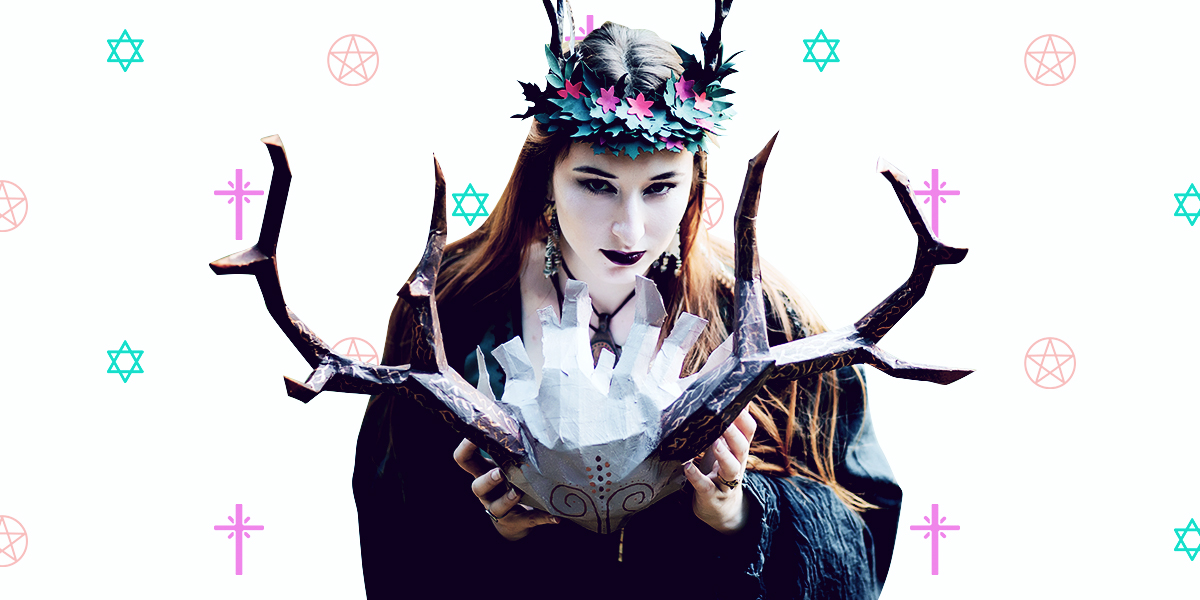 Stereotype: LGBTQ+ Women & Non-Binary People Not Being Into Christianity
Verdict:  True