The category for the first — and only — ball scene this episode is "Back to the Future" and "the future" is 2015. Of note is the Afro-Futurist inspired getup that ended up winning the category. The other two performers are someone in golden, shimmery pants and someone Pray Tell describes as giving "radiation realness." Speaking of Pray Tell; he struggles through the narration and his vision blinks in and out of focus. He stays conscious long enough to announce his "AIDS Cabaret" and point to Blanca as the person to buy tickets for, but his hand is trembling and Blanca is the first to notice something's wrong. By the time she can get to him, Pray passes out.
The next scene is at the hospital and Pray is in a hospital bed with Blanca by his side, while Nurse Judy tries to read his blood pressure. She's struggling because she can't do it without bruising him. The doctor comes in and says his guess is there's something going on with Pray's platelets. He also mentions "immune thrombocytopenic purpura" which means that Pray is low on the platelets that keep him from bleeding and it's most likely a reaction to the AZT. Pray says that's bullshit and Blanca and Judy try to comfort him but that's not what he needs right now. Pray Tell is — understandably — pissed off and scared so when Blanca tries to comfort him again and assures him they'll handle the cabaret, Pray tells them to stop treating him like a kid and yells at them to "get the fuck out." Judy leaves immediately but Blanca stays to apologize before leaving the room in tears. Blanca feels responsible for Pray's reaction to AZT but she's not. She was trying to help him the best way she knew how and Angel tells her as much when Blanca confides in her.
Another plotline is the return of the Evil Landlady. She sees Blanca's flyer for the Cabaret and tells her that she'll hurt her business because it would remind people of HIV and Blanca should "want to make sure no one is thinking about it" when they come through her door. She also gives Blanca $20 and invites herself to the Cabaret. This lady gets worse every time I see her.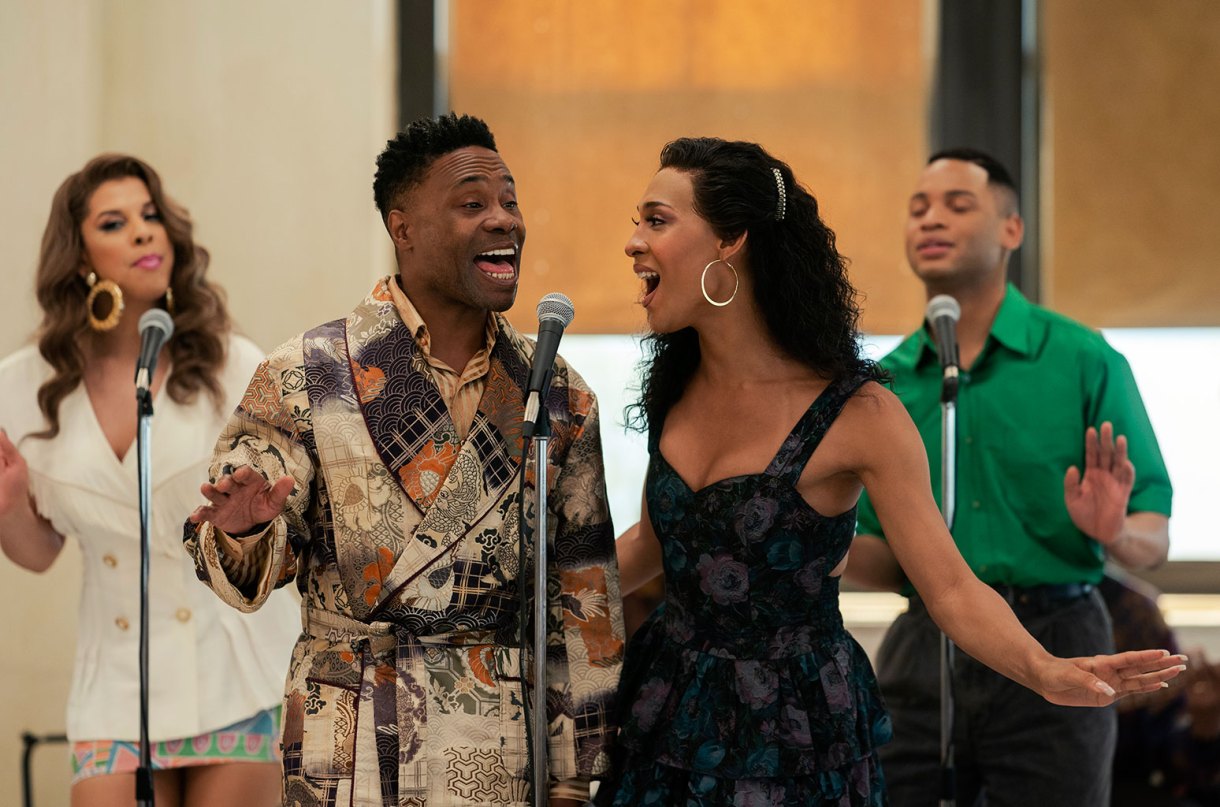 While everyone and their landlady is getting ready for the Cabaret, Pray is moved to a double room with another patient, Lewis Carter, who is in for pneumonia. Pray tries to talk to the guy and asks if he knows him but Lewis shakes his head. He doesn't go to the Balls, but he suggests that Pray's seen him at B. Altman, a high-end department store. Pray also calls him a queen but Lewis says he's not a queen, he's a "college-educated man" — because that makes him better or something. Pray Tell says no more until later that night when Lewis starts coughing pretty bad. Pray calls for the nurse but they aren't able to save Lewis. While they're trying, Pray panics and asks the nurses what they did to Lewis. To him, the drugs are poison. They end up sedating him, and by the time Pray wakes up Lewis is gone, but he's not alone. It's raining and Pray is surrounded by flowers which is sweet at first until he reads the cards and sees they're all from Candy, imploring him to die. He sets down the cards but Candy shows up in person so that doesn't do any good.
Candy's ghost takes some valium and checks herself out in the mirror while Pray Tell wonders if he's dead or dreaming. Candy tells him "it's all a dream" and that she's having the time of her life with people like Robert Mapplethorpe and Alvin Ailey. Pray Tell notes that she's "spending eternity with people who died from AIDS." Candy's not here to gist with Pray though. She's here to tell him to come to her. Pray declines and says he'll fight but she asks him "for what?" She tells him that if his illness progresses, he'll wish he had "given up gracefully sooner." Pray is focused on Candy's earlier assertion that she's choosing to spend the afterlife in a heaven of her making with people that understand her. He asks her if she had AIDS and she says yes, but she didn't tell anyone. Then she offers him some pills and promises it won't be painful to take them. She paints a picture of a riverside bike ride with Perry Ellis and Pray lets himself dream for a moment before turning her down. The pills Candy handed him fall to the floor, thunder strikes, lightning flashes and Candy disappears. Pray gets out of bed and walks into the hallway where he's told that the lights are out and guided back to bed.
The next time Pray wakes up, it's still raining and someone's humming. Pray doesn't have to look to know who it is and he tells the voice to shut up. The voice is Pray's stepfather and from their conversation, we learn that he was a piece of shit who sexually abused him when he was a kid. He tells Pray that he needs to forgive him for his own sake — I think he can fuck off right back to the pit he undoubtedly crawled out of. Regardless, Pray gets the vile man to leave by yelling that he forgives him.
The next person to visit is Costas. He tells Pray he has to get ready for the AIDS cabaret, except this one is for the men that have died in the hospital. Costas assures Pray that he's there for him and as Pray walks down the hallway and into a room filled with patients who have passed away. His hospital gown transforms into a beautiful silver suit while he walks and he holds each of the men's hands while launching into a stunning performance of Judy Garland's "The Man That Got Away." The men are silent while he performs, only applauding when he finishes. Their applause also signals the end of Pray's hallucination and the men fade away to a near-empty room (save for Judy and another hospital worker) and daylight. Judy asks if he's okay and Pray wonders out loud if he's "losing [his] mind."
As day breaks, the Cabaret gets underway and Blanca shows up to Pray's room upset. She heard from Judy that Pray's doing better now but refuses to come to the Cabaret. Pray is mad at Blanca but she tells him that he's looking for someone to blame and that's not her. They have it out for a few moments before Blanca tells him the show starts in ten minutes and walks out.
Proving yet again that this cast is ridiculously talented, multiple characters take their turn at the stage during the Cabaret. Up first is Judy — accompanied by Damon, Luly and Ricky — who sings "Sometimes in April" by Prince and the Revolution. After Judy's song end, the houses of Wintour and Evangelista have a small chant off before Judy or their mothers hush them. Papi even gets on a chair. Evil Landlady — she actually showed up! — performs after Judy but not before claiming to have a new interest in philanthropy and handing some money to Blanca. Her song of choice is "I'm still here" by Stephen Sondheim and despite being a soulless demon, she kills it. I wish evil people couldn't have talent. And Evil Landlady is indeed evil because after her set she leaves to take a call and we find out that the real reason she's here is to distract Blanca while her people clean out the salon and change the locks. I hate her.
Elektra a rendition "Sooner or Later" by Madonna next and she's wonderful obviously. Elektra's not the nicest person but she's no Frederika Norman so it was a refreshing palate cleanser. After Elektra's performance, Blanca takes the mike again and announces that they've raised $4000. She also shares her diagnosis with the crowd and reminds them that "the first letter in HIV stands for human." Ricky, Damon and Lulu serve as her backup singers again and Blanca chooses to sing Stevie Wonder's "Love is in Need of Love Today". Pray Tell walks in while she's singing and she gets him to get on stage with her, mirroring their duet from last season.
They sing beautifully together and this performance is no exception. By the middle of the song, the audience is standing, clapping or dancing. They end to a standing ovation but before Blanca can step out — and presumably check on her salon — Evil Landlady stops her. Blanca apologizes to her and says that she misjudged her. Even after staring into Blanca's beautiful brown eyes and seeing her Angelic soul, Evil Landlady still decides to dupe Blanca — and she does it with food! She compliments Blanca's event organizing skills and invites her to "talk businesswoman to businesswoman" over dinner. The betrayal. Of course, by the time Blanca gets back to her salon, it's emptied out, boarded up, locked and has shiny new "No Trespassing" signs on the front doors.
The next scene shows Evangelista — and Pray Tell — sitting down to a meal. They're treating Pray to a new, butter-rich diet in the hope of flushing out the AZT and helping him gain some weight. Blanca also shares her plans for the salon with the family. She's putting together a protest to shame Frederica into backing down because "that bitch don't want to see our faces next to hers on page six". The next day, the protest goes underway but Evangelista is a small house. Even with Pray Tell's presence, they're not very visible. Then other houses show up — including Wintour! — with Ferocity taking the lead. Together they're bigger, louder and can't be ignored. Watching this scene made me worried because I kept waiting for the cops to show up but all that happens is Frederica drives by and realizes she made a mess of things so I'm feeling hopeful that Blanca will get her store back.
The last scene of the episode is with Pray Tell. He's getting ready for bed when Candy shows up again. He thought he was done hallucinating but she tells him this is just the start and she's "about to haunt [his] ass from now on." In what sounds like every conversation I have with myself, she tells him that while he didn't accept her "invitation" earlier, she'll be around just in case. Pray tells her to go ahead but that he won't take it. He faces away from her and the scene pans out to show that she's gone. I'm not sure why Candy ended up being Pray Tell's voice but I'm glad she's still on the show in some form.
The quote this week was "It is necessary to constantly remind ourselves that we are not an abomination." Do that. I'm really glad you're here. Take care of yourself y'all.
Until next week!