Audrey explores what it means to be a queer Christian in a world where Christianity is weaponized against minorities, including the LGBTQ community.
Author's note: I had this whole plan where I was going to get a disposable camera and document my Easter weekend trip to Portland and then write about it for the Wednesday after Easter. However, apparently nowhere in the city of Dallas does same-day film developing anymore because we live in a dystopian future so I had to mail the camera off and wait a week to get it back. Easter is all about new beginnings. Can we keep talking about God together? I will work on consistency and I hope you'll keep commenting.
---
I arrived in Portland and Murph drove me straight to a pop-up lesbian bar. I ate a slice of pizza and sipped someone else's cider and watched people dance to Beyoncé and The Weeknd. It was Maundy Thursday, and communion dripped over me. I was exhausted and starving and overwhelmed, and I don't remember much except hugging Cee and hugging Nate and belting "I Wanna Dance With Somebody." Pizza and beer is close enough to bread and wine, and I watched worlds collide as Murph (who lived in Nicaragua at the same time as me) and Cee (who makes the internet for autostraddle dot com) and a cute stranger (whose name I never heard) leaned across the table in a conversation I couldn't absorb. As far as I know, nobody sold anybody to their corporeal death for 30 pieces of silver, but what do I know? I was just another queer hipster zipping through PDX and my body clock was two hours off.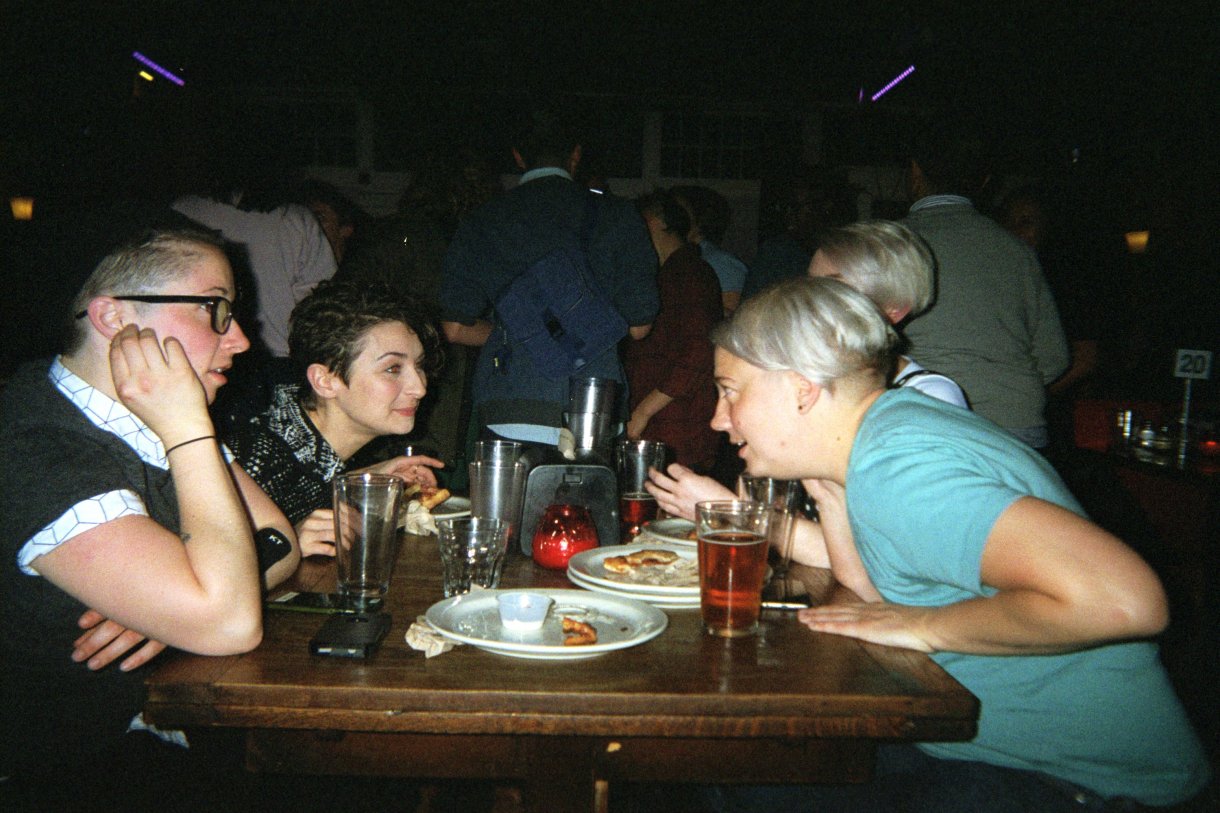 I went to Portland with only two plans: Go to Powell's, which is a five story bookstore that takes up a whole city block, and go to Good Friday services. Fernanda, who happened to be visiting Portland for a few weeks from Nicaragua, met me and we walked every aisle of Powell's until we found ourselves in the rare books room at the very topmost corner. We parted with hopes to see each other again before I left, though in the end we didn't.
I don't know why I was so set on that second one, I'm actually not sure I had ever been to a Good Friday service before, but it felt important. 
All my other plans were "hello friends who live here please take me wherever you think I should go." So Murph took me to this extremely tall waterfall which was very beautiful and very damp. At the gift shop, I bought a sticker of a beaver holding an umbrella that said "Oregon." I promptly lost it. The Lord giveth and the Lord taketh away.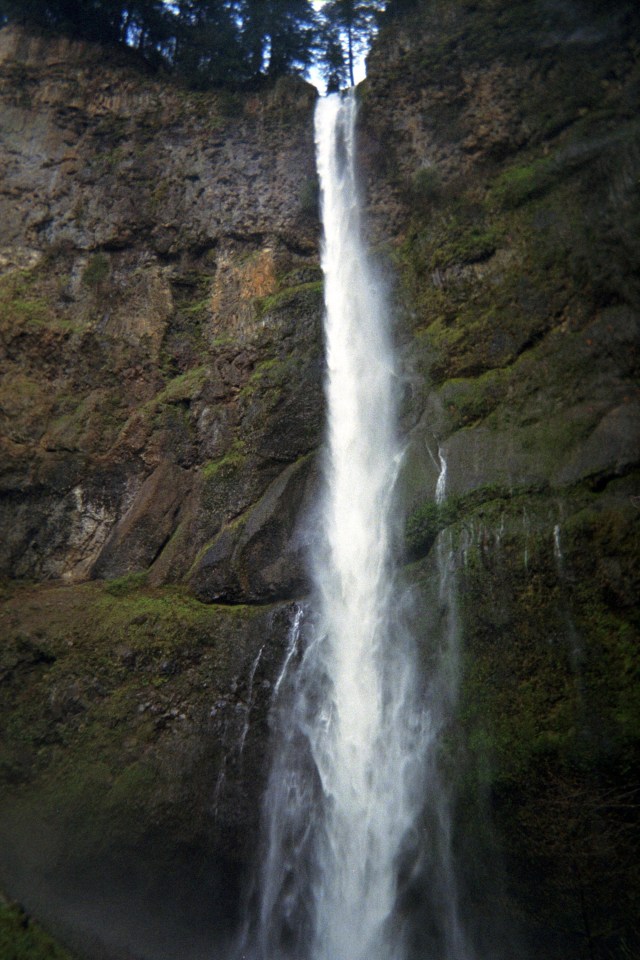 Have you ever really read the Good Friday story? Here is how I always thought it went: On the word of Judas to the state officials, Jesus is arrested and Pontius Pilate sentences him to death. Somewhere in there, Peter denies three times that he knows Jesus. He hangs on a cross between two robbers, wails "My Father, why have you forsaken me?" and then he dies. Joseph of Arimathea gets permission to take Jesus corpse off the cross to bury it in a tomb. It seemed like a clear case of state violence enacted against someone they perceived as a threat to the empire.
But there is a middle part that had never stuck for me that complicates my narrative deeply. Pontius Pilate, it turns out, believes Jesus innocent and can find no reason to convict him. He and the Jewish leaders argue back and forth. Because it is the Passover, Pilate has the authority to free one prisoner who has been sentenced to death. Pilate gives the throng of spectators a choice. They can have Barabbas, a "bandit," as he is described in Matthew, or perhaps a "rioter" as he is described elsewhere, or they can have Jesus. In a great chorus, they ask Pilate to free Barabbas. They demand Jesus's execution.
On Good Friday evening, I went with Murph to their church community, and with a few others we participated in a progressive Passion service, meaning we read scripture and engaged with different elements — ashes, thorns, ropes, water — that are part of the story of Jesus's execution. In the dim light, I got lost in the account of the crowd demanding Jesus be executed. I started to wonder what else we trade grace away for so cheaply. What comforts and conveniences do we hold close to our chests because we are so terrified of change that we reject even that which might make things better?
That night we went dancing. It was supposed to be bachata night at Aztec Willie's but the DJ didn't show so it was the regular salsa playlist. Of course, they threw out a few bachata songs and a couple reggaetons, and we let the music carry our bodies through space.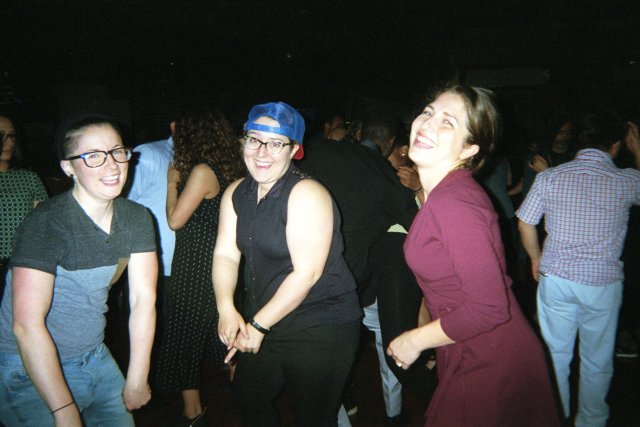 I got stuck thinking about Barabbas. I didn't really prepare for Easter, for the resurrection, for the return of the Alleluias in my hymns. I thought about how many church members today would probably stand in a crowd and call for the execution of a Jesus who challenged them to live lives of service, generosity, grace, humility and repentance. Who has time for all that when there is a Women's Luncheon to plan?
Jesus also calls us to joy, I believe that deeply. So even as I wrestled with those questions, I reveled in the opportunity to be with friends I rarely see. I happened to be in Portland on the first sunny weekend of the season, and I took full advantage. I went to my first ever women's soccer game #GoThorns and ate cheese on the ground at sunset. After dark, Cee and I talked until 1:30 in the morning about gender and feminism and heartbreak and the suspension hardware installed in their office ceiling. I don't have a picture but I have a couple personal revelations I might share some other time.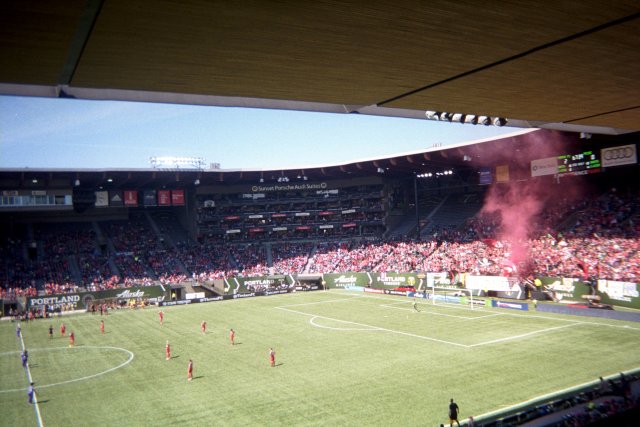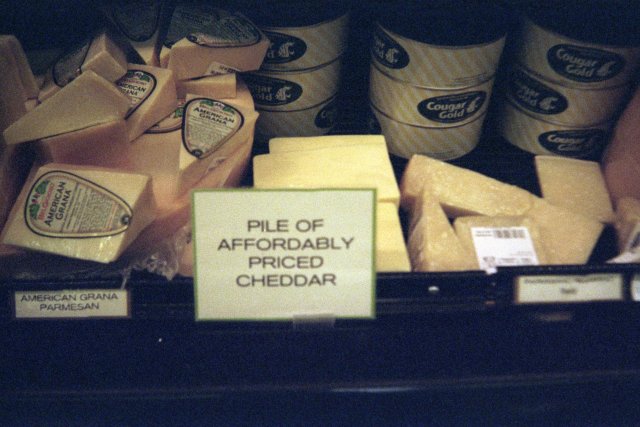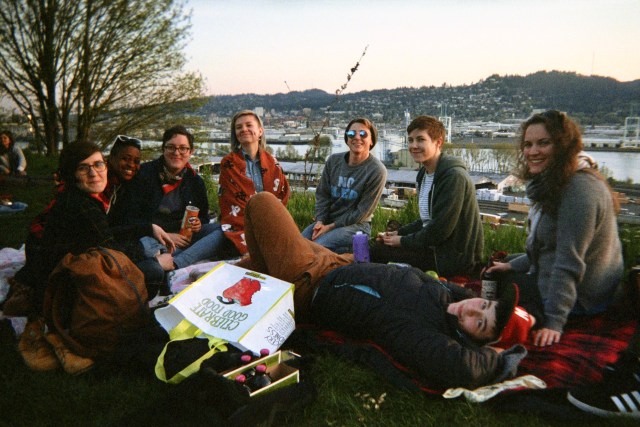 On Easter Sunday, I didn't go to a church, but I quietly praised God at brunch in community with friends and strangers and so many carbs and those tiny Cadbury chocolate eggs.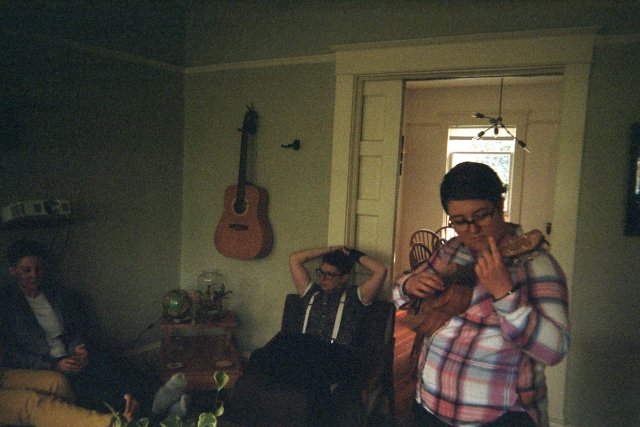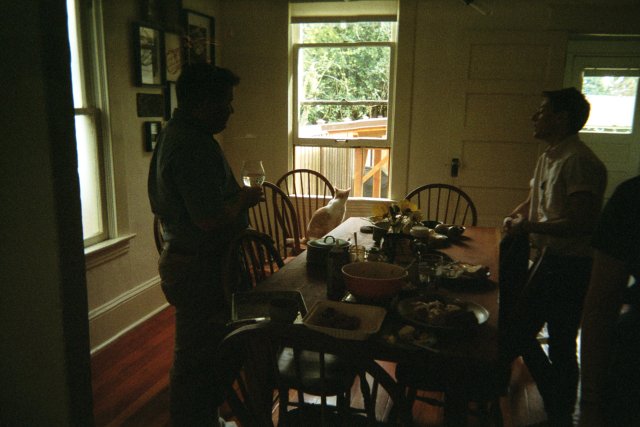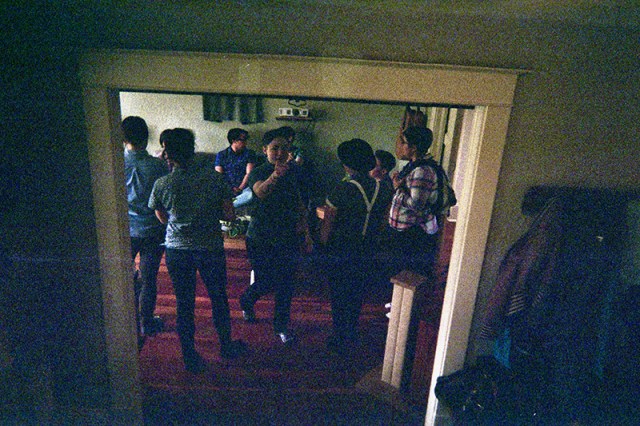 There was a really adorable group picture that printed as a blurry grey blob even blobbier than that doorway photo, but I'm thankful to have it anyway. It's good to remember that our connections to each other criss cross and converge, and that every once in a while we might stumble into a space that cocoons us with light, obliterates worries, and fills us with honey (or maple syrup, as the case may be). After brunch I went outside and admired a bridge and the very tall trees. Murph and I talked about dismantling capitalism from inside our work at nonprofits which is probably impossible but that doesn't mean we won't keep trying. I had coffee with Ev'yan, and despite not seeing each other since A-Camp 6.0 we fell into a conversation about sex, love, racism, work, community and the weather (by this point the sun had made it's way back behind some clouds). Over tea, Nate tried to convince me that it is ok for me to be a person with a gender, or something. There's no photo because tea shops are very dark and gender is a lie which cannot be captured on analog film.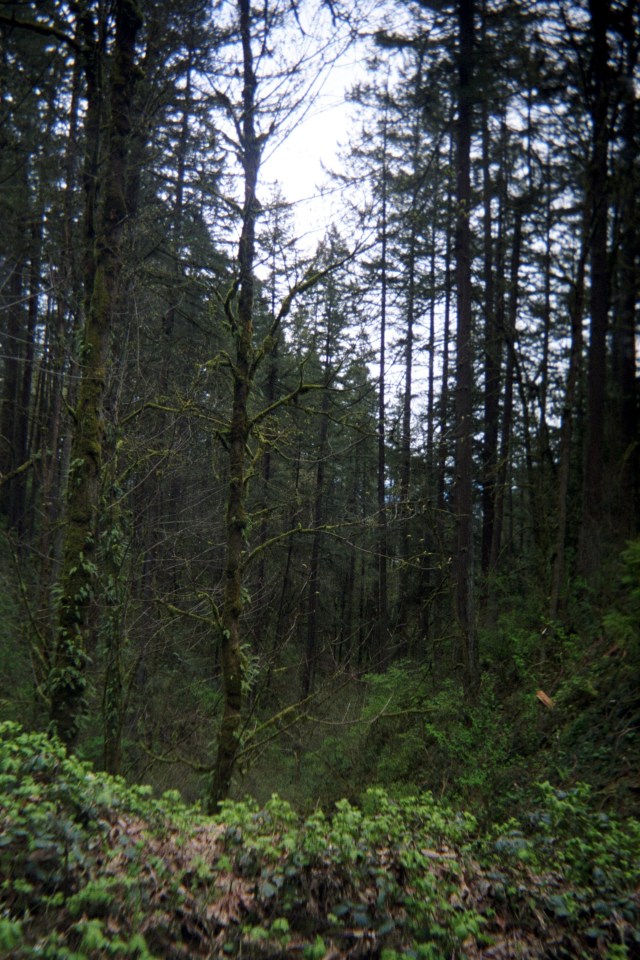 I looked through this pile of photos 10 days after I got back to Dallas, and I meditated on each of them. I thought about the light, the coloration, the imperfections. I admired each person who had shared space and their selves with me. I thought about Barabbas again and considered that he was just one more person whose life Jesus transformed — after all, he got to live instead of suffering an unjust execution at the hands of the state. Maybe he went forth a better person, or maybe he kept defying the empire through theft and rioting — not that the two are mutually exclusive. I doubt I'll ever be standing before a state official with the choice to execute the King of Kings or some other guy, but I have the choice every day to seek love or not, to fight and struggle for justice or collapse under the weight of the empire's fist. Each choice is an opportunity to make good on the promise of the resurrection.