Previously on Pretty Little Liars, a youth tried to blackmail Emily, but you don't survive giving a man in the woods your face and then bow down to the first Gossip Girl shadow spirit who comes your way. Emily murdered her. Just kidding, the girl played herself. Speaking of which: Aria kept on planning her wedding to Ezra Fitz even though he was gallivanting around New York City with his recently resurrected fiancée. Hanna potentially committed intellectual property theft over a dress design so top secret that Jenna showed up wearing it at happy hour after band practice (after a magical cobbler's tools came to life and nearly killed Hanna). Spencer found out Mary Drake was her birth mother. And Ali was pregnant and Paige was not and they scowled at and about each other up and down the halls of Rosewood High School, a place they cannot get away from despite never attending it as teenagers.
It's Hanna's turn to play The Game today, which she finds out when someone knocks on her door and it's herself. Or, well, a mannequin of herself. Hanna's already having a rough morning. It starts out great when Caleb shows up with a "newspaper" turned to the "style section" and it's a glowing full-color, full-page review of Hanna's dress. Before she can even pop the champagne and get her weekday day-drink on, though, some upstart blogger posts on her fashion website page about how that design is actually Hanna's old boss' design and Hanna is a thief. You know Meemaw Marin is bombing that blog with a thousand comments but Hanna can't deal with that right now due to the lifesize doll wearing her face on its head, staring her down from the kitchen.
Hanna realizes pretty quickly that of course A.D. is going to make her perform surgery on her doll self; there's even a helpful dotted line for her scalpel. As soon as Hanna slices it, blood gushes everywhere. It's horrifying. Hanna digs a package out of the doll's innards and inside the package is a little number from the Katy Perry collection that Hanna's supposed to wear to a meeting with some Japanese investors. Caleb says the dress is so short everyone's gonna see her "spicy tuna roll," which is grosser than the bloody doll corpse bleeding out in the background.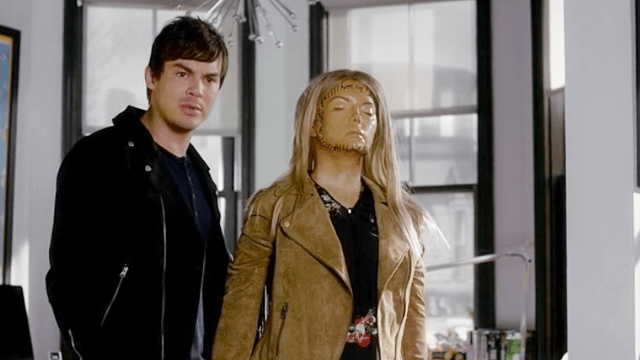 Would you like to guess who has set up the meeting with the Japanese investors? Here's a hint: It's the same guy whose house Hanna has been living in rent-free since she rolled back into Rosewood engaged to a Ken Doll. Yep: Mister Muddy Sneakers himself, Lucas Gottesman. Hanna seems to think he's forgotten the time she took him out in a canoe and then pushed him out in the middle of the river in the middle of the night. And she seems to have forgotten that he gave Emily a gloved massage without her consent. I have not forgotten either of those things. Anyway, Hanna never makes it to her meeting because on the way in she gets a call from Spencer saying the Hanna doll sprang to life and massacred Caleb. Poisonous gas. Classic Batman villainy. Ol' Swampy Shoes says he'll take the meeting, Hanna shouldn't worry, and she rushes off to the hospital to find that Caleb is … obviously fine.
Reader, Yvonne is not. She wakes up from her coma, a thing Toby casually mentioned to Spencer in the Brew while picking up coffee ("drop by some time, she's out of the coma"). He makes a couple of rookie mistakes because he's obviously never seen a Nicholas Sparks movie. Number one, he says he wants to marry her right now even though she's still on the brink of dying. Number two, he makes all these insane travel plans with her like going to Russia for Christmas. (Russia! For Christmas!) Number three, he keeps making the plans even when the music gets extra syrupy and the lighting gets extra gauzy. She drops the wedding bouquet she's holding in her hospital bed and dies on the spot. She was the last plot point to survive the time jump. Not too bad for a transparently doomed woman.
Spencer's at the hospital anyway because she was with Caleb when the Hanna doll came alive and started terrorizing him, so she gives poor Toby a hug as he falls to the floor. He's sadder even than that time those kids crossed the street with their ice creams instead of walking past him. Sadder than when he got suspended from the police force for tripping balls on an entire sack of weed gummy bears during a routine mission to a murder arcade. Ah, Boo Radley. Get out of this town. Give yourself that one gift.
Besides her ex-boyfriend's wife dying, it's a pretty chill day for Spencer. Detective Furey meets up with her at the Brew and they discover that they both like to be electrocuted by their coffee, so that's one thing they have in common besides obsessive investigating. He asks her out on a date for the day and she says yes and they go to a community center to help some kids and also engage in a ping-pong match to the death. You knew without knowing that Spencer went to an all-girls equestrian camp when she was a kid, but what you didn't know is there was a ping-pong table there and that's where she honed her skills, knowing one day she would be bleeding from a bullet wound and need to play through the pain to destroy her opponent. Which she does. She even changes hands for her kill shot! She thanks Furey for playing, says, "I needed a win on an existential level" and then he smooches her while stitching up the hole in her shoulder.
She heads over to Hanna's feeling pretty giddy and she doesn't let Caleb's solo presence put a damper on her mood. She just offers him a beer and does some casual CPR on him when the doll unleashes its carnage. Not a bad day for a baby born in a madhouse who woke up to a baby crying inside the sentient phone that powers the haunted board game her ten-year stalker mailed to her.
It's Emily and Aria who have the real adventure on this day. They take a look at the guest list for the charity event the Senator's Daughter attended and wouldn't you know it: Sydney Driscoll was there. Obviously she's the one who shot Spencer and dimed out Hanna to the literal fashion police, then! A quick spot of Googling reveals that Sydney is now a high powered banker who specializes in anonymous clients with billions of dollars. Luckily she is dining out in the open on the streets of Rosewood so Emily is able to swoop in and start in on how she knows Sydney is in cahoots with Jenna again. Sydney's like, "Girl, look, I know one time I put a rat in Paige's locker and dressed like Jenna's twin at the optometrist when you were getting your face repaired after you got kicked in the eyeball by a horse and yes Jenna gave me a mysterious gun and I joined #MonasArmy, but I am just a businesswoman doing business dealings these days. I am not involved in any nefarious plots to lure you into a barn and saw you in half."
This is not good enough for Emily. Good thing Aria's found some spare time between choosing place settings for her wedding and buying this cheetah-sleeve bomber jacket to become a black ops hacker. She patches herself right into all of Sydney's shit and they follow her to the Eye Emporium where she's paying for Jenna's new retina transplant in the name of A.D. (for "anonymous donor," okay?). As she's leaving the Emporium, Emily and Aria pull her into a dark alley and menace her. Aria twists her literal arm! And yanks at her bag! Which she plants a GPS inside! Later on at the hospital, Emily's phone starts beeping and she takes a peek and Sydney's just driving her way down Cherry Street. She says, "I'll take the first watch!" and speeds off into the night to surveil the only Rosewood lesbian she never banged.
Aria, meanwhile, returns home where she proceeds to yell into the phone about her wedding with Ezra for five solid minutes before turning on the light and finding Nicole skulking around in her pajamas. She's moving pretty good for a girl who just had all her bones rebroken.
The Risen Mitten is just some gloves attached to the hands of Detective Furey and it's a good thing he's wearing them because he opens up a package sent to the Rosewood Police Department and there's definitely a severed, decaying finger in there. Venderjeus's pants, I hope it's Ezra's.