When I was a freshman in high school, I befriended a boy who loved horror movies. "Lovedwp_postsis probably too weak a word here; he memorized the body counts of all the major slasher franchises, and could probably tell you how each and every person in each and every franchise perished. He was a true outcast — he suffered from severe acne and was often made fun of — but he was also one of those outcasts who reveled in their outcast status. He owned it.
I was an outcast, too. Because of an endocrinological condition I was androgynous, and even with long hair I was often misgendered. In elementary and middle school my nickname was "Cousin Itwp_postsbecause I was neither a girl nor a boy — I was something in between. To be in between genders was/is to be seen as a monster. Just Google "bathroom bill."
My attraction to girls didn't help.
Every day I was aware of my beastliness, and horror movies became a kind of outlet. My friend lent me his entire collection: all the Nightmare on Elm Streets, all the Halloweens, all the Friday the 13ths, all the vampires and werewolves and zombies. Vampires were an easy metaphor for queerness: existing and desiring in the shadows. (See: Carmilla.) Werewolves were a metaphor for the chaos of change and budding sexuality. (See: Ginger Snaps). When it came to the slasher films, I identified with both the victims and the villain. I was the outsider  — the thing, the beast — but I was also the person living in fear, waiting for the proverbial machete to fall.
My friend also lent me all of his Cronenbergs, which he had referred to as "body horror.wp_postsBody horror! I felt that every day! All the movies were subversive and transgressive and vaguely erotic. They gave me an outlet for my own bodily insecurities, as if seeing other bodies destroyed on screen made my own feel lighter.
My Favorite Thing Is Monsters, Emil Ferris's debut graphic novel, illustrates the empowering subversiveness of horror, especially for queer people. The book tells the story of Karen Reyes, a ten-year-old half-Mexican tomboy who is obsessed with horror films and detective comics. Karen is an immediately memorable and lovable character, sardonic and curious, who must wrestle with her mixed race heritage and her burgeoning sexuality.
Because the book functions as a kind of notebook diary for Karen, we get to see how Karen views herself. She chooses to draw herself as a ambiguously-gendered werewolf, both to reflect the way society views her — as someone who is not white and gender-nonconforming — and the way she tries to own this perceived "monstrousness."
Her feelings of monstrousness extend beyond her physical appearance. Karen harbors secret romantic feelings for her best friend, Missy. The two girls bond over their shared love of horror films. At one point Missy remarks that she only ever feels like herself when she's watching horror movies with Karen. One touching sequence in the book shows them watching Bride of Dracula and being so scared they decide to sleep beside one another. The way their adjacent sleeping bags are drawn makes them appear as two halves of a heart. Another night they stay up late to watch Dracula's Daughter and are clearly mesmerized when Countess Dracula is about to kiss a woman named Janet, her captive. The next morning Missy asks Karen, "Do you think that a girl could become the bride of Dracula's daughter?wp_postsKaren responds, "If they love each other, why not?"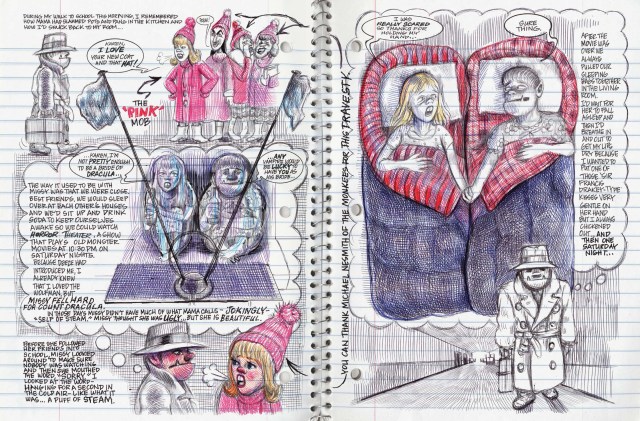 Missy's mother finds out about this conversation and the girls' (innocent) nocturnal activities. She promptly forbids Missy from seeing Karen again outside school. Missy's mother calls Karen's, yelling "I really should not be surprised as people of your class never protect their kids from bad influences."
This intersection between gender, sexuality, race, and class animates most of the book. It also makes the book, which is set in 1968 Chicago, incredibly relevant to our current political hellscape. LGBTQ people, people of color, and working class people are all under attack in nightmarish ways. As the half-Mexican queer daughter of a working class single mother, Karen is spurned by society thrice over. Many of the important people in Karen's life are also victims of extreme othering. Karen's brother, Deez, looks "more Mexican,wp_postsand is thus exploited by an older white neighbor, who blackmails him into having sex with her (by having his family evicted). Later in the book Karen befriends a black classmate, Franklin, later revealed as gay. Karen draws him as Frankenstein-esque, because, as a gay black man, he too feels like a monster in society's eyes. The only time he feels comfortable is when he and Karen go to the museum together to look at art and talk about the wardrobes of the women in the paintings.
As Karen and Franklin are riding the subway home from the museum, the two find out that Martin Luther King has been assassinated. It's a devastating moment, both because of its sociohistorical resonance and because of Franklin's predicament. On the subway, after hearing the news, Franklin attempts to commiserate with his fellow black passengers, who claim that Franklin's "kind isn't for Civil Rightswp_postsand that "freaks and queers don't have any place near decent men and women."
If all this makes it seem as though the book is emotionally overwhelming — well, it is. But the book is also dazzling and whimsical. It features some of the most stunning artwork ever put to paper; every page is alive. It's the perfect blend of the highly stylized art you'd find on the covers of pulp fiction and the sketchy doodling of a budding artist practicing in her notebook. Because Karen is obsessed with art, we are treated to Karen's reproductions of famous paintings along with Karen's often-hilarious interpretations. The story is also jauntier than its more intellectual ambitions would have you believe.
My Favorite Thing Is Monsters is an incredibly complex book, and will doubtlessly be considered a groundbreaking classic right alongside Fun Home and Persepolis. Above all, the book is about finding power in oneself, about learning to embrace one's differences. This of course involves spending time — by choice or otherwise — alone, but it also involves finding solace in likeminded people. In this terrible political moment, in which the marginalized are treated as less than human, it's wonderful to have a story in which queer people and people of color find comfort in themselves and in each other.