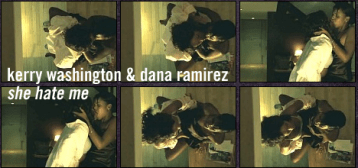 Hiya! Welcome to NSFW Sunday, your favorite day of the week for happiness and sin. We're a little late today but it's worth it.
Today's post, which will feature some of our favorite cinematic NSFW sexy lesbian scenes as well as a traditional Lesbian Sexy Sunday links round-up, would not have been possible without the entire team and also a website called The Encyclopedia of Lesbian Movie Scenes.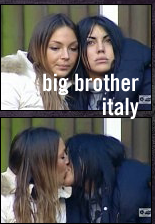 We've kept this website a secret from you, but we suspect some of you have already been secretly visiting it yourself perhaps for years. The design is very Geocities.  You might 'see the first page' and think 'wtf this is weird' and 'that graphic creeps me out.' But then you will see the bounty of information contained within, divided into sections and meticulously detailed.
We've honestly never ventured outside of the Lesbian Movie Scenes section (it's pretty liberal about the "Erotic TV Series" etc. included in the Lesbian Movie Scenes, so we can't really imagine what the "Selected X-Rated" section might involve), but that in and of itself is pretty f*cking thorough.
Seriously. Girls. This is extensive shit! It's not just movies, it's actually every TV show, reality show, foreign film, lesbian film, 70's films you can't even find on video anymore, whathaveyou — including all the L Word sex scenes.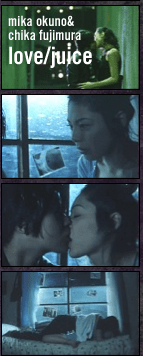 How is this website not already a major part of the "lesbian webiverse" you might wonder — after all, the lez-web never been particularly discriminating about design or usability. Well, if you're a weirdo obsessed with the behind-the-scenes mechanisms of everything that exists, you will want to know (as detailed in the FAQ) that the entire site is curated by a dude. Yup. A dude who has AfterEllen-esque ability to sense & record every time two ladies lock eyes in a room on a screen, past, present, and future.  A guy who "has been absolutely fascinated by everything lesbian ever since [he] saw Emmanuelle 2 in a movie theater here in Sweden back in the early 1980s." Uh-huh.
Okay, so, that is either kinda cutely earnest (like "everything lesbian" is like Fellini films or model airplanes or Harry Potter or Star Trek) or totally creepy, but whatever he did it and we prosper. In '95 he "got onto the net," looked around and saw that no one "shared his fascination" (interesting) and in '97 began to build a site to be an alternative to fake male-catered lesbian porn and um, "very political sites by women" (HELLO THAT WOULD BE US)!
And there we have it!
So, that being said, we thought today would be a good day to talk about some of the best lesbian sex scenes from movies. These suckers are often hard to track down, but we've done what we can. Yeah? I mean why not. And then we'll get to the rest of the "fix."
First, a brief Autostraddle PSA:
Because apparently no one knows how to read, let me all caps this for you: THIS IS NOT A TOP TEN LIST. THIS IS NOT IN ORDER OF PREFERENCE. THESE ARE NOT THE "BEST OF" ANYTHING. IT'S JUST TEN LESBIAN MOVIE SEX SCENES. RANDOMLY, BRAINSTORM-GENERATED.

Got it? So, what are some of your favorite lesbian movie sex scenes? You can check out more of our favorite lez-films at Top Ten Queer Movies That Dont' Suck, Part One and Part Two.+ you

Ten Exciting Lesbian Movie Sex Scenes
+
1. Saving Face – Michelle Krusiec & Lynn Chen (2004)
Intern Lex says: "The awkward but endearing dynamic between sweet & shy Wil with passionate & outgoing Vivian is a joy to watch, in addition to being the first lesbian film about an Asian-American couple." Buy Saving Face.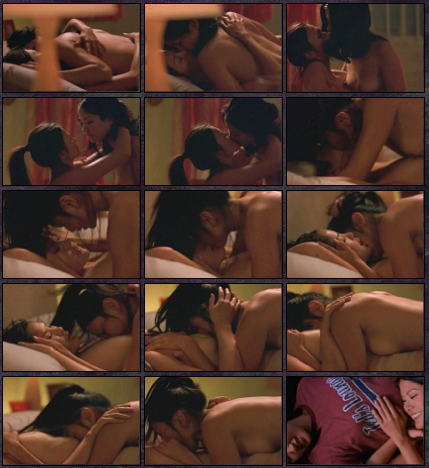 2. Bound (Gina Gershon & Meg Tilly, 1996)
You know Bound's sex scenes are gonna be done right b/c they hired Susie Bright as a "lesbian sex consultant" and made that shit work!
Watch Bound Sex Scene #1 here, watch Bound Sex Scene #2 Here, buy it here.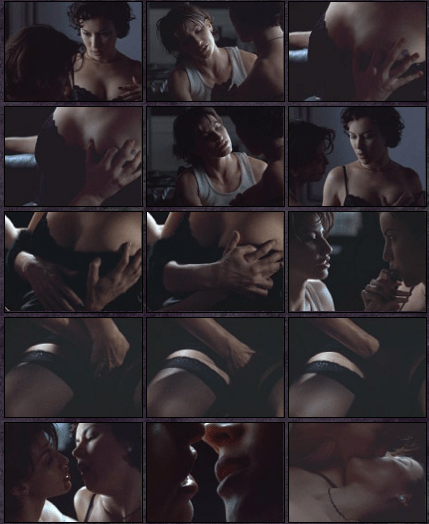 3. Loving Annabelle, Erin Kelly & Diane Gaidry (2006)
Associate Editor Sarah says: "All you need to know is the movie is worth watching because it features not one but TWO types of taboo romance, and it has cute girls in plaid skirts!" You can buy Loving Annabelle at Wolfe Video.
+
4. Unveiled/Fremde Haut ( Jasmin Trabatabl & Anneke Kim Sarnau, German/Austria 2005)
Intern Elizabeth says: "Unveiled is a very moving film with one of the most intense and emotional love scenes I've ever seen, and a hopeful, bittersweet ending."
You can watch this steamy sex scene here. Buy Fremde Haut.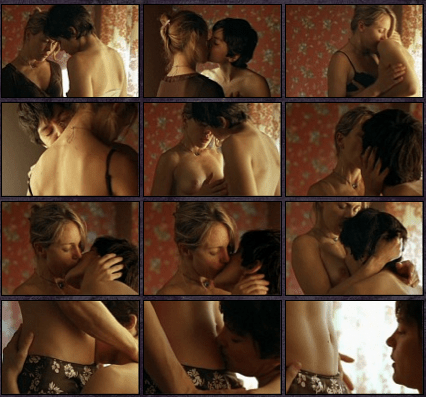 5. I Can't Think Straight (2007, Sheetal Sheth & Lisa Ray)
Intern Lex says: "This is truly a great lesbian film. It did not suck. It did not suck at all." You can buy I Can't Think Straight at Wolfe Video.
---
+
NEXT:
Five more smokin' hot lesbian sex scenes.
Pages: 1 2 3See entire article on one page