By Kate & Carolyn
Welcome to Movie Night! Where we choose a movie based on any number of variables and feelings, create a themed menu to match, then spend the night eating these foods and watching these movies! It's an uncomplicated but promising plan.
In honor of upcoming Valentine's Day and the lady you'd like to smooch, here's a movie about forbidden romance and really beautiful kissing that will get the two of you in the mood for equally beautiful kissing. We've also provided you with a decadent meal that says you're deadly serious about the finer things in life, and you consider her to be fine as hell.
---
THE MOVIE
Kiss Me
[ buy me ]
via imdb.com
MIA (Ruth Vega Fernandez) and FRIDA (Liv Mjönes), both in their thirties, meet each other for the first time at their parents' engagement party. Mia's father, Lasse (Krister Henriksson), is about to get married to Frida's mother, Elizabeth (Lena Endre), which will make Mia and Frida stepsisters. Lasse's daughter, Mia, has not visited her father in years and arrives with her boyfriend, Tim (Joakim Nätterqvist), with whom she is about to get married. As Mia and Frida get to know one another, strong emotions begin to stir between them. Their relationship will turn everything upside down for everyone close to them with dramatic consequences.
And we all know that "turning everything upside down" in the lesbian world means love, lust, and all the feelings in between will be exploding across the screen at an amplified volume. What makes Kiss Me so wonderful, though, is that what could be a sudsy soap opera – two stepsisters falling for each other on the eve of a double wedding – is told in such a way that the emotions get to speak for themselves. The cinematography is gorgeous, the acting is solid, and the narrative itself is quiet and understated.
 Why did you kiss me?
I don't know. I just…did.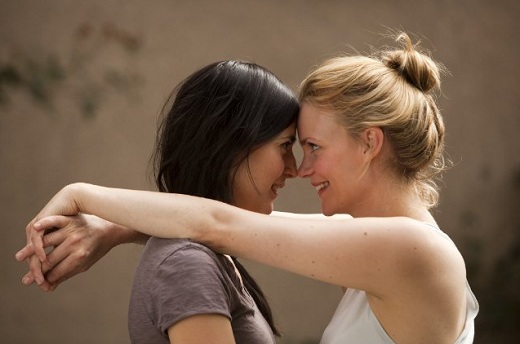 This is a treat of a film for so many reasons. As much as lesbian cinema has risen from its pulp foundations, it's often kept the corn factor close to its heart. Let the record show there is no amount of corniness in Kiss Me's depiction of a complicated and passionate situation, although there is a lot of wine and cigarettes. Did I mention the soundtrack is provided by José Gonzalez and Robyn? ROBYN. Do you now feel obligated to see this film? Good, you should.
---
THE MENU
S

wiss Chard Linguini and Garlic




Stewed Rhubarb an

d Strawberries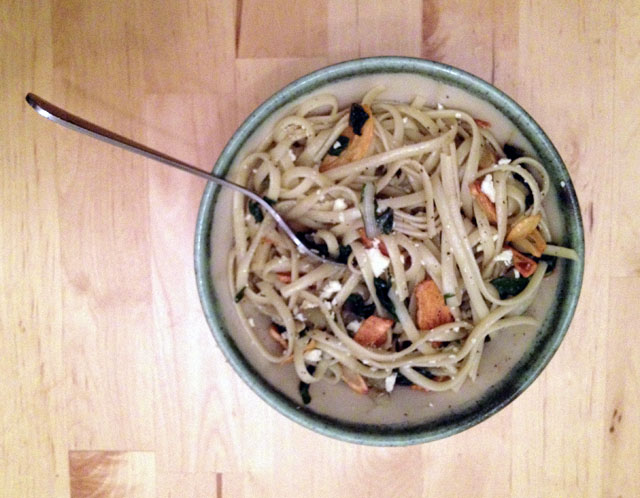 The entree for this menu takes a bit of time, so to compensate I paired it with a dessert and a cocktail that take almost no effort. Speed up the process by prepping all your ingredients in advance, particularly the chard.
If you really don't like chard, substitute broccoli rabe. I used a much higher vegetable to pasta ratio because I really like vegetables, but if you're indifferent, use only two points of chard and a full pound of pasta. Additionally, if you don't like or are allergic to olives or feta, skipping either is acceptable. Using canned olives is not.
Swiss Chard Linguini and Garlic
Ingredients
1/3 cup olive oil
1 bulb garlic, cloves peeled and cut lengthwise
1 onion, finely chopped
3 pounds Swiss chard
1/2 cup water
1/2 lb linguini
1/4 cup black olives, pitted and sliced lengthwise
1/2 cup feta, crumbled or finely chopped
1/2 tsp each freshly ground salt and black pepper, plus more to season to taste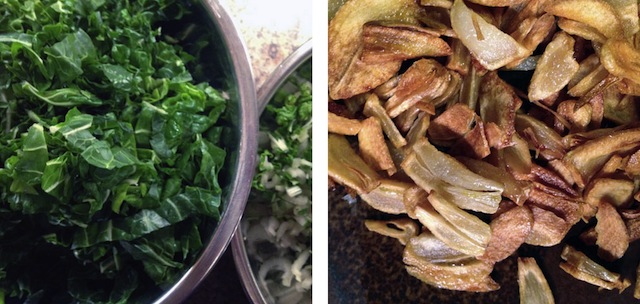 Directions
1. Wash the chard and shake dry. Remove the leaves, coarsely chop, and set aside in a bowl. Finely chop the stems and set aside in a different bowl.
2. Put a few layers of paper towel on a plate and set aside. Bring a large pot of heavily salted water to a boil and cook the linguini according to package directions until al dente. Scoop out 1 cup of pasta water for later and drain the rest. Rinse briefly with cool water to stop it from cooking further.
3. Meanwhile, in a large cast iron or otherwise heavy pan over medium, heat the oil. Add the garlic and cook until golden, stirring so it doesn't stick. Using a slotted spoon, transfer the garlic to the paper towel to dry.
4. Add the onion to the pan and stir until soft, about 5 minutes. Add the 1/2 cup of water, salt and pepper, and slowly stir in the chard stems. Cook over highish heat until they start to get tender, about 5 minutes. Add the chard leaves and cook for another five minutes, until everything is basically done.
5. Slowly add the linguini and 1/2 cup of the reserved pasta water and toss. Add more pasta water if needed. If everyone wants to eat olives, add them now.
6. Dish into individual bowls, sprinkle each with garlic chips and optional feta, and serve.
Adapted from Smitten Kitchen.
Stewed Strawberries and Rhubarb
This is a very easy-going dessert. Use any sweetener you like and however much you like of it – most recipes call for 1 cup of white granulated sugar, I use 1/2 a cup, and you could probably use brown sugar, agave or honey in varying amounts and end up with something that still tastes good. If you have fresh fruit, use it, but frozen will work too. If you can't find strawberries, use 6 cups of rhubarb, and if you can't find rhubarb, use strawberries and only sweeten to taste at the end. Lemon zest is optional in any scenario.
Stewed rhubarb can be made in advance and lasts (in theory, anyway) for at least a week in the fridge. For dessert, serve it over ice cream, rice dream, or alone. It's also really excellent at breakfast over granola or yogurt.
Ingredients
4 cups chopped rhubarb, fresh or frozen
2 cups chopped strawberries, fresh or frozen
1/2 cup white sugar
2 tbsp. water
pinch of lemon zest
Directions
1. Wash and trim the rhubarb and chop into smallish pieces. Add rhubarb, sugar, lemon zest and water to heavy saucepan. Cook over medium heat and stir until the sugar dissolves. Then reduce the heat to medium low and simmer, uncovered, for about 10 minutes.
2. While the rhubarb cooks, wash and trim the strawberries and cut into cubes. Add them and simmer for another 10 minutes, until the rhubarb breaks down and the strawberries are soft.
3. Let cool and serve.