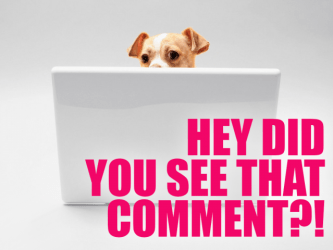 Hello Internet friends. Today I have nothing to bring you except for my own exhaustion. This week, in an effort to stop the deSpanishification of my brain that is a side-effect of moving to the midwest, I replaced my usual "This American Life" bedtime story with "Notes in Spanish". Let me tell you, dreaming in Spanish is not for the lighthearted; I have slept like shit. Ira Glass will make his triumphant return to my earplugs this evening.
For those of you who prefer music to podchat, we've got some stuff for you. Crystal made a playlist about heavier music, Laneia brought 2003 back, and Taylor has all the spotify and turntable.fm news you need to know. Lady Gaga's new single debuted this week and while I'm feeling a little meh about the song, you can't deny that something good is happening with this video. Besides her usual Pretty Little Liars fashioncap, Lizz brought you an important PSA about pairing tights with shorts. The Ethics of Lust returned with a riveting discussion of the (il)legality of sex toys, Carmen Fucking Rios sluttalked and walked, and Carolyn read lesbian pulp fiction. We reflected on the life of LGBT activist Christina Santiago, a victim of the stage collapse in Indiana. Laneia made (a?) sushi bowl, Abby and Lani won the wedding giveaway, and Unicorn Plan-it has a teaser and pictures. Onward ho (anyone who wants to stage a pirate-themed slutwalk can bill me later for the slogan)! Let's check out the ASS group of the week.
Meat-eating Atheist/Skeptic queer geeks
What I find funny about this group (created by LezGeek) is that the description says "I fully expect to be the only one in this group," and there are currently 80 members! It shows that when you think you're alone in thinking/feeling the way that you do, well, you're probably not. So, meat-eating atheist/skeptic queer geeks, take heart! You're in good company. Now go discuss your complicated feelings re: Richard Dawkins.
---
On The Ethics of Lust: Your Dildo Might be Illegal:
The You Can Never Be Too Safe Award to BioGal: "This is fascinating. The UK law permits the sale of sex toys without resorting to euphemism. However, I've always preferred to find a bargain online… unfortunately, this has meant my last purchase was ridiculously over-sized, so now I own a vibrating cudgel… for those self-defence emergencies."
On Internet Withdrawal Inspires Panic, Insanity, Despair and Other Hyperbolic Feelings:
The German Baptists Don't Believe In Buttons Dee Dee Dee Deeeeee Award to Paper0Flowers:
The That's Ellameno P. To You, Missy Award to Shikei: "Or that "ellameno" was not one letter of the alphabet. I also used to think that when people exclaimed "Merciful hour!" that they were talking about some girl called Mercy Flower."
On Lizz's Latest: Make Summer All Fall Long with Patterned Stockings:
The It's Even More Awkward Watching A Girl Put Tights On Award to Chelsea: "I love tights. I love wearing them. My only complaint is, really, it's difficult to get into a girl's pants (literally) when she's wearing them. It's like a fight with her clothing."
On Lady Gaga's "You & I" Music Video Premieres: OPEN THREAD:
The And There's Fish in Both Award to e: "watching this video reminded me of eating sushi. i don't know what the fuck i just put in my mouth, but its delicious."
The Seahorses Are Pretty Queer Award to Em: "Well, according to a book I have:
Mermaids'preferred means of reproduction, for those of you not up to speed on the sex lives of water-dwelling-mythical beings, is to castrate the [human] man just at the point of climax. Then she scatters the seed on her own eggs in the way that fish do.
Lovely, no? I guess that's what must be done in the absence of the necessary lady bits."
On General Mills, RE/MAX Won't Advertise on "Pretty Little Liars," Save Kids From Radical Lesbian Agenda:
The Two Words: Count Chocula Award to katehinch and bookbound: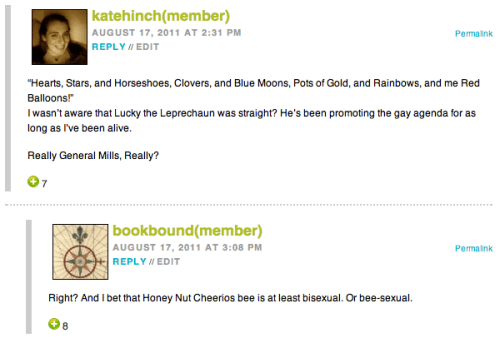 The World Peace and Witty Commenters Award to LeGirl:
The Slopes Are So Slippery! Award to Amanda: "Actually, conservatives will get angry because oxygen bonds with other oxygen atoms to form molecules in breathable air.
Don't get them started on the polyamory involved in a sugar molecule."
On Talking About Gay People: Christine O'Donnell and Michele Bachmann Don't Wanna Do It:
The Especially Ron Award to scattered: