"Life changes fast.
Life changes in the instant
The ordinary instant.
You sit down to dinner and life as you know it ends.
-Joan Didion, The Year of Magical Thinking
Christina Santiago was one of us. By that I mean she was a lesbian, and a feminist, and she had a girl in her life who she loved and wanted to marry, and she cared about the same things you care about and wanted the same things you want. Not specifically, necessarily. But in general, Christina Santiago wanted the same things you want.
When Christina was a kid growing up in the Bronx, she wanted to be Lisa "Left Eye" Lopez from TLC and later she and her friends wanted to be like the girls in Mi Vida Loca. And when she grew up she wanted to save the world and unlike most of us who dream of saving the world or haven't yet considered saving the world, Christina Santiago was already doing it. She was 29 and she had already begun saving the world! We need Christina Santiago. I was going to type "we need people like Christina Santiago" but that's not true, we need Christina Santiago herself. We need her and on Saturday night, Christina Santiago was one of five people killed at the Indiana State Fair when the stage collapsed. Santiago's fiancée, Alisha Brennon, remains in critical condition at the hospital.
Santiago managed The Lesbian Community Care Project at Chicago's Howard Brown Health Center, one of the nation's largest LGBTQ healthcare organizations. The president of HBHC described Santiago as "one of our very brightest stars" and "a community champion."
Santiago was also the director of programming for Amigas Latinas, a support, education and advocacy organization for Latina LGBTQ women. Amigas Latinas describe Christina as "one of our fiercest and brightest warriors."
Also, Christina Santiago was Autostraddle writer Gabrielle Rivera's best friend of 20 years. Gabrielle describes Santiago as a friend who "never turned her back on anybody."
Gaby's heart is crushed/broken/underwater (her words) and while her insides are still screaming she's trusting me to write this post about her best friend. This is one of those things you can't wrap your head around. It's a "what the fuck, world?" moment. Christina Santiago liked Sugarland's music and went with her girlfriend to a Sugarland show at the Indiana State Fair, and then there was all this wind and then suddenly, before you knew it, Christina was gone. Just leaving this giant hole in the world. People don't go to concerts thinking they might die. Life changes in the instant, the ordinary instant.
Like, did God (or your version of it) mess up, maybe? So many people were really looking forward to the rest of her life — were counting on it. I think there's been some kind of mistake. This is the world? This doesn't make sense. I don't think this is the world.
Oh, I want to tell you that they're doing a thing — Christina's friends from Cardinal Spellman High School — they want the NOH8 campaign to come to The Bronx to do a photoshoot in Christina's memory, like the one Christina and Alisha did. So we need you to check out the facebook campaign and raise your voices.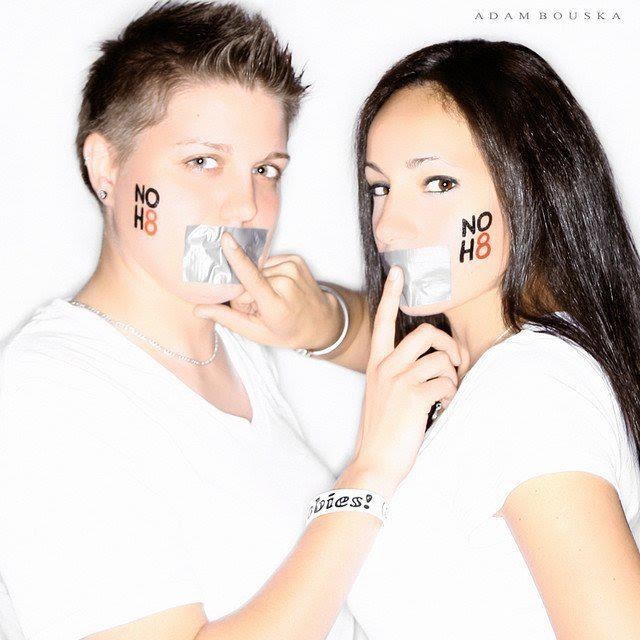 Some things about Christina Santiago:
Christina Santiago listened to Tegan and Sara and other "lesbionic music." You know — Alanis Morissette, Antigone Rising, Melissa Etheridge, Ani DiFranco, Alix Olson "etc etc." She played softball and was a serial monogamist who always went for "Caucasian soft butches." Back when she was in school at Albany she and Gaby would get wasted trying to pick up girls there. They came out to each other at the same time.
After Christina's Mom died of breast cancer, Christina kinda kicked off a lifelong dedication to activism, starting with Breast Cancer Walks. She grew into a passionate and dedicated advocate for LGBTQ and Latina women and dedicated her life and career to it.
She'd been shining really bright since moving to Chicago in 2004, where she's been manager of HBHC's Lesbian Community Care Project for nearly six years and spearheaded their expansion of services to women. She recently earned HBHC's highest staff honor, The 2010 Spirit Award.  
She is described as "the greatest advocate for equal health care for all, (and) the greatest advocate for equality for all."
In an interview on NY1, her friend Erica Rico described her like this: "You never could be sad around her. She just brightened up a room, just her presence, her smile alone."
She is described by her colleagues as "working tirelessly to improve the lives of women, particularly LGBTQ women."
She is described by the president of The Howard Brown Health Center as "as brilliant as she was beautiful… as smart and talented as she was funny. She was all of the things that you could hope for in a friend and a family member."
She is described by her colleagues as "irreplacable."
She is described by her best friend as "my sister."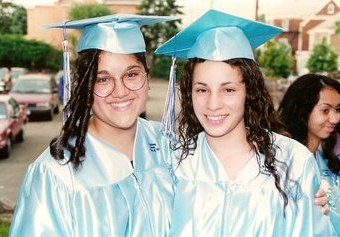 +
Here's the story of Gaby's first car accident: Christina borrowed her Mom's white Saturn and used it to pick up Gaby and Gaby's girlfriend at the time from Hartsdale. Then Christina found out that her girlfriend, who was coming in from upstate, was lost in the Bronx.
"All Nena needed to know was that her white boo was lost in the South Bronx and she kicked that Saturn up to 110 mph," Gaby remembers. They did three 360 degree turns on The Bronx River Parkway before slamming into the divider but getting saved by seat belts. So Gaby's Dad came and took them to rescue the hapless white girl in the Bronx. "My ex always had a dislike of Christina after that but I thought it was kinda awesome," Gaby says. "She just wanted to save her chick, you know?"
+
What happens next? There must be some mistake. She was on the motherfucking GROUND making shit happen. She believed in you, all of you tigers. She was loved and she was loved by someone we love an awful lot. So I think that Christina's body may be gone, but she still believes in you.
Gaby told NY1:
"I know a lot of people who are waiting for their dreams to come true, and Christina was living her dreams."
Gaby told us:
"I always told Christina that she was the one. The leader, the grown-up. The one making the difference, and that I was just a bum slacker/stoner/poet. And she would always tell me that I was important and my writing and poetry and short films were just as important as what she did. She would build me up all the time and talk about how art was as powerful as politics and its own form of activism.
She'd say: I need you to make what I do beautiful."
+
Support the effort to get a NO H8 shoot in The Bronx to do a photoshoot in Christina's memory.
Support Amigas Latinas.
Support The Howard Brown Health Center.
+
The HBHC has set up a page to accept donations for Christina's family and her partner.