I learned so many important things this week. Autostraddle tackled the big questions in life, like "What makes a woman sexy?" and "Do lesbians & straight girls need friendship rules?" and "What is she wearing?". Even the most bewildering question – "Why did Taylor Swift win Best Album?" – makes sense to me now (though I hear there's a more detailed follow-up in the works).
Just remember that even though watching the Grammys was a drunken mess, there are still tons of albums you really love. You should treat your Grammy hangover with a dose of real musical talent from The Fire And Reason, and a healthy serving of Audiostraddle's New Music picks. You'll feel better in time for the weekend, which we suggest you spend mourning Dollhouse and looking forward to new video games.
The main thing this week taught me is that Autostraddlers have a lot of feelings – which I already knew, but your hundreds & hundreds of comments prove it. There's so much love, I'm even handing out a few special awards. Here at Autostraddle, we make dreams come true!



Autostraddle University Scholar Award to RachelwasHere on Why is Ted Haggard on my TV, Being All "Cured" of Homo?:
"I'm going to take some advice from other Autostraddlers and go grab a beer and jump in the shower and think about beautiful women instead of evangelicals."
Extreme Makeover: Autostraddle Edition Award to Julia from MI on Gay & Lesbian Student Alliance Office Vandalized: "Side note: Your room needs more windows. Paint one onto the floor."
Practical Knowledge Award to Jacquelyn on Top 5 Video Games of 2010: "If video games have taught me anything, it is to always check a corpse for ammunition."
On 52nd Annual Grammy Awards: Open Thread, Drinking Game, Lady Gaga Lovefest:
Coping Skills Award to Jamie: "i didn't know whether to be excited or repulsed. can i drink when i see things that confuse me?"
Mrs. & Mrs. TSwizzle Award:
(You're gonna come back right TSwizzle?)
Kama Sutra Award to bolgabomka: "Does this hanging chandelier of females count as a reverse straddle of some kind?"
Auto-Enabled Award to Court:
"Thank God I have you, Autostraddle… otherwise I might think my playing a drinking game alone might be a major red flag reading 'Go to meetings, you alcoholic!' But because of you, I can deny it a little bit longer."
Epic Analogy Award to Lindsey P:
"Way to make a night of horrible television look like that party I'm sad I missed after I creep on Facebook the next day and find that the girl I've been stalking showed up, was looking delightfully butch in those cargos with extra big pockets, presumably filled with my regret."
On Why Taylor Swift Won That Grammy (And Lady Gaga Didn't):
Catchy Slogan Award to cleo:
"Like someone said before, Tay Swizz is Wonderbread – but not even though! Wonderbread is good all the time (and all the time, Wonderbread is good)."
Mind-Blowing Award to paperbag:
"the "fuck, marry, chuck" picture is my background right now. and will be for ETERNITY. and by background, i mean my brain background: the image in my head at all times… in addition to my computer background."
The wasteunit & Sapphicsass Award for wasteunit & Sapphicsass: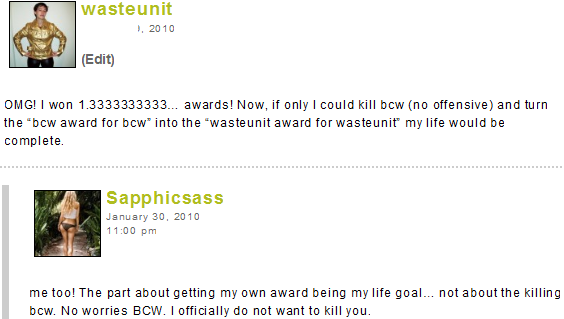 It's Not You, It's Mac Award to Bri on The iPad App Revolution:
"I feel like I have to preface my negativity by saying that I have and always will love Apple. I don't think we should break up… we just need a break. This new thing just isn't working out for us. We obviously want different things from life."
On Lindsay Lohan & SamRo Seen in Same Location:
Spoonful of Sugar Award to Sally:
"I am so blind that once I didn't even notice Julie Andrews on the table next to me while eating cake in Vienna. Perhaps we are all surrounded by culturally significant people but are too busy daydreaming to notice. The cake wasn't even that good."
Wuthering Dykes Award to Elise:
"They're this passionate but self-destructive couple trapped in an endless cycle of tweeting and fighting and crying and breaking up and LiLo being all 'I wish I knew how to quit you.' I feel like every interaction between them should take place on a windswept moor."
Feathers of an Arrow Award to MsNJS on Ellen DeGeneres talks to Katie Couric:
"I love how Sara can be serious, enlightened and introspective like you are talking to Maya Angelou… then she turns around and hits you with a needle in the bum to remind you she is SKQ."
Soldier for the Cause Award to JentheJew on Dollhouse Dirge: Reflections on "The Whedon Effect":
"SyFy makes me think of like, a woman named Susan who now calls herself Wynterbyrd Starchyld and lives in the woods making tambourines with her dolphin tattoos. That's what Sci-Fi has done. I'll change my name to Djehknee in protest."
Internal Monologue Award to Alex! on Do Lesbians Need Rules for the Gay Girl/Straight Girl Friendship?:
"I keep myself in check by saying: 'Don't fall for straight girls Alex! Ever. So what if she looks good in boyshorts? Stop staring! Move along.'"
The bcw Award for bcw on Lesbian Sexy in 27 Parts: "you know what else is sexy? when a girl is sarah shahi. i fucking love it when girls are sarah shahi."
Finally, the "L" is for "Lust" Award goes to just about everyone on I'll Have What She's Wearing!:
DemiArianna: "Hello Ericka's mom, I was wondering if Ericka was home. Yes I'm aware that I could have called first but I was just in the neighborhood. What, she has a girlfriend? So what does that mean?… No playdates? Okay, well can you tell her Demi called? Call me when she kicks the ball and chain, k? Thanks."
samara: "oh sweet jesus that is probably the cutest girl I've ever seen."
leigha: "Love this idea. Also: helloooo, Ericka.