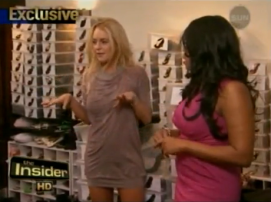 LINDSAY LOHAN: Nicey Nash from Reno 911, one of our favorite people in the world, takes a NEVER BEFORE SEEN JOURNEY into the depths of Lindsay Lohan's private home! [As opposed to her public home, which I suppose is everything besides her private home, as she is apparently fair game for the paparazzi at all times when leaving said private home.]
In general, this video (part one of two — the second half, which exposes Lindsay's secret feelings, will air tonight) made me feel a lot better about Lindsay's whole situation, 'cause clearly if she's ever short on cash, she can ebay the hell out of her "closet' (which is bigger than my apartment).
This "Insider Exclusive" has been talked up as an exposé on Lindsay Lohan's "secret shame," and the preview includes a Nicey Nash voiceover asking "is Lindsay a secret celebrity hoarder?" In the actual tape, there's a "some would ask" dropped in before that question begins.
Nash eventually concludes, "I see potential in this mess, and I don't think Lindsay is a hoarder."
The video is cute. Lindsay seems cute, sober, and funny. Probs 'cause according to Autotstraddle commenters and The Hindustan Times, Lindsay & Sam are back together so it must be true: "Hollywood starlet Lindsay Lohan seems to have rekindled her romance with ex-girlfriend DJ Samantha Ronson, as they were seen partying together." Or um, they're totally not together and hate each other 4-life. Or everything is made up and we are all hollagrams. My head hurts.
Is Nicey Nash a correspondent for The Insider now? Because then I might be able to watch it without wanting to smash glass against my brain.

INTERVENTION: If you're a fan of Intervention, as we are, then you will be very interested to read this interview with the ex-girlfriend of Robbie, the alcoholic featured a few weeks ago who was in the band City High. In the episode Robbie said her leaving him for his best friend was what started the alcoholism. She says Robbie was abusive and drunk when they were together, and they broke up a year before she started dating his friend. It was his alcoholism that broke up the band. Serious stuff guys. (@sheis)
ROSIE: Rosie O'Donnell is interviewed in The LA Times: "I was not looking for a sound bite. I am not looking to be on "Crossfire" and fight with a 30-year-old pregnant girl. I was glad at the time I did it, that there was a woman on TV with a voice of dissent. I found out that the format of network TV is too constricting for me at 47 years old."(@latimes)
ELLEN: Here's the first look at Ellen Degeneres as an American Idol judge:
The series has been showing audition episodes this week. The Hollywood round starts next week, and Ellen has her first show on Tuesday night.
THAT'S WHAT SHE SAID: Megan Mullally and the gay guy from Reno 911 on the origin of the legendary phrase:

DARIA: If you were a weirdo in high school like the rest of us, you probably had a special place in your heart for Daria and her combat boots. Get ready for some serious '90s nostalgia because the series is about to (finally) be released on DVD. (@ewpopwatch) Okay though, hasn't it already been out on DVD since 2002? What is Popwatch talking about, we're confused.
GAGA: A publishing company has announced that an unauthorized biography of Lady Gaga is in the works. That seems repetitive. (@latimes)
And here's a cute video of her at the Grammys. She credits "g-d and the gays" (one of our favorite phrases ever!) as the source of her inspiration. Awww. (@tvguide)
Last night, Gaga tweeted this adorably captioned photo of her, taken at the moment she realized she had won two Grammys.
DADT: There's a fascinating new book coming out that features the work of a Los Angeles photographer who takes portraits of gay service members. The men and women hide their faces in the pictures because they have to hide their identity in the military. (@latimes)
GLAMBERT: Speaking of photos, here's one someone sent us of our gay worlds colliding: