New York electro-rock act The Fire And Reason first showed up my radar when they performed their infectious pop song, "Do It Again", at Logo's NewNowNext awards a few years ago. The lead singer Bella is blindingly good looking and their guitarist Steve is incredibly talented; so it's no surprise that they snagged the "Brink of Fame" award that night (an award previously won by Lady Gaga herself) and that their star has been steadily on the rise since.
With the release of their debut EP, "Shut Up And Dance", The Fire And Reason have performed everywhere from Crash Mansion to CMJ. Their live performances are much like their music: a good party with tons of people and plenty of dancing.
I got a chance to catch up with these shooting stars and talk to Bella about how they formed, what she's obsessed with, and what's in store for 2010.
Corey: How did you all meet and eventually form the band?
Bella: Steve was actually singing in this electro-hard rock group called Radiate about four years ago, and I snuck into the show. I was impressed with their music and went up to him afterward and said "Hi I'm Bella and I'm a singer", we started collaborating on music soon after that. Eventually he left his other band to focus on The Fire and Reason full time. We have had various members float in and out over the past few years, and have kind of come full circle with us being the main focus.
Corey: What inspired the name The Fire And Reason?
Bella: It actually comes from the lyrics to a very early song we had. Steve actually wrote it before we met, and he kind of stole, or should I say re-arranged, the lyrics to a Smiths song – so instead of "I am the son, and the heir" he said "I am the Fire and the Reason", which got shortened to The Fire and Reason. We like the name because it is open to interpretation. People read into it what they like, and for me it is a very visual name so we kept it. The other name we were considering was The Amazon, as in the river which flows through both of the countries we are from in South America but me being a girl lead singer, it seemed a little wonder womanesque.
Corey: Did any of you go to music schools while growing up? And how did all of you get started in music?
Bella: I actually did go to performing arts school. Steve hasn't really had any formal training, picked up the guitar at a young age, and then started working with drum machines and stuff a few years before we met. Now he is a whiz at making beats. He gets approached all the time to produce other artists. It's pretty cool, but I always get dibs on his stuff. (laughs)
Corey: On your EP, "Shut Up And Dance", there are some songs with Portuguese and Spanish in them. What's up with that?
Bella: Well I am part Brazilian and Paraguayan and Steve is Ecuadorian, we speak both languages. It just felt natural to me, to write in Spanish and Portuguese, since I grew up listening to music like Shakira, Thalia, Gloria Trevi, Luis Miguel, Mark Antony, and Laura Pausini growing up. I actually lived a few years in South America growing up so I guess it influences the kind of music that I make.
Corey: Your music is reminiscent of '80s synth pop. Are there any artists from that era who have had an influence on your music?
Bella: Well, I guess the biggest one would be Madonna. I love her stuff from every era, but the 80s stuff is some of my favorite. Steve is a Madonna fan too- he is a little older than me so he was around when the Madonna phenomena hit in the '80s. He told me a funny story about going to a roller skating party with a homemade Madonna shirt that he like put lipstick on in order to plant a Madonna "like" kiss on it. He is gonna kill me for telling that story. Yeah so we are obsessed with 80's Madonna and Prince too. They were a huge influence on us.
"We were so nervous about performing that we actually forgot about the award."
Corey: Your first TV performance was on LOGO's NewNowNext Awards. What was that like?
Bella: That was surreal. It kind of came out of the blue. Jeremiah Silva, who is an executive there heard our music from a friend of ours and said that he wanted us to perform at the awards. If that wasn't amazing enough, we also got nominated for the Brink of Fame: Music Artist Award along with Lykkie Li, LMFAO, Sam Sparrow, and Morningwood. We were so nervous about performing that we actually forgot about the award. So during one of the breaks I was in the restroom and over the loud speaker in the venue they said "Could The Fire and Reason please return to their table". I was so embarrassed. The reason was that they were announcing the award we were nominated for and I needed to be in my seat. When they called our name, I was frozen in my seat, and Steve had to almost drag me on stage. I even brought my purse up with me. I was so in shock. It was an amazing night.
Corey: How would you describe your music?
Bella: I think it is fun electro-rock-pop. A lot of our songs are meant to get you in a fun mood, to go out or party. We also have songs that have deeper meaning to it like "Sunshine", or "It Starts With One". I think there is definitely something for everyone. When you come to our shows you will probably end up on stage dancing with us. I come into the crowd and grab boys and girls to dance with me. So it's always a party.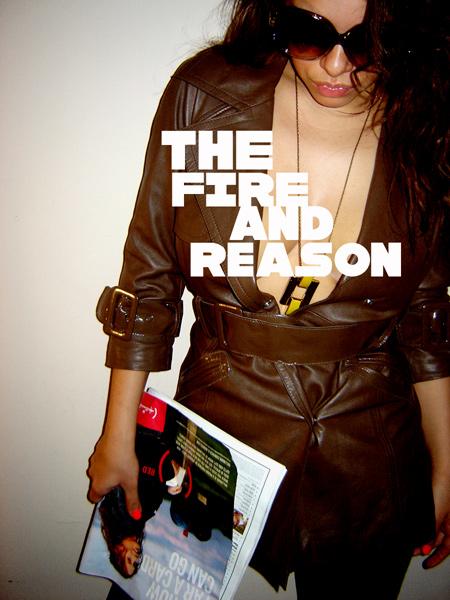 Corey: What was the concept behind the video for the remix of "Do It Again"?
Bella: The amazing film maker Alex Grazioli approached us about doing a video. He has worked with some of our favorite groups like Gorillaz, Massive Attack, UNKLE- and is also a documentary film maker. We hung out with him a few times, and he said that he wanted to follow us around for two weeks, and do almost like a behind the scenes/tour video. He followed us during CMJ week which was very busy since we had like three to four shows in one week so there was a lot to film. I think the video came out amazing. I love it.
Corey: What is the process like for writing a song for you guys is it a collective effort or is it more singular?
Bella: The process usually starts off with Steve playing a beat that he is working on for me. We will burn it on CD or he puts it in my iPod. Ninety-five percent of the songs were written in Steve's car. We drive around whether it's to practice, shows, recording studio, and literally work on the song while stuck in traffic. Then we demo the song up in our own studio, and after that we bring the files to our friend Jimmy Mod's studio in New Jersey where we put the finishing touches on.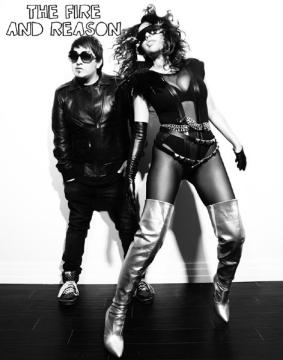 Corey: Are there any artists you haven't had a chance to work with but would like to in the near future?
Bella: Wow, there are so many. Actually I am kind of obsessed with the rapper Drake at the moment. I would love to do something with him. Of course would love to get some hot remixes from The Bloody Beetroots or Steve Aoki. We have some remixes and collaborations with some French DJs/producers that we will be doing in the next few weeks that I am super excited about. Of course I want to work with Timbaland and Pharrell, we definitely are into some Hip Hop flavor.
Corey: What was the last song you listened to?
Bella: Drake featuring Lykke Li, "Little Bit".
Corey: Are there any artists you are obsessed with or a huge fan of?
Bella: Like I mentioned I am into Drake at the moment. I also love Talking Heads, Bob Marley, Pink Floyd, all the groups my dad used to play around the house when I was growing up.
Corey: Do you have any plans to tour during the next year?
Bella: Yes, we will be all over the place. Planning to do something for SXSW and WMC, just got word that we will be going to France in May and hope to get back out to LA again!
Corey: What can we expect from The Fire And Reason in 2010?
Bella: An album, more videos, and a tour, just complete world domination.
Corey: Is there anything you would like to say to the readers of Autostraddle?
Bella: Thanks for reading, hope to see you out at at a Fire and Reason show- make sure you bring your dancing shoes because you will have the time of your life! xoxo-B
Listen to The Fire & The Reason and their mp3s are available at amazon.com