Dear Autostraddlers, hello it is me Intern Emily. This article is a little different from the other articles I may have done. How is it different? Well, It's all about me! Mememe! One day I decided I would write about my top 10 favourite albums for my blog and Crystal liked it so much that she asked me to work it into a piece for Audiostraddle. Then we liked that so much that we decided to ask everyone to tell us the top ten albums they can't live without either.
So keep in mind that this piece was never intended to be seen by zillions of people, it was just meant for the 3-15 people who read my blog.
These are 10 albums that I love to listen to — they're not relevant to a time period or a theme or whatnot; they're just 10 records that happened to stick with me. You might disagree with me, that's cool, like I said, this is all about me. But just know that I'm very sensitive and your criticism makes me cry. Jk. Anyways, this can kind of be like an open thread or something. Do we have the same favourite albums? Do you hate every album I've picked? Why? I'm sure that everyone has at least one album they will never get tired of, so tell me/the world about it!

I picked this even though I can live without the entire album but I can't live without The Shins. I would like to make a 'Best of The Shins' CD and it would include songs from all 3 of their albums such as: "New Slang" and "Gone For Good". For the record, my favourite Shins song is "Pink Bullets" which is on their album Chutes Too Narrow. It took me a while to really like Wincing the Night Away because I wanted every song to sound like "Know Your Onion!" but I've finally come to appreciate the album as a whole.
Favourite track: "Australia"
Around the Well is one of those compilation CDs with two discs of previously unreleased stuff. It features some of my favourite Iron & Wine songs such as "Kingdom of the Animals", "God Made the Automobile", "Carried Home", "The Trapeze Swinger", and Sam Beam's cover of "Such Great Heights", which btw, is my favourite The Postal Service song. So there.
Favourite track: "Kingdom of the Animals"
8. The New Pornographers – Challengers
Challengers is my favourite New Pornographer's album because it's the only full album I've heard from them. Rumour has it they're releasing a new album in 2010, which is really exciting because I will purchase it and maybe it'll be better than Challengers, but that'll be hard because Challengers is a really good album. Sometimes I listen to the title track "Challengers" over and over again and think about watching the sunset in a field. "Whatever the mess you are, you're mine".
Favourite track: "Adventures In Solitude"
7. Tegan and Sara – The Con
Arguably Tegan and Sara's best album, The Con fills me with so many emotions that I'm surprised I don't cry every time I hear it. It comes with a DVD and if you were lucky enough to have friends who would spend $10 on you, then you could have gotten the demo CD as well on their US tour in 2008 (thanks Katrina!). Almost everybody uses Tegan and Sara lyrics as titles for their blog posts because they're so good. Also because they're very relate-able. Do I need to speak more about Tegan and Sara? Well, I will in a bit.
Favourite track: "Back in Your Head"
Noise Floor was an impulse buy, but it was definitely one of the best impulse buys ever. The album art is really good, but also the tracks are better and almost every single song is a favourite. My only qualm with Noise Floor is the length (long!), but Bright Eyes always has super long albums anyways. Plus, everyone knows that Conor Oberst is super talented and a lyrical genius and therefore he is allowed to make long albums.
Favourite track (depending on my mood): "Blue Angels Air Show", "Weather Reports", "Seashell Tale", or "Amy in the White Coat"
5. Sarah McLachlan – Mirrorball
Ever since I discovered Mirrorball way at the back of a shelf in a giant cupboard in the basement, I have not been able to live without it. Seriously guys, Mirrorball is pure gold. If you think Sarah McLachlan is good on studio albums, wait till you hear her live. Sometimes I have no idea what her songs are about but they make me cry anyway. Also Sarah Mclachlan was a co-founder of Lilith Fair, which is coming to a city near you summer 2010! Yay for women artists!
Favourite track: Sweet Surrender, Angel
I feel like not many other people would pick If It Was You as one of their favourite Tegan and Sara albums, because So Jealous and The Con are so good. But I have, and I'm gonna tell you why. Firstly, it features one of their best songs "City Girl", and secondly, it includes other fan favourites like "Living Room", "Monday Monday Monday" and "I Hear Noises". Thirdly, it is the album that put Tegan and Sara on the map (this is arguable). Regardless, If It Was You is my favourite because I've never tried too hard to figure out what the songs are about. I kind of like that. The burden of being a hardcore fan is that you know things about the artist's lives and so half the time you're trying to guess if this song is about this person or that person or whatever. With If It Was You, I can just listen to the music. Also if you haven't heard "Want to be Bad" performed live in Melbourne, which I tried semi-hard to find on youtube, then you should look it up yourself and listen to it.
Favourite track: "City Girl"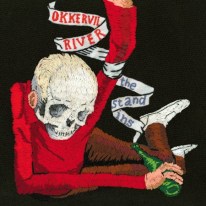 I  purchased The Stand Ins in December '08 in California and my life has never been the same since. A couple of weeks later I started this blog and called it "the shoreline receding" which is a line from "Lost Coastlines" which is possibly the best track on the album. Okkervil River's lyrics and melodies never cease to amaze me, which is why I bought another one of their albums, Black Sheep Boy. Just note that just because it's not on this top ten list, it doesn't mean it's not phenomenal. I am waiting for Okkervil River to come to Canada so I can have my mind blown.
Favourite track: "Lost Coastlines"
Runner Ups: Calling and Not Calling my Ex; Bruce Wayne Campbell Interviewed on the Roof of the Chelsea Hotel, 1979
I can't live without this album because I fall asleep to it every night. Yes, every night. I can't explain to you the pleasures of Justin Vernon's out of tune guitar and high pitched voice. Bon Iver is just pure magic, pure fucking magic. I don't want to ruin his music with my words.
Favourite track: "re:stacks"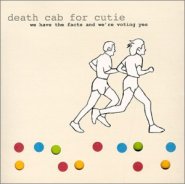 We Have the Facts is Death Cab's best album, hands down totes. Well, maybe there's room for Transatlanticism. I can't even really explain what makes this album so good — I think it's the simplicity of it, the crappyish recording, the fact that it sounds like 3 people with 3 instruments and not 28. Plans was good, Narrow Stairs was good, but they will never measure up to We Have the Facts. If I had the last copy of this album on earth, I would not give it away for 10 million dollars. Just read the lyrics to "No Joy in Mudville".
Favourite track: "Company Calls Epilogue"
---
Next:
The rest of Audiostraddle weighs in on what albums they can't live without.
Pages: 1 2See entire article on one page