1:00 AM: Well that's all folks! If you were following along, go back 'cause we've added a bunch of photos from the night.
12:22 AM: Remember in the beginning, when we were young and Taylor Swift hadn't won something for no reason? And Lady Gaga was performing? Also does anyone else think it's quite honestly possible that The Grammys were rigged? People do crazy shit for money it's the recession! #conspiracytheory IT'S 'CAUSE LADY GAGA IS QUEER THAT'S WHY YOU GUYS
11:52:
11:30: JK. We don't actually care about this stuff. Um, so probs next year if there is a next year, we will not be live-blogging the Grammys. We're hungover already! Anyhow the most important thing that happened tonight is January ended, and our stats are even better than we predicted!! Just like wyclef said, the future is bright.
11:26:
FUCK THIS SHIT
Riese: WHAT THE FUCKING FUCK
Sarah: NO
WHAT THE FUCK
Laneia:  oh wow<
Sarah:  TOWEL
SURRENDER FLAG
laneia:  that just happened
Sarah: are you fucking serious
where is kanye
Alex:: nonononono what njust happened
what JUST happened
i was talking about sex ed with ryan and WHAT JUST HAPPENED
Sarah: THE APOCALYPSE
11:24: I do feel like the people who are presenting things are getting older as the night goes on
11:15 PM: I just restarted my cable box b/c I feel like it's going crazy for serious. So in the meantime here are some photos: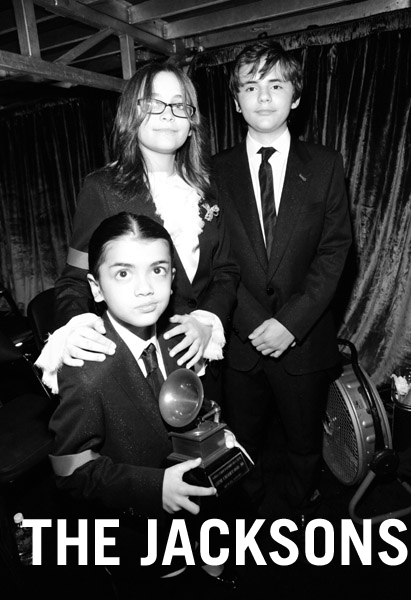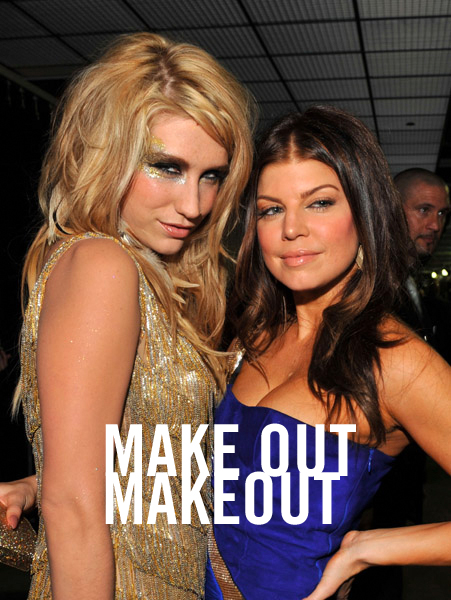 11:13: Quentin Tarintino is kidding right
11:10: I'd like to quote Jezebel, re: Maxwell's performance a few hours ago or whenevs that was (yes, this is the part of the night where we wonder if we're the only ones who feel the way we feel and begin checking other news outlets, therefore halting the "remain impartial by not reading anyone else's recap" rule)
And now it's time for Maxwell. The differences between this set and the Black Eyed Peas set are striking, no? It's like the Grammys took us out to the club and now they want us to come back to their house for a drink or something.
11:05: I have a lot of feelings about Les Paul, but those feelings are overwhelmed by other feelings, like about feeling like things suddenly got weird/boring. Clearly you people PS DRUNK should be able to handle GREAT MUSIC even at 11pm, but let's be honest here there is only one thing we want to see at 11pm on an awards show and IT LOOKS LIKE THIS: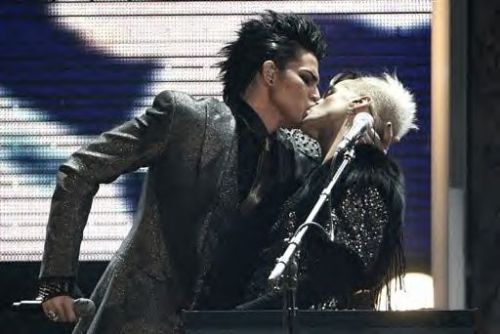 11:00: Hey they're playing a montage of a bunch of classic rock that we love.
Look!

10:47: Beyoncè just won something, that's good i think
Sarah: i la-la-lalove beyonce's dress
Laneia: she is just precious
Sarah: it's like she pulled a lady gaga but with her own twist
10:42: Oh Dave Matthews Band. I feel like I'm in college and we're stoned with a towel under the door so we don't get in trouble
Keeping in the theme of the night, DMB has an army. A VIOLIN ARMY
10:25 PM: I think we've had too much to drink. Also though you guys Andrea Bocelli FTW. That dude just blows away all other humans. fucking opera. Also Mary J Blige obvs. Whatever they just did; we love it. did they win someting?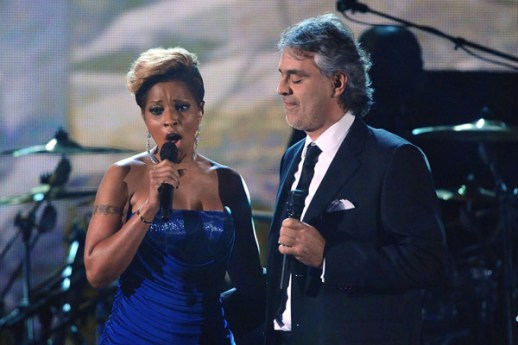 10:19 PM: I think that Rihanna and Lady Gaga are besties or lesbian lovers 'cause they're sharing outfits. Rihanna is pretty and she won something and they have a child up there with them.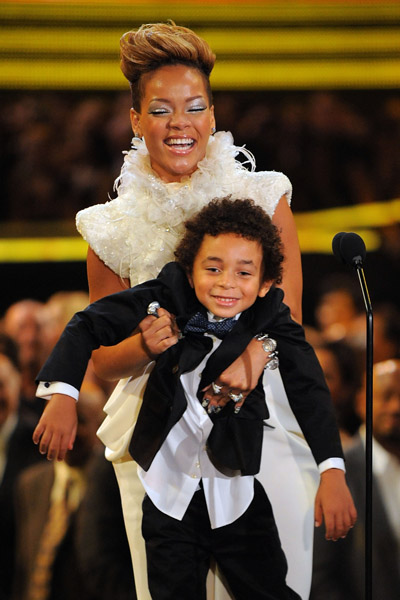 Sarah: Do rihanna and jay have a previously unknown love child?
Riese: Who is that kid?
what did he win
Laneia: he won cutest kid
i wish all ppl would just randomly take kids up to the stage w/ them
Riese: me too
that would make the show so much cuter
10:14 PM: The fans voted on what song Bon Jovi would sing tonight. Much to nobody's surprise, Livin' on a Prayer won, because it is one of the best songs of all time. Totally serious.
OHHHHHHHHH WE'RE HALFWAY THERE OHHHHHHHHH LIVIN ON A PRAYER [FIST PUMP!!!] OHHHH LIVINNNNNNNN ON A PRAYYERRRRRRRR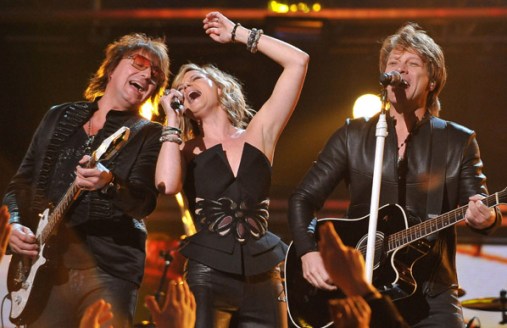 10:00 PM: Michael Jackson's kids are up on stage to accept the award on behalf of their father Michael Jackson. They thank Grandma and Grandpa for their love and support, their fans.  They're so cute! He sort of had a Sarah Palin moment with saying that Michael Jackson donated to "all the charities," but you know, he might be right, maybe Michael Jackson did donate to all the charities?
Cutie patooties. That's all.
9:58 PM: Michael Jackson tribute time!  They're gonna do "The Earth Song." Apparently it's in 3-D, and we missed the memo to pick up 3-D glasses. Sarah and I would like Jennifer Hudson's boobs in our face but unfortunately we do not have 3-D glasses. JENNIFER HUDSON IS AMAZING.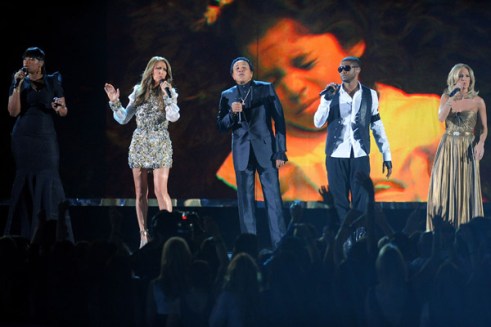 9:50 PM: Update. Taylor Swift isn't just singing. She's singing with Stevie Nicks.
Let's retrace how we got here, to this moment:
1. Ryan Seacrest says something about Taylor's incredible strength in telling her story.
Riese: oh i'm so glad taylor is here to tell her story
about growing up rich
with rich parents who loved her
and becoming a star
Sarah: white girl gets famous
Alex: its a fairy tale you guys!
the same exact one you grew up with: the pretty girl wins
Riese: well she wore glasses once
2. Stevie Nicks enters, they begin singing a Stevie Nicks song
Sarah: OMG
NO
NO NO NO
that is sacrilege
Riese: WHATTTT
Alex: uh oh
Riese: omg
Alex: Stevie… why
Sarah: wtf
Riese: Stevieeeee
Sarah: WHY IS THIS HAPPENING
Riese: you can see how much better stevie is
i think stevie just had to jump in and save her there
did you hear that?
Sarah: yeah because she can actually sing live
Laneia: this makes me sad
Sarah: also taylor can't reach stevie's range
so why would you pair them?
Riese: oh no
oh no no no no no
3. Stevie Nicks is now singing backup on one of Taylor's stupid songs about high school.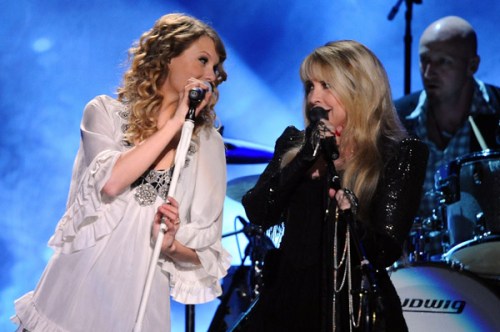 Sarah: omg no, stevie is backup on this fucking song
are you kidding me
Alex: taylor… terrible and flat.
Laneia: NO
Sarah: you guys, this is painful
Laneia: this is like watching your grandmother strip
or something
Sarah: ughhhhhhh
9:46 PM: Taylor Swift is singing. Let's look at the audience!
Look it's Britney!

Look at Elton John & Lady Gaga!

9:45 PM: I thought we didn't have to listen to this patriotic bullcrap now that we have that Marxist Homosexual Socialist Radical President Obama. These guys seem nice and earnest and remind me of Lone Star Steakhouse.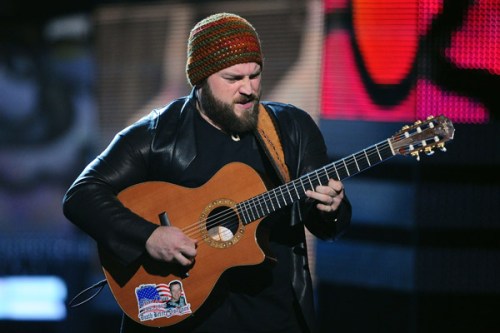 9:40 PM: Alice Cooper just called Katie Perry "voluptuous" for no reason. He knows that's code for "fat" right?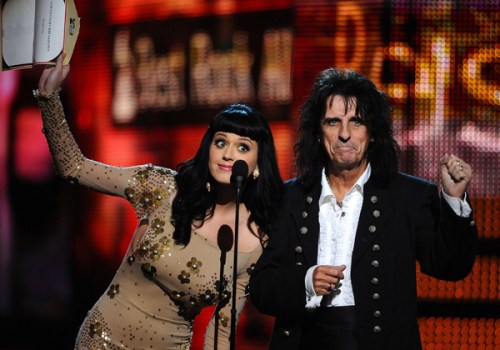 9:26 PM: They've put Ke$ha up on stage with a young man who is approximately as old as she is, mentally. Like in the head.
9:21 PM: Jamie Foxx is up there performing. At first it was opera, then it's Jamie Foxx, now it's T-Pain. There is just a lot of stuff happening at once and it's kind of overwhelming.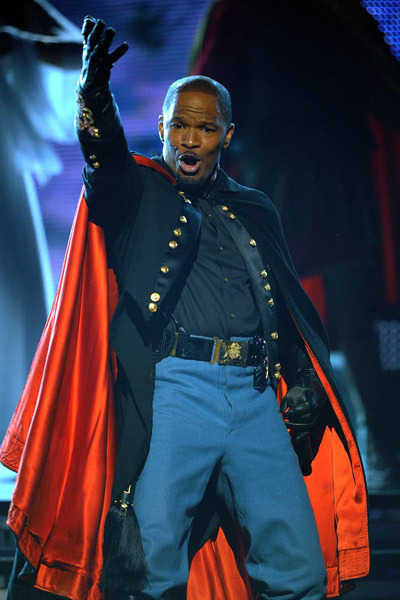 Sarah: oh. my. god. jamie foxx. why is he dressed like he's in the prussian army?
Riese: It's Army Night, that's the theme
Alexandra: I think auto-tune should win artist of the year
9:19 PM: Every time that Lady Gaga doesn't win something I feel like it's November 5th, 2004 all over again. Kings of Leon for Record of the Year, "Use Somebody." I like that song. Well. I LIKED that song.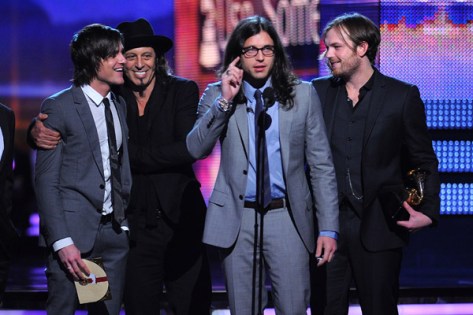 9:16 PM: Norah Jones & Ringo Starr! People stand up for Ringo because of The Beatles. The Beatles are like the president and sort of like The Pope. Something weird is happening with the Bobby Darin video, like all the time is off, like we're in the Matrix.  Okay now that part is over and they are nominating people for Record of the Year.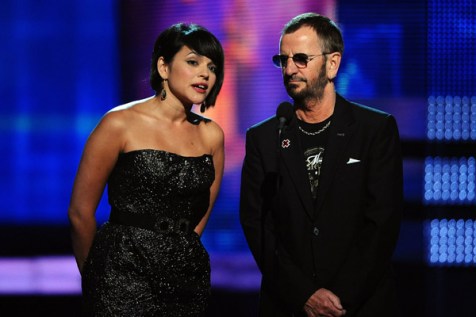 9:12 PM: Stephen Colbert FTW for The Stephen Colbert Christmas Album!
"Obviously I should thank Jesus Christ for having such a great birthday!"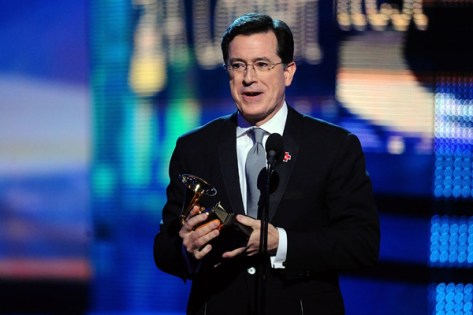 9:05 PM: I sort of think of country music performances the same way I think of commercial breaks. I mean it's fine and all, and I like the Dixie Chicks, Dolly Parton, LeAnn Rhimes and "It's Five O'Clock Somewhere," but a lot of them are serious Republicans! I get nervous when I think I might be listening to someone who voted for George W. Bush.
Alexandra: new rule: you shouldnt be allowed to perform on the grammy;s if you're gonna be boring
Riese: yeah if you don't have fireballs or a piano or an army, get off the stage
8:53 PM: You guys, there actually is a Green Day musical, which I now vaguely recall reporting on when it was initially announce:
Rolling Stone, March '09: Green Day and the director of Broadway's Spring Awakening are set to debut a musical based on the band's 2004 punk epic American Idiot this autumn, the New York Times reports
8:45 PM: We've decided to play Fuck, Kill or Marry, except that Killing is MEAN, so we've changed it to Fuck, Chuck or Marry.
Alex: Taylor Swift, Lady Gaga, Pink GO
Laneia: I'm gonna say fuck on all three of those
but if i have to kill someone
Alex: Yeah, you can't fuck all three laneia, thats against the rules
Riese: That's what she said
Laneia: LOL
Riese: Fuck-lady gaga, marry-pink, chuck-taylor
OMG CHUCK TAYLOR
Alex: hahahaha!
Laneia: I have to chuck taylor, too b/c she has too many feelings for me. I'm the one w/ the feelings.
So — fuck – pink
Marry – gaga
gaga would probs be super supportive during my feelingsfest
Alex: Same as Laneia, to be honest, its unanimous.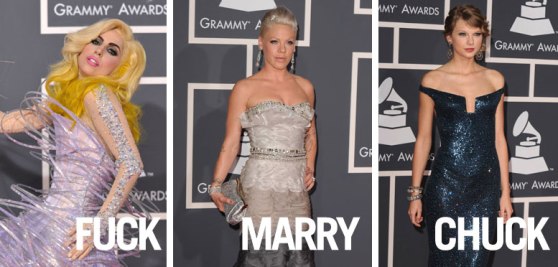 8:42 PM: PINK is performing, she's being serious but getting ready for Rhythmic Gymnastics.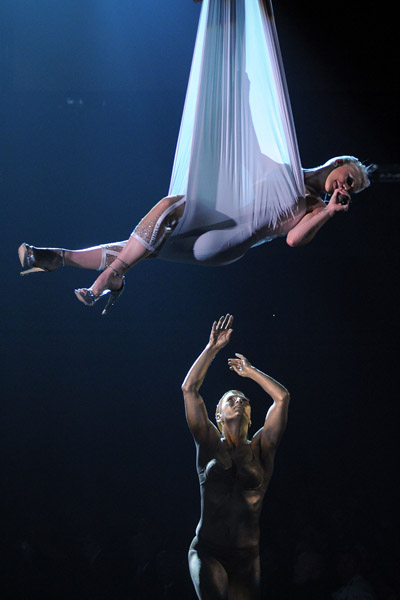 8:32 PM: Beyonce just broke out of a battle-themed performance of "If I Was a Boy" right into "You Oughtta Know."  Looks like everyone was inspired by GLEE's "mash-up" episode.
riese WHAAA
ALANIS MORISETTE?
laneia: WHAT
WHAT IS HAPPENING
8:27 PM: "This is my first time walking up those stairs to accept a Grammy Award on live National Television!" says Taylor Swift, who already accepted one earlier today that wasn't on live TV. That's a LOT of qualifiers! It's like that girl who's like "this is the first time we've kissed on a rainy night outside of your apartment after I got my new earrings!"
laneia: Listen up kids
That dress is cute.
Alexandra: where is kanye
Riese Probs not invited. That dress is from the Seventeen YourProm issue.
Laneia: Riese it's cute on her!
Riese: fine.
8:24 PM: They just played a song during the Kristen Bell – whoeverthatguyis introduction that was on The Olive Garden & The Macaroni Grill soundtracks during my employment there, I'm having PTSS. It's like oh-oh-ayy-oh-ohh – oh-laaaa-di-oh-oh-oh-oh, some old Italian song.
8:16 PM: So is the theme of the show "Broadway"? 'Cause that would be exciting. Beyonce won for best song but some scheduling d-bag had her in the back preparing for her performance when she was supposed to be up there accepting the award.
8:11 PM: Stephen Colbert has an iPad, has involved his daughter in his routine, and aptly described the show as "famous people congratulating each other." I think we're done here.
Laneia: iPad reference
should've been in the drinking game
i am filled with regret!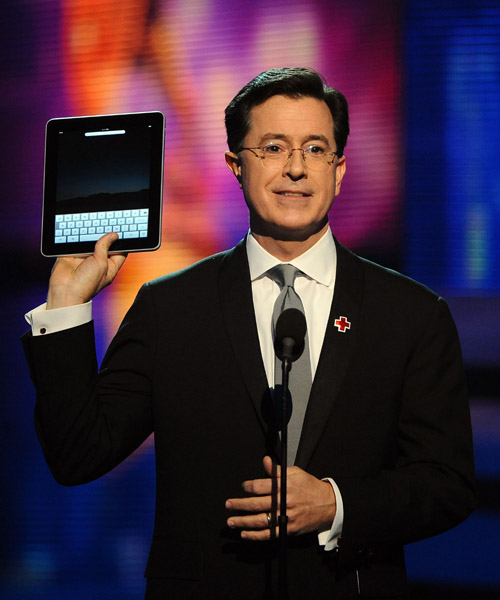 8:07 PM: That was it? Was that it? That was Lady Gaga's whole performance? Tell me she's coming back later.
8:03 PM: Lady Gaga & Elton John are doing a duet to "Speechless" with a big factory of orphans performing in the background!
"TAKE MY PICTURE! I WANNA BE A STAR!"
– Lady Gaga
Elton John & Lady Gaga went for a roll in the dirt, Elton John turned Lady Gaga's dress into an earring, they both went to Princess Sparklepony Land, and then they emerged from the Dark Magic Underworlds to bless us with music like two rag-tag ashen creatures of pop culture.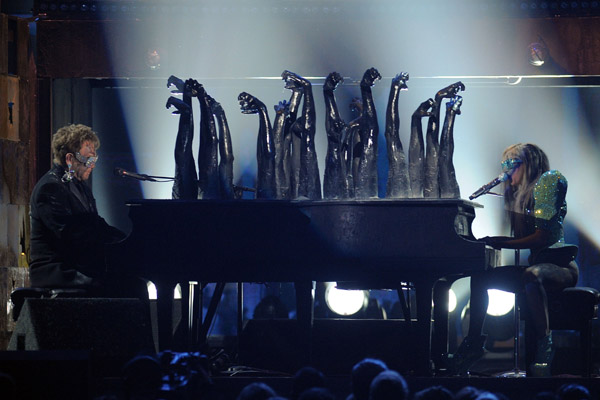 8:01 PM: THE FAME FACTORY! Lady Gaga is turning all of us into monsters. It reminds me of Oliver Twist, but also of Les Miserables.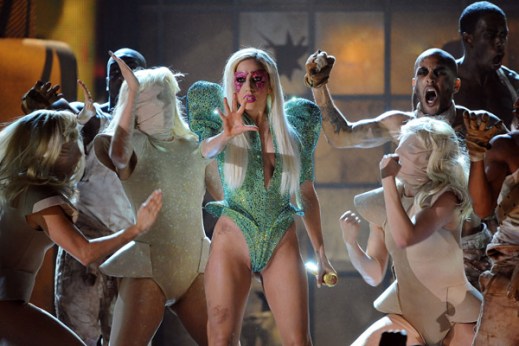 7:54 PM: Who are these people? I feel like I don't recognize anyone except Taylor Swift, who I don't even like, and Lea Michele, who I actually do know for real and so that doesn't count, and Lady Gaga, Adam Lambert, and Beyoncè. The rest of these punks are just a bunch of punks! Is there a punk category for the Grammys? That would be hot.
Oh hello! It's Nicey Nash from Reno 911, one of my favorite shows of all time! I KNOW WHO SHE IS.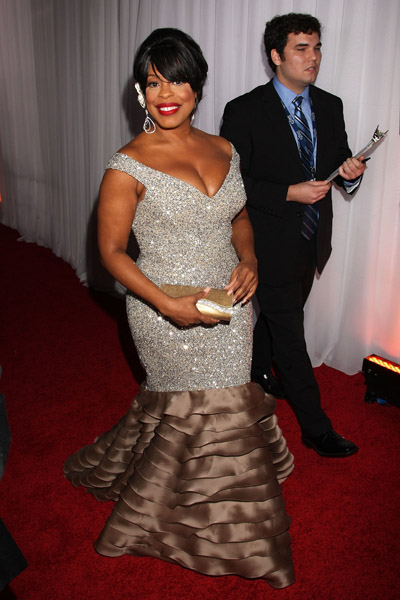 Look, it's The Autostraddle Icons of 2009: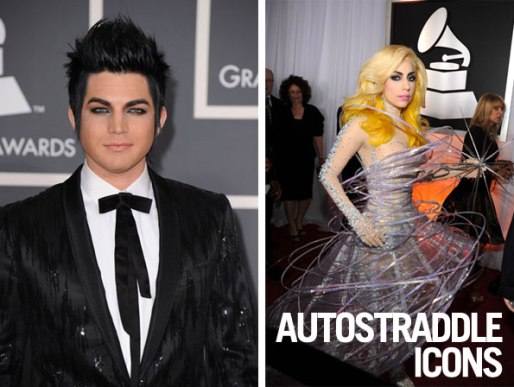 Oh hai Imogene Heap:

7:45 PM – Hi! We're gonna be covering the Grammy Awards for you! This is the first time we've ever watched the Grammy Awards, 'cause they never nominate Ani DiFranco or Tegan & Sara so WHATEVER.
Laneia: What else happens at the Grammys? like, I've never watched this in years or possibly ever.
Riese: I've never watched it either. I think it's like a concert.
So keep on this page and refresh, refresh, refresh!
First let's get to the important part; the drinking game as composed by the team. Which we'll probs change as the night goes on.
One Drink for:
+ Every time you see a performer from the 90's who looks good/fresh/not sad
+ Lady Gaga costume change
+ Any gay references whether subtle or overt [yes, Lady Gaga & Elton John duet-ing is a gay reference]
+ Someone describes a Lady Gaga outfit using at least two nouns and/or two adjectives.
+ Shot of will.i.am looking like "a complete d**chebag asshole" a.k.a. any shot of will.i.am
+ Shot of John Mayer in the audience looking "cool" or like he "has feelings"
+ Michael Jackson reference
+ You ask yourself "Who is that guy?" and it turns out to be someone from Jersey Shore
+ Dave Matthews Band sax solo
+ Pink does something gymnastic/acrobatic that makes your thighs hurt just to think about it
+ Smokey Robinson's face should move but doesn't
+ Lil' Wayne, Drake or Eminem grab their crotch
+ Kathy Griffin tells someone to suck it
+ Shot of Beyonce & Jay-Z or Nick Cannon & Mariah Carey looking couple-y
Two Drinks For:
+ Anything that may inspire complaint letters about sexual indecency
+ Lady Gaga Claw
+ Pink wearing electrical tape
Three drinks for:
+ Fred Durst
+ Kanye West interrupting joke
7:00 PM The E! Red Carpet is the perfect example of something we would never watch were it not for our responsibility to dutifully report on groundbreaking events like the Grammys for this fine website. See it's just really hard right now when so many of us are struggling to make ends meet and get paid work and someone as certifiably irritating as Jay Manuel has a job that probably pays him a lot of money. And I mean look, Ryan Seacrest is only LESS annoying in comparison to Ja.
Ryan Seacrest: "Is that Lady Gaga or is that someone who wants us to think she is Lady Gaga? Because you know — I don't — you know I don't even know what she looks like!"
Jay Manuel: "This is art and so I love it."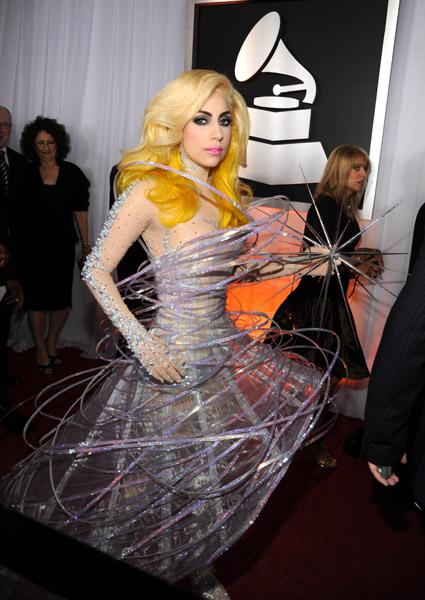 6:45 PM: Kathy Griffin is great, why is this girl asking everyone what they eat and how they work out. I'm scurred for her.
Giuliana Rancic: How did you get this body?
Kathy Griffin: Starvation. I'm always hungry and I'm always cranky.
Giuliana Rancic: Well you look good and that's all that matters.