Hi there. While Crystal is busy recapping Skins, I'll be taking over the Weekly Music Fix. I hope you all like indie pop/folk as much as I do… Here we go!
LILITH FAIR 2010
Do we really need an all women's music festival in 2010? Sleater-Kinney's Carrie Brownstein offers an enlightening reflection on the female music landscape at her Monitor Mix blog.
LAURA MARLING SINGLE
We're a week late on this, but… Laura Marling revealed a new single called "Devil's Spoke" at The Guardian. She's looking a lot older and sophisticated since her 2008 debut, Alas I Cannot Swim, but I'm not yet convinced by the sound. Listen for yourself. I Speak Because I Can comes out March 22.
THE KNIFE RELEASES SIXTH ALBUM
Karin Dreijer-Andersson and her brother Olof Dreijer make up Swedish electro-pop duo The Knife. Their fifth album is an opera based on Charles Darwin's The Origin of Species, and it's streaming on their website. You can buy it digitally from Rabid Records now, or wait for it's physical release on March 1.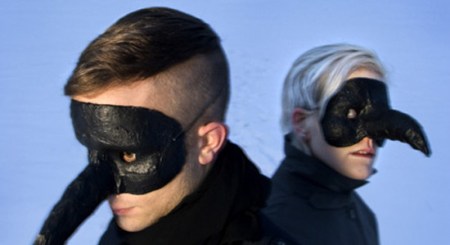 FEVER RAY
Perhaps you really enjoyed Karin Dreijer-Andersson's solo project Fever Ray. Perhaps her self-titled debut rocked so hard, it even melted your face off? Watch Dreijer-Andersson's acceptance speech for Artist of The Year at the 2010 P3 Guld (the equivalent of the Swedish Grammys).
I'M FROM BARCELONA & 27 SONGS
On Jan. 27th, the Swedish supergroup released the first track from their upcoming concept album 27 Songs. Each song is written by a different band member and available for free download from their website. I'm From Barcelona will continue to release one song per day until Feb. 22, when you can download the album in its entirety. You can also buy the triple vinyl now from Merchworld.
STEPHIN MERRITT AND PETER GABRIEL COVER EACH OTHER
Stephin Merritt of The Magnetic Fields has covered Peter Gabriel's "Not One Of Us." Merritt's cover, along with Gabriel's cover of The Magnetic Field's "The Book Of Love,wp_postswill be released on a "double A-Side 'digital 45'wp_postson iTunes this Saturday.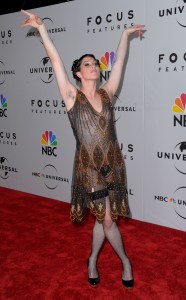 AMANDA F*CKING PALMER
Not only did Amanda Palmer bare her nipples and underwear at this year's Golden Globes – her hairy armpits also made an appearance, and the media is still ablaze. Jezebel has an analysis, or you can read Amanda Palmer's reaction to the entire Golden Globes ordeal on her blog.
SEMI PRECIOUS WEAPONS RELEASE EP
NYC glam rock band Semi Precious Weapons has just released a 3-song EP. At first glance, this band might seem like just another glam punk outfit, but past all the tongue-flicking (what's up with that?), there's something more going on. Lady Gaga was executive producer on their debut album. And believe it or not, these guys graduated from Berklee College of Music. You can buy the EP from Amazon or iTunes.