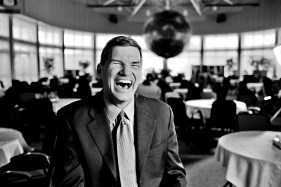 TED HAGGARD: I love Oprah. We all love Oprah. But every time she gives Ted Haggard and his wife a voice on her show, I get upset! See, Ted Haggard's wife wrote a little book about "why she stayed" which is sure to be a hit amongst the Going Rogue set. Gayle visits The Today Show to talk about the book, where she announces that Ted's gay problem has been solved. PHEW! SLASH WTF.
When asked how to reconcile her husband's behavior with the hatred he regularly promotes against gays at his Colorado Springs megachurch, Gayle calmly explains that we all have struggles in our lives and sometimes act hypocritically. Right, except that Ted Haggard's struggles not only earned him major evangelical bank, but they also scared and shamed many of his congregants and encouraged them to spread this intolerance to other people.
It's disappointing that even reasonable, smart, liberal, pro-gay people like the ones who made this video [below] [sidenote: The Young Turks are also responsible for a truly awesome video exposing further sexual scandals at Ted's church when Ted's sex scandal initially broke] can feel sympathy for anyone who preaches so strongly against homosexuality allegedly because G-d said so but really because they hate themselves. While it's nice that Ted admits he lied and takes responsibility for his actions, it's a shame that he's not apologizing to the hundreds of people who hate themselves because of what they taught — and their families who will see Ted's work and think that their children can too be "cured."
The way people want to live closeted is their own business, of course. As long as they keep it their own business, instead of literally and figuratively making it the business of so many well-meaning earnest religious followers.
+
MOM ON THE RUN: Here's another example of how the ex-gay movement can legitimately hurt people! The lesbian mother Janet Jenkins who was granted custody of her daughter Isabella because her ex-civil-unionized-partner Lisa Miller, a newly "converted" ex-lesbian, refused to allow the Janet to see Isabella, claiming that Janet would corrupt her with the gay, is still looking for her daughter. Days before Miller was supposed to hand her daughter over to Jenkins, she disappeared with Isabella.
She still hasn't found her daughter:
"Please help me find my daughter," Jenkins told reporters. "She's only 7 years old. She needs to be safe, and she needs to be in a stable, constant environment. … Isabella has been missing for 22 days. Every day I wonder where she is and if she's OK. Every time the phone rings, I hope it is someone calling to tell me they found her."
So if you want to argue that this conversion therapy doesn't hurt anyone? You are very, very, very wrong. (@abc)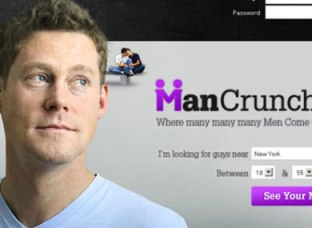 GAY SUPERBOWL AD: A commercial for gay dating site mancrunch.com is still under review for airing during the Superbowl on Feb. 7. According to Fox News, "the 30-second spot shows two men excitedly watching the game, before their hands brush as they both reach into a bowl of chips. Suddenly, the two begin making out, much to the shock of a guy sitting close by." The merits of that message aside, ManCrunch.com said it believes the network will pass on the ad in the end, but it does not want to "officially 'reject' the spot out of fear there may be a backlash from gay advocacy groups." Never.Gonna.Happen. (@foxnews)
PARTY TIME: Dozens of gay South Florida civic leaders are furious that a Grammy-winning DJ and a major Miami Beach nightclub group have again scheduled a dance party at Mansion that they fear will lure gay tourists — and their money — from a Winter Party Festival fundraiser March 7. Winter Party's profits benefit the National Gay and Lesbian Task Force and local gay charities including Miami Beach Gay Pride Festival, Miami Gay & Lesbian Film Festival and Pridelines Youth Services. Rauhofer's for-profit dance parties — which target the same demographic as Winter Party — benefit the DJ and Opium Group. (@miamiherald)
CONVICTED: Sorry Mister — the man who killed Dr. Tiller the abortion provider will spend his life in jail:
A Kansas jury deliberated just 40 minutes before convicting an anti-abortion activist of first-degree murder in the fatal shooting of an abortion provider. The jury found Scott Roeder, 51, guilty of gunning down Dr. George Tiller, who operated a clinic in Wichita where late-term abortions were performed. Roeder, 51, faces life in prison when he is sentenced on March 9.
Tiller's family said the jury reached a "just" verdict.
"At this time we hope that George can be remembered for his legacy of service to women, the help he provided for those who needed it and the love and happiness he provided us as a husband, father and grandfather," the family said in a written statement.
Here we have some more backwards logic —
"There was nothing being done, and the legal process had been exhausted, and these babies were dying every day," Roeder said. "I felt that if someone did not do something, he was going to continue."
Ah yes, Mr. Roeder. And I'm sure all the women seeking back-alley abortions now that you've murdered their doctor are confused, as we are, how exactly you saved their lives by killing Dr. Tiller.
FACEBOOK/TWITTER: How much TMI is too much TMI? Friends, family and co-workers are using digital technology, but not all of them will use it in ways you consider appropriate. What are you going to do about it? Should you do anything about it? The weirdness is not who you're reading, it's what is being sent out to you. Sure you can trim your Twitterstream. You can unfriend folks. But is that the way to go? Maybe it's diplomatic to do it like that — avoiding confrontation, just letting them fade off Facebook. Let's not forget humor as an option. I think a point made with a sense of humor can be even more memorable than a pointed discussion, which may come off as terribly judgmental to the person on the receiving end. (@lemondrop) Meanwhile, CNN is claiming that Twitter's popularity has peaked. (@cnn)
DRINKING: "Professional and managerial women are downing almost twice as much alcohol as the lower paid, according to an official survey. They are drinking an average of 10.2 units a week – more than a bottle of wine – compared with 6.5 units for manual workers." Well, alcohol isn't cheap. Also; have you ever attended a business meeting drunk? SUCCESS! Have you ever tried to operate machinery drunk? FAIL! (@dailymail)
IPAD: What do you think of the IPad? Does it remind you of something? It might.