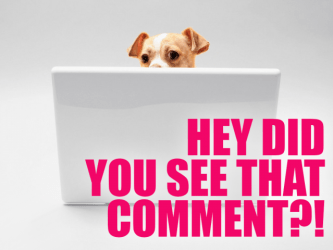 Guten Morgen, chiclets. How did this week go for you? I learned what an SSD is, met a lady with tattooed eyebrows, and made acquaintances by telling them about IHOP on Cox. In my opinion, it wasn't too bad as far as weeks go. Over here at Autostraddle, we had lot of pictures to look at and music to listen to. If you felt like you were drowning, were looking for a car, or just wanted a great movie soundtrack, we had music to suit your emotional needs. We pleasured your eyeballs (pahahaha) with 100 lesbian movie kisses, 39 pictures of Starbuck (I honestly have no idea who this person is), and a bunch of women in uniform. Jessica, our legal eagle beagle, updated you on Prop 8 and Annika and Sebastian watched Nightline's "transgendered" special. Sometimes the world is just baffling, you know? Brittani counted down top 5 non-water beverages (although there's probably a lot of water in them), Lizz had your fashioncap, and everyone shared their feelings about jeans. Onward ho to Brianna and the group of the week!
Imagine Greater…. Queerness. The SyFy Channel Club
If you like sci-fi and/or think you're the future wife of Kara Thrace/Katee Sackhoff this might become your favorite group ever. I look forward to you joining Ash and filling this group with your nerdy sci-fi knowledge. Plus, it's the 200th group created in ASS! Maybe consider creating a group of your own?
---
On Research Institute Has New Findings on Generation Gap of Doom for Gay Rights:
The Methuselah is Such a Bigot Award to allie: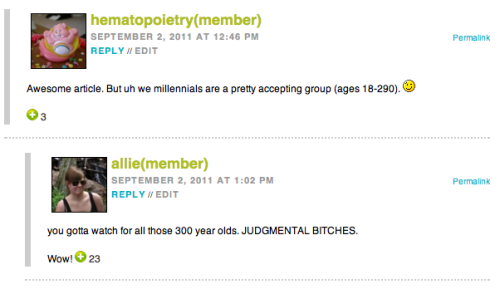 On Broad! A Literary Zine For Broads Both Classy and Otherwise:
The Just Read The Commenter Name Award to ClittyMcLabia: "Ooh, an opportunity to send in my raunchy poetry! This is awesome."
On The EliptiGO: For People Not Cool Enough For Segways:
The Ditto the Spaceship Award to LezGeek and Jenn: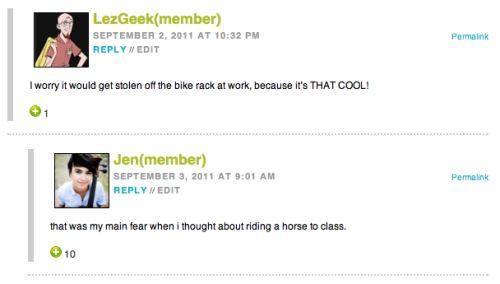 On Playlist: Songs To Drown To:
The Chin Up, Lassie. It Gets Better Award to Sagi: "This popped up on my fb newsfeed right before her profile.
THANK GOD FOR AUTOSTRADDLE.
*curls up in AS shirt and presses play*"
The Life's Tough When You're a Barista Award to Sarah: "Came for the coffee. Stayed for the woman."
On The Jeans Issue: Queer Fashion Guide For Various Shapes, Sizes, Styles and Gender Expressions:
The Does That Count As Cheating? Award to Kat: "I read "taking the LSATs nakedwp_postsand immediately thought "Lesbian SATs?wp_postsI refuse to Google it, because frankly, I don't care what it really is, and furthermore, if there is ever a lesbian SAT test, I am most certainly taking it naked."
On Lady Gaga Goes Au Natural, Heather Morris Does "Bruised Barbiewp_postsBlack Eye:
The Huh? Award to em.: "'To get Lady Gaga's no-makeup look, try Studio Sculpt SPF 15 Foundation ($29.15), Prep + Prime Highlighter ($23), Brow Gel ($15) and Prep + Prime Lash ($15). All M.A.C.'
I'm confused…"
On These Five Books Might Change My Life:
The Step One Is Admitting You Have a Problem Award to Darcy: "I went a step further and bought a book called "Your Own Worst Enemy: Breaking the Habit of Adult Under-Achievementwp_postsby Kenneth W. Christian Ph.D… haven't even cracked the cover. I feel like it would change my life if I would stop putting off reading it…"
On Top 5 Things to Drink When You're Broke That Aren't Water:
The And Its Name Is Cough Syrup Award to sydney: "Purple drink is where it's at. Also, as far as I'm concerned, red is a legitimate flavor."