Here's why I'm upset. For reasons that Riese will explain to you, there were dolls this week.
I'm not pissed about the existence of the dolls, creepy as they were. No, I'm pissed that they weren't American Girl Dolls dressed in classic Liar's outfits. C'mon– this was a totally missed opportunity.
Hanna's outfits were limited/boring/in previous episodes, so let's skip down the line past her to Spencer who did indeed continue her pattern of wearing sweaters with animals on them while she saves lives and breaks hearts.
Maya joins in the animal fun wearing a family friendly bird shirt. See, lesbians aren't scary, they love animals! She also breaks some hearts (mostly Emily's for vague reasons).
Normally this is the part where I would make fun of Spencer, say something like "there is a motherfucking pony on that shirt" and maybe show a picture of Rachel Berry with a "sexy schoolgirl librarian chic" joke in there somewhere. Unfortunately/fortunately, I'm actually kind of digging this look. No joke, I'm about to buy a sweater with a giant embroidered owl on it.
Easing on down the road, our favorite pseudo-goth catwoman surprised absolutely no one by wearing (drumroll) a black shirt.
The impression I get is that to make a shirt like that you just buy this shirt and a razorblade and go to town. Really what I like the most about Aria's look is her earrings. Front facing triangles are a somewhat less common earring shape, and I particularly like how these are chunky and bling-free. Particularly the bling-free factor makes them much more casual and therefore appropriate for school/work/not looking like an asshole. This autumn, triangle earrings could be a really nice change from that one long feathered earring you've been wearing all summer.
Moving, once again, down our doll line we find Emily in what initially appears to be a boring, gray, scoopneck. It's seriously starting to seem as though the costume designers were intentionally exemplifying the Liar's personal style to make a point for the summer finale.
However, everything is not as meets the eye.
Although a clear shot of Emily's back was not in the episode but, rather, in the promotional shots, we can see here that the back of this blouse is actually quite cool. Often when I encounter a loose shirt with a unique back I don't bother buying because I'm scared I won't be able to wear a bra with it. Emily's solution, wearing a tank underneath, results in the tank's contrasting color lines enhancing the chaotic-ness of the back of this shirt. This is a genius solution because drawing attention to the unique cut of a shirt generally also increased that shirt's awesomeness and/or badassiness (these are technical terms).
For those of you watching "the lesbian shopping network," it's the Free People "Cropped Diamond Tee."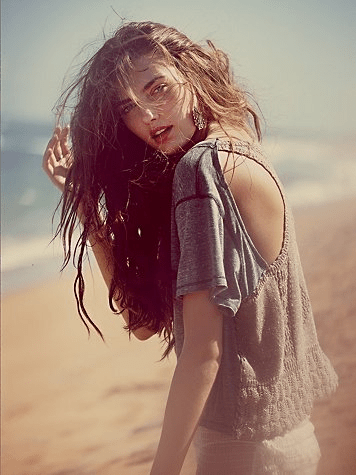 $49.95-Free People
Alrighty, so there were some dolls, there was some panicking and there was a wedding. Hanna's father's wedding to be exact. This should go smoothly right? Right? Right?
In season two episode five we learned how not to dress for a funeral. Similarly, this episode was chock full of style wedding don'ts.
| | |
| --- | --- |
| | 1. Don't wear white, don't wear off-white, don't wear champagne, don't wear pale pink, yellow or blue. Don't wear a white dress with a colored pattern– that's still a white dress. Get the picture? If you're wearing a suit with a tie, it's okay to wear a white shirt but never a white jacket. I suppose if your friends send out a letter saying please feel free to wear whatever you like it's technically okay to wear white. But I still wouldn't. |
| | 2. You might be surprised at how long it takes you to get ready for a wedding. Even if you're not in the wedding party, between hairstyling and last minute crises you may find that prepping for a wedding takes longer even than prepping for San Francisco Pride. Give yourself plenty of time by starting first thing in the morning and ensuring that all outfit and gift purchases are done in advance. |
| | 3. You're wearing a getup if your look distracts from the brides/grooms/bride/groom/partners/lovers. Everyone should be talking about the happy couple, not "Wait are those sticky buns on her dress?" Obviously you still need to do you. You like wearing suspenders? Wear suspenders. Just avoid your pair with skull and crossbones. Keep in mind that what constitutes a getup depends on the present company. Think carefully about who might overreact to transparent lace pants. |
| | 4.You might think that the bridesmaids' gowns look like Dorothy Jane Torkelson's homecoming dress or that having the whole wedding party in Star Trek uniforms is lame, but keep it to yourself. Don't even trash the bridal party to your closest friend or spouse. Once you get home you can hate on the Mickey Mouse ears veil all you want, but you don't want your harsh words offending anyone during the wedding. |
| | 5.It's a wedding, so you're there to dance and make merry! Don't set yourself up for failure with shoes you haven't broken in properly or with heels that are too high. You're going to want to dance so plan ahead shoe-wise or else you'll end up a sad panda. If you absolutely must wear seven inch heels or your shiny blister-giving oxfords, leave a pair of "after dinner shoes" in your car. |
My only other commentary on this episode is that Emily's outfit is obviously a Sleeping Beauty/Princess Aurora reference.Wow, it's not even subtle.

While technically the season isn't over, there won't be new episodes until Halloween, and then not again until January. Looking back on the last half-season we had some pretty good queer fashiony times.
We learned about all of the high school lesbian fashion stereotypes who might show up to a poker game and only sort of fell in love with them.
How could we forget the great tricks we learned, like, "one feathered earring: cute and gay; two feathered earrings: you look like a chicken" and that "bad bitches wear purple."
Samara showed up and, while she lacked any hint of meaningful or entertaining personality, she made a real commitment to wearing tank tops with necklaces.
We even managed to make fun of Caleb in nearly every episode.
Most importantly, we got in some solid Emily time, watching her gay-out in a plaid shirt, a denim vest, and a fur vest.
But mostly, Emily just wore boring loose scoopnecks.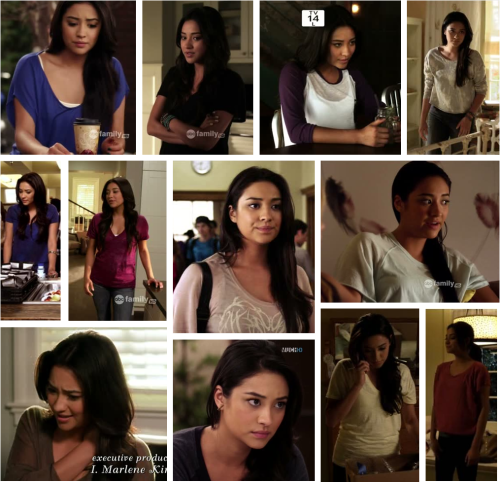 As much as I tease, I understand what ABC Family is doing. Very few shows have full time, series long, lead characters who are lesbians right from the get-go. How many shows are willing to feature high school lesbians at all? It's extremely important that queer teenage girls be able to relate to Emily. On a show where characters wear truly outlandish things, putting Emily in casual clothes makes her the most realistically dressed and in some ways most relatable lead character of the show. In turn, her style is a somewhat accurate representation of actual high school girls' style and thus actual high school lesbian fashion. The boringness has a purpose! To speak to generation of scared, poorly dressed teenage homogayqueers! See? I tease because I care.
Well. That's about it for Pretty Litte Liars a few months. I'll be here for the Halloween episode unless it sucks because they ordered it after the season had finished filming. I'll certainly back in January. Phew, I need a break.
Actually, I'm bored now. When does Glee start?