Your first love- almost as gut wrenching as your first heart break, just in all the wrong ways.
Unfortunately, a friend of mine has recently found this out the hard way.
Simply reading her text messages has been enough to take me back to my own first broken heart- and it's not really a place I'd like to spend a lot of time in.
Something I do remember however is the feeling of waking up one day and just being sick of crying. It hits you like a slap in the face. You slowly drift from sleep into consciousness, bleary eyed, waiting for the pain to constrict your chest and the eyes to sting with tears as you remember the reality and….it just doesn't come. Instead you get out of bed. You have a shower. You look in the mirror and you realise it doesn't hurt as much anymore.
Are you still numb? Yes.
Do you still feel completely lost, operating on autopilot?
Unfortunately.
But for one reason or another- be it time, or total exhaustion or perhaps simply acceptance- it's just not as hard to keep going on with your life.
This day is, of course, after countless days of weeping on your bedroom floor, of sad and then angry and then apologetic texts to the ex, of ten thousand refreshes of their Facebook profile, of embarrassing drunken visits where you bang on their door, throw rocks at their bedroom window and beg to see them.
But it does come. That day does come.
Inspired by heartache- I've come up with the following two playlists.
Playlist 1 is the drowning playlist- the one you whack on when the knife in your heart is still fresh. You need this period of continuous crying before you can even start to think about moving on.
Playlist 2 is to be played on that day. The day you wake up and realise, it isn't always going to be this hard.
My darling friend, I hope this helps.
Playlist 1:
Breaking My Heart – Aqualung
Fix You – Coldplay
Run – Snow Patrol
Goodbye Waves and Driveways – The Rocket Summer
Delicate – Damien Rice
Hometown Glory – Adele
I Will Follow You Into The Dark – Death Cab for Cutie
Blood Bank – Bon Iver
I Gave You All – Mumford & Sons
Somebody That I Used to Know – Gotye feat. Kimbra
The Scientist – Coldplay
Don't Speak – No Doubt
So Here We Are – Bloc Party
Call It Off – Tegan & Sara
This Year's Love – David Gray
I'm Still Breathing – Katy Perry
Stream this playlist via 8tracks >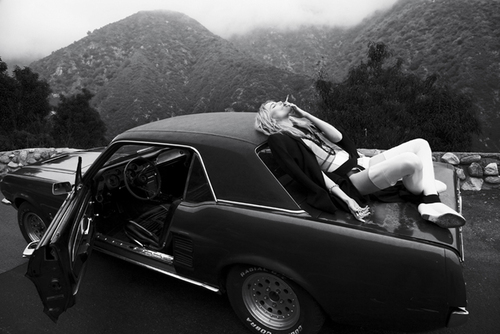 Playlist 2:
Strip Me – Natasha Bedingfield
Go Do – Jonsi
A-Punk – Vampire Weekend
How Bizarre – OMC
Dog Days Are Over – Florence & The Machine
You Make My Dreams – Hall & Oats
Bulletproof – La Roux
Since You've Been Gone – Kelly Clarkson
Yoo Hoo – Imperial Teen
Sleepyhead – Passion Pit
Waking Up In Vegas – Katy Perry
Hang Me Up to Dry – Cold War Kids
Helicopter – Bloc Party
Sunday Morning – No Doubt
I Saw The Sign – Ace of Base
Believe – Cher
Stream this playlist via 8tracks >

Add your own heartache tracks in the comments below.
Want to suggest a playlist theme? Hit up Crystal on Formspring and someone on the team will make it for you.