feature image via shutterstock
Welcome back witches! This month I thought I'd talk a bit about the most classic witch's familiar: black cats. Black cats have long been tied to witches, and when we look to pop culture, they're almost as ubiquitous as a broom. Kiki's got one, Sabrina's got one, Halloween decorations are full of 'em. But where did this connection come from? I wish this wasn't what I had to tell you, but unfortunately, we don't exactly know. What we do know is that around the 16th century when fear of Witchcraft was spreading around Europe many of the people accused of being witches would take in stray cats (looks like lesbian stereotypes date back pretty far) and so Christians started making the connection that these cats were the witch's familiars, meaning that they thought they were spirits or demons that took the form of animal companions in order to help the witch accomplish their witchy deeds. This belief came over to America with the Puritans and other Christian settlers who were afraid that witchcraft would spread to their new home. Ever since then, black cats have been seen as witch's companions and bad luck, at least in much of Europe and North America. I'm not exactly sure why it's black cats specifically that got attached to witches, but it probably has something to do with the somewhat racist association that Western civilization created between the color black and evil.
Also, did you know that October 27th is Black Cat Day? It's a holiday created in the UK to celebrate black cats and encourage people to adopt them, as reports show that 70% of cats in shelters at any given time are black. I didn't know about this until I read this list of great black cats, but now I can look forward to next year. Finally, I'll leave the world of black cats (at least for now) with this story of some of our Senior Editors recent experiences with black cats.
Seeing as we just had Halloween a few weeks ago, the internet (including Autostraddle) was absolutely filled to the wide brimmed hat with witch content! Here at Autostraddle, Rachel wrote one of the very best things I've read this year, her history and reflection on the Salem witch trials and power dynamics, which if you haven't read yet, please go do so now. Beth taught us how to make some really cool herbal tinctures. Robin brought you six spooky and witchy games for you to play on Halloween or after. Laneia brought us this boffo Halloween grab bag. Corina brought us the first of what will be monthly Queer Horoscopes. Finally, I made a list of 11 witch costumes that don't need a pointy black hat. I know Halloween is over, but you can still wear these outfits around town if you want to feel extra witchy.
The rest of the internet gave us some great witchy content too. Our very own Cecelia, who contributed a bunch of great stuff to this very column, wrote a great A-Z guide to witchcraft. Do you remember my list of my favorite witches? Well, Refinery29 came up with their own list of (fictional) witches for you to look at. Are you afraid you might be accused of witchcraft, because, let's face it, you're a witch? If so, you can check out this handy flow chart to find the best way to avoid an untimely death.
---
Let's start things off with a playlist.
Songs for a Black Cat
---
Words With Witches
hex (verb): broadly, to cast a spell on, bewitch. (noun): a magic spell or curse; also, alternately, a witch. Likely rooted in the American Pennsylvania Dutch folk magic tradition based on Christianity called Pow-wow in English (seemingly separate from the Native American/First Nation gathering or celebration) and Braucherei/Speilwork in Deitsch. Practitioners are sometimes called hexenmeisters, and "hex signs" are used to decorate barns — some hold that the hex signs are just for decoration, and some claim that they work as talismans. Etymologically, it can be traced to the Pennsylvania Dutch "hexe" (to practice witchcraft), taken from the German "Hexe" (witch), and Old High German "hagazussa" (hag).
---
Witch/Craft
Since we're talking about black cats this month, I figured I would show you how to make a cute black cat mini stuffed animal. It's an adorable craft that can add a nice witchy touch to your bedroom. It's also a great solution if your apartment is pet, and therefore familiar, friendly. This craft takes a little sewing skill, but if you can't do that, maybe you can find someone in your coven who can help you out. My mom actually sewed these since I'm pretty terrible at crafty things.
Materials
Cat Pattern
Scissors
9'x12′ square of black fabric (I've used both felt and velvet)
Straight pins or safety pins
Needle and both black and white thread and another color thread for the eyes
Fiberfill or even cotton balls would work
While you can hand sew this, a sewing machine would be helpful
Instructions
This pattern is from My Little Mochi; go and get the free pattern from there and cut out the cat body and tail (if you don't want to use the tail, you can just embroider one), leaving a 1/4 inch seam allowance.
Fold your fabric in half, right sides together (if your fabric has right sides, like velvet), and pin the pattern pieces to the fabric.
Cut out the pattern pieces, being sure to leave the 1/4 inch seam allowance.
With rights sides together (again if your fabric has right sides) start at one side of the bottom opening and, 1/4 inch from the outer edge stitch, going up all the way around. Again, you can hand sew this, but if you'd rather use a machine, that's totally legit. Be sure to leave the bottom open.
Trim off the any excess fabric outside the seam.
Once you've trimmed it all around, turn the fabric right side out.
Stuff the cat with Fiberfill or cotton balls until it's as full as you want.
Stitch the bottom closed
Now you take your needle and white and colored thread (this can be embroidery floss if you want, but sewing thread works just fine) and use basic embroidery skills to freehand eyes, nose, whiskers, ears, a mouth, paws, a tail and whatever else you want to customize your familiar.
---
Witches Who Sing
by Molly Ostertag
---
DIY Potions
Winter is here, and what better way to handle seasonal depression than to find someone to curl into a profoundly vulnerable cuddle cave with? If you're having trouble finding someone, a love potion could help. Potions are a powerful kind of spell-casting, and love potions specifically have the most fantastically imagined reputation of all spells. Before we dive in, let's, ahem, dispel some of the myths about what spells can and cannot do. Magic can't make anyone do something against their will. That's not good witch practice or good human practice – consent is key! Potions can, however, change you. They can make someone see you in a new light, or boost your personal confidence, or give you the clarity to try that new thing you've wanted to try (where maybe you'll find someone with similar interests). Spells and potions never get you off the hook of doing brave and intentional personal work – they're actually a very constructive step towards living your best life! Maybe this potion will help the cute barista ask for your name, or help you strike up a conversation with the mysterious person in flannel who always walks her immaculate dog in a park when you're running. A potion might give you that conversation. But the second steps are up to you.
There are so many love potions out there, but hopefully with these instructions you can brew something that is perfect for your interests.
Let's start with a base. The most common elements of love potions are:
Sweet red mulled wine
Rose Petals
Surprise! Love potions only work if they include super traditional feminine elements! Just kidding, this is silly and untrue. It's very important to feel confident and grounded when casting spells or brewing potions, and I can't take my magic seriously if my altar looks like a clearance aisle after Valentine's Day. Working with super feminine elements makes me feel weaker magically, not stronger, but remember: you do you. If you feel powerful brewing a potion with these elements, follow your intuition. They've been used in love potions for centuries and they're powerful. (Let's be honest, I'm using wine.)
Luckily, there are several herbs, spices and fruits that work to attract love in many wonderful and specific ways! Consider any of these for your potion:
Basil – "Wherever basil lies, no evil can dwell.wp_postsHave the habit of attracting only people who are bad for you? Throw in some basil.
Grapefruit Juice – This is associated with purification and healing. If the lingering effects of your terrible ex is the only thing holding you back from getting out there again, this might help soothe the wound.
Rosemary – the herb of memory. Use this before a first date and you'll linger in their mind afterwards.
Pomegranate – especially strong when used by transgender and gender non-conforming people making potions!
Cinnamon – use this to attract the kind of warm, cozy relationship that's perfect for winter.
Nutmeg – considered lucky. Use this so you don't accidentally swipe right on your soul mate!
Cloves – these are also considered lucky in love and friendship. I'm interpreting this to be useful for people who are poly or asexual – to attract multiple partners who are beautiful for many different reasons, or to attract beautiful friends (who are maybe romantic if you choose).
Apple Seeds – only use two apple seeds in your potion because they can be (welp) poisonous in large doses. But they're super lucky to attract love in the winter!
Lemon Zest – This is for longevity and love. It couldn't hurt to add this to your potion if you're trying to attract a long-term partner.
Mint Leaves – Associated with lust. Would you rather have an exciting season of one-night stands than deal with a serious relationship? Mint will do the trick.
Apricot – Venus is associated with apricot, so if you're looking for some guidance from the goddess, this is a great offering.
I've also created potions to help me seek someone of a specific astrological sign. I happen to be historically suited for relationships with Cancer, Aquarius and Taurus. And similarly, I would rather Scorpio keep a fair distance from my heart. (I'm sorry, Scorpio, happy birthday.) Some witches may not agree that this level of specificity is possible for love potions, but I'm a wishful thinking witch.
I've found elements to attract each astrological sign that you can find in the form of a tea base. Brew your potion as a tea, and add other elements from the list above if you'd like. Some of these combinations might not taste even a little good when combined – you don't have to add them all. I just wanted to include a wider set of options so you can add this energy in your potion as a base or "garnishwp_postsas you choose.
Before we get to the ritual of the potion making, you'll need an incantation (step 4 in the instructions I'm about to give you). I choose simple incantations. Seriously, my last one was: "Venus, Mint, Wine and Rose. Bring me a Taurus as the full moon grows.wp_postsBut they can be poetic or long! Do some personal research on incantations to choose what's right for you, and don't be afraid to write something like "Guide my heart to gold from cinder, let me find a date on Tinder."
Choose which moon phases is best to create your potion. New love is often associated with a waxing moon or waning moon. Complex potions can take several weeks to complete – for example, some witches charge herbs under the light of a full moon and then wait until the Friday of a waxing moon to perform the ritual. Patience is a part of the potion. Even if you don't choose to charge your herbs and wait, I would suggest creating your potion on a Friday (ruled by Venus), during a New Moon (for new relationships), or during a Waxing Moon (for attracting love).
As you are creating the potion, visualize and focus on what it is you desire. Is there a specific person whose attention you want to attract? Imagine yourself with them in an ideal relationship setting. See yourself having an amazing coffee date with the sexy and mysterious dog-walker in flannel, or see your Tinder screen pop up with the match you've always waited for. Imagine your goal, and visualize yourself within it, focusing on surrounding the space around you with an aura of love that vibrates energetically from your heart. Meditate in this visualization and imagine your heart as a magnet that can draw what it desires towards you. It also helps to light candles – red or pink.
Make your potion – add your base (tea, wine, grapefruit juice) and other elements. As you are making your potion, continue to focus your energy on magnetizing yourself and your space.
One the potion is complete, place it in a sealable jar. Recite your incantation while you gently shake the jar and mix the ingredients.
Place the jar under the light of the moon as you sleep. The next morning, drink some of your potion. Feel free to keep it fresh in the refrigerator and use it continually within the week that you made it. And while you're at it, maybe schedule a date within that week.
---
My Favorite Witch
Ever since I was little I've loved the idea of being a witch. Witches just seemed so cool. They had great wardrobes, awesome powers, cool pets and they got to be a part of a special club of other witches. Being assigned male at birth I also felt like it was something out of reach for me. Witches were girls and women, they had a connection to the earth and moon that was entirely because of their bodies. And I didn't have a body like theirs, I never would. Neil Gaiman's Sandman is a perfect example of this. While the cis women get to us a witch's spell to go off on a grand adventure into Dream, Wanda, the first trans woman I ever read in a comic has to stay home "because that stuff they did with the, uh, moon, that was a woman thing."
Prill, from Ariel Ries' webcomic Witchy was, I think, the first witch I saw who broke that rule. She's a trans girl who's not afraid to stand up to people who try to tell her she isn't the girl she knows she is. When an official tells her that she can't be put on the girl's list for conscription because of her "official documentation" she doesn't bat an eye in defending herself. She interrupts the officials "I don't mean to be rude, but…" with "Oh you're definitely being rude. I don't give a shit what my documents say. I'm a woman and I will see a female medmage." It was like she was shutting down every story and every person I had ever seen say that a woman like me couldn't be a witch. It was great.
She wasn't just any trans witch, though, she's a queer woman of color and she totally fits right in with my favorite type of character- ambitious, mean and bossy femmes who secretly have a huge heart. She's Mellie Grant, Santana Lopez or Lauren Cooper but trans and a witch. It's like Ariel Ries took a list of my favorite character traits and put them all together into this one, wonderful person.
Now, the system of magic in Witchy is different (on twitter Ries describes it as an "Asian fantasy comic with hair powered magic"), but Ries didn't have to let trans women be witches. She could've called all male assigned at birth people with magic Wizards or Warlocks or something else. She could've been transmisogynistic (but she's a cool person and wouldn't do that). She could've just not included any trans characters at all. I know that I've written about Witchy before, but it's honestly my favorite webcomic and it deserves all the praise I could ever give it.
---
Practice of the Week
by Rachel
Today we're here to talk about sigils, the making of which is a practice that I find fulfilling and creatively engaging! Technically, a sigil is just a symbol, which can mean a few different things. In medieval ceremonial magic traditions, a sigil was a symbol that represented an angel or demon, and could be used to summon them — think of it almost like the signature symbol pressed into a wax seal that important people might use to sign/seal documents. (The emphasis on the symbolic might be related to low literacy rates at the time — people who couldn't read or write could still memorize and recognize a single symbol.) In modern times, it's also linked to "chaos magic," and was popularized by Austin Osman Spare. (Sigils and markings like them may also be used in many other magic traditions, sometimes in different contexts, like veve in vodou.)
Basically, the (modern) idea is that one takes a statement of intent or a statement that describes something you wish to be true, and transforms that statement into an abstract symbol that will now come to represent that idea to you and in any magical practice you want to use it for. Usually the statement is phrased in the present tense, kind of like an affirmation if you're familiar with those, to emphasize that you're making your statement true in the present reality. I like this practice because even aside from whatever magical power you believe it does or does not have, it's a really great way to create a ritual around setting intent and articulating to yourself what you want. It's meaningful to do the work of figuring out exactly what your intent is (do I mean "I get my work done on time" or do I really mean "I am motivated and passionate about my work?") and then spending time and energy really focusing on that intent. Even if you don't believe in ~sigil magic~, making that kind of intentional time and being left with a physical object that symbolizes it can be powerful.
There are a lot of different approaches to doing this! One, based a bit more in older magic traditions, relies on using a "magic square" or kamea, which represents magical properties in a mathematically developed square. To use this method, you'd convert your statement to a string of numbers (a way to do this is explained in that link!) and then "connect the dots" of the numbers in order on a magic square that represents properties matching up with your intent, and the resulting pattern the lines make would be your sigil.
Another method, perhaps more popular in the present day because it requires fewer moving parts, is to create a sigil based on the letters of your intent. This can be done with any language or written alphabet. I'll walk through doing that here! The statement of intent I'll be working with is "I remember to DVR Broad City," which I put in the present tense to emphasize that I want it to begin happening immediately in the present.

Most people who use this method won't use every single letter of their original statement, because that's a lot of letters. Popular ways of narrowing down the letters include crossing out the vowels and/or crossing out any repeating letters; you can take out every instance of a letter that repeats, or just every repeating instance after the first one. You'll likely be left with a handful of letters — in my case, it was just the letters V, C and Y.

Some people use these letters wholesale, and begin to layer them together or draw them interlocking to create a sigil, which is great if that works for you. Other people, myself included, prefer to break the letters down into component parts and use those instead. With the Roman alphabet, pretty much all the letters ultimately come down to longer lines, shorter lines, larger curves and smaller curves. Which is a pretty good foundation to make an abstract design from!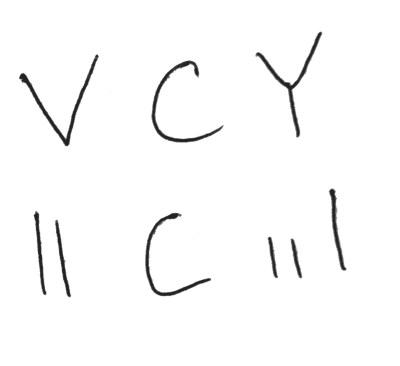 Now you have the building blocks of your letters (and sigil), you can start experimenting with different ways to combine them. You don't necessarily need to use every single symbol or even every single letter, but I had very few letters to work with, so I did. You can experiment with exaggerating the size or shape of lines to see how the look changes.
Once you have a basic shape you like, you can try drawing it in different ways or different styles. If there are lines or corners that look awkward or weird to you because they were borrowed closely from the original shape, you can always change them — it doesn't need to look like the original letters or symbols that you used, it should just look like something that you connect with. You can also add any flourishes or aesthetic details that you like — dots seem popular.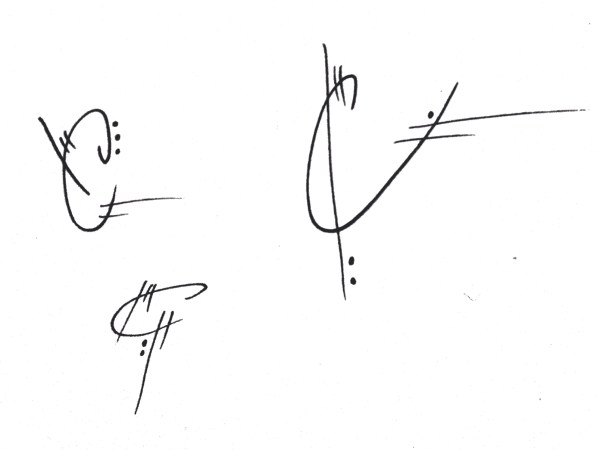 When you've settled upon a final design you like, congrats! You have a sigil! Now what do you do with it? There are a lot of options. Virtually every school of thought agrees that you should "charge" your sigil to activate it, like charging your phone before you can use it. There are as many ways to do this as there are people — you can leave it in the sunlight or moonlight, light a candle on top of it, visualize energy flowing from yourself or from another source into the sigil, or even just burn the paper that the sigil is on. After your sigil is charged, there's also a lot of options. Some people's approach to sigils says that the best way for it to work is for you to forget about it, so that the sigil works to bring the statement about subconsciously; people who believe that generally destroy the physical sigils entirely. Some like to integrate the sigil in a way that corresponds to its meaning (for instance, maybe I would tape my Broad City sigil to the back of my TV remote), or leave it somewhere semi-public like on their apartment wall, so that it's also "charged" every time someone looks at it or interacts with it. Sigils can be incorporated into jewelry, art, sewn into clothing, drawn onto your body, or even tattooed. If you already use other magical practices or objects, like Cecelia's Feeling Myself potion, you could incorporate sigils to strengthen them — for instance, Cecelia could write a sigil for power or beauty on the label of her potion to enhance the potion's power, or draw a sigil onto herself with the potion on her fingertip.
As with many things, once you've got the basic concept down, so much of this practice is up to you! You don't even need to go through the entire process of creating a specific sentence or breaking down letters; if you want to create a sigil more intuitively, go for it. You can adjust it as you see fit; if you're wondering "could i try [thing]" or "would it work to [thing]," the answer is probably yes. Happy witching!