Welcome to This Is How We Do It, a series wherein we'll be discussing projects both inside the home and out and explaining, you know, how we do it.
---
This is a gentle reminder that we are not doctors or medical professionals! If you are in need of medical attention you should consult your physician! Because we are not doctors!
A couple of weeks back, Rachel shared a great post on how to dry herbs, so as to preserve them for winter use. You can use your dried (or fresh) herbs to make teas, vinegars, salves, and also medicinal tinctures!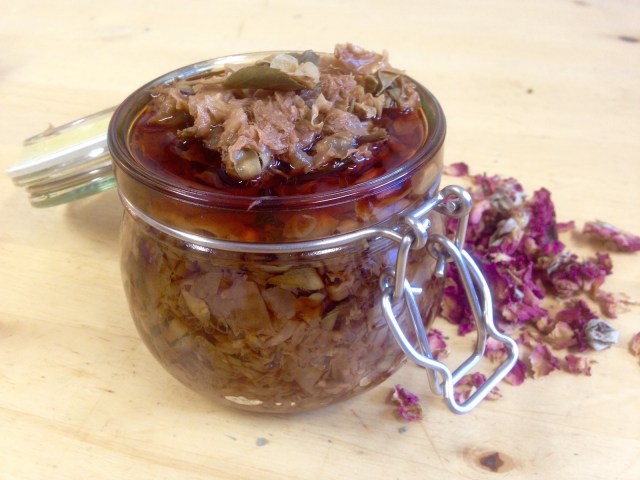 An herbal tincture is simply a liquid plant extract, usually made using water, alcohol, or both (though vinegar and glycerine are also sometimes used). During the process, the herb's useful constituents dissolve in the liquid, and you are left with a strong extract which can be taken as medicine.
Tinctures are easy to take, either by the spoonful or by mixing into juice or water. They are fast-acting, as their liquid form means they are easily absorbed into the bloodstream. They are also easy to store and last for a long time! So, besides tea (because quite truthfully I don't feel like a whole complete human being without a cuppa in my hand) tinctures are my favourite way to take herbs as medicine.
Before I go on, I just want to state the obvious. Herbs are potent and should be respected. Many herbs interact with conventional medications, others can affect a pregnancy, still others have different side effects. This tutorial is an overview of how to make herbal tinctures, but in terms of the specific plants you may choose to work with, be sure to do your own research first. I've included some resources at the end of this post to help you with that. I'm not a herbalist, this is simply how I make remedies for myself and friends, so if you have a different way of doing this, please add your tips in the comments!
---
You will need:
Herbs
Fresh herbs can be picked from your garden, the hedgerow or wherever they grow, and gently washed. You may be using leaves, flowers, stalks or roots, depending on the kind of tincture you plan to make.
Dried herbs can be bought from a health food store, a herbalist, or online. Or you can dry your own herbs as Rachel explained in her tutorial! Again, you may be using any part of the plant. Rachel mentioned harvesting echinacea root in her article, and I'm using dried dandelion root and leaf together in the tincture I'm about to make.
---
Vodka (or other spirit)
Vodka is used because it doesn't have a taste/scent of its own, but you may want to experiment with other spirits. For example, I made a lovely winter tonic last year using brandy, which just made it all the more pleasant and warming to take.
Look for stronger spirits, as you'll get a better plant extract by using higher concentration of alcohol. If possible, use export strength vodka, which will be above 40% abv (I think in the US you would call that 80 proof) – though I make most of mine with regular supermarket spirits.
---
Jars
No need to get fancy here; clean old jam jars will do, though it does feel so much more like you're running your own little apothecary if you use those nice Kilner or mason-style jars. The size of jar you use depends on the amount of herb you have, and/or how much tincture you plan to make.
---
How to make your tincture:
Prepare your herbs by separating the parts you want to use, and finely chopping them the way you would culinary herbs. You can use a hand blender for this, or just chop them with a knife. Some plants won't need chopping; for example, for the mugwort flowers I gathered simply brushed off the stems. With dried rosemary on the other hand, the tough, needle-like leaves will drop from the branches easily, but it's good to chop them up to help the extraction process.
Fill a jar with your herb, packing it in tightly, then cover with vodka. Be sure to fill right up to the top so there is as little air in your jar as possible. Fasten the lid tightly, give it a shake, and place in a dark place.
Every day, give your jar a little shake!
Your tincture will be ready in 2-4 weeks. I normally leave mine for a full 4 weeks.
Once it's ready, you'll need to strain off the liquid. The best way is to use a sieve and a piece of muslin, as this way, you'll be able to squeeze out as much liquid as possible and filter out all the bits. Pouring through a coffee filter is also a good way to get a nice smooth tincture.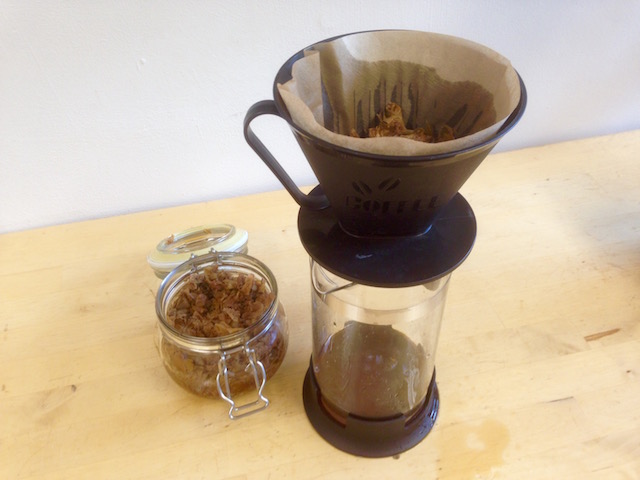 You can bottle up your finished tincture in pretty dropper bottles if you're feeling fancy or making a gift (I use these from Baldwins in London) or simply return to the jar and store in the fridge or a dark, cool cupboard. Don't forget to label your tincture with the name and date! Depending on the herbs used and the alcohol content you've ended up with (which will differ from herb to herb), your tincture should be good for three years.
---
Herbal medicine resources:
+ My favourite book is Hedgerow Medicine by Julie Bruton Seal and Matthew Seal. It's full of accessible information about some of the most common British herbs.
+ Worts + Cunning Apothecary  – check out queer herbalist Alexis J Cunningfolk's wonderful ebook of winter remedies.
+ Susun Weed's newsletter is full of helpful information about herbal medicine.