Welcome to the first ever installment of the brand new monthly Autostraddle witch roundup: Witch Hunt!
Witch Hunt is a magical mix of witch information, history, pop culture, community and instructional material. There will be regular features like these brilliant illustrations by Molly Ostertag (who you might recognize from her work on Strong Female Protagonist); Cecelia's instructions on DIY Potions; Words with Witches, where Rachel will bring you a brand new term or phrase related to witchcraft each month; a different Autostraddle staff member talking about their favorite pop culture witch each month; and so much more. There will also be other features that will pop up here and there, but will probably be a little less than monthly.
I've always been kind of a weird person, but when I came out, I really felt just how different I was. Society also would pretty regularly tell me that the things that make me different made me weak and made me bad. I ended up feeling depressed, self-loathing, weak and isolated. Being a witch made me feel the exact opposite way. It reminded me that there was a whole community of weirdos out there like me. People who were shunned, looked down on or even feared by society. People who embraced their own personalized version of womanhood that often flew in the face of what the world told them a woman was supposed to be. People who got strength from all of those things.
Becoming a witch has helped me to feel powerful, comfortable in my own skin and like I really found my place in the world, and I'm really hoping that Witch Hunt can help other people in that same way. But here's the thing! Witch Hunt isn't just for people who want to get serious about casting spells and making potions (although you're more than welcome), it's for any and everyone who wants to get strength from identifying with whatever being a witch means to them.
I'm so looking forward to getting deeper into the craft with all of you!
---
First, a playlist to set the mood.
Sea Hag Walking on the Beach at the End of Summer
https://play.spotify.com/user/autostraddle/playlist/60rmDJVZWxJCn9Sa80pxSN
---
Words With Witches
Ornithomancy (noun) refers to divination or reading omens through the actions of birds, whether via their flight patterns, their sounds and cries, or other activities. It's rooted in the Greek ornis (bird) and manteia (divination). In the Septuagint version of the Bible, the book of Leviticus warns, "Eat not on the mountains, nor shall ye employ auguries, nor divine by inspection of birds."
---
Witch/Craft
If you grew up Catholic (like I did), or you still are Catholic (like I sort of am) or you've seen Catholics on TV shows or movies than you've likely seen votive candles featuring images of Jesus, saints or the Virgin Mary. You may have even seen La Virgen candles specifically.
With votive magic, all you have to do is get a candle and put the image of someone who gives you inspiration or hope or power and then light it when you need that inspiration, hope or power. It's like when Catholics light a candle with an image of La Virgen or St. Jude or the Sacred Heart of Jesus on it to help in a time of need or to get through tough times. Or really, even to help during a job interview, with safe travel or to find a lost item. Except we're using queer and feminist icons who speak to us specifically. Or if La Virgen speaks to you (like she does to me) you can keep using candles with her on them (like I do).
This is really actually a pretty simple craft. You just need to print out an image of the person you want to put on your candle onto sticker paper and then buy a candle (you can buy them at your local dollar store, many grocery stores or online) and put the sticker on the candle. You can also add glitter or other decorations if you feel like they make your magic stronger. Autostraddle artists Cameron Glavin, Rory Midhani and Anna Bongiovanni have made an amazing batch of stickers (they're sized just right in this document) that you can use. We've got Selena, Janet Mock, Tegan and Sara, Beyoncé, Nicki Minaj, Kate Bush, Angela Davis and more! These candle stickers are pretty freaking incredible. Of course, if you had someone else in mind, you can just find a picture online and print it onto sticker paper and make whatever candle your witchy heart desires.
---
Witches Who Sing
---
Wheel of the Year
The 'wheel of the year' is a cyclical calendar which marks eight festivals (or 'sabbats') at equidistant points throughout the year. Most of us are familiar with the summer and winter solstices, for example — these are the two biggest festivals on the calendar. The first is the longest day, the second is the shortest. Then there are the spring and autumn equinoxes — mid-way between the solstices, when the days and nights are of equal length. Then, in between each of those, are four more sabbats, each with their own distinct seasonal energy, ideas and traditions.
I started to observe the wheel of the year a few years ago. I don't go all out, I simply use the eight points on the wheel as reminders to check in with what's happening seasonally — what's happening in the earth, in the trees, in the air — and to notice how this shifting energy in nature is reflected within myself. I also assign four elements — and thus four areas of my life — to the four quarters of the year, again observing the way I feel these elements shifting within me.
You can download a poster with more information about those elements here!
I'm going to talk us through the wheel of the year in Witch Hunt, with an overview of what each festival is about, and ways you might choose to observe or celebrate. I'm not a Pagan or a Wiccan (two religions in which the wheel of the year is particularly important), and I will be talking about these festivals from a personal perspective, as a white British woman, and as a tarot reader. This isn't a crash course in ancient Celtic traditions or a Pagan 101; I simply want to show you how to to check in with nature and yourself in this way, and observe the cycles of changed that happen around and within you.
Here are the eight sabbats on the wheel of the year, along with the date and the corresponding element/s and some traditional associations. The next will be the Autumn Equinox on 21st September (look out for that in the next Witch Hunt!)
Samhain: 1st November – water/earth – a festival of death and ancestry, preparing for the darkness of winter
Midwinter Solstice: 21st December – earth – the longest night
Imbolc: 1st February – earth/air – first signs of spring, welcoming new life
Spring Equinox: 21st March – air – spring cleaning, planting seeds
Beltane: 1st May – air/fire – May day, feasting, flowers and fertility
Midsummer Solstice: 21st June – fire – the longest day
Lughnasadh: 1st August – fire/water – harvest season, abundance
Autumn Equinox: 21st September – water – gratitude, and goodbye to the summer
---
DIY Potions
Witches have used essential oils to anoint their bodies and magical objects for centuries. As a queer witch in 2015, I use oils for the same reason — to charge ritual spaces with magic — but my ritual spaces happen to be very different from the ritual spaces of witches from past eras.
I feel powerful, chosen and anointed when I'm dancing in a club surrounded by hundreds of gorgeous queer souls, for example. But I also feel powerful concocting potions in my safe space of a bedroom. You get to choose what you anoint with magic, and magic will help you more confidently inhabit your ritual space in return.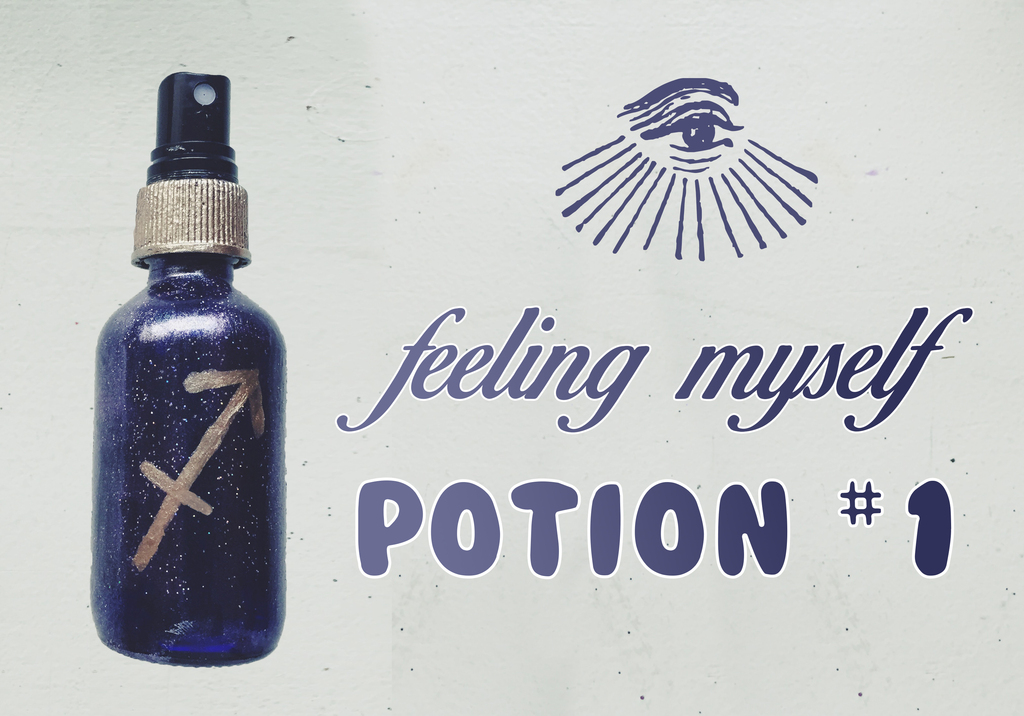 This "Feeling Myself" potion is used to bring out your best self, to boost confidence and make your presence magical to all those who surround you.
You will need
– A misting spray bottle (or any covered glass bottle)
– Essential oil(s) of your choosing
– Purified Water
Optional items that I used:
– An eye dropper for precision when mixing oils
– Quartz crystals
– Glitter
– Rose petals
– Nail polish
I chose a combination of Vetiver, Violet and Egyptian Musk oils for my potion. Vetiver is a love oil known specifically for attracting gay and queer pairings! This is especially helpful for femmes who may feel invisible in the club. Violet oil helps you realize your full potential and fills your space with a seductive and mysterious quality. Egyptian Musk oil is an aphrodisiac that brings out confidence and strength. Your "Feeling Myself" potion can include these oils or whichever aromas and qualities that make you feel most magical.
You can buy some essential oils at health food stores. If you live in a large city, there might be a magick or occult supply shop near you that carries all sorts of fun oils, crystals and maybe even ceramic dragon statues! Otherwise, the world wide web is your best bet for hard to find oils. If you're buying essential oils online, it will be hard to know what aromatic quality you're getting beforehand, so in that case focus instead on the magical properties of the oil. Listen to your intuition when researching – your oil might choose you.
I am pretty sensitive to scent, so I put two drops of Egyptian Musk, two drops of Vetiver and one drop of Violet oil in my bottle. When I spray it, the scent is refreshing but not overwhelming, and it lingers very faintly. You will want to test your oils before bottling them to figure out what combination and strength is right for you. Misting sprays require much less oil than anointing bottles.
Include anything else in your potion that feels right for you. I added glitter, rose petals and quartz crystals in my potion because those elements really symbolize the energy I'm seeking when I feel like my best self. The last step is to decorate your bottle. Cheap nail polish takes beautifully to glass bottles if you're looking for a craft that would make your seventh grade self swoon.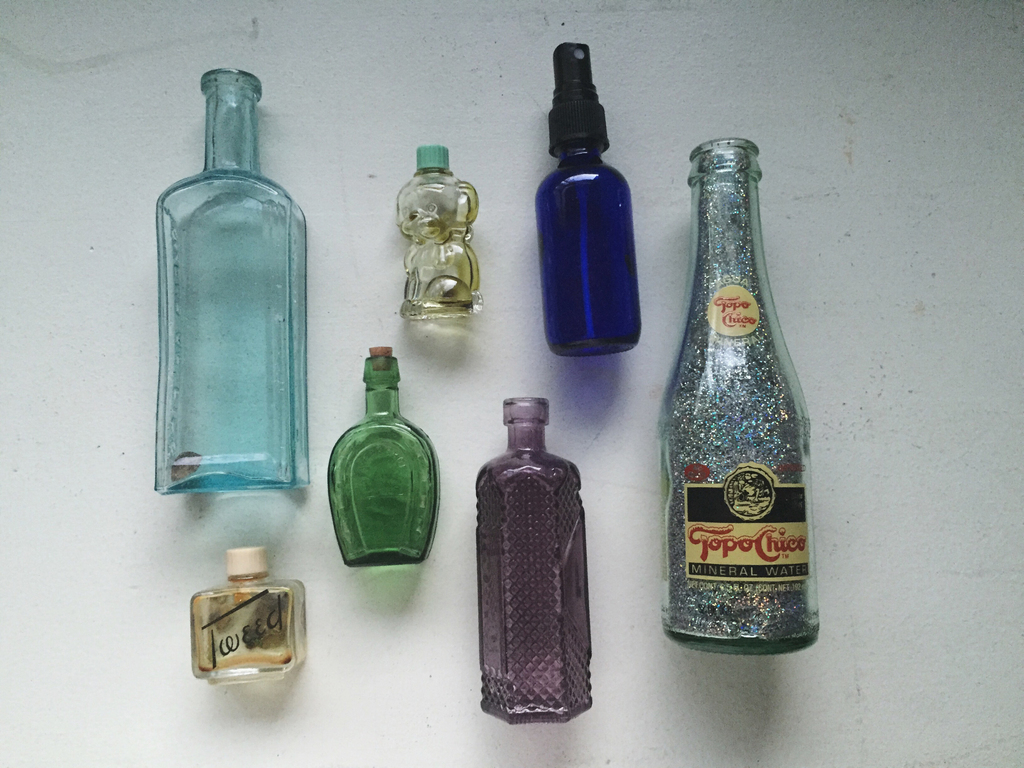 ---
My Favorite Witch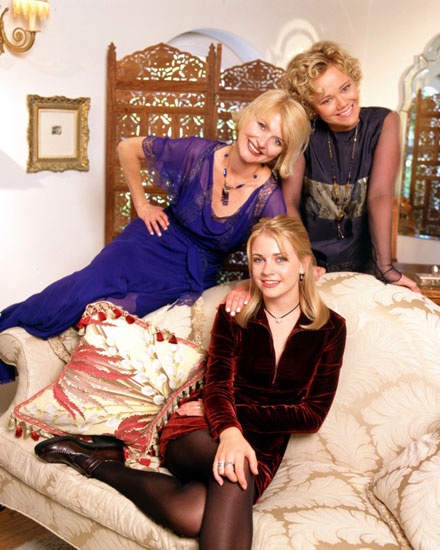 Television in the '90s was absolutely chock full of witches. While I certainly harbored serious love for Willow in Buffy, my first big witch love was Sabrina, The Teenage Witch. I had developed a ridiculous crush on Melissa Joan Hart during her time Clarissa Explains It All, so I pretty much immediately became obsessed with Sabrina, something that probably should have been an early clue about sexuality and gender identity. Also, who wouldn't want a talking cat with megalomaniacal tendencies and to have Caroline Rhea as their aunt?
But, more than just a character played by my first celebrity crush, Sabrina was about trying to survive as a "weird" person amongst relatively "normal" folks. Sabrina was pretty enough to be a typical popular girl, but between her quirky personality and tendency to wreak havoc with poorly planned spells, she was always a bit of an outsider trying really hard to blend in. The difficulties she encounters are almost always self-made, usually the result of trying too hard, which was pretty much the entire story of my adolescence. I think the ultimate lesson we learned from her is that, even with magic powers, being a teenage girl can still be pretty terrible. Oh, and messing with time is a really bad idea.
---
Practice of the Month
Now, we're going to leave you with a Practice of the Month, something simple that one of us does and loves doing that we'd like to share with you so that you can do it too! This month, I'm going to be telling you about a simple spell that ties in perfectly with our Witch/Craft. After you've made your candle, you might be wondering what to do with it. Obviously, you can just light it and leave it at that, but if you want a more focused spell, you can do what I often do.
This is a really simple spell, and a really easily customizable one. When I use Votive Candle, I pick out the candle most suited to my needs, maybe it's a green candle with Nicki Minaj on it for a money spell (50k for a verse no album out), Beyoncé if I need help feeling flawless, or La Virgen if I need some serious help. Then I light the candle and focus on it and on my intentions. I might write a simple spell — sometimes it'll rhyme, sometimes it won't — it just needs to be a simple, easily repeatable phrase that gets to the middle of what you're hoping to accomplish with your spell. Don't be afraid if you think it sounds a little goofy, that's totally fine! For example, if I'm doing a confidence spell, I might say something like "Queen Bey, Queen Bey, Help me love me," and repeat it three times while concentrating on the candle. Then, when you're done, snuff out the candle or let it burn out. If you blow it out, that can be seen as favoring the element of air over that of fire. The only exception is if you're sending the spell to someone else, then you could blow it out as a part of the spell to put it on the wind, so to speak.
---
That's it for the first ever installment of Witch Hunt! Happy witching and I'll see you next time!