GAGA:
Think fast: do you want to be Jo Calderone for Halloween -or- the freshly debuted "Lady Gaga Sans Makeup" version? Gaga is Harper's Bazaar's October covergirl and shocks the masses by supposedly appearing au natural. I find it hard to believe there isn't even a little foundation or natural coverage happening here, but sure, let's play along.
"There's this idea that it's all natural, but everything's been staged to look natural. It is also an invention. It's just that my inventions are different. I often get asked about my artifice, but isn't fashion based on the idea that we can create a fantasy?"
She also elaborates on how she keeps her tight bod:
"I do yoga, I do Bikram and I run, and I eat really healthy. You know, my work sort of feeds me. I keep in shape by working hard."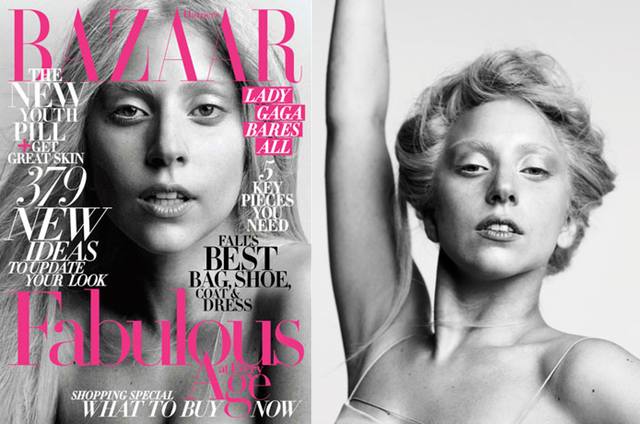 BETTE & TINA:
Well, actually just Tina this time around. Laurel Holloman is officially divorcing her husband of nine years. with whom she has two daughters. One you witnessed gestating over Season Two and one was adopted during season six. They have been separated for over a year, as she mentioned in her Autostraddle interview last year.
ROSIE:
We're all aware that Rosie debuts new talk show on the Oprah Winfrey Network October 11, yes? If not, you ought to season pass that right now. She opens up about her divorce from Kelli in a new O Magazine interview saying it was "humbling and humiliating… In the O'Donnell family, no one had ever been divorced."
On their differences, she adds:
"She wanted to play tennis at the country club, and I don't do country clubs. I tried. They made an exception for a gay family, and we joined. It was a big thing: 'They let in a gay family – whoo!' So I show up to play with her, and somebody comes out and says, 'You can't play unless you have tennis whites.' "
Hey, did anyone watch her dressing room vlogs from The View era ? Moment of silence for JaHeRo.
HEATHER MORRIS:
In a truly bizarre photoshoot, our very own Brittany S. Pierce poses with a fake black eye for artistic reasons I'm not quite sure of. Naturally the internet freaked out upon viewing these photos, claiming it glamorizes domestic abuse, so photographer Tyler Shields had to defend his creative vision. Hot or not?
"In no way were we promoting domestic violence. We wanted to do a bruised-up Barbie shoot and that's exactly what we did!"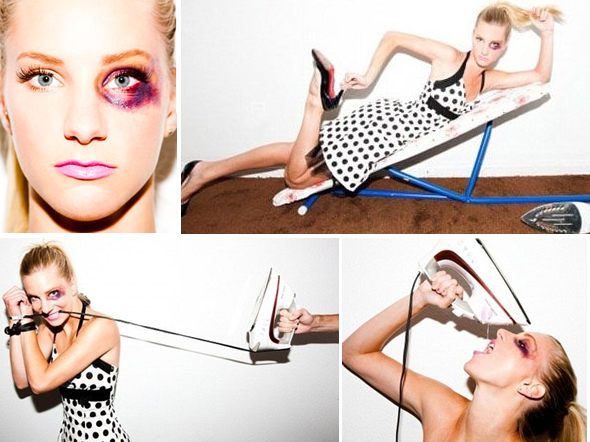 Sidenote, this is the same man who turned Lindsay Lohan into a vampire. Season 3 premieres in two weeks (!) so get psyched with this behind-the-scenes shoot.
AB FAB:
The BBC announced last week that Absolutely Fabulous will return to television with three brand new specials (Christmas included), airing in the US on BBC America and Logo. AbFab originally ran from 1992 to 1995, but Jennifer Saunders, lead actress and creator, has occasionally revived the series, the most recent season being shown in 2003.
REAL WORLD SAN DIEGO:
After several homo-free seasons, there is finally a cute tomboy lesbian (Sam) cast for the new San Diego season premiering September 28th. Although I am getting older and these kids keep getting younger, it still amazes me how willing I am to give this show a chance each year. What was your fave Real World season? Genesis from Real World Boston was the first cute lesbian I ever saw on TV so this series sort of changed my life.
[yframe url='https://www.youtube.com/watch?v=WiWLVE6wJSg']