While gallivanting about Manchester two weeks ago (a fabulous experience which I will detail in full at some point in the next few weeks), I kept hearing things about Coronation Street. Coronation Street, I now know (having obviously watched the documentary and read its entire wikipedia page), is a soap opera set in a fictional town called Weatherfield (according to Wikipedia) and filmed in Manchester (which is where I thought it also took place). Its first episode aired on December 9, 1960, making it the longest-running soap opera in the entire universe.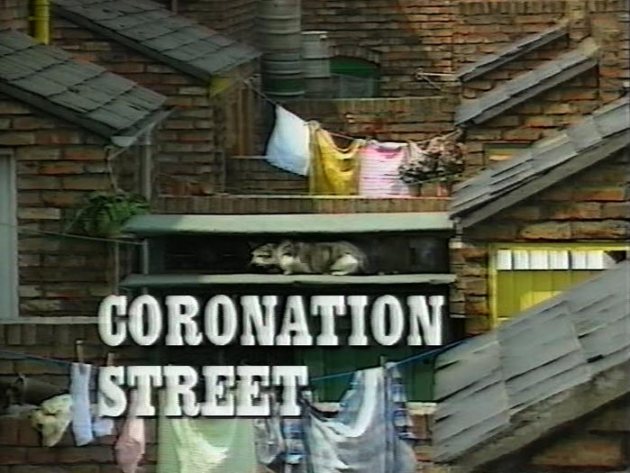 I was aware Coronation Street featured a lesbian storyline, as news about the show frequently pops up on the dozen or so read-throughs of relevant queer news I conduct daily. However, because I am busy and because it's a soap opera, I never looked into it. My experiences with soap operas are limited to the teevees in various waiting rooms inevitably tuned in to As the World Guides my Light and All My Children or whatnot.
But, because I was abroad and couldn't figure out the television in my hotel room and Sophie & Sian were going to be in The Pride Parade, I turned to the internet to provide my background noise and nightly lullaby. I turned to Sophie & Sian.
Conveniently, their entire storyline — including storylines of characters preferably involved in their respective worlds — are available on YouTube with all the other parts of the show cut out. I watched up to January 2011 on SophieSianFan's channel and from January up to the present on SophieSianTube.
I don't want to say too much because I don't want to ruin anything for you, as I expect if you've not already seen it, you'll dutifully watch it after you read this. Furthermore, as I've seen not one minute of this show aside from Sophie/Sian '09-'11 and the documentary 40 Years of Coronation Street, all my feelings are best qualified as "my vague impression of who these people are" rather than "actual facts about who these people are." You know how we do in America. Ignorant, etc.
So, briefly — the story belongs to Sophie Webster, an absent-minded, mouthy and amusing 16-year old who looks cute in a puffy coat and stores wells of emotional neediness beneath an alternately defensive or gullible exterior. She's self-sufficient, if often naive, and she's smart too, but not book-smart. It's easy to relate to Sophie — her fumbling adolescence, while obviously overdramatic, rings true and feels honest. Apparently Sophie was born in 1994 and was played by two other actresses before Brooke Vincent took the role at the age of ten, but obviously I didn't watch back that far.
Sophie lives with her insufferable self-involved parents, Sally Webster and Kevin Webster, who spend all of 2011 having the same excruciating argument over and over again. To be fair, Kevin seemed tolerable enough for the first year or whatever, like a high-strung, slightly-more-reckless version of Burt Hummel, but Sally got my goat from the get-go. If Roseanne's Mom, Patty Chase and Maxine Fortenberry had a book club or a Wiccan Circle of Evil, Sally Webster would be the fourth member. Oh also at some point Sally gets cancer. Womp WOMP.
Sophie's other housemate is her delightfully air-headed sister Rosie Webster. Rosie is an ambrosia salad of personality, containing fruity layers of Hilary Banks from Fresh Prince topped off with Phoebe from Friends, minus ten years and plus a British accent and a giant rack.
Next up is Sian Powers, the best friend turned girlfriend. She's basically the drummer for Josie & The Pussycats but with more plaid and homosexuality. I remained petrified throughout that Sian would leave Sophie because sometimes Sophie was very little bratzie.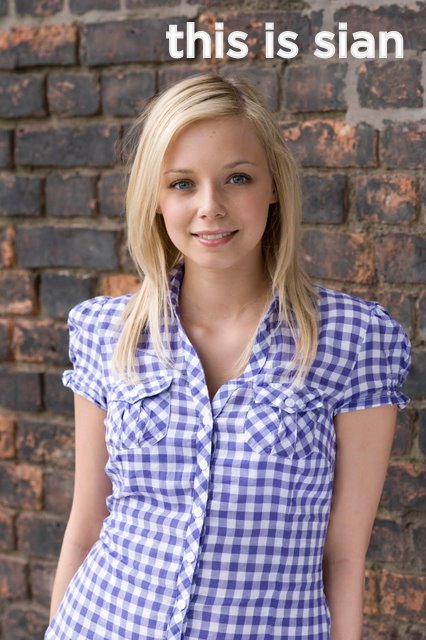 The lesbian storyline has been well-done and avoided several potential trope-holes. The chemistry between the two girls (who are best friends in real life) is abundant enough, but that's not the only reason. See, despite inconsistent levels of scripted girl-on-girl action, Sacha Parkinson (the actress who plays Sian) is fucking determined to SELL IT.
She's like a teenaged sex kitten with radar-eyes for Sophie, so even when they're talking about drywall, every muscle in Sian's body is in tune with Sophie's, like she's this madly specific secret coy sometimes-pouty master-flirt.  I think that's how Shane does it, she gives you the impression that she is paying such close attention to everything happening in your body — every breath/movement/hesitation/advance — that you inevitably end up giving yourself to her because how can you not. Under such circumstances. She's practically already inside you as it is. And everyone likes to be the center of someone else's attention.
My number one feeling about Coronation Street was the same feeling I've recently felt during Pretty Little Liars, Glee, Degrassi and Skins — jesus lord have mercy, the world is turning on its very axis, apparently these days lesbians can come out and not get killed in a 'car accident' or return to her ex-boyfriend two weeks later. Yes, shit happens, but not like the shit that used to happen.
They're just so sweet and normal-seeming (considering), right? They're so cute on the couch cuddling! This is the world we live in!
Every time I started to feel weird about watching a soap opera, there'd be a Jessie J song in the background, and then everything would suddenly feel like an L.O.V.E Song.
*I'm aware there are some unsavory spoilers regarding the future of Sophie & Sian. I hope you understand that I am too new to this to process such devastating information at this time.