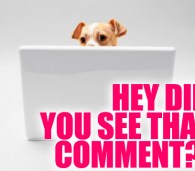 Hello! Intern Hot Laura's computer decided to die this week, so I'm filling in and doing the comment awards. Sometimes it appears like I do the comment awards like last week but that's really a lie, so. But here I am, for real! Anyways, let's take a look at what happened this week.
Sarah told us 6 things she loves about her HTC Droid Incredible, we chose 11 lesbian and bisexual reality TV stars we loved before The Real L Word ruined our lives, Nat Garcia modeled through episode 7 of Autonatic and Jess had your weekly music fix.
Then Rachel, Taylor, and Elizabeth gave you the top 11 hottest, gun-totingest women of Sci-fi , Riese recapped episode 105 of The Real L Word , and Becky gave you suggestions of what to wear when it's really f*cking hot .
In summary: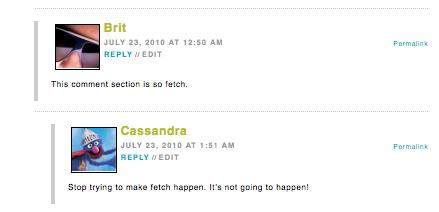 ---
On My HTC Droid Incredible: 6 Things I Absolutely Love:
The Google Is Scary Award to e: the google integration on my HTC scared me at first. i think my reaction went something like "big brother IS watching!!" and then my great great grandchildren calmly explained to me what was up.
On Open Thread, Open Relationships: 47% of Gay Men Do It, Do You?:
POWER OF THE CLAM ALL CAPS AWARD to giftedpurpose: See, every time i think of open/poly relationships i have visions of that True Life episode with the three gay boys who dated each other and all kinda looked alike. Did you see how that one gay boy pouted throughout the filming?! I don't ever want to potentially pout like that over/in a relationship.
However, I suppose I'd be singing a different tune if I'd harnessed the power of the clam and girls were just throwing themselves at me. viva la clam!
I Want 3 Sandwiches In My Mouth Award to Sally: I don't know if this post makes me want to have an open relationship with a cuddle sandwich, or an open sandwich with a cuddle relationship.
I am confused, and hungry.
On Before "The Real L Word" – 11 Lesbian & Bisexual Reality TV Stars We Love:
The Well, It Was No "Blue Crush" Award to kd15: When I first heard about curl girls I was really excited cause I thought it was about curling, but then I saw that it was about surfing and even the thought of girls in bikini's couldn't match my excitement for a reality show about curling.
On NSFW Sexy Sunday: Happy Strap-On Day, Lesbians!:
The Church of Autostraddle Award to a bunch of people: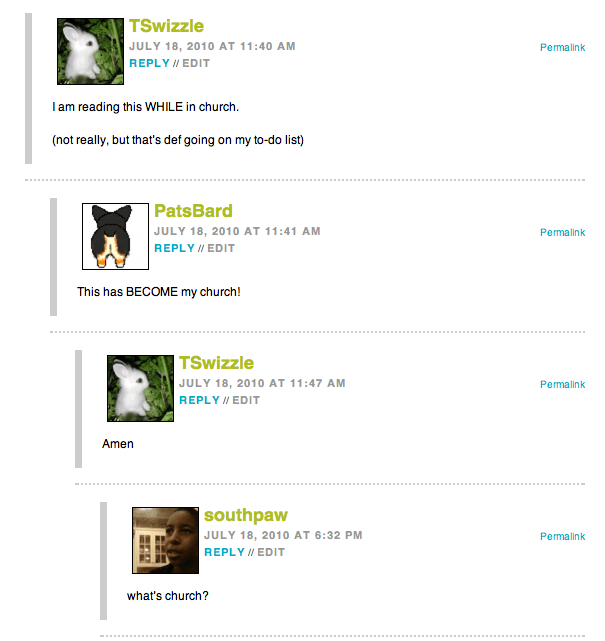 On Lady Gaga Will Protect Little Monsters From Homophobic 'Hate Addicts':
Dina Will Quit the Internet if This Doesn't Get a Comment Award to Sasha Farce: I think James Franco may end up one day on my Exceptions: Men I'd Potentially Sleep With list, and I think that is directly related to the gayer he becomes. If he eventually turned out to be gay and announced it openly, I would literally race to find him with both joy and my pants around my ankles.
On Policing Female Masculinity: Much Ado About Rachel Maddow's Yearbook Photo:
The Award for Truth to Midgey: I'm glad you mentioned Perez in this, I think he's the biggest offender because he claims to be for the same things the gay community is for, and I think that's the biggest gay lie ever. Just because he's gay doesn't mean he's aloud to say homophobic things and get away with it. I stopped reading his junk when I saw him referring to Samantha Ronson as SaMAN.
Rachel Maddow and Samantha Ronson are two strong hot women who happen to be the opposite of what society has brainwashed us to believe is normal and proper for us ladies. And I thank God that they are, because that's visibility and the David Vitters of the world gonna have to fucking get used to it.
On DADT Repeal: We're Still Unsure What the F*ck is Happening:
The Tasha and Alice Forever Award to e: this military shit has me so confused, so i think i'll just re-watch season 5 of the l word. thats the same thing, right?
On Top 11 Hottest, Gun-Totingest Women of Sci-Fi:
The Is It Made of Gold? Award to Kristen: No Leia? WTF. Critical oversight and sci-fi fandom fail. She kicked ass in a gold bikini… a GOLD BIKINI made of GOLD.
On Wanna Write For Us? The Emotional Rewards Are Endless!:
The Once We Wrote An Entire Article About Cookies Award to KayDee, and Alice:

On The Real L Word #105 Recap: Free Pass (To Do What I Want):
The Awww Award to Sally, and wasteunit: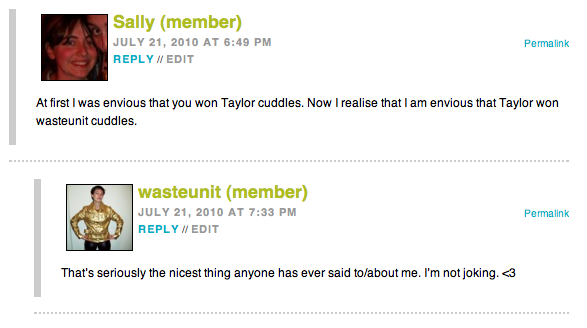 On In Which We Put a Moratorium on Lindsay Lohan Posts:
The Do You Even Go To This School? Award to everyone:

+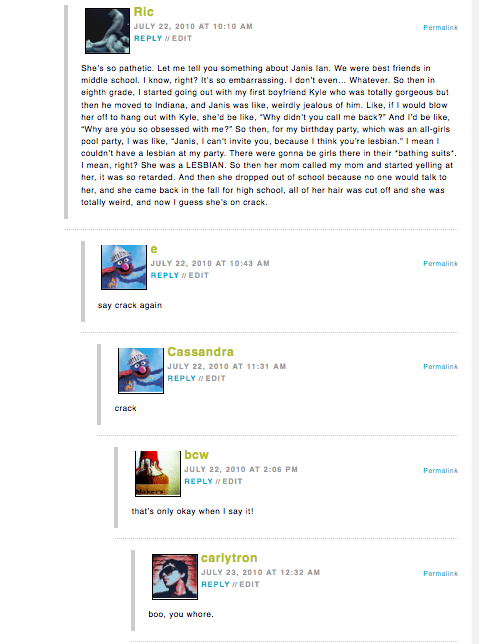 On Where Does the Good Go: A Break Up Open Thread:
The Transformers Award to DC: my ex demanded my PS3 back when we broke up. cos she bought it for me in order to stop my insomniac ass from leaving her in the post-fuck-pre-breakfast stages of the night. she doesn't even like playstation, "its for retards" (direct quote). anywho, i gave it back. but not before i dismantled it and made it into an angry robot. not the most expensive robot ever crafted but still a hell of a lot more spendy than the one i made from macaroni elbows. now all that i can think is that i really want my fucken robot back.