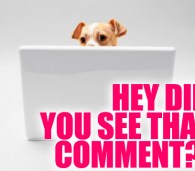 Good morning/afternoon/evening little homo squirrel animals. I have strong feelings of affection for you and I'm not even drunk this week.
Did you come out to anyone on National Coming Out Day?
IS YOUR PMS CAUSING YOU TO HAVE A MURDEROUS RAGE MAYBE YOU SHOULD STICK A MOONCUP IN YOUR VAGINA
Or maybe you should watch the preview for In Your Box Office SEASON 2! Or you could listen to some new albums Crystal has so kindly recommended. They'll probably make you feel better.
---
On OPEN THREAD: Fall Video Games, Spike Your Cider and Ready Your Thumbs:
The Pretty Girls Are Relevant To My Interests Award to kate.:
I'm gonna be honest… I only clicked on the link to see the hot girl in her panties. I quickly lose interest in any console postdating the Super Nintendo, but pretty girls are always relevant.
On NSFW Lesbosexy Sunday: A Retrospective of Lesbian Turn-Ons, Sexy Tumblrs, Las Vegas and Your Mom:
The AWESOME/SEXY Award to owls:
The guitar video makes me think that, in addition to Autostraddle's patented concept of "terrible/AWESOME," there exists an analogous category of "ridiculous/SEXXY." Somehow the all-caps sides tend to win out in the end.
On Advice for Homogays from Homogays: Solo Edition:
The Laneia Gives This Comment A 9.2 Award to Miranda Loren: Transatlantic Hamsters sounds like the name of a electro/chillwave band. I feel like Pitchfork would call their debut album "dreamy and dark" and would rate it an 8.6. Their sophomore attempt would probably be overproduced and not nearly as charming, garnering a mere 5.4. In conclusion, you and your transatlantic girlfriend should start said band.
On National Coming Out Day OPEN THREAD: The Good, The Funny, The Awkward:
The Matching Ties Award to wasteunit:
One time my boss's boss's male boss asked me on a date. Saying no seemed like a bad idea for my future employment status, so I blurted out "sure…?" He picked me up, and we complemented each other on our tie choices. He asked, "You aren't at all, umm, attracted to me, are you?" I told him that I wasn't. We ended up having a fabulous time.
Emily Choo interrupts your regular scheduled programming to bring you a short story told via email that I think deserves a comment award despite it not actually being a comment on Autostraddle. I think you might appreciate it.
I just saw someone I knew whilst walking down the street, they asked me how I was, I attempted to say both "I'm good" and "I'm okay" in response and somehow combined the two to say "I'm gay". I think I just accidentally came out to a vague acquaintance.
On Liz Feldman Returns With New Episodes of "This Just Out":
The Random Award to Lou:
The lesbian phone/internet tree has been in overdrive today about this, apparently we're all delira about the return of the blue blaze! A friend of mine even somehow managed to get me a gay sword for my birthday from eBay or somewhere, let me tell you drunk people do not seem to appreciate being hit with a rainbow Mickey Mouse sword while someone shouts "And your so gay, and your so gay!" on a night out, who knew!
On Padmapper: Apartment Hunt Like A Pro #tipsandtricks:
The Taco Truck Award to TSwizzle:
I need something like this but for places you can get a kebab at 2am.
Get on that internets.
On Period 101: Toxic Shock Station Stomps Out the Tampon Industrial Complex:
The And I Want To Run Away To The Forest To Be A Buddhist Monk Award to claireskies:
You guys. When I was 12 I read My Side Of The Mountain and I was SO INSPIRED to run away and live in the woods forever. The only catch was that I didn't know WHAT THE FUCK I WAS GONNA DO ABOUT BLEEDING EVERY MONTH. Like, I was so distraught. THESE CUPS HAVE SOLVED ALL MY PROBLEMS! I'm going to live in a forest now. Kbye.
On Adam Lambert Too Gay To Function In Malaysia:
The Advancement of the Radical Homosexual Agenda Award to diver:
I'm deeply offended by Adam's friendly, nice comments, and hope he prances onstage naked and plows several members of the Pan Malaysian Islamic Party so the LGBT rights movement can progress.
On Listicle Without Commentary: Statements (NOT QUESTIONS) Left for Riese and Laneia on Formspring:
The Wait, What Was I Talking About? Award to madden:
i had a lot of feelings about this list, but after reading these comments i've forgotten everything i thought 2 minutes ago, and can only think an M&M and OREO blizzard.
On Remember When Brittany and Santana Were Making Out on Glee Episode 204 "Duets"?:
The Bureau of Land Management Award to Liz, k j, Vikki, TSwizzle:

On Pop Rocks! (In Which I Give 8 Popular Albums a Listen, Share my Feelings):
The Casual Fan Award to annabelle:
I saw Megan Washington live about a month ago for the fourth time and she was ah-may-zing.
I also asked one of the sound guys for her half full water bottle from the stage afterwards.
It stills sits on my desk and I would not rule out preserveing it in resin. By far my seediest lesbian move ever (it still has her lipgloss on it!!!)
On Perez Hilton Vows to Stop Bullying, Change His Ways: We Win a Thing!:
Alex Has Infographic Competition Award to Sally:
This is great, really great, an important change for the better. I couldn't think of words to describe how important it is, so I put it in a picture.
On What The DADT Injunction Really Means: Something, or Nothing, Time Will Tell:
The Harry Potter Analogy Award to radamize:
You know that scene in Harry Potter and the Goblet of Fire where Ron and Harry won't stop talking so Snape is just like *FUUUUUUCK THIS* and shoves their heads down? I want us to be Snape and Harry and Ron to be DADT Supporters and the legal hangups that keep making a repeal so damn difficult, only instead of just pushing them into good behavior, I want to bash their heads together until they shut up.
And then I kinda want Mad-Eye Moody to turn the Republican Congressmen/women into ferrets so we can actually get something done.