by Taylor & Riese & Kelsey
The Challenge, posited under questionable circumstances during a pleasant moment of '80s/'90s nostalgia: Three girls in Oakland, California. No internet/research allowed. Just pure memory. We added the photographs afterwards but still have not fact-checked a single word. We have also allowed Managing Editor Sarah to late-add her memories all the way from Michigan. This is essentially an epic poem which will change online journalism forever and probably win a Pulitzer Prize and perhaps launch an empire of revolutionary changeymachine socialist warriorchildren bright-eyed glitterfaces.
1. GUTS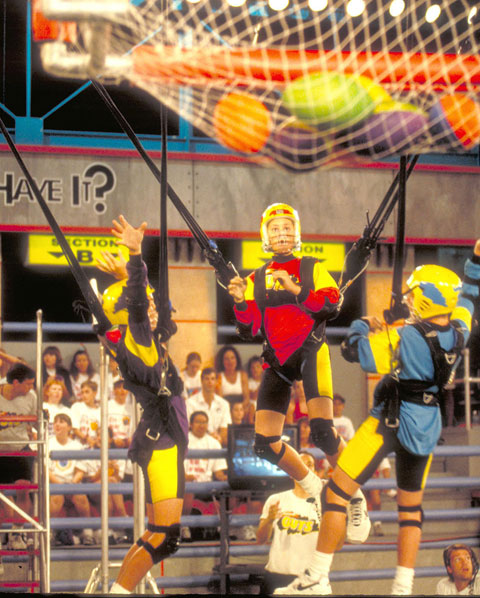 Mike O' Malley, who you might recognize from GLEE as Kurt's Dad, used to host this show wearing an oversized hockey jersey like a creep. But now we like him.
Kelsey: The aggrocrag was a tricolored mountain. MADE OF FEAR.
Riese: I remember people hanging "in things," which sounds like auto-erotic asphyxiation, but I don't mean it like that.
Taylor: Let's be honest, all I remember about this is some shit called the "AGGROCRAG," and it was the best thing that ever happened to me. The Aggrocrag was some terrible mountain made of foam parts that fell off and crushed kids as they scaled up it which is probably why the kids had to sign a lot of waivers. Everyone knew someone who knew someone who died on the Aggrocrag.
+
2. Are You Afraid of the Dark?
Kids sat around a campfire speaking in hushed tones before the camera did that weird wavy thing. (Kelsey and Riese claim the technical term for this is "ripple dissolve") (???) Riese wasn't allowed to watch AYAOTD, so she only remembers the part around the campfire, which is a shame because it was the best show ever made.
+
3. Salute Your Shorts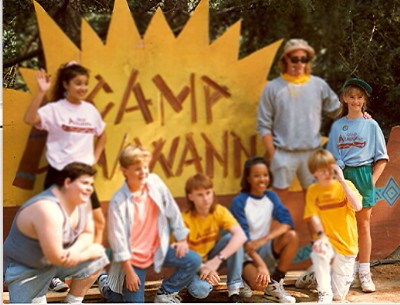 Riese knows the theme song's first verse, which is "Camp Anawana we hold you in our hearts…" Mostly this was just camp-related hijinks, hijinks in cabins, hijinks by a lake. The camp logo was probably a cute hand-written style maybe made out of wood/leaves, in line with the camp theme. Which is a lot of cohesion for this genre, really.

Taylor: Invariably things happened and people had to go to a nurse or something, who was probably hot.
Sarah: That guy from Rilo Kiley was on this show! So there's only one degree of separation between it and Jenny Lewis, who coincidentally was also a child star (Troop Beverly Hills, holler). The one episode I remember involved a radio call-in show and a question about what color a giraffe's tongue is. I think the answer was black? There was also maybe a character named Donkey Lips? Which is really weird.
+
4. Legends of the Hidden Temple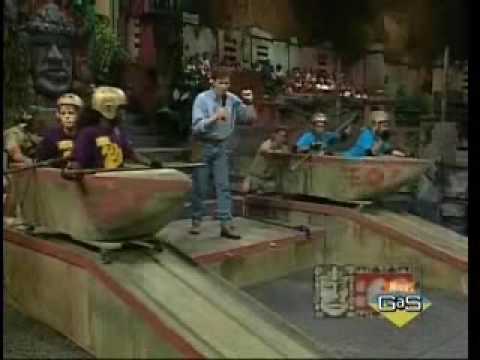 This show was Guts 2.0 but with animal-themed teams, like the ORANGE MONKEYS and what have you. People had to locate some probably borderline offensive totem poles/heads or something in assorted fog-machine-filled rooms of a temple constructed out of the kind of stuff in the bottom of those weird foam pits they have at gymnasiums.
5. Hey Dude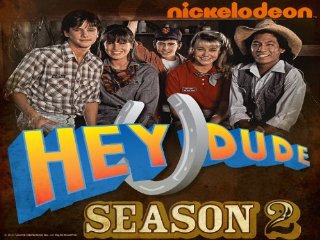 We can't seem to recall the reason the children were on the ranch or what plotlines revolved around, but we are sure that it happened and was on after Salute Your Shorts.
Riese: The girl who married Ben Stiller was in it, the one who was also in The Brady Bunch Movie. And this guy who annoyed me a lot.
Taylor: This was the same show as Salute Your Shorts except it was set at a dude ranch, which is obviously not a thing. I was fiercely loyal to this show because my parents told me it was filmed near a place I used to live, which basically meant I was famous.
Kelsey: I can't believe that an actual show occurred in the context of a little ranch with a horse and that was the whole premise – like somebody had that idea and then filmed it and it was on television. That's so crazy!
+
6. The Adventures of Pete & Pete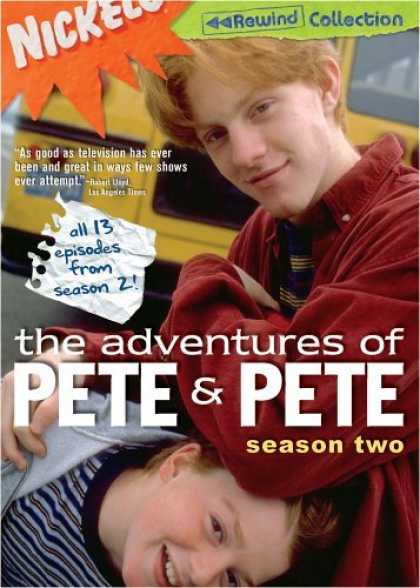 Taylor: This show made me feel dirty, I can't talk about it.

Riese: I think someone from this show became famous but I might be thinking of a different show. This show annoyed me.
Sarah: Not as weird as Ren & Stimpy, but it was still pretty weird.
+
7. Clarissa Explains it All
Clarissa wore really extraordinary outfits and a lot of hats. She was big into accessories and she moved letters with her hands in the opening credits.
Riese: I wanted to wear leggings under my jean shorts like Clarissa did, but my legs were too skinny for my leggings.
Sarah: I really doubt that those parents would've let the boy next door have a ladder perpetually propped next to their daughter's bedroom window. That's like all I could ever think about while watching it.
+
8. Double Dare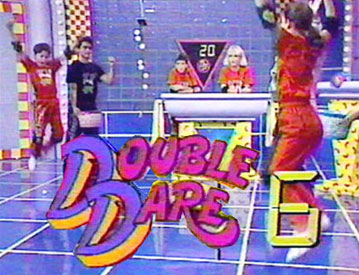 Taylor: I think the host on Double Dare is someone. I didn't like how they got slimed.
Riese: It was like Mark Burnett or something. Marc Summers? I wanted to be on this show so bad.
Sarah: OMG, Marc Summers. I hated his voice so much, and it continues to annoy the ever-loving sh*t out of me on Unwrapped. Why can't he go away? At least Double Dare had slime.
9. You Can't Do That on Television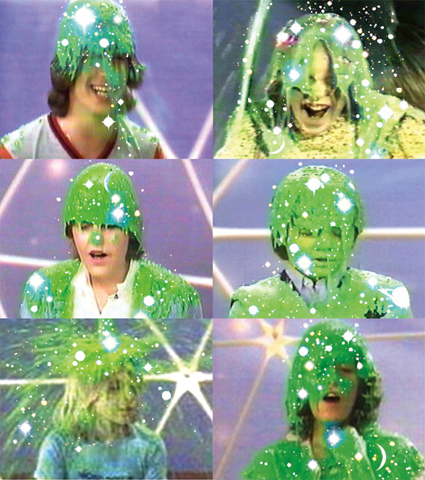 Taylor: This sounds familiar but I can't remember exactly.
Riese: Alanis Morisette was in it, it was like Canadian or something. My Mom totallllly didn't let me watch this show, it was like the worst for some reason.
Taylor: Why?
Riese: It was like raunchier or something. I feel like there was a lot of media attention on this show, like Beavis and Butthead style. Actually though the real reason is because I wasn't allowed to watch any TV with commercials in it because of you know, capitalist warmongers.

+
10. The Secret World of Alex Mack
Taylor: She made me realize I should grow my bangs out because she had really great bangs. Or rather lack of bangs. It changed my life. Didn't Alex Mack's dad work for a research company or something? It was a pretty badass show. Kinda gay. Also clearly she was made of the same substance as Capri Suns, as revealed by some great marketing on behalf of Capri Suns Inc. some time toward the mid 90s.
Sarah: She turned into weird silvery stuff right? That's all I really remember. Did she fight crime? What was the hook?
Riese: I never saw this show but I think looking at that picture it's pretty safe to say that her "secret world" was the world of lesbians.