BBC3's new lesbian drama Lip Service began its scandalous run on the BBC3 with nearly 600,000 viewers on Tuesday, Oct. 12, and then it got like 10 million complaint letters 'cause two chicks have sex around dead people. Idk, it happens. We'll get there.
Fans of The L Word (the good seasons, anyway) will be happy to know two things about Lip Service (aka The L Word If Everyone Talked Like Helena Peabody), BBC3's new drama about the lives of three lesbian/bisexual women in Glasgow:
1. The theme song doesn't have lyrics. And it certainly doesn't suffer from gerund overdose. It does, however, have harmonicas.
2. As Riese previously stated: attention Autostraddlers, we have a Scottish Shane.
Meet Ruta Gedmintas, a.k.a. broody Bisexual Gal With A Camera™ protagonist Frankie, who will now proceed to lead a whole new generation of straight British girls to further ponder their sexuality.
Completing the entourage are:
+Frankie's ex-girlfriend Cat (Laura Fraser), a meticulous, control-freak architect with a Selma-Blair-circa-Legally-Blonde vibe and just the cutest accent ever.

+Tess (Fiona Button), a struggling actress also getting over a nasty breakup.

+ Ed (James Antony Pearson), Cat's brother and Tess' constant companion who totally has an unrequited crush on her and it's kind of cute but also sad.

+ Jay (Emun Elliot), Cat's coworker and Frankie's close friend who serves as the glue that holds the group together and is probably the most sex-obsessed of the group (his new girlfriend, Becky, makes an appearance).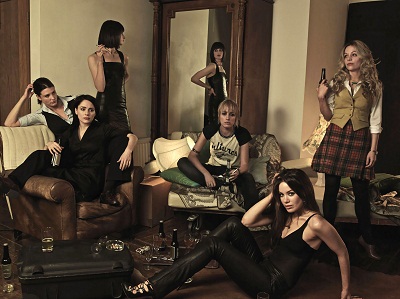 Now, let's get into it.


We open in New York where Shane/Frankie's working her camera magic on a sultry (supposedly straight AND ENGAGED, LOL) American model with all the charisma of an actress. That being said she brings a whole new meaning to "the camera loves you."
Within two minutes they start having sex and instantly this show becomes totally amazing.
Frankie interrupts the makeout for an apparently INSANELY URGENT phone call. Her aunt, who raised her after her parents died, has now died. She returns to the makeout.
Let's refresh — THIS IS THE OPENING SCENE. There is no ovulation here, or if there is we don't have to hear about it.
I think what we're supposed to take away from this is that Frankie uses sex as an anesthetic for her emotional pain and insecurities. You know, like Shane. Everyone got that? Good. We liked it the first time (Brian Kinney) and the second time (Shane), so I suspect we'll like it the third time (Frankie).
Cut to an apartment which a photographer in New York could never afford, seemingly inhabited and rented by a photographer in New York named Frankie. She's creeping her exes on Facebook (important lesbian/human cultural reference #1), but the best part is her status, which reads something along the lines of "Frankie thinks Bella should have ditched Edward and…" Team Bella knows no borders, friends.
Stalkage is interrupted by a voicemail from, you guessed it, her now deceased aunt, telling "Francesca" that she has something she wants to tell her, but all we heard was, "Jenny. This is Marina. I can't stop thinking about you." JK that would be gross. But also, like, really.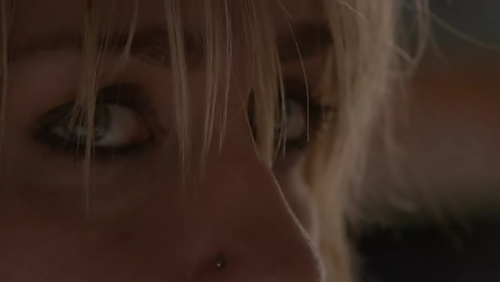 In Glasgow, Frankie's getting checked out by passing business-y looking Scottish women the second she steps off the plane, and has a look on her face that says, "I still got it. I'm Shane, motherfuckers."
Frankie gets shuttled away from the airport by Jay, her straight dude friend, and then we meet Frankie's ex Cat, who, in the midst of Important Architectural Work, receives a message from someone named Sam on GaydarGirls, asking her out for drinks. Just as we think we're going to get more details, roommate Tess barges in with — what else, y'all? — SERIOUS EX DRAMZ.
Tess: This is Chloe's Facebook picture, and this is a picture I took of her at your birthday party. One and the same!
Cat: Tess, I just need to…
Tess: She dumps me, and then the bitch has the audacity to use a sexy photo I took of her as her Facebook picture! I mean, is it just me, or is that criminal?
Tess convinces Cat to go on a date with the Gaydar Girl because it's been two years since her breakup with Frankie which means it's 'moving on' time. But now Tess needs a dress for her date that she left at Chloe's when they de-U-Hauled.
Unsurprisingly, Ed and Tess end up hiding underneath the bed when Chloe returns home with her new lover, dashing in for a little afternoon delight. Obviously Tess goes on to blow her audition for face cream.
Meanwhile, on the other side of the Sea of Terrible Ex-Girlfriend Demons We Haven't Had Time to Develop 'Cause It's the First Episode, Frankie is wandering around the alley outside like the Diet Coke guy/Melissa Etheridge, and Cat eventually comes down from her window to be steely in the face of Frankie's Aura.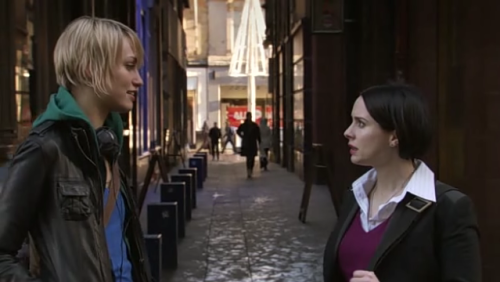 It's tense in that way that you know it'll get a little tenser later.
At The Planet/Rubies, we see the entourage in action doing the things that entourages do: talking about trampling all over ex-girlfriends, talking about relationships past (Frankie persuaded Cat to leave her girlfriend and then shit got real). There's a boy there and he has a girlfriend, we don't care, and later he has a heart-to-heart with Frankie in front of everybody about taming his man-beast, which Frankie clearly has an interest in as well. Shots for everyone!
Cat's Cop Date is that difficult to read type who always seems like they're totally judging you and it makes you nervous and ramble and eventually, um, you know, talking about your ex-girlfriend a lot.
It's still remarkably confusing how Cat and Frankie were ever together, which might be one of the show's most interesting aspects so far.
The next day, Ed and Tess are just hangin' out, dressed like kiwi soda cans, because they're unemployed and broke and will do just about anything for cash. Aren't we all.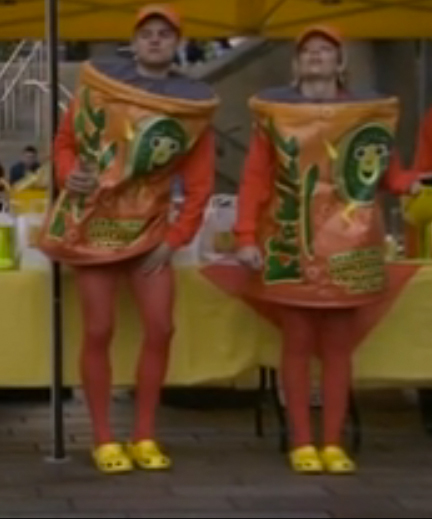 Then they start talking about Ed's grandparents' sex life and eventually Tess has another moment where she could be Alice talking about her post-Gabby Devoux life, or she could be a new character altogether. Hard to tell.
The conversation switches to "über-babe" TV anchor Lou Foster, a very "straight-looking" brunette with strong Jenny Schecter-potential. Right down to that bow.
Tess walks in on Lou Foster crying in the bathroom, who has just been dumped by her (MARRIED!) boyfriend. Tess consoles her and we imagine will bring her over to the gay side soon enough.
At the funeral home we get more insight into Frankie's damaged soul as she softly caresses the CORPSE of her dead aunt, where she is interrupted by her family, who hates her probs for being a homogay. Eventually there's a heated argument, Frankie wants to know what her aunt wanted to tell her (re: voicemail), and Frankie ends up crying in a bathroom stall. It's really sad because it's always sadder when Shane cries.
It's Cat to the rescue, and the first real attempt at reconciliation leads to another important lesbian cultural reference: the use of weed-related nostalgia (specifically, the first time they got stoned together and ate all of Frankie's uncle's posh biscuits, because sometimes, you do that).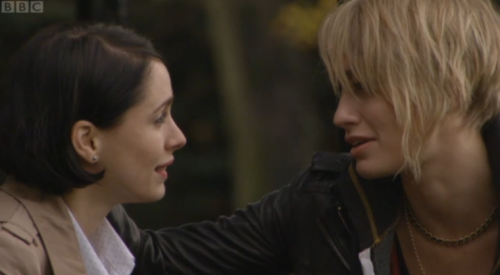 Frankie turns the attempt at reconciliation into a makeout attempt (classic mistake). Cat freaks out. End poignant moment, leaving Frankie looking adorably confused/pained.
In another happier place, Tess and Lou are experiencing the burning fire of straight girl conversion at a bar and then take that lust to Lou's super-swanky apartment over glasses of wine. Lou has these um, robots, and Tess really likes them, because she is the most adorable geek ever.
Lou has always wanted to kiss a woman, and now it's starting time for that which is neat, but not as neat as what happens next when Cat goes to visit Frankie at the funeral parlor and heads down to the morgue where Frankie is fucking a random girl with a force and velocity that suggests fisting, a Papi's Circles-Esque technique, and/or extreme dexterity despite the presence of a zip-fly and underpants and all that other shit. Or just an oddly choreographed sex scene.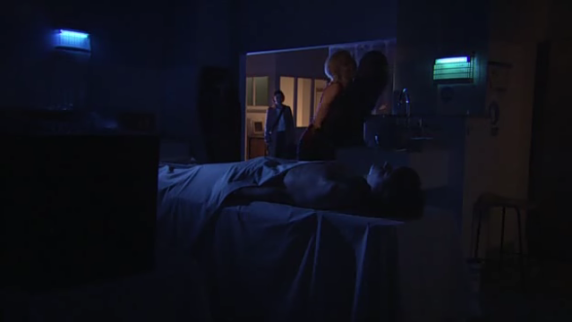 Also, are they having sex or is Frankie trying to saw her leg off?
Cat stands there in horror and disbelief and runs out, the corpse doesn't notice because the corpse is dead, and the funeral home receptionist doesn't notice because Frankie's hand is probably in her ovaries.
Upon finishing, Frankie gets this weird "what have I done"/"I must be seriously fucked up"/"I wish I was dead" look on her face and throws on her jacket.
Panting receptionist lady asks for Frankie's number, like, "But, I mean, you're the kind of girl who hooks up with strangers in mortuaries. How do I contact you?" but Frankie says that the girl doesn't want it. Okay, neat. But Frankie's gone, and on her way out she doesn't see Cat, who is standing on the side of the street, bawling her pretty eyes out.
[/feelings]
And, before signing off, here's the episode by the numbers:
+ Number of times someone cries in a bathroom: 2
+ Number of times Frankie has sex with someone up against a wall: 2
+ Number of times the term "Lezurrection" is used: 1
+ Number of shots taken during the obligatory bar scene: Don't know, but I want some.
SO WHAT DO YOU THINK OF LIP SERVICE? Is it the new L Word, is it too much like The L Word, is it worse/better than you expected, do you care about these people, do you care about anything, just talk to me now.