LIP SERVICE:
Unreality TV has a new article about the hotly anticipated six-part BBC3 drama series Lip Service, which looks significantly better than The L Word because it's not just Helena with a British accent, it's everybody with a British accent! We have been excited about this for a long time and it was supposed to come out in the spring and it didn't but good news! It's really going to come out in October for real they swear: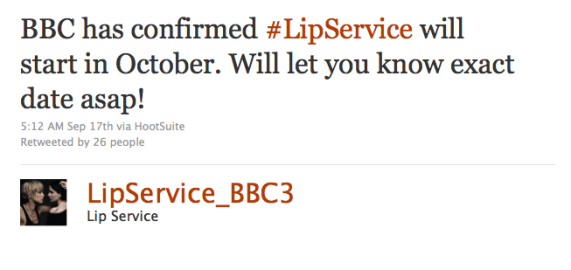 Specifically, we are eagerly anticipating the debut of Frankie, played by Ruta Gedmintas (The Tudors, Spooks), "an irreverent and provocative photographer who avoids commitment at all turns.wp_postsFrankie is bisexual, sleeps with men, but "only falls in love with women." That will probably offend somebody somewhere but who cares look at her: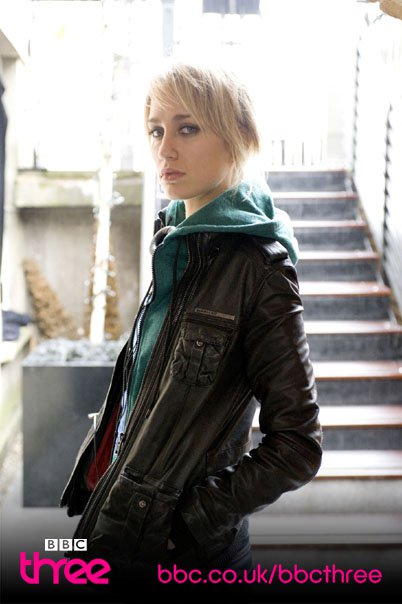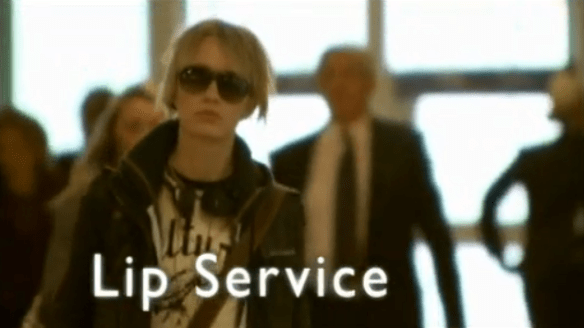 Writer and creator Harriet Braun spoke to Unreality Prime Time:
"I wanted to create believable, multi-faceted characters that people can really identify with and also to mix comedy and drama. I wanted it to feel very real and often our most embarrassing moments can end up being very funny in retrospect. There's also a mystery element to Lip Service that keeps you guessing.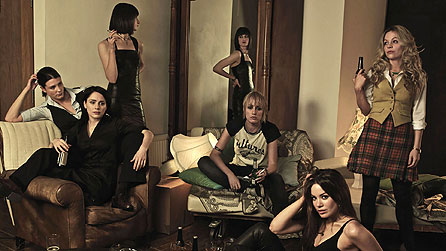 "It was very important to me to that the lesbian characters in this story feel authentic to a lesbian audience. But I don't think anyone could attempt to portray every member of a community in a drama – if they tried, they'd fail.
"Lip Service follows characters at a pivotal point in their lives – they're either in their late-twenties or early-thirties. It's a time when people are often frustrated about where they are in life and wonder if they'll ever be the person they want to be. Or they're aware they've made mistakes and don't want to make the same mistakes again. You start to take stock and realise life isn't a dress rehearsal.
"As a writer, I'm always most interested in what's going on under the surface. So, it's also about secrets. I think most of the characters, in one way or another, are hiding their emotions or fears and desires and it's about the consequences of playing emotional games or not being honest with yourself or others.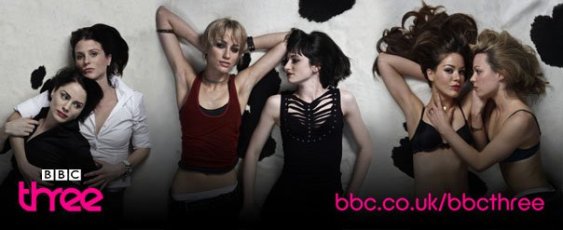 If you live in someplace other than America, you can check out Shane on the cover of DIVA magazine and watch these "meet the characters" videos!
LINDSAY LOHAN:
Ruh-roh. Lindsay Lohan confesses to failed drug test: Sadface.
ADAM LAMBERT:
Some douchebag tried to take pictures of Adam Lambert so that they could make a dirty dollar and Adam Lambert was like f*ck you leave me alone! And then the guy was like, "I'm such a gross excuse for a person that I'm actually going to press battery charges against you even though you didn't actually attack me and the photos of the incident contradict my police report!" and Adam Lambert was like "seriously, bro?" and then TMZ was like oMGAGAWELIVEFORTHISSHIT.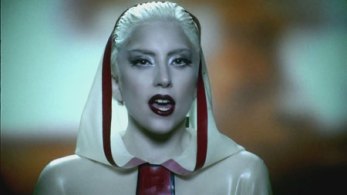 GAGA:
Born This Way will be released in 2011 and Gagaloo is very, very excitant! "The album is my absolute greatest work I've ever done and I'm so excited about it. The message, the melodies, the direction, the meaning, what it will mean to my fans and what it will mean in my own life – it's utter liberation. My fans have related to me as a human being and as a non-human being – as a super-human person that I truly am. Everyone tells me I'm arrogant but my music's the only thing I've got, so you'll have to let me be confident about one thing. I suppose that's what you can expect from the album: a lot of hit records that will piss people off.
"Beyoncé said: 'Where the f**k do you get these ideas from?' And I was like: 'I don't know Bee, it was just the way I was born'." (@digitalspy)
Also, a new article that argues at length that Lady Gaga isn't the feminist icon you think she is. (@guardianuk)
GLEE:
Sue Sylvester's got a new nemesis who looks a little homogay. Meet the new Football Coach: Shannon Beiste (pronounced "beast"). (@tvguide) Also, take a first look at out actor Cheyenne Jackson (from 30 Rock) in his Glee debut.
HAVILAND STILLWELL:
Autostraddle partied like it was 2006 last Sunday as our very own Haviland Stillwell performed at Joe's Pub with special guest Andrea McArdle. The highlight was probs their live collabo, the "Hurts So Good/I Like It Rough" mash-up, featured on the soundtrack to the upcoming Real L Word: Looking Back video teaser. (@broadwayworld)
RICKY MARTIN:
Is working on a new album and is ready to 'go there' with singing about his personal life after finally coming out. His producer says:  "I'm really excited about the music, the content, because since he's come out it's unleashed his creativity and the scope of what he can sing about and say and do." (@blackbookmag)
KATHY GRIFFIN:
This Jimmy Kimmel Live appearance is aces. Part one of many. Kathy talks about: Oprah, Snooki, the VMAs, tweeting and naming her fans Kath-eters ala "little monsters."