Next weekend we'll have an exciting, brand new thing for you and it will be super NSFW and there will be photos of queer girls doing really queer things to each other and YOU WILL LOVE IT. This weekend, we're looking back at The Best of Autostraddle NSFW Lesbosexy Sunday, just in case you missed anything!
+
+
FIRST!
Our very first NSFW Sunday came in the form of Why Don't We Get Drunk and Have Hipster Sex on the Internet, and it's been uphill ever since!
+
LADIES IN LINGERIE
Some hot ladies walked a catwalk in lingerie, so obvs we made a photo gallery for you in Victoria's Secret Fashion Show & Sex Tapes for Everyone.
+
A LOOK BACK AT 2009
While everyone else was thinking about their New Year's resolutions, we were thinking about all of the sexiest things that we'd miss about 2009 in A Year of Lesbian Sexy Moments.
+
+
WHAT IS SEXY
Riese asked everyone what you thought was sexy, then she and Alex made three photo galleries full of sexy things with captions! Very hot.
+ Lesbians Think This is Sexy: Part 1
+ Lesbians Think This is Sexy: Part 2
+ Lesbians Think This is Sexy: Part 3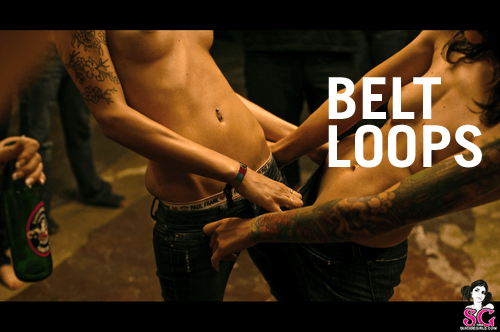 +
LESBIAN SEX IN THE MOVIES
We put on our thinking strap-ons and made a list of Ten Hot Lesbian Sex Scenes with screencaps! It's not a top ten, though, so don't get your damn panties in a wad.
+
VEGAS, BABY
Riese and Alex went to Vegas and made some cartoons for you in Lesbian Las Vegas Sex Special. It's a must-read, of course.
+
ALL THE TUMBLRS
Laura wrangled up all of the sexiest tumblrs and put them in one place in A Tumble Through Lesbo Homosexy Goodness.
WHAT WE DON'T TALK ABOUT WHEN WE TALK ABOUT LESBIAN SEX
We created the Super Anonymous Team Autostraddle Google Doc of Invasive Questions, which explored all of our most personal experiences with lesbian sex. The we asked you to tell us what you wanted to talk about re: lesbo sexytimes, but were maybe too shy/lazy to ask about. The results were illuminating.
+ Your Feelings and Questions
+ All About Wetness
+ Tops & Bottoms
+ Scissoring & Other Fun Things
+ Like a Virgin
+
SEXY VIDEO
Had enough nostalgia? Here's a new video that I saw on Hipster Runoff this week. Made me think of you.
+
SEXY TUMBLR ALERT
Horny Pony is a tumblr you will like because there is currently a reblogged gif of Carmen giving Shane a lapdance on page one. If your interests include pretty girls in skinny jeans / big t-shirts / sitting on a bed / being pretty, you could say that Horny Pony understands what is relevant to your interests. ALSO SHE'S CUTE / HAS AWESOME HAIR, so. (see below)