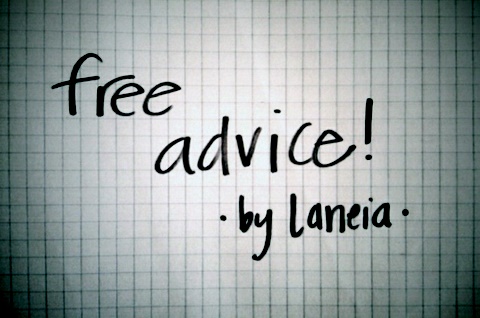 Much like You've Got Feelings, We've Got Answers: Advice for Homogays from Homogays (Formspring Fall Cleaning) (original title), I will attempt to give relevant and helpful advice to advice-seekers, though this time I will be doing so without the assistance of Autostraddle's Founding Editor-In-Chief and CEO of Ideas, Riese, who is currently in the throes of a cross-country relocation.
That entire paragraph was one sentence, which I hope impresses you in some capacity. I have corrected the advice-seekers' spelling and punctuation. I believe that's standard practice re: 'advice columns.' Some of the following discussions / links are NSFW, ok?

Q:
A relationship I'm in just got serious. Problem: my parents will kick me out when I tell them. Seventeen, no job, not graduated. Is she worth it? Absolutely. How do I tell them without burning the bridge. I love her, and my judgmental family….
A:
I'm not sure why you feel like you need to tell your family right now, other than a basic human need to be as honest as possible, which is certainly understandable. If it's in your best interest (food, shelter and education all fall under 'best interest') to remain in the closet, then doing so isn't dishonest or shameful, but admirable and smart.
Lots of people wait until they're independent of their parents to come out, especially if they fear being disowned or kicked out. I really want to reiterate, when we say that being out and honest is important, we always want / expect you to take your personal safety into account first.

Q:
I'm 29, and I just came out. I've never had a girlfriend or any experience with girls. Is this something I need to tell my dates? I'm afraid it will scare them off.
A:
You're not obligated to tell them, but it will likely come up one way or another. (Probably when she starts talking about her exes and expecting you to chime in, which is just so fun, really.) I was unnecessarily worried about the same thing when I came out at 25. It made me more comfortable to be honest upfront, but I gather that some people have 'boundaries' and don't say everything they want to say. You should do / say whatever makes you most comfortable.
From what I've seen, women aren't scared off by inexperience. However, there seems to be a fear / belief that inexperienced women will fall in love / attach themselves too quickly to their first partner, so maybe just be aware of that? But also that's not true, so.

Q:
I have a long inner labia and I'm very self-conscious about it. I never let girls go down on me because I'm afraid they'll think something's wrong with me down there. I was thinking of having a labiaplasty when I turn 18. What do you think I should do?
A:
I love you and have so many feelings re: this.
I think you should definitely not have your labia cut off. I'm not the only one who thinks this. Hey guess what! Vaginas are totally unique and will look different from one another. Just like your face looks different from other people's faces and also your feet and like, everything! We are supposed to look different.
I understand body image issues — I have them! — and I know how hard it is to move past them (constant struggle! wheee!). The 'mainstream' vaginas you've likely seen via porn / online randomness are not what all vaginas look like! Those vaginas have been hired, essentially, because they fit a certain criteria. For example, this is also why it's nearly impossible to find good imagery (people of various colors / sizes / etc.) for our articles on Autostraddle. It's not because brown / fat / short / butch / etc. people don't exist — they do! It's because not enough people are hiring them / photographing them. It is absolutely the most irritating thing about my job, actually! Because we want to show you YOU, but the current state of like, The World, makes that nearly impossible. But we're working on it! But I've gotten a little off-topic.
Anyway I've looked at this before / after labiaplasty gallery and I can honestly say that I don't believe any of these women should've had their labia shortened / removed for aesthetic reasons, though obvs that was their choice to make and bless their hearts, etc.
You are a special snowflake! Your vagina is TOTALLY NORMAL. Queer girls, by the way, love vaginas. Vaginas are one of the top five reasons we're queer! I am 99% positive that the only thing a girl will be thinking, when face-to-vagina with your vagina, is "OMFG YES. A VAGINA. WIN." If she's thinking anything else, she needs to get the hell out.

Q:
My gf and I have been together for a 1.5 years. She is my 'one.' I'm in law school in Britain and she studies in Boston. Matching tattoos seem more age-appropriate than engagement rings. Thoughts?
A:
Yeah, I have thoughts. Do you know what's more permanent than tattoos? Not much! I mean, a few things, sure, but not many. I think this is a terrible idea. But I also don't believe that any couple is capable of being happily together forever, so it's possible that I'm the worst person to ask (cynical romantics are people, too).
Also here's the thing: whatever tattoo you get at this point in your life will remind you of this time, regardless. It really doesn't have to match hers to be symbolic of who / where you are in your head / heart. Maybe just get separate tattoos at the same time?
Seriously, there must be something else you can do. Matching shirts? Transatlantic hamsters? Video chatsex?

Your turn, homofaces! Do you have extra words of wisdom for these fine humans? Let's hear it. It's an advice party in my comments and you're all invited to come!