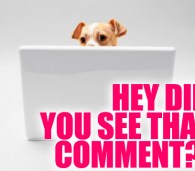 Howdy, lesbos & otherwise identified people! Let's get right to it, shall we?
This week, we had a bra issue. What, indeed, should you do with these boobs?
We had two new playlists: one to help you sleep, and one that will probably keep you awake. It's a Nikki Minaj playlist, y'all.
Annika is back with her second article about taking estrogen and losing her heteronormative privilege. Word on the street is that Sebastian will be writing an "opposite" article.
Riese recapped Glee and it was gay and everyone loves Santana, which is basically my mini-recap of Riese's recap.
Oh yeah, and, we raised $20,000 all thanks to you guys. No big deal, but we fucking love you.
---
On Republicans For Gay Rights & Other Homosexual News Updates:
The Everyday I'm Gay Award to novastar:
Dear Ruben Diaz,
Sorry about being gay during holy week. Did you know I am also gay on Christmas? It's because I hate you, and want to offend your sense of morality personally.
PS I am gay on your birthday, too.

On Laneia's Team Pick: This Earth Day Pledge:
The Someone Was Gonna Say It Award to duppsx:
i pledge to shower with more girls. promise.
for water conservation, of course.
The TOE Award to Carmen SanDiego:
I pledge to give more money to Autostraddle, so they can BUY The Planet. I don't think that Kit Porter knows how to run a business.
Oh, wait. That's not The Planet we're talking about? Never mind then….
On Last Chance To Be A Part of the Most Inspirational Fundraising Drive in All of Herstory:
The I Wish You Could Too Award to yodelmachine:
i wish i could deposit some whiskey in autostraddle's paypal
On The Bra Issue: Queer Fashion Guide For Various Shapes, Sizes and Gender Expressions:
The This Article Has All Given Us The Chance to Do Extra "Research" Award to SciencePants, Rawrosaureins:

The That Part Is Also Important Award to Paper:
…I'm good at taking them off?
On Lil B Isn't Gay But His Hip-Hop Album Is, Pink Toenail Pride & X-Tina's Gay Star for Sunday Funday:
The OTTERSTRADDLE Award to SomethingClever, terracottatoes, Jenissuper, Jader: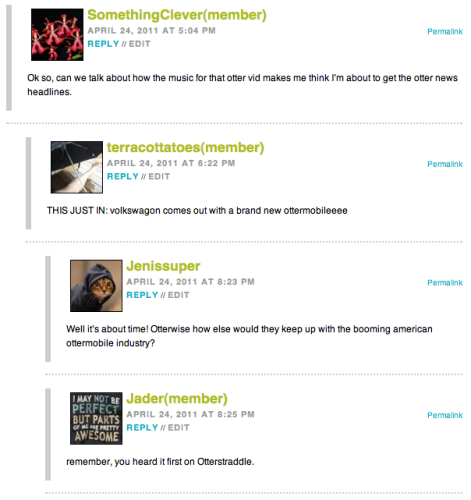 On NSFW Lesbosexy Sunday: Breasts & Stone Dildos:
The Punny Award to Stout, terracottatoes: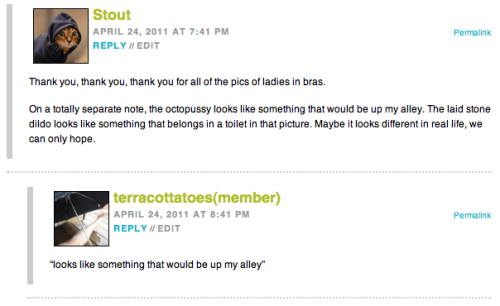 On Pastor Arrested Who Aided "Ex-Lesbian" Flee Her Daughter's Other Mother:
The Whoa, What An Idea! Award to Dani:
What would Jesus do?
I BET KIDNAPPING ISN'T THE ANSWER!
On VIDEO! Meet "The Real L Word" Season 2 Cast: Beautiful Dirty 'Rich' 'Rich' Dirty Dirty Beautiful Dirty 'Rich':
The Canada Hockey Beavers Award to sterling_sky:
My vote is with a Canadian version. And do it in the winter so it's just a bunch of chicks in sweatpants and wooly sweaters bitching about the weather, getting drunk at hockey games and lying on the chesterfield after they throw their back out shovelling the laneway.
But that's probs just me…

On Texas Says Trans People Aren't Real, Definitely Can't Get Married Or Be Happy Ever:
The Real Man sAward to AG:
It's scary how people that stupid can get elected into office. Furthermore, I hope he chokes on a giant barbecue rib and then has his marriage become invalid because obviously real men don't choke on barbecue ribs.

On Good Thing Price William Isn't Gay:
The Clues Award to allie:
Royal Wedding= RW= Rachel Wood = EVAN RACHEL WOOD BISEXUAL
this is some da vinci code shit.

On Tennessee's Republican Senators' Delusional Plan to Pretend Gay People Don't Exist:
The Straight History Award to MJ:
What about gay people who, you know, existed and may therefore come up in history.
"We will begin our study of Ancient Civilizations with Greece, where nothing happened at all. FOR THE LOVE OF GOD, JENNY, DON'T LOOK AT THE MAP. THE ISLANDS HAVE NAMES THAT MIGHT GIVE YOU IDEAS.
"Greece's fall began with the Macedonian conquest at the Battle of Chaeronea where – wait, Jesus, the whole army? Were any straight people involved in this? GOT IT! Philip of Macedon was there. He had a son, but we're not talking about him.
"Moving on, Rome was founded by Romulus. After the Republic was set in place, Gaius Julius Ceaser took power. The Julio-Claudian emperors did nothing. Absolutely nothing.
"Skipping forward to recent history, the 20′s never happened. Seriously. We just went from 1919 to 1930.
"Some years after the 1920′s didn't happen, Adolf Hitler did some bad things, but we can't tell you about them because then you might ask *who* he did them to, and we can't go into too much detail about all of those people."

The Possibly Related? Award to Emy, Sawyer: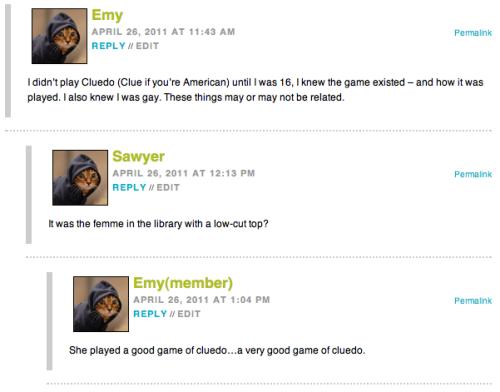 On Rachel's Team Pick: Hungover Owls:
The Punny II Award to SomethingClever, butterscotch clouds, SPLAT, however: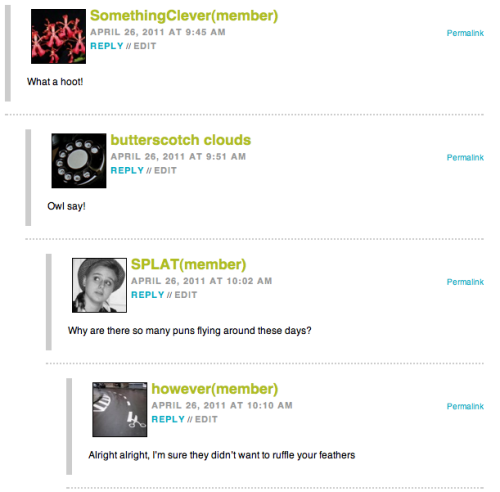 On The Anti-Gays Must Be Crazy:
The I'll Take The Blame Award to Lauren, terracottatoes: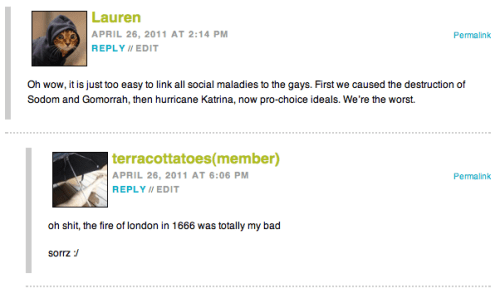 On Carmen's Team Pick: Never Lose Your Cellphone Ever Again, Really:
The Born In The 80s Tour Award to Hobbled:
This is why I miss the 80′s back then cell phones were as big as laptops and therefore really freaking hard to loose if you lost an 80′s cell phone it was because you drank yourself into a coma
On Honestly, What Even Is This "DADT Repeal" If Katie Miller Can't Get Back In?:
The Sidenote Award to wasteunit:
I named two foxes Mulder and Scully and they keep making baby foxes and none of those kits care about DADT but I'm trying to educate them.
On Texas Colleges To Subvert Homogay Club Agenda With "Traditional Values" Resource Centers:
The His..Story? Award to Emma2, TheVegetarian, Heather, Emy, Ziggy Hreins: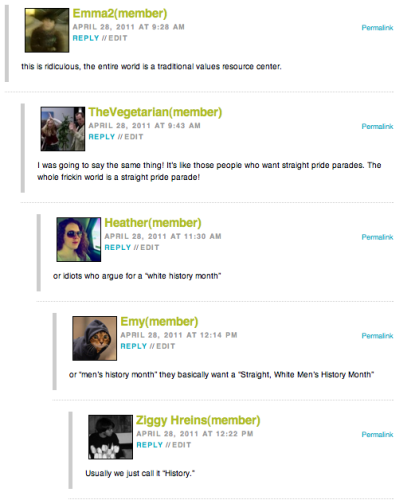 On Glee Episode 218 Recape: Born This Way, Everyone Is Gay:
The Beaver Award to Vikki:
They are dressing Santana like a trapper…a beaver trapper perhaps.