Look, it's no sunshine glowing from Tracy's vadge but at least this one's a little less subtle: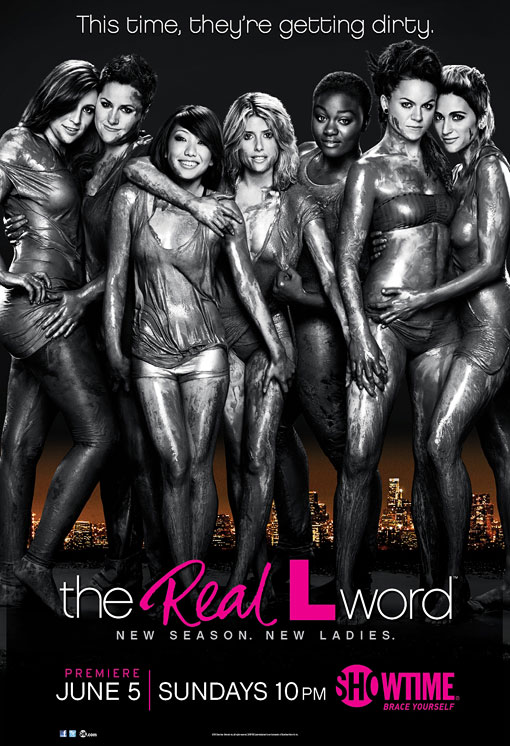 Although Whitney is the only lead girl returning from the glory of season one, Autostraddle Calendar Girl Romi has been promoted to full cast member status and we can confirm that Rose, Natalie, Sara and Whitney's hilarious roommate and voice of reason, Alyssa, will all be in the mix. Wherefore art thou, Tor?
The producers have responded to complaints about the original group being too femmy and whitewashed by adding two butch girls, one African-American girl and one Asian Girl. TA-DA! So now, aside from the manipulative editing and lack of "character" development, there's really nothing else to complain about, right?
Although the group seems to be on the whole more of a "social group" than the original, we've got a Nikki & Jill substitute in the form of a brand new legally married couple trying to get pregnant.
The new season premieres June 5th. Here's the cast breakdown, per Entertainment Weekly:
Whitney: She's back! (And she's the only season 1 cast member to return for the second season.) Here's what's coming up for the Hollywood special effects artist and activist this season, according to Showtime: "By far the biggest complication is Sara — the temptation Whitney just can't seem to resist — despite her friends' warnings. But beyond the girl drama, Whitney is making 2011 her year to re-focus on her creative passions and give back to the community." Whitney will also be launching and hosting a monthly ladies' night party in West Hollywood and delving into some special effects makeup projects with her best friend, Alyssa, as well as "scheming a blowout charity event to determine once and for all if the reigning lesbian subgroup will be 'pants' or 'pumps'!"
Claire: The St. Louis native just moved from New York City to Los Angeles and is starting her own online lesbian magazine focusing on the sapphic lifestyle and fashion. Claire's Showtime report: "We catch her in the middle of a major life change — leaving her life in New York City, amazing girlfriend included, to see what Los Angeles has to offer… and if her ex-girlfriend of five years, Francine, is really 'the one.'" Which brings us to…
Francine: Claire's ex from college is a media and business executive who is just now coming into her own on the L.A. dating scene. Apparently, Francine thinks that she and Claire are "tragic" together and "doesn't know what to make of Claire's move." Says Showtime's official dossier: "She's already on her way with a successful career and a great group of friends whose support is a welcome presence as she also grapples with whether or not to come out to her traditional Japanese mother."
Romi: The fashion designer wasn't officially a cast member in season 1, although she did indeed appear, and now she's got her new girlfriend, Kelsey, in tow. "A social butterfly, Romi's a fixture at every party and a trusted confidant among her friends," reads her official bio. "She's also developing her own jewelry line, starting a new job and struggling to be emotionally and sexually available to Kelsey. It's a lot to bear and Romi is stretched thin. Alcohol has helped her manage in the past but it's become a toxic medicine. She knows it's time to make a change, but there will be consequences."
Cori & Kacy: The Culver City, Calif., duo are entertainment executives, have been together for five years (legally married for two), and are ready to start a family. They're excited — and overwhelmed. "They have to find a donor, a doctor and figure out their insemination plan," says their combined bio from Showtime. "Cori also has to bid adieu to her carefree party days and quit smoking. It's an emotional journey without a roadmap."
Sajdah: The resident of Van Nuys, Calif., is an LGBT activist and was once nominated for high school prom queen. Now, Sajdah has gone butch and is finding her way in L.A.'s lesbian world, having just moved from Washington, D.C., where she was the first of her family to graduate from college. Reads her Showtime bio: "Articulate and opinionated, Saj isn't shy about making friends or speaking out on behalf of the gay community through activist work. Yet, the ins and outs of relationships remain a mystery for her — until she meets her first girlfriend and is forced to learn, and fast!"
Is the diversity and fresh set of ladies enough to lure you into giving this a second chance? What if they tried harder, made fresh hummus? Let's get some feelings out in the comments.
This just in, there's a trailer…