A few weeks back we told you about openly-gay GOP presidential candidate Fred Karger, who we are in love with. Now another socially liberal candidate has added his name to the list of contenders: Gary Johnson, former New Mexico Governor, says he is "ready for a different America. I'm ready for the day when a person can build a good life on a decent income, and we can take our government at its word."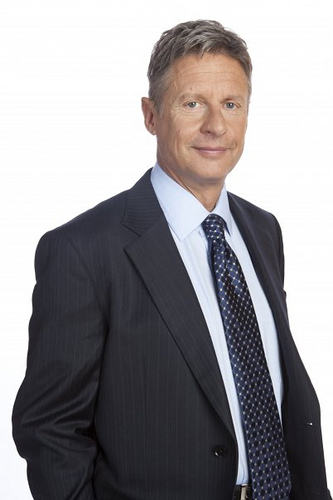 Gary Johnson is pro-gay rights and thinks the government shouldn't be involved in marriage at all. He thinks the Don't Ask Don't Tell repeal took too long to happen:
"I become emotional over the fact that we have young men and women in the service that are gay and can't express that, who are putting their lives on the line."
Also he wants to legalize marijuana.
Meanwhile Fred Karger, our favorite Republican ever, wants to participate in a May 5th debate but the powers-that-be aren't letting him do so, saying that he doesn't meet the polling requirement. Karger says:
"I want to be on that stage, and I told them for my community, for what I'm doing, what I represent, this is very important. It's not just some crazy guy out there. It's a very important thing to me personally and to the millions of people who are looking to me as the first openly gay candidate."
In other "What have republicans done for us lately" news, the Log Cabin Republicans have gotten themselves involved in the fight to legalize gay marriage in New York, with Governor Andrew Cuomo behind the renewed push. The group will join the umbrella "New Yorkers United for Marriage" group, where they will lobby along with The Human Rights Campaign (HRC), Empire State Pride Agenda, Freedom to Marry and Marriage Equality New York (MENY).
Senator Ruben Diaz, the scourge of liberal New Yorkers' existence and the organizer of unpleasant anti-gay rallies, is mad at the Governor:
"I am deeply offended that during this Holy Week, which is a most sacred time to millions of New Yorkers, Governor Andrew Cuomo is working hard to mobilize elected officials to legalize homosexual marriage in New York. Now Governor Cuomo is targeting communities of faith in an effort to redefine marriage… I must ask, if Governor Cuomo is ethically allowed to use public resources during these serious financial times to raise funds (by having his staff raise money) and to use his staff (who are paid for with tax dollars) and his office (for weekly meetings) to promote a radical agenda, then shouldn't we all be able to use our offices and staffs to raise resources for issues that matter to us?"
Yes sir. I believe you already do! Especially at the highest levels of government!
In Iowa, some assholes are trying to impeach the justices who favored gay marriage: "Marriage is between one man and one woman and they just up and tried to change the definition of a word and you just can't do that,wp_postsIowa Republican Tom Shaw told Radio Iowa on Thursday. "Justices don't have the authority to change the meanings of words."
In Montana, a judge rejected a lawsuit that sought to give same-sex couples the same protections as married couples, like being able to make burial, health care and other decisions jointly and filing taxes together. His decision was at least partly determined by "the state's voter-approved constitutional definition of marriage between one man and one woman." The lawsuit was filed by the American Civil Liberties Union, arguing that the Montana Constitution has promised to provide "equal protection, privacy and dignity" to its citizens. The ACLU is gonna appeal that bitch.