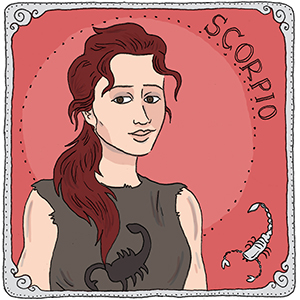 SCORPIO (October 23 – November 21) Intensity is an understatement when it comes to describing Scorpios. You are definitely the horniest sign, and you won't deny it, but horny for you describes a kind of intense and probing passion that scares a lot of lovers off. A safe rule: Don't take a bedroom dalliance with a Scorpio lightly, because Scorpios don't take anything lightly. You are possessive lovers and have a tendency for control in life and love. Your resulting sex life is often extra kinky, but you're not always the best at balanced relationships. When you love, you love with everything, and when that love doesn't turn out the way you wanted, you're a powerful enemy. Passion rules your life, and it makes you a hell of a partner in every possible way.
U-Haul Material – Capricorn, Scorpio, Pisces
Explosive Fingerblasting Chemistry – Taurus, Gemini, Cancer, Virgo
Beware of Trainwreck – Aries, Leo, Sagittarius, Aquarius
Best Lesbros Forever – Libra
SCORPIO and ARIES This is a bad idea for quite a few reasons. The sex will be enticing because they're both intense personas, and everyone knows that steam is a result of water and fire. This is dangerous because the incredible sex is misleading – Scorpio is controlling, Aries refuses to be controlled. The two of them will start a battle for unhealthy domination as soon as they try to make decisions together. Unfortunately, Scorpio can be manipulative when they don't get their way, while Aries will run and make bad decisions in retaliation, like cheating with all the girls at Queeraoke. The feelings will be intense and heavy, and they'll probably say "I love you" on the second date, only to hate each by the third. Hot grudge sex will be the only way they can work out their feelings or stop fighting, but they'll swear to be each other's one true love even while they're pulling each other's hair out. Their friends will do a lot of facepalming and suggest dialing things back, but like a car accident, it will be impossible not to stare at this glorious hot mess of a thing. This is that couple you see screaming at each during Pride, and then making out in the bathroom at the afterparty.
SCORPIO and TAURUS Hold onto your dildos, because things are about to get kinky. All that pent up possessiveness that both signs crave is going to translate to bondage in the bedroom, with both Taurus and Scorpio playing along. Taurus wants to explore every inch of Scorpio, and Scorpio wants to own Taurus' soul. This is deep tantric sexy shit. Their intensity might get the better of them at times, and it's possible for them to become a little *too* wrapped up in each other, neglecting their friends and other commitments in order to put their partner (and their partner's sexual needs) above all things. This makes for an incredible hookup, but watch yourself once emotions come into play.
SCORPIO and GEMINI Sexy debates and passionate power plays are what Gemini and Scorpio are all about. Sure, it doesn't make for a very happy romance, but it does make for one hell of an adventure. Gemini enjoys an intellectual challenge, and Scorpio loves a challenge for the sake of a challenge. Their bed is on fire, but so is the rest of their relationship, and there's no way that they're not walking away from this thoroughly burned. It will probably make a tumultuous storyline worthy of the The L Word, but it seems almost cruel to put these two through this much intensity.
SCORPIO and CANCER Damn. Both of these signs are super intense in everything they do, and the resulting sexual intensity is off the charts. Cancer is immediately drawn to brooding passionate Scorpio, and Scorpio loves that Cancer wants to see them at their most powerful and protective. They're a possessive duo, so the bedroom is going to get totally trashed in the process of all these passion plays. Because both like their secrets, with Cancer keeping as much in their shell as they'd like, and Scorpio forever unpredictable, the passion can get a little dangerous, but it's definitely a hot kind of dangerous. Can it last? Maybe not, since Cancer wants security and Scorpio is not what we'd call stable. The sex in the meantime is enough to keep them coming back for more regardless.
SCORPIO and LEO Fire and water most definitely make steam, and Leo's brand of fire sure does heat things up. Unfortunately, the chemistry between Leo and Scorpio fizzles fast when it comes to the way they navigate life, as both want to take the lead, and Leo's need to socialize doesn't sit well with possessive Scorpio. Leo struggles to be anything but genuine in their outward emotions, and Scorpio's more secretive sides drive them up a wall. If there's a major disagreement in the relationship, expect it to remain unresolved for years, as Scorpio refuses to compromise, and Leos refuse to give up on their beliefs. If they want to make something of this situation, it'll take a lot of work, and not just the kind of work a Rodeoh does, as that's the kind of work these two might keep resorting to when push comes to shove.
SCORPIO and VIRGO Intensity is the name of the game when these two get together. Virgo wants sex to be serious and passionate, and Scorpio doesn't know how to have sex any other way. Virgo is immediately drawn to brooding Scorpio, and Scorpio's love for power fits perfectly with Virgo's love for order. In the bedroom, it's a level of intensity that most signs wouldn't even want to handle. And they do spend a lot of time in the bedroom, because neither is a social butterfly, and when they're alone together they seem to get the most done. Unfortunately, Virgo's not really prepared for Scorpio's unpredictable sides, and their perfectionist nature means they might have trouble dealing with Scorpio's outbursts of hidden emotions. If they can work at their high standards, they might make the relationship succeed, but no one said that the sex wasn't already a wild success.
SCORPIO and LIBRA These two were born collaborators, with both signs interested in power. Scorpio has emotional power and Libra has intellectual power, which means that the projects they tackle together are going to be monumental. They've probably fallen into an easy friendship before anything else, because while Libra loves what Scorpio brings to the table, they're not used to someone with a secretive side, and Scorpio isn't going to open up around someone so open. At the same time, they're both naturally seductive people who live to charm others, and the sexual banter between them has definitely flared up at one point or another. If it leads to love, so be it, but they also might just be great lesbros with benefits.
SCORPIO and SCORPIO Hold onto your poisonous barbs. This is probably the most intense pairing in the zodiac. The passion will be in another dimension, the bond between them could probably charge a nuclear plant. The love they feel will also feel like it can shoot down stars and tear down mountains, and these might be things they attempt in their efforts to get to each other. Unfortunately, flames likes these are going to burn everything in sight, and that's not always a good thing. This could either be a life-changing romance that defies all the odds, or it could be the most spectacular disaster of all time. If this ends badly, these aren't just exes – these are nemeses.
SCORPIO and SAGITTARIUS Scorpio loves a challenge, Sagittarius loves an adventure. What could possibly go wrong? Well, a lot. Scorpio wants power and control, feels possessive of their partners, and doesn't do well with too much instability, as it brings out their own unpredictable nature. Sagittarius just wants to run free, and once they've figured out Scorpio, they're on to new things, something Scorpio will not take well to at all. While it's a hot ticket for a hookup with the power plays that will inevitably surface, it might be a challenge to keep it going in a balanced relationship, especially if that relationship is monogamous.
SCORPIO and CAPRICORN This is a fantastic pairing with lasting power. Capricorn has ambitious goals they want to accomplish, and Scorpio would love to lend their attention and passion to help them get there. Capricorn keeps Scorpio grounded even when they're launching into one of their intense moods, and Scorpio pulls Capricorn out of their tight-assed life to experience some mind-numbingly good passion. Scorpio's emotions need Capricorn's logic, and since Capricorn doesn't need to be the leader, they can hand over that position to Scorpio while still getting everything done in the background. It's the kind of pairing that OkCupid needs on their front page.
SCORPIO and AQUARIUS Scorpio and Aquarius are not exactly two peas in a pod. They are maybe one pea in a pod while the other is underground and a carrot. Aquarius loves socializing and discovering new things. Introverted Scorpio is not one for crowds and doesn't understand any of the things Aquarius builds their world around. The opposition between them might inspire some passion from Scorpio, whose seductive side enjoys a challenge, but it will be a hard scenario to keep going when it comes to everyday decisions and negotiating conflict. Both are not great at cooperating, and both have strong feelings about their stances, which means that compromise is not a word often heard in this pairing.
SCORPIO and PISCES These two innately understand each other from the first. Both are deep and intense people, though in very different ways. Pisces lives in the world of possibility while also feeling things intensely. Scorpio is obsessed with the here and now and approaches the present with everything they have. The bond between them will be equally heavy, and both are forgiving of their tendency to withdraw into themselves, as Pisces does like to live in dreams, and Scorpio is always retreating into their secrets. They feel intense love for one another because they don't know how to feel anything but intensity, so even if this intensity overcomes them, it was a romance for the ages.
---
Jump to Another Sign:
ARIES | TAURUS | GEMINI | CANCER | LEO | VIRGO | LIBRA | SCORPIO | SAGITTARIUS | CAPRICORN | AQUARIUS | PISCES
---
Pages: 1 2 3 4 5 6 7 8 9 10 11 12See entire article on one page